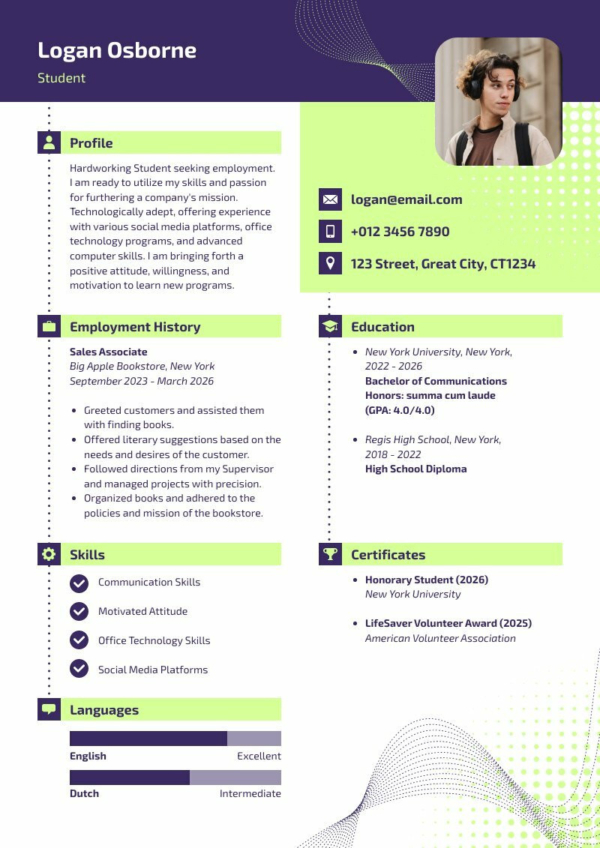 Fresher Simple Resume Format
Resumes
Edit for free
You'll be asked to log in or sign up for a free Piktochart account first.
Jump-start your job search and land your first job with this Fresher Simple Resume Format template from Piktochart. The resume format we have advocated for is chronological resume in this template. Below is a summary of two more popular resume formats: Chronological Resume and Functional Resume.
Available File Type
Customization
100% customizable
Tags
Template Details
1. Chronological Resume: - This format lists your work history in reverse chronological order, starting with your most recent job. - Best For: Job seekers with a steady employment history, those applying for positions in the same or a similar field to their previous jobs, and people seeking conventional roles like office clerks, accountants, or teachers. - Pros: Widely used and favored by employers, straightforward and easy for hiring managers to scan. 2. Functional Resume: - Focuses on skills and competencies rather than chronological work history. It groups your skills into categories and minimizes specific job titles and employment dates. - Best For: People with diverse skills from various jobs, those with gaps in their employment history, recent graduates, career changers, or older workers wanting to de-emphasize age. - Cons: Often not compatible with Applicant Tracking Systems (ATS) and less favored by hiring managers. It requires strategic submission, such as through email or LinkedIn, to ensure it's read by a human. Check out Piktochart's library for more customizable resume templates, and start designing yours for free!
More Templates Like This