Free Online Design Tool for Marketers
Transform your marketing with Piktochart design – where creating stunning infographics, engaging social media graphics, dynamic slides, and more becomes a breeze. Dive into the world of easy, impactful marketing graphic design and watch your content soar!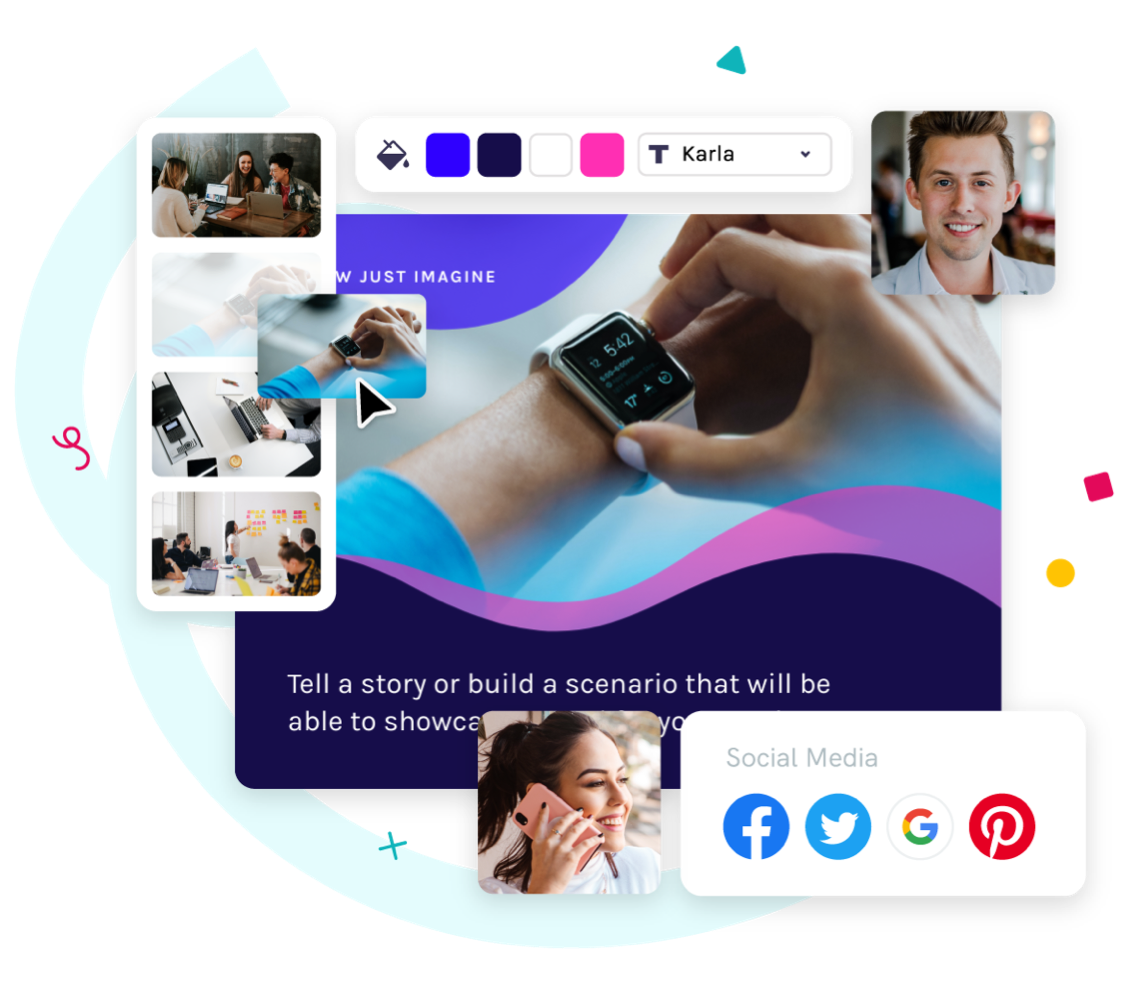 Over 11 million users worldwide design with Piktochart
Marketing professionals about Piktochart
84%
say Piktochart helps create content that converts
78%
say Piktochart is an important tool in their marketing strategy
69%
say Piktochart helps them communicate better with their audience
Marketing graphic design
Customization for Your Marketing Needs
Choose from expert-designed marketing templates and tailor them to your content, brand, and goals. Craft everything from marketing reports to social media graphics and campaign posters with ease. Enjoy drag-and-drop simplicity for icons, images, and illustrations, and add your own content to fully customizable templates. Best of all, Piktochart respects your brand's identity, leaving no watermark on your visuals, even on the Free plan.
Create a free account, no watermark
Brand assets
Brand Customization in Seconds with Piktochart
With Piktochart, your marketing content is always on-brand. Using your company fonts takes three clicks. Your custom color palette and uploaded fonts will be added to the editor so you can easily apply them to any new project.
Try Piktochart now
Share your visual content with the world
Online or offline? With Piktochart you get both. Use presentation mode or download your marketing slides as a PPT file. Share a marketing visual directly on social media or download it in PNG or PDF format. Moreover, Piktochart includes collaboration in all plans, including Free. Invite team members or clients to edit a marketing graphic or comment and share feedback.
Get started right away
Edit videos and add automatic subtitles
Turn webinar recordings, Zoom meetings, and long videos into small clips with the correct ratio for Facebook, LinkedIn, or Instagram. Or simply record within Piktochart. You can add automatic subtitles in 60 different languages and customize the videos to your brand. It's easy.
Try Piktochart for free
"Piktochart is a much easier Adobe-like design software, and it's so much better."

Deborah Tan-Pink

Growth, Communications & Marketing at Revolut
"Piktochart is my very favourite design tool and honestly quite essential in my everyday work. It allows me to create beautiful visuals so easily and export them in the format I need in the blink of an eye. "

Marine Favre

Marketing and Community Manager at Foundation EPFL Innovation Park
"Piktochart has been a great tool for my small business. It gives us the look and feel of an in-house graphic design team for the small cost of a subscription. I am able to produce high quality, eye-catching sales and marketing material that allows us to reach more customers. It's easy to use, even for beginners."

Stacy Brinegar

Marketing and Operations Manager at Axiom Learning Solutions
11 Ideas of What You Can Create with Piktochart
Marketers can use Piktochart to create a wide range of visually appealing and effective marketing materials:
1) Infographics
For visually summarizing complex data or information in an engaging way.
2) Social Media Graphics
Custom graphics for posts and campaigns across various platforms.
3) Marketing Reports
Visually rich reports showcasing marketing metrics and results.
4) Event Flyers
Eye-catching flyers to promote events, webinars, or product launches.
5) Campaign Posters
Striking posters for advertising campaigns or brand promotions.
6) Email Marketing Templates
Visually appealing templates for newsletters and marketing emails.
7) Presentation Slides
For pitches, meetings, and webinars, with compelling design.
8) Product Brochures
Detailed and visually appealing brochures for product information.
9) Digital Banners and Ads
Custom banners for online advertising and promotions.
10) Content Marketing Materials
E-books, guides, and other content in visually engaging formats.
11) Customer Testimonials and Case Studies
Visually showcase success stories and client feedback.
Ready to create marketing visuals?
Join more than 11 million users who already trust Piktochart to craft visual stories that stick.