Convince your stakeholders and decision-makers
Quickly convert your text and data-heavy content into professional report, presentation, infographic, or interactive dashboard.
Discover Piktochart with Sarah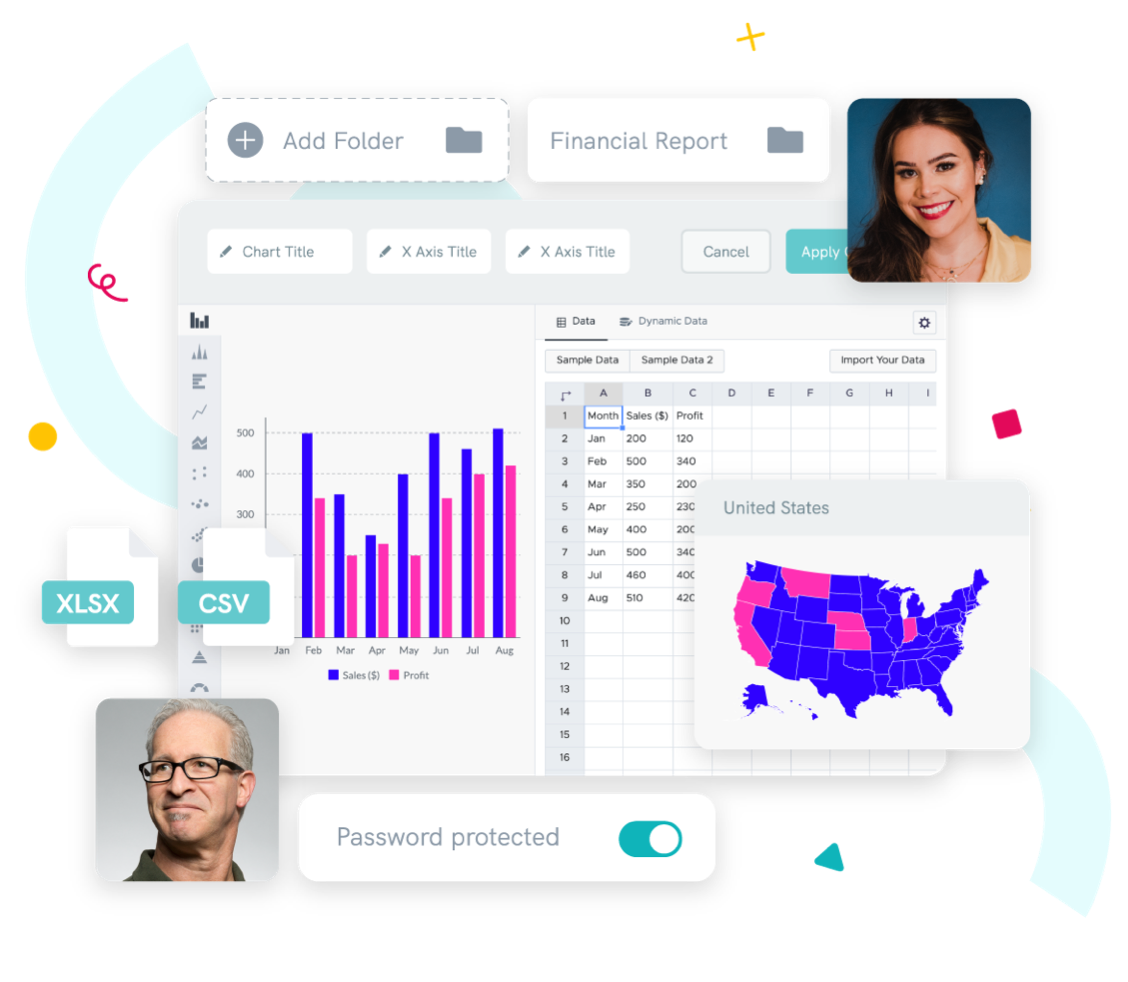 Over 6M Users Worldwide Design with Piktochart
71,920 Finance professionals like you use Piktochart to get results like these…
65%
say Piktochart helps them communicate complex business processes
60%
say Piktochart helps everyone in the organization stay on the same page
89%
say Piktochart improves the way complex financial reporting is done
Data Visualization
Translate complex data into a visual story
Link up an Excel or Google Sheets file to easily create graphs that automatically update when your data does. Combine various charts into one page to create a professionally-looking, interactive dashboard, ready to impress your stakeholders.
Get Started
Online & offline sharing
Share your content online or offline
Invite your team when collaborating on a project. Share with stakeholders to gather feedback. Download it as a high-resolution PDF or PowerPoint for offline use. It's up to you how you want to use your content.
Get Started
Ease of use
Easily create attention-grabbing presentations and reports
Piktochart is so simple that you can immediately use it, without training. Start with a template designed by experts. Quickly get to a professionally-looking presentation or financial report that will help you engage with your audience and drive the results you are looking for.
Get Started
Michale Sulubani
ERP Systems Manager, MICMAR Investments
"Piktochart helps me ensure all store managers are up to date with the company's operational processes. In a nutshell, Piktochart is like a small toolbox that enables me to create big things."
Erica Barto
Selection, Testing & Assessment Specialist, Valero Energy Corporation
"Piktochart is my go-to tool when I'm looking for a way to summarize data that is easy for our upper management to review. Piktochart provides me with the tools to display data in a creative, visually appealing way."

Sharon Yeung
Accountant, SIA Engineering Ltd.
"Piktochart helps me translate often dry financial policies and accounting standards to easy to understand and concise one-pager visuals for management."

Priscila Aldana
Talent Management, Boston Scientific
"As an HR Assistant, I have to find new and creative ways to engage our employees and effectively communicate across a large organization. Piktochart has tremendously helped me in achieving this."