Online Video Editor by Piktochart
Piktochart Video is the easiest way to record brief video updates, transcribe videos to text, and repurpose video content for social media.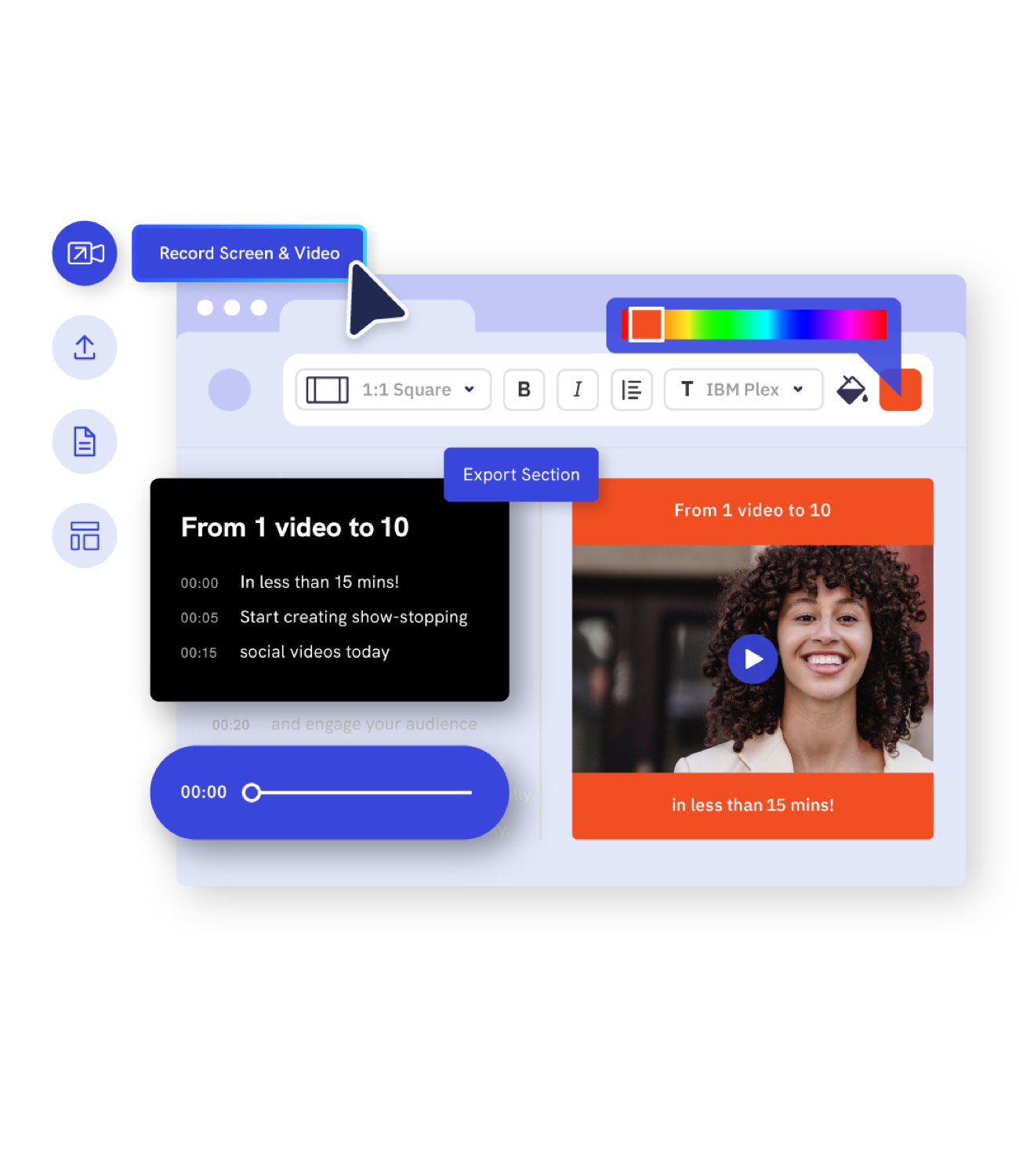 Edit Videos Like a Text Document
Video creation and video editing don't need to be daunting. With Piktochart, it's as quick and straightforward as editing text. Cut your longer videos into shorter clips by highlighting parts of the transcript. Easily remove unwanted parts. Add titles or images. Upload intro and outro. Now, you can create stunning videos in a matter of minutes.
Try it out
Automatically Add Captions in Over 60 Languages
Piktochart Video automatically transcribes your videos, so you don't have to worry about adding subtitles later in the process. Choose the language of your video file. Easily cut out any filler words by editing the transcript of your audio. Share your video with captions or export just the subtitles as .srt, .vtt, or .txt file and add them to your YouTube video. Create your own videos with just a few clicks with our free online video editor.
Try it out
Quickly Record Your Webcam and Screen
Getting your message across time zones, locations, or other communication barriers is easy with transcribed videos. Record a brief update for your team, client, or followers. Capture your screen and cam to troubleshoot or explain a concept. Walk your audience through presentations, infographics, or reports. With Piktochart, you have all the video editing features you need in a web browser.
Try it out
Edit video online
Edit videos by editing the transcript of the audio.
Add subtitles
Automatically generate subtitles to enable watching without sound.
Record screen and cam
Quickly capture your video, screen + video, or just screen.
Crop your video
Crop your video to the desired aspect ratio with one click.
Easily Repurpose Existing Video Content on Social Media
Don't let that awesome webinar, Zoom recording, or virtual event waste its potential. Drive more awareness, engagement, and conversions by repurposing one video into multiple content pieces. Our video editor will help you crop your clips to the desired aspect ratio with one click. With Piktochart Video, you can easily optimize your videos for YouTube, LinkedIn, Facebook, and other social media platforms.
Try it out
Make your brand stand out with video
There is no better way to grow your brand online than with video. With Piktochart, you can easily ensure that your videos have a unique and recognizable style. Add your logo, match the video background to your brand colors, and more.
Try it out
1
Import your video from Zoom
Piktochart Video integration for Zoom lets you import your selected Zoom recordings directly into the video editor.
2
Get your Zoom video transcribed
Piktochart Video automatically transcribes and creates captions for your imported Zoom videos. Once the transcription is complete, your video is ready for editing.
3
Edit your video like a text document
With Piktochart Video you edit your video by editing the transcript. Easily cut out the parts you don't like, export the highlighted sections into shorter clips, or add visuals to your video.
4
Customize your Zoom video
Keep your Zoom videos on brand with Piktochart Video. Adjust video format to the selected social media platform, add your logo, choose from one of the existing video templates, or add your own intro/outro.
5
Export your Zoom video and share it
Export your ready Zoom video to the clips folder of your Piktochart Video dashboard. You can either download your video or generate a link for easy sharing with your team, client, or network on social media.
Elevate Your Video Creations With These Top-Rated Video Maker Tools
Make your screen recordings more digestible and comprehensive by adding subtitles. Piktochart Video automatically transcribes your screen recordings and adds subtitles to your videos.
Easily crop your videos in common aspect ratios like 1:1 square, 16:9 horizontal, 9:16 vertical, or 4:5 portrait with Piktochart's video cropper. Discover the ideal video length in this guide.
With Piktochart Video, you can automatically generate text transcription and add subtitles to any of your videos. Transcribe your videos in different languages. Our video-to-text converter supports over 60 languages. Learn how to convert any video to text in this article.
I highly recommend Piktochart Video to anyone looking to grow their business using video and to create content for their brand.

Glenn Vo

Founder at Nifty Thrifty Dentists
Piktochart Video made it simple for me to repurpose videos. Editing used to take so much more time.

Aazar Ali Shad

Podcaster & Head of Growth at Vitalis
It used to take me hours to transcribe videos and post them on social media. Now, with Piktochart Video, I'm able to do it in a fraction of the time it used to take me.

Dr Len Clark

Co-founder of Create with Mobile
You can use tools like Piktochart Video. You would sign up for an account, upload your video and then wait for it to transcribe. Then, select your preferred output format, from copying and pasting a block of text, to a .txt file or download .srt or .vtt subtitle file formats.
We support 60 languages, not exclusive to, but including Afrikaans, Arabic, Bengali, Bulgarian, Catalan, Chinese, Croatian, Dutch, Filipino, French, German, Hebrew, Indonesian, Italian, Japanese, Korean, Persian, Portugese, Romanian, Slovak, Slovenian, Spanish, Swedish, Tamil, Thai, Turkish, Urdu, Vietnamese. And just in case you need more, we got more!
You can use tools like Piktochart Video. But more than free, you would want something that saves your time and gets you to edit videos quickly. We do not use timeline based, but a text-based editor for you to easily edit your videos.
Overall, Adobe Premiere Pro, Adobe After Effects, Final Cut Pro, and Filmora are the top options for professionals out there. But if you haven't got the time to invest in learning such tools, but want to easily repurpose or trim/clip your recorded videos, go ahead and try Piktochart Video.
Explore more video tools inside Piktochart Video