You have an idea. We have presentation slides to visualize it.
Piktochart is an online presentation maker that helps you create professionally-looking branded presentations without hassle.
Try Piktochart for free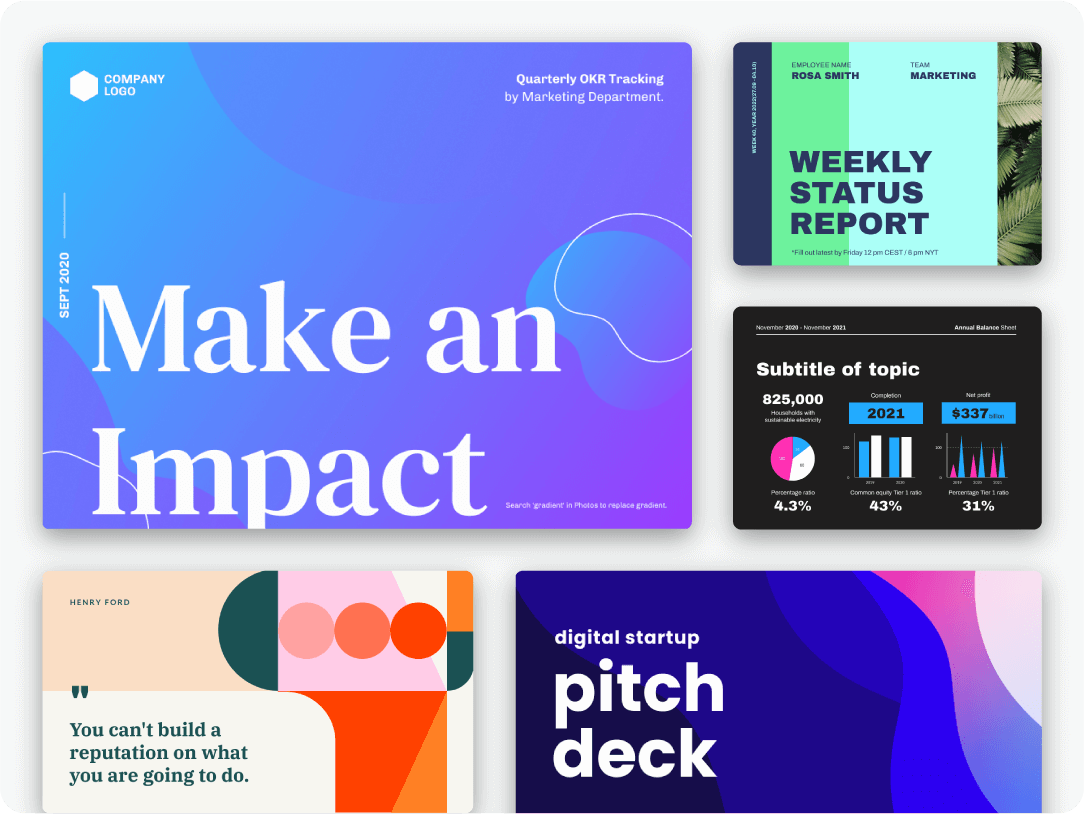 6. Only use high-resolution images
You don't like looking at a pixelated image on the phone. Imagine showing it on a 10x bigger screen where the photos don't make sense.
For example, maybe you have an image with a cool one-liner on it, but it's not clear enough for the audience to see. What could have been entertaining for the audience has now left them confused.
Images are a fantastic way to make your presentation more engaging and get your point across.
A photo is, after all, worth a thousand words. Your audience will relate to images more than plain text. And finding the right image for each idea/point is like hitting the jackpot.
For these reasons, it's essential to add high-resolution and relevant images to your brand presentations. Spend some time sourcing these images.
Luckily, Piktochart's integration with Pexels allows you to access a library of over 3000+ high-quality photos and more.
7. Use humor–but in a good way
Good humor can be the difference between a great and a memorable brand presentation.
Don't be shy to throw in jokes and memes to stir people's sense of humor. In fact, you could even consider adding some of the memes in your slides.
Another great way to add more humor is to use gifs. Here, avoid going for niche or nerdy humor and stick with common and familiar areas. Using these formats is a great way to give your audience a good laugh and make your presentation memorable.
You can even use gifs to encourage an emotion or a reaction to what you shared. It should ideally give your audience an idea of how to react. For example, when sharing surprising data use, gifs that show wonder.
Another critical thing to remember here is to use them strategically. If you use them a lot, they may distract the audience from what's important. Correct timing makes a joke funny, and the same principle applies to building presentations.
8. Think about the wider use of your presentation
Keep the flow and content of your presentation in mind if it has the potential to be shared later.
Here's why: Each slide should be complete and comprehensive, and the presentation should make sense even when you're not around to share additional context.
The slides from a talent management and recruitment presentation template below are great examples.
You know you've done an excellent job if someone were to go through your entire presentation and understand what you were trying to communicate.
The jokes, graphs, and pointers in your presentation should be constructed to achieve this goal.
9. Get someone to proofread
Even when you think you've nailed your brand presentation and adhered to your brand guidelines, get someone to proofread it for you.
Even when you've gone through all the slides hundreds of times, get someone to see it from a different perspective.
No matter how confident you are, get someone to proofread your presentation.
There's nothing more embarrassing than standing in a room full of people giving a presentation and realizing a spelling error. Yikes!
For example, let's say you're fluent in English and have a strong command of the language. If you're presenting in the US, the spelling of "colors" will be different than if you're presenting to a European crowd that spells it as "colours" with a "u."
This blunder comes across as unprofessional, which can be why someone feels hesitant to do business with you.
People who proofread may always be able to highlight an error or two, and they also can give you their feedback on whether your jokes are appropriate or not, and if they can follow your story.
10. Rehearse multiple times
Practice makes perfect! The more you rehearse, the more gaps and inconsistencies you'll find. It'll also help you understand your story and time yourself better.
You'll be able to identify any dull points or unnecessary information while rehearsing, and it'll help you nail your brand presentation.
You're ready to roll out your brand presentation
Thousands of tools and resources are available today to help businesses build and communicate their brand better (most of them are free). Piktochart is a great example. Try it for free.
The key lies in identifying the right ones and putting them to use to design beautiful brand presentations that seal the deal.
Finally, keep in mind that you will never be in complete control of your prospects and customers' perception of your brand.
The most important thing is you're always putting your best foot forward every time you interact with your audience, from your packaging, brochures, your FAQ page, and all the way to your business presentations.
---