Potential customers place a high value on reviews and recommendations by real customers when considering a business.
They need assurance from an unbiased party who can tell them that they're making the right decision and that it's worth every penny.
In fact, a study shows that when given a choice between a discount, a rewards program, free delivery, or high ratings from past customers, online shoppers consider a high rating as the critical factor when deciding on a purchase.
Needless to say, authentic testimonials trump all of your other marketing materials and sales tactics.
And when you combine the potential of buyer reviews with the engaging power of video format, you get an asset that kills two birds with one stone — a video testimonial (also known as the testimonial video).
But if you have never collected video testimonials before, the process can be daunting.
From customer outreach to video editing, there are many moving parts to handle.
Luckily, this actionable guide will demystify the process and show you how to get glowing, ready-to-publish video testimonials step by step.
Table of contents
What is a video testimonial?
A testimonial video is a video recording where an existing or previous customer talks about his experience with your product or service.
The customer shares the pain point or problem he was facing, how the product or service helped solve the issue, and the final outcome.
As discussed, customers pay serious attention to what others have to say, especially when considering an expensive or complex product. Your business can leverage the full potential of this opportunity by creating and sharing video testimonials.
In addition to online reviews, video testimonials can help you convey trustworthiness and reputation in the industry. Plus, it helps improve your brand awareness, making prospects more likely to purchase from you.

Here are a couple of testimonial video examples by Piktochart and Zoom.
---
Benefits of customer video testimonials
Getting customers to record video testimonials may take a bit more work than text reviews.
So should you really go through all the effort?
The answer is a resounding yes! Here are the benefits that clearly outweigh the costs:
1. Higher engagement and conversion rate
Video is among the most popular content formats worldwide, with 54% of consumers preferring video content from businesses over any other type of content.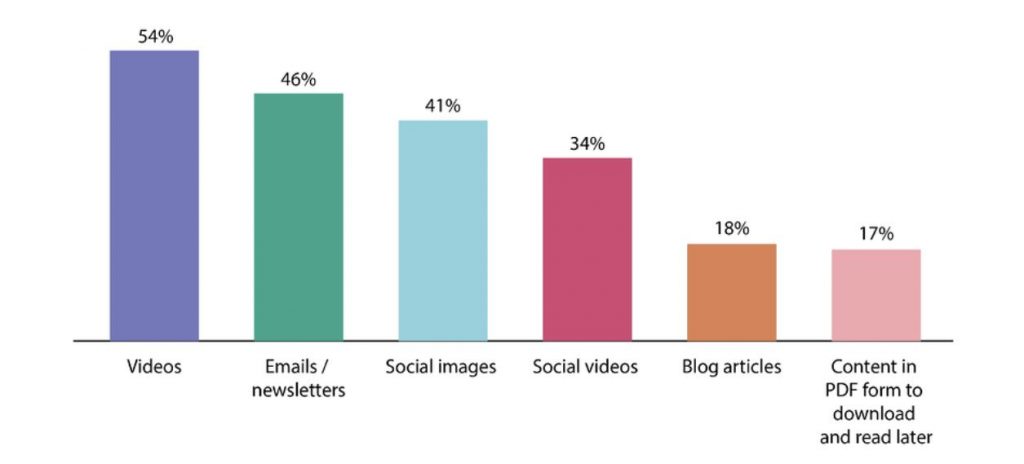 Your prospects love videos, and they would rather view a video than read plain text. These video testimonials will likely engage viewers more and convert them into buyers and even brand advocates.
2. Better social proof
Customer reviews, social media posts, and other types of user-generated content are highly effective in influencing buyer behavior. In fact, 79% of people say user-generated content highly impacts their purchasing decisions.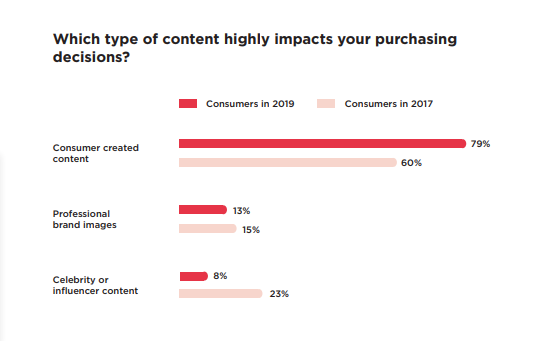 The more video testimonials you record, the better social proof you will have. As a result, you'll easily demonstrate the value of your product or service to prospects.
3. Powerful storytelling
At the core of each video testimonial is an authentic story of your customer's journey.
It tells a tale of how your business helped a customer achieve their desired outcomes. In turn, it helps your prospects imagine themselves using your product to accomplish similar goals.

4. Improves SEO
Using video content on your website can boost organic traffic by 250%. Testimonial videos improve SEO and help increase the number of visitors to your website.

Qualities of an effective video testimonial
Many business professionals believe that it takes a lot of effort, complex editing, and a big film-making team to create a customer testimonial video. They believe it should have high production values and that the video should look incredibly slick and professional.
While this is partially true, it's more important for a testimonial video to look organic and authentic.
It's not as challenging as you might think. And as you will see below, you can use tools to create testimonial videos without a big budget or manpower.
With that in mind, here are the key ingredients that lead to a captivating customer testimonial video, along with demonstrative examples for each.
1. Highlights concrete benefits
A high-performing video testimonial showcases specific benefits instead of lengthy features.
You don't want a video where the customer only recites the product's features.
What really works is when a customer enthusiastically states how your product is better than competitors and how it has transformed their life, work, or business.
A testimonial video should feature tangible outcomes that resonate with your prospects, just like this example below by Codeacademy.
The video clearly states the benefits it has provided to the customer, as highlighted by the phrases ability to create what I imagined and a sense of clear purpose.
If Codeacademy had focused on features such as the format of classes, the video testimonial would not have been as effective as it is now. As you can see, this testimonial video has successfully built an emotional connection with the audience by focusing on benefits.
2. Authentic
Authenticity is essential to drive conversions. Today's buyers are smart and savvy enough to differentiate between scripted interviews and honest recommendations. Your testimonial videos should be genuine and straightforward, as shown in the example below.
As you can see, this testimonial video for the Canadian cleaning service Tri-Cities Cleaning isn't very polished. And it looks like a low-budget creation.
Still, it works like a charm because it authentically shows viewers that the company can get the job done safely and thoroughly.
If you're a business that needs to gain your customers' trust, create video testimonials where your prospects can watch regular customers vouching for your product or service.

3. Tells an engaging story
We have already touched upon how powerful storytelling is. People are driven by their emotions, and a video is a perfect medium to tell stories with impact.
A video testimonial shouldn't be treated as an infomercial about your company. Instead, look at it as a story meant to build trust and rapport with your prospects.
The strength of this customer testimonial video example is in its story. The story begins with a conflict. It shows how the customer is afraid of checking mail or answering their phone.
Then comes the solution. LifeLock helps the customer feel safe and secure, even in their sleep. This testimonial video makes the audience feel the customer's relief and peace of mind in less than 100 seconds. 
How to ask customers to make a video testimonial and get them to say yes
Now that you know what makes a great customer testimonial video, here comes the fun part — collecting video testimonials from satisfied customers
Asking customers for a testimonial may not be easy, but the best practices and tools we'll cover below will help streamline the process.
There are two main ways to request customers for testimonial videos:
1. Ask over email
Email is the most commonly used mode of communication to gather customer testimonials in video format. You can simply create an email template and personalize it before sending it to a customer.
2. Ask over social media
If your customers are social media savvy, reaching out to them on their favorite social media networks can help ensure that your request will be noticed and responded to.
Video testimonial request template
Whether you choose to collect testimonial videos via email or social media, the following video testimonial request template will help you frame the script for your testimonial request:
"Hey [First Name], I work with [brand name], and I hope by now you have had the opportunity to experience the full potential of our product/service.

We are constantly striving to create an even better experience for customers. And to do this, we need your input.

If you're happy with our product, we'd love to tell your story for others to hear. And your feedback will help us improve. Would you be open to sharing your thoughts in a testimonial video?"
Record and edit video testimonials with little effort
Your time is valuable. Don't waste it on editing video testimonials manually. Edit one long video into shorter clips with Piktochart Video.
Edit video testimonials with Piktochart Video
How to record customer testimonial videos
After getting in touch with happy customers who have agreed to provide you with a testimonial video, your next step is to figure out how to record and edit video testimonials.
There are two ways to record customer testimonials in video format.
1. Invite customers to a video interview
Invite customers to a video meeting using a tool such as Zoom or Google Meet. Conduct an interview, ask the questions you want them to answer, and record the whole conversation.
2. Ask customers to record themselves
Another way is to provide clear instructions and tools customers can use to record a testimonial video on their own while you're available for support and guidance throughout the process.
If you go down this path, make it as easy for them to record themselves on their webcam and send you the recorded video.
For example, you can invite them to sign up for an easy-to-use video recording and editing tool like Piktochart Video. Once they sign up, they'll immediately see the option to record with a webcam right on the dashboard.

No matter what approach you select, the key is to talk your customers through the process and minimize any concerns they may have at the earliest.
You can follow the steps on how to record your video testimonials below.
1. Create a video testimonial script
While you don't want to create a detailed script that your video testimonial looks rehearsed, you still need a basic structure and flow to guide your customers. At the very least, make sure your testimonial script has the following:
For this section, the customer will talk about the challenges and the negative impact of those problems.
At this point, the customer explains why they were looking for a solution, how they evaluated different options, and why they selected your product or service.
Finally, the customer wraps up the testimonial by sharing the final result of using your product or service, including how the product satisfied requirements and helped get desired outcomes.
2. Prepare and send questions in advance
Most customers are not professional actors or speakers. Some may also be too shy or cautious about speaking in front of the camera.

For these reasons, you need to give them the time and whatever else they might need to feel ready and comfortable.
For a start, send them a list of questions in advance so they're ready to give great responses at the time of recording.
Here are the questions we recommend to share with them:
What were your problems regarding this area?
Why were you looking for this product?
What's your favorite thing about this product/service?
How did this product address the challenges?
What tangible results were you able to accomplish?
Brief the customer exactly how you plan to shoot or capture the video. You can also offer suggestions such as where to look, what to wear, how to speak, etc.
3. Ensure great picture and sound quality
The picture resolution and sound quality of your video should be top-notch. You should not compromise on this aspect.
You want the visuals to be crisp and vivid and the sound to be adequately loud and audible.
Using high-quality equipment, such as a professional camera and microphone, can make a big difference in quality. So make sure to have these essentials ready before recording customer testimonial videos.
4. Shoot more than you need
Shoot a lot more video than what you actually need for the testimonial. Your raw recording may have many awkward pauses, filler words, irrelevant details, and other footage.
If you record videos only a few minutes long, you will not have enough content to work with when customizing the video.
How to edit video testimonials
Once you have the testimonial video recording from a customer, you're almost there.
All that's left now is to edit the footage.
Remove clutter, customize the video to fit your brand, and add captions to enhance the final video testimonial.
You can do all this quickly with Piktochart Video. No need for complicated video editing software or a video production team.
First, simply import the raw footage from your device, Google Drive, or a Zoom meeting to get started.
Once you upload the video, you will also see the subtitles generated automatically.
From there, you can customize your subtitles and video as per your needs. For example, just select the text you want to remove or modify in the video.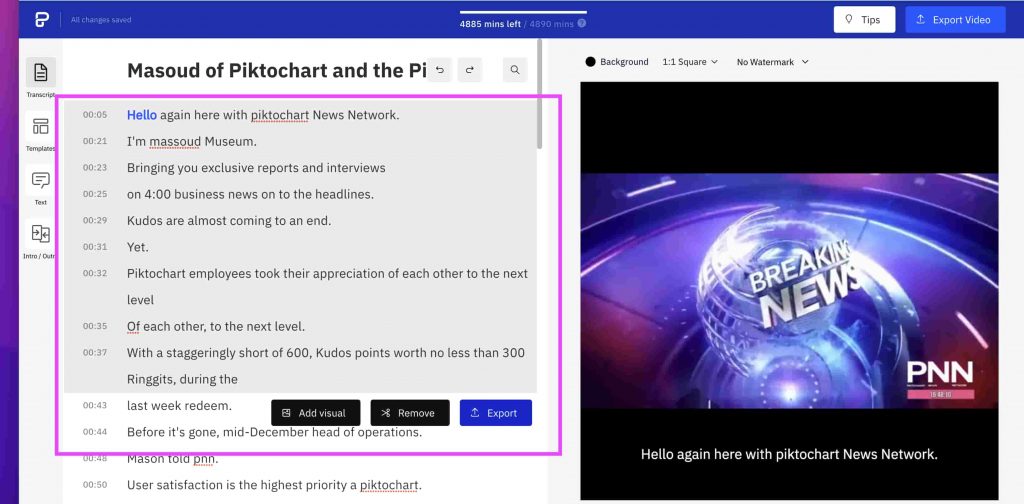 Next, edit the text just as you would in a text document like MS Word, or press the Remove button to cut the part.
With Piktochart Video, you can also:
Within just a few minutes, you will have bite-size testimonial videos ready to download, embed on your website, or share on social media.
Create engaging, authentic video testimonials with Piktochart Video
We can't say this enough. Customer testimonial videos are powerful and far more effective than other forms of marketing and advertising.
Nothing affects a customer's purchase decision or brand perception as much as a raving video review from a happy customer.
With this actionable guide in your hand, you have all you need to get started right away in recording and editing video testimonials.
And when it comes to choosing a video editing solution, you can't go wrong with Piktochart Video. It makes the process of editing customer testimonial videos a breeze and helps you get engaging, polished clips that grow your business.