Organizations today are spoilt for choice when it comes to online collaboration tools. The market for document-centric team collaboration software alone is expected to grow 10% from 2018 to 2023. It's clearly not a question of whether a solution is available, but of which tools are most suitable to meet a company's needs.
Whether small or large, remote or on-site, teams can use online collaboration tools to share ideas, streamline workflow, track progress, and communicate more effectively. Many of these tools are designed to be scalable, making them attractive for planning and implementing on both personal and enterprise-level projects.
We put together a list of 50 team collaboration tools that can be deployed in both small and large group settings. These tools offer multiple functionalities, but we've categorized them according to their main purpose.
Piktochart is an intuitive design tool with collaborative features. No prior graphic design experience is required. With collaborative features being offered in all plans, you can save rounds of editing and improve internal communications with Piktochart. Sign up for free.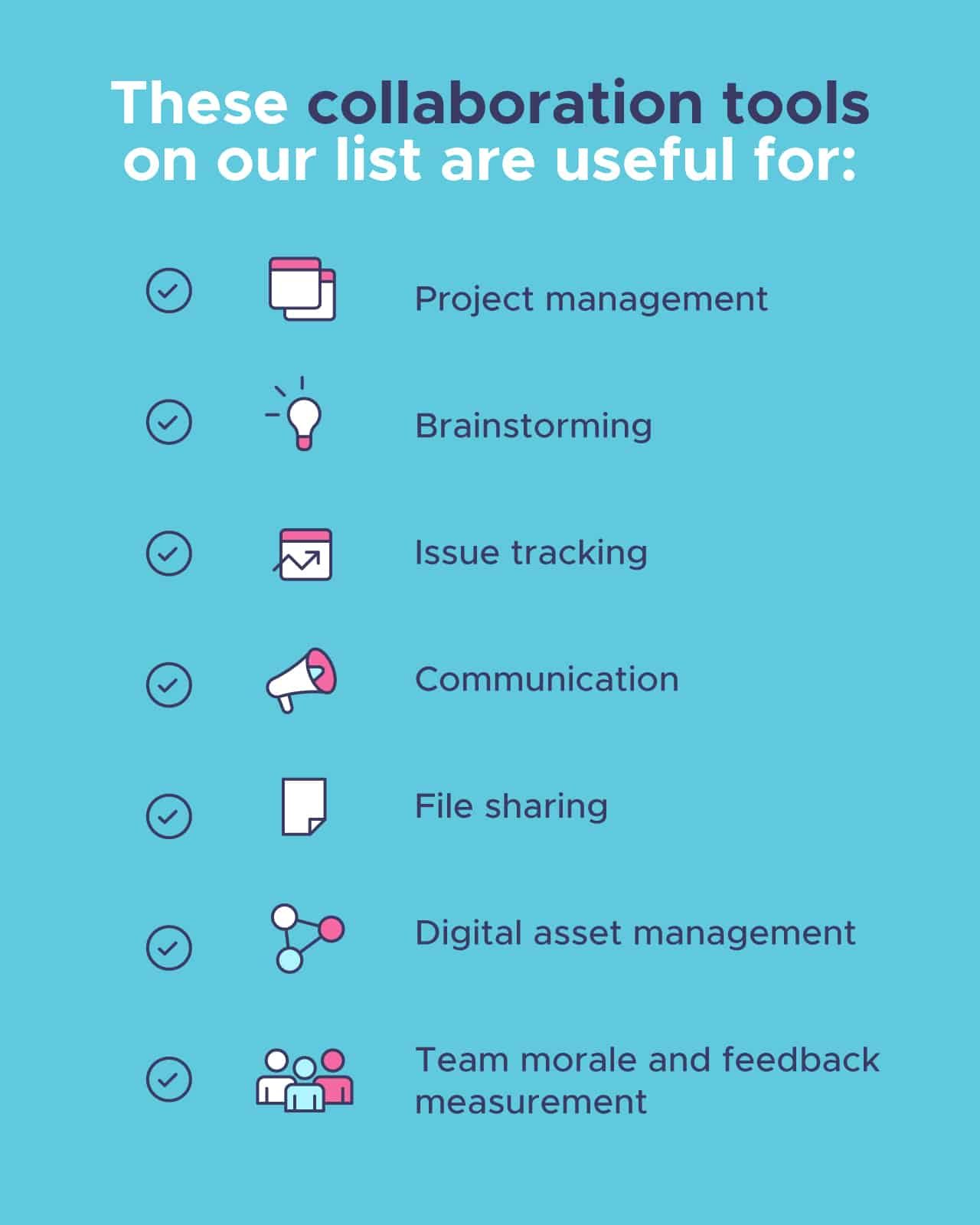 We'll also list the best features of each online collaboration tool, as well as their prices, where available.
Project Management
Best features
Highly intuitive, visual, and customizable
100+ integrations for emails, tickets, files, etc.
Users can appoint admins to control usage
Price
Free / $9.99 a member per month (Premium)
Best features
Great for developer teams; includes bug tracking
Visual charting and simple interface
Price
$0 to $175 per month or $1,200 per year, ranging from 10 users working on one project to enterprises with unlimited projects
Best features
Easy-to-follow discussion boards
Automatic check-ins encourage regular project updates
Reports across every team and project
Price
Discounts for teachers, students, and non-profit organisations
Monday
(formerly DaPulse)
Best features
Simple to use; no training required
Offers multiple project management template boards
Price
$25 to $4,798 per month ranging from 5 basic to 200 enterprise users
Custom pricing for 200+ users
Best features
Integration with 3,000+ apps
Visual planning and reporting tools
Price
$10 to $700 per month, ranging from 10 to 100 users
Best features
Enables custom structure with clearly defined roles
Very stable (99.99% uptime in 2017)
Built on top of an open API so it's great for developers
Price
$0 to $24 per month
Best features
Interface is available in more than 6 languages
Improves accountability with detailed logs
Comes with IP restriction capabilities for security
Price
$50 to $99 per month ranging from 40 projects and 15GB storage to unlimited projects and 100GB storage
Best features
Includes financial management, CRM, and quoting capabilities
Price
€19 to €49 a user per month
Best features
Highly intuitive and visual
Provides decision analytics
Varied deployment options, including public cloud and on-premise
Price
On request
Best features
Allows creation of branded boards
Price
Free
Best features
Provides templates for instant quote creation
Streamlined invoicing function
Capabilities for creating job costs and purchase orders
Price
$15 to $250 per month ranging from 1 to 50 users
Best features
Easy-to-understand data reporting
Price
$0 to $34.60 per user per month
Price on request for enterprise plan
Best features
Integrates with numerous apps
Easy use of Timesheet for billing hours
Advanced analytics and business intelligence for reporting
Price
$20 to $125 per month, ranging from 15 users working on 10 projects to 25 users with unlimited projects
Brainstorming
Best features
Provides random creativity prompts
App works on mobile, tablet, and Apple Watch
The company also offers an online creativity 'academy'
Price
Free
Best features
Collaborative mind-mapping tool
Each change is automatically saved
Drag and drop images; add floating text and images
Price
$0 to $8 a member per month
Collaborate to create attractive visuals for your workplace.
Create presentations, reports, infographics, and more. Select a template and customize almost every element. Save rounds of editing by collaborating with a team. Organize visuals in folders. Sync charts with spreadsheets. Export in various formats. Present with presenter mode. Get started for free.
Sign up for free