Remember the golden years where your pre-school teacher would use comparison to show you the differences between the sea and mountains? I bet that method became ingrained in your head.
Today, we are going to learn how to take advantage of this concept and apply it to design an excellent educational infographic. You could learn on the go by simply creating a free account on Piktochart and selecting a comparison infographic template from our gallery.
What is the comparison infographic layout for?
Infographics are a super versatile tool for teaching, learning, promoting or engaging readers, and a 'versus infographic' is no exception!
As the name suggests, a comparison or versus graphic gives a visual explanation of two or more ideas, objects, products, events, or concepts.

For example, if you want to communicate the pros and cons of a product, a comparison infographic lets you display these factors side by side and use icons, graphics, and images for visual context.

This allows readers to quickly move through all of the important points and make comparisons in seconds.
Here's an example of one comparing London to Paris (click on the infographic to see the full version):
Comparison infographics are great for comparing:
Before and after concepts. One way to use comparison infographics is to visualize "before and after" concepts — for example, explaining the differences between an old product (such as a car) and its new and upgraded version.

People/ Product comparisons. Infographics comparing products don't have to be about products per se. They can also compare ideas, concepts, jobs, or even people. Take the example below, which compares professional tennis players Roger Federer and Rafael Nadal.

Era comparisons. You can also use infographics to weave a visual narrative explaining the differences between two different eras, as seen in this example breaking down the different eras of social selling.
Comparison of expenses. Anyone can make a spreadsheet of expenses breaking down costs in tables and charts. A more visually appealing way of showing this information is through a comparison infographic. Take this comparison chart template, which compares the cost of having a dog or cat as a pet.

How to Build a Successful Comparison/Versus Infographic
Now that we know when a comparison infographic is effective, it's time we learn how to design one from scratch.
To start, there are two main aspects when planning a comparison infographic. One is preparing the correct data, and the second one is thinking of the design aspects that will help you visualize the comparison.
As with every type of infographic, you will need to do some prep work and have your data in advance before moving on to design.
Start by doing some Google research on the two different topics you are comparing. Read articles and books, check out other infographics, or interview experts. Afterward, you should:
Prepare 3-5 bullet points summarizing your topic.




Choose your core data. This means picking 4-6 essential points worth comparing.




Make sure you are comparing apples with apples and oranges with oranges. Make sure you use the same metrics and type of data between the two topics (i.e. percentages with percentages, numbers with numbers and facts with facts).
This process is the foundation of your design. If you don't take the time to go through it and verify consistency, your infographic will be noisy, cluttered and unclear.
With Piktochart, you can create comparison infographics in minutes with professionally built templates. With Pro, you can also create custom templates! Get started for free.
Let's take a quick look at this infographic comparing the number of restaurants in two major cities – Paris and London. First, you should note that it's comparing similarly sized cities, not Paris vs. Nantes. Second, it's comparing apples to apples – the number of Michelin-starred restaurants and the total number of restaurants.
The second example compares an interview at Facebook vs. an interview at Google, and puts emphasis on two main points: what not to say, and which famous celebrities visited their campus.
Pay attention to basic design rules
Once you've chosen your data, it's time to move on to the design. Piktochart offers an easy-to-use design tool and several templates for comparison infographics. Log into your account, and once you start searching for a template, type queries like:
comparison.

tea vs. coffee.

traditional vs. digital marketing.

do's and don'ts of infographics.

diabetes type 1 vs. type 2.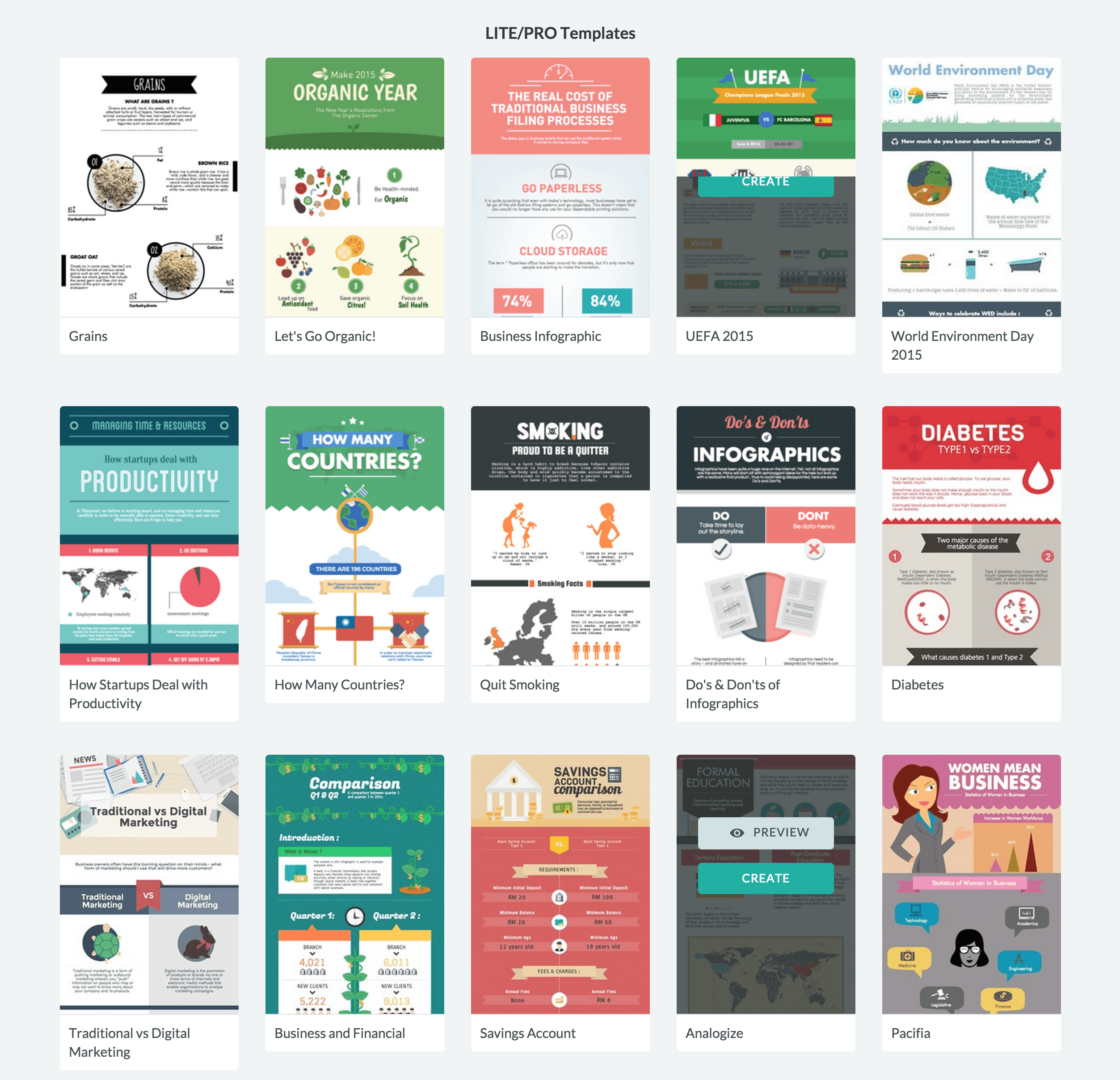 Once you select a template, the real magic begins. For this post, we'll pick the 'Digital Marketing vs. Traditional Marketing' template.
1 – Start by comparing things side by side to make it easier on the eye. Whether it's two or three elements, you should everything symmetrical.
3 – Create a clear division using two different colors. In order to keep it clean and minimalistic, you can choose darker or lighter shades of color. In our template, we used two different shades of blue, but you can also use two contrasting colors, like tones of red and blue. If you aren't sure which colors to pick, this post might guide you!
4 – Always stay consistent using the same kind of elements. Look at the example below: the first version shows the correct usage of the same fonts and same style icons, while in the second one we chose different fonts and inconsistent icons. The difference is subtle yet meaningful. One is simple, clean and pleasing, and the other one looks messy.
Two quick Pikto tips: First, icons that share the same style are usually grouped together under categories. Second, use the same Text Frame for each side, this way you'll make sure your design stays consistent
5 – Finally, use the same structure for side by side comparisons for titles, icons, text, etc. When comparing apple with apples, it's important to keep the consistency between both sides to demonstrate that it's a comparison. The example below is a perfect portrayal.
Time To Make Your Own!
Now that you're somewhat of an expert in comparison infographic making, it's time to create your own. Our designers have created a handful of comparison infographic templates that could be a fit for whatever subjects you plan on pitting against each other.
With Piktochart, you can also create presentations, reports, posters, flyers, and social media graphics. Access all of our templates for free by creating an account.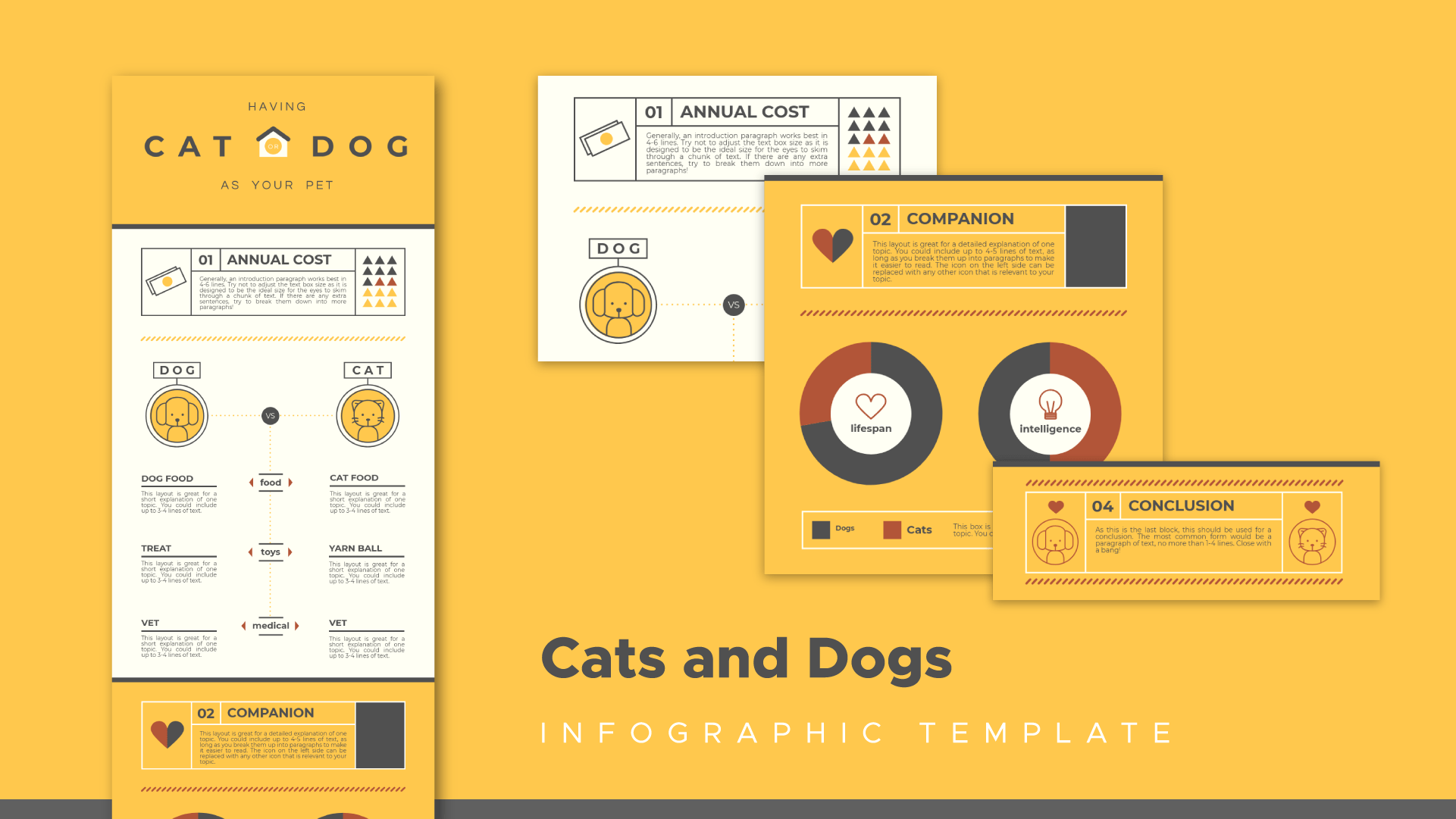 01. Type 1 or Type 2 Diabetes

Show your progress with professional visuals.
Create infographics, posters, presentations, and more.
Sign up for free