This post is part of our guide to using infographics in education. For more information, check out the guide here.
When you think of a syllabus, what comes to mind? Is it a boring, wordy document that outlines the content a teacher will address throughout the semester or school year? An infographic syllabus can be so much more than that!
A syllabus serves three purposes:
It's a contract that clarifies rules and sets expectations, lays out the responsibilities for students and teachers, and summarizes the plan for late assignments, attendance, grading, and other class procedures.
It's also a permanent record – it describes the course's name, instructor, number of credits given, the level, and what's covered during the semester.
Finally, it's a tool that informs students of the things they need to know to become more successful learners.
We've had the pleasure of talking with three wonderful teachers – Heather Anderson, Andrea Zapor, and Katherine Maloney. They use Piktochart to create beautiful infographic syllabuses that impact and engage their students.
If you are not using Piktochart yet, just sign up for free. You can create beautiful infographics, reports, presentations, and other visuals, online easily. No graphic design expertise is required.
In this post, we'll explore how Heather, Katherine, and Andrea designed their infographic syllabuses, and we'll introduce some super helpful tips for teachers looking to get started making their own.
---
Designing a Visual Syllabus With Heather Anderson
Heather Anderson is an 8th grade English teacher from Oklahoma. She uses technology in the classroom on a daily basis – besides creating infographics, she built a fantastic site using Google Sites so her students could reach out to her, find course content, or solve problems.
We were super impressed with her, so when we talked, we asked her about her top tips for creating an infographic syllabus for her students. Here's her advice:
Tip #1: Break up your syllabus into digestible bites
In the past, my students have always received my four-page-long Word document syllabus with wide eyes. Words, words, words, as far as the eye could see. So much information, so little time. What did they end up doing with it? Inevitably, it ended up unread in my trash can.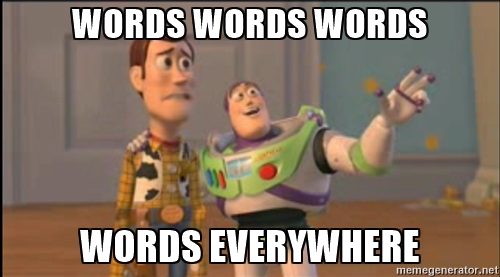 With Piktochart, you can create a visual representation of classroom information your students will actually want to read. Start by breaking up your syllabus into digestible bites. Think about what the students absolutely have to know about your class. After you cut some of the excesses, think about what images would help students better understand the key elements of your classroom.
Tip #2: Focus on the questions students will have about your class
On the first day of school, students are full of questions. Can I chew gum? What do I do if I have to go to the bathroom? Is a pen okay?
Try to anticipate these questions and include the answers in your visual syllabus. Students will be able to revisit your syllabus if they forget a procedure in weeks to come (mine always forget how to turn in late work).
Tip #3: Use a cohesive, clean, unified color scheme/theme. Keep it classy (pun intended).
Your wording should be easy to see and visually pleasing. Stick to a few colors that complement each other and use similar shapes throughout your visual syllabus to give it an organized, unified look.
Tip #4: It should be easy to follow.
Your visual syllabus should be like your classroom rules & procedures: easy to follow and easy to understand. Try to group similar information into one block. For example, combine information about assessment and grading.
Tip #5: Utilize QR Codes
Have more information on your website? Create a QR code and paste it into your infographic syllabus rather than making it too text-heavy. I utilize QR codes frequently in my class, so including one in my visual syllabus helps students figure out how to read them independently without having to take up class time.
Tip #6: Keep your words short and to the point
As teachers, it's easy to be long-winded about how amazing your class is or to go in-depth about your class procedures. Try to keep the wording short and to the point. Text-heaviness is only going to lessen the visual appeal of your syllabus. The ultimate goal of your syllabus is to provide parents and students with a snapshot of how your classroom runs.
---
Out With the Old, in With the New – Katherine Maloney
Katherine Maloney has been teaching International Baccalaureate English and Theory of Knowledge for the past 15 years. She describes herself as a 'mother, international educator, doctoral candidate, thinker, reader, blogger, art lover, traveler' – and she blogs at Katscan, her personal blog on teaching, classroom tactics, and using technology to enhance learning.
At Piktochart, we're always interested in enhancing learning through technology, so we asked her why she chose to use an infographic syllabus.
Katherine said there was no doubt about it:
"My syllabus was in dire need of a makeover. That's why I was so excited when my colleague Mat Fron said that he was going to try to create an infographic syllabus for the IB Language and Literature course we teach together, sharing the following example with me.
"Inspired – and not to be outdone – I quickly decided that I would try to make one, too. I created a free Piktochart account for myself and began to take a look around. I knew I wanted a syllabus that would:
help to generate excitement about the course
inform students of what they could expect, both visually and verbally
be easy to modify and update
not take me a lot of time and effort to create
"Although Piktochart also allows users to make their own unique creations, I felt that using one of their templates was probably a wiser choice given that this was my first foray into the world of infographics.
"I ended up going with the "2015 Resolution" template because it fit perfectly with the number of units that we had planned, and also because the imagery of the window and the flowers seemed apropos to the learning journey we had in mind for our Grade 9 English students this year.
"Using the design template, I was able to quickly and easily plug in:
the title of the course
a brief course description
the titles of our various units with images to match
our intended learning outcomes
the activities we had planned for the year
our expectations of learners, and
teacher contact details
"All within the span of about 20 minutes. The experience was quick and painless, and the final product not too shabby, even if I do say so myself.
"Now that I know how it all works, I can't wait to start exploring Piktochart's more advanced features, and especially to begin using it with my students.
"21st-century literacy includes the ability to interpret and communicate using both words and images, and I can't imagine a better way to introduce young learners to this skill than through the creation of their own beautiful infographics in response to the various texts, themes, and ideas that they will encounter in English 9 this year."
---
Andrea Zapor's 5 Tips On Making An Infographic Syllabus
After making her first French 1 infographic using someone else's as a guide, Andrea, an English and French teacher "with a love for technology and learning," decided she had to design an infographic of her own: "I set out to use Piktochart because it's super easy to use and makes it look awesome!"
"With mouse in hand and inspired by others, I was ready to start creating my own infograph. Or was I?
"Looking at the blank canvas in front of me, I could see that the possibilities were endless, but the space was limited. So here are my top 5 tricks to creating a kick-butt infographic syllabus!"
Tip #1 – Know your clipart
Piktochart has so many different options for clipart, shapes, banners, and so on that, it's a good idea to browse the options to get an idea of what suits you and your tastes!
Tip #2 – Stick with an idea
Piktochart separates the canvas into several boxes. Decide whether you want a theme or background for each box or if you want a common theme/background to run for the entire visual syllabus.
I chose to do a different theme/background for each box as I enjoy mixing it up a little.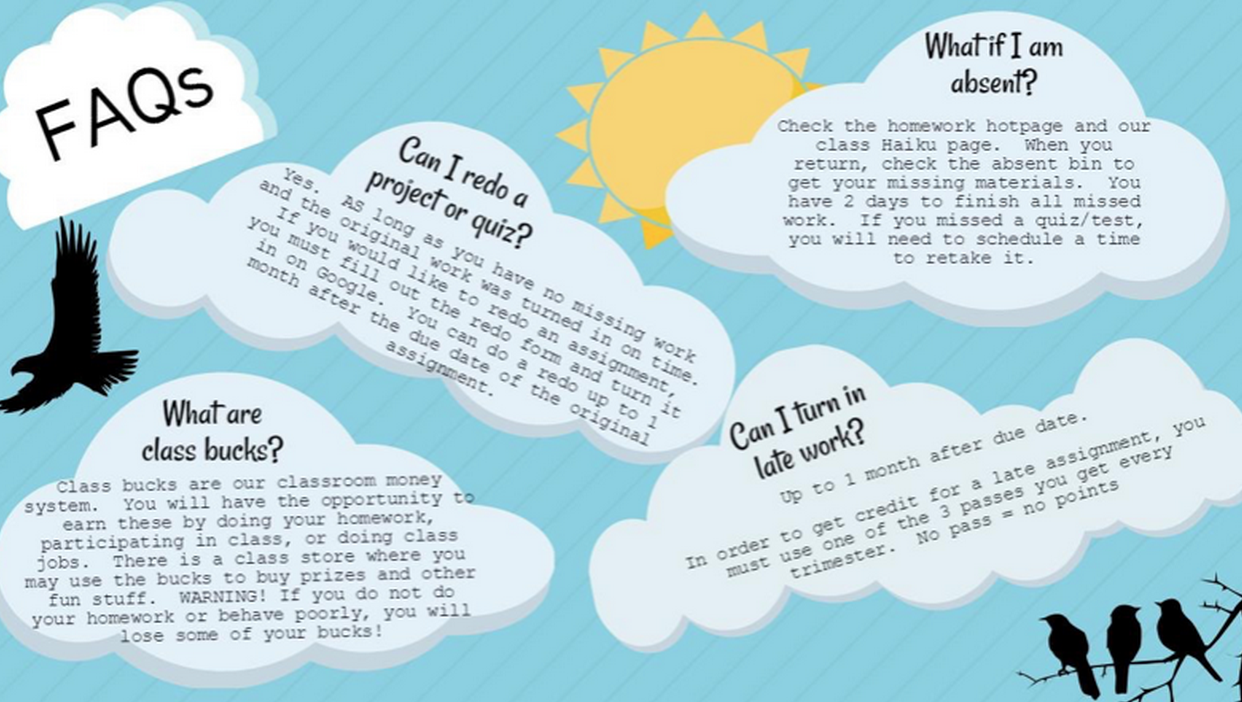 Tip #3 – Set aside some time to create a masterpiece
I'm pretty sure Picasso didn't paint the Mona Lisa in an hour, so don't expect to have a perfect visual syllabus in an hour, either.
You can make a super simple syllabus with some graphics in about an hour using Piktochart, but if you want to add links, graphics, fonts, and other cool stuff, you should set aside at least 2 hours to actually build your visual syllabus.
Tip #4 – Know your audience
Think about this question: who are you truly trying to reach with your infographic?
Personally, I am doing this for my students. With this in mind, I designed my visual infographic to be mostly student-friendly. Instead of just making text boxes and charts with pretty backdrops, I included clipart and shorter chunks of text.
I also made sure to put the terminology in student-friendly terms. Of course, there are still parts that are directed towards parents, but for the most part, I designed my syllabus for my students. I wanted them to remember my syllabus for once!
Tip #5 – Pre-plan and simplify
The best advice I can give is to look over your old syllabus and pick the top 5 most important sections. Don't try to put too much into the infographic. Replace words with graphics when possible, or use graphics to accompany your writing to clarify meaning.
The top 5 sections I chose were: necessary materials, grading, policies (late work, absences, redos, class money system), my contact details, and an overview of the course.
From those categories, I picked 3–4 key points and made sure to include them. Ask yourself: what do I want the parents and students to get out of my syllabus? What do I want them to remember?
The point of using an infographic is not just to make it look cool (which it definitely does) but also to simplify your class and expectations into small, understandable chunks. If you need to go further into detail on something, talk about it with the students in class, and if you must, create a brief handout to elaborate.
Take the time to pull apart your old syllabus! You won't regret it!
Overall, I think that my final product is pretty spectacular, and I love it! I'm looking forward to using Piktochart throughout the year and seeing what else I can use it for! My hope is that this will stick with students and parents and that I will have to explain my procedures a little less this year! Fingers crossed!
---
If you are a teacher who has created an infographic syllabus for your class, please share it with us on Twitter or in the comments! We'd love to feature them in a follow-up post!
This post is part of our guide to using infographics in education. For more information, check out the guide here.
This post was originally posted by Gonzalo on
Need to collaborate on your visuals?
Watch this free demo to learn about Piktochart for Teams.
Watch the demo