Choosing colors for a website is a tricky task. You need to consider plenty of different elements – banners, text, buttons, menus, and more. Since every part of your website helps make or break the user experience, each of these elements could either entice readers to stay or drive them away.
Colors are a great way to encourage casual browsers to scroll down your site, or click some important links, so how can you use them to keep users engaged?
To come up with suitable website color schemes, you can study color theory, seek the advice of graphic designers, and use online design tools. You can also study the color palettes of other sites.
If you're a small business owner, consultant, freelancer, or simply looking to create or upgrade your own or your company's website, the list below is for you. We combed the web to find beautiful website color schemes by startups, SMEs, and freelance or self-employed professionals hailing from a variety of industries, from finance to baked goods. 
We've also included the color HEX codes for you, so you can plug them directly into your templates in Piktochart. Just click on the "Color Scheme" tab on the left side menu, hit the "Create New Color Scheme" button – and plug in the HEX codes. Oh, and if you don't have a Piktochart account yet, just sign up for free here.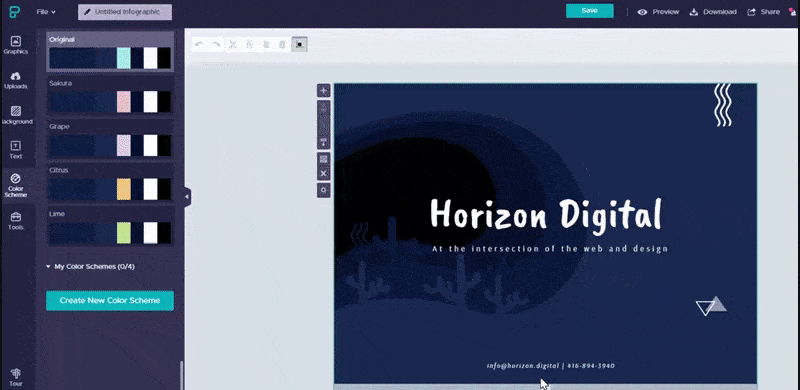 Let's dive in!
---
1. Marqeta
Financial websites like to use blue because the color implies trust. Since Marqeta is taking a less conventional approach to consumer credit, its use of blue diverges a bit from typical corporate branding. It uses dark blue, cyan, and purple for its website color scheme.

2. Amber Xu
Motion graphics designer and illustrator Amber Xu eschews the minimalist trend by using solid colors against a black background. Her typeface of choice brings to mind neon signs on an old city street. The primary colors blue and red are the two dominant website colors.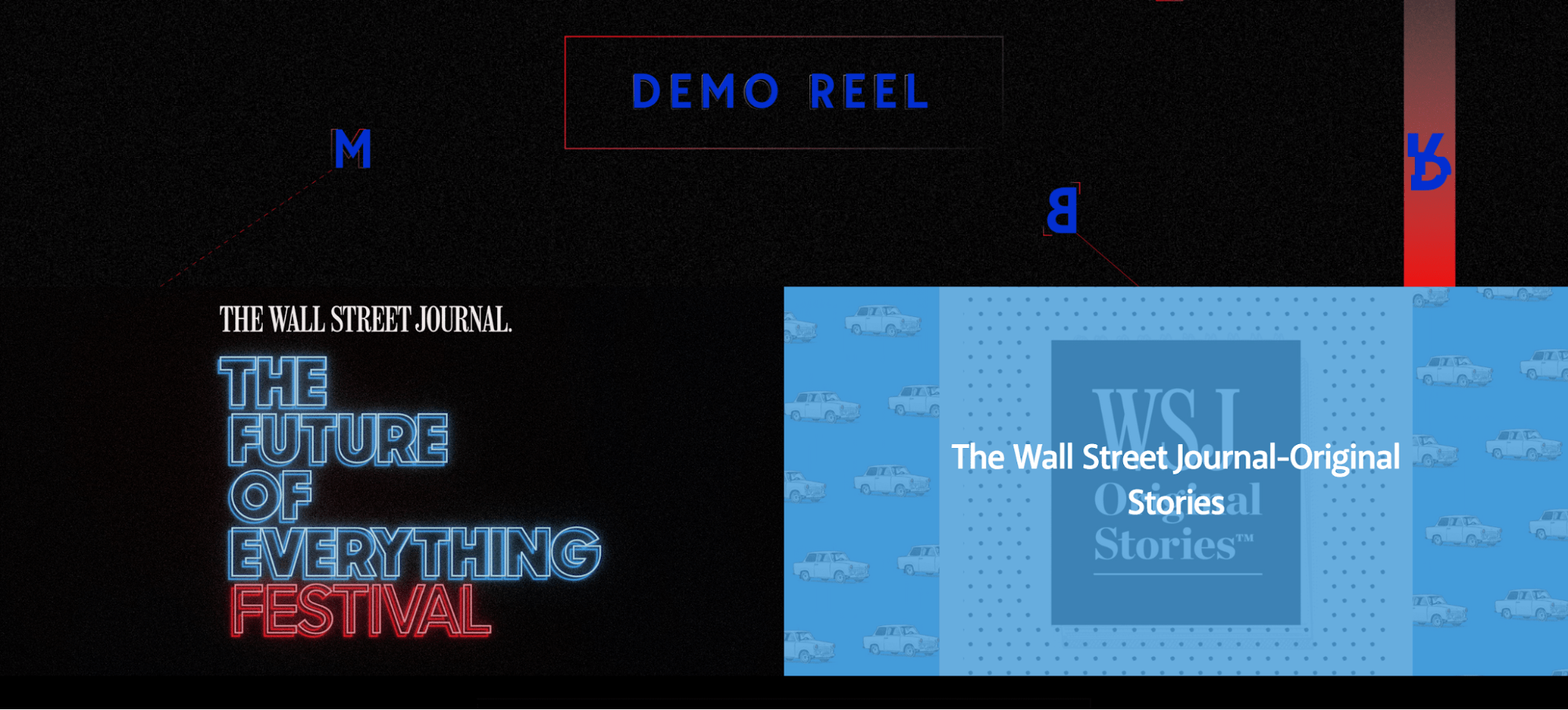 3. Hank Herman
If you call yourself a humorist, your website better be as fun as you are. Writer Hank Herman has achieved this with cartoonish graphics, as well as playful tones.
For good measure, he adds a splash of vivid orange to a calm teal background. Readers' eyes can catch a break though, with the use of neutral font colors.
4. SnapChart
SnapChart – you read that right, it's not the social media network – is an Indonesian startup that offers software to make it easy to extract and visualize data from charts, tables, and graphs.
Snapchart's use of gradients and bright colors, including neons, reflects the youthful energy and optimism of the startup scene.
5. Loafer Bread
The Loafer Bread promise is quality and organic ingredients. Their website color scheme reflects these values. Grey and a medium-light blue evoke elegance, while varied shades of brown and grey add a natural earthy touch.

6. Hartford Dry Cleaners
Hartford Dry Cleaners' website evokes the freshness of newly-washed clothes with a clean palette of blush and teal against white. The liberal use of white space helps amplify the sense of tidiness, as does the use of simply drawn icons and no-frills design. The muted palette paints a friendly face on a chore that people love to hate.

7. Taxumo
Say "tax filing" and you're likely to scare people away, especially those who have to do their own come tax season. That's the last thing Taxumo wants.
To give their tax filing platform a friendly boost, they use a website color scheme of egg-yolk yellow and bright cyan. Not intimidating at all.
8. Westbrook Brewing
Going monochromatic can be tricky, but Westbrook Brewing makes it work by using beautiful illustrations and using contrast to highlight their logo.
They're not averse to adding a bit of bright color here and there drawing the eye to their social media links by making them stand out against the monochromatic background.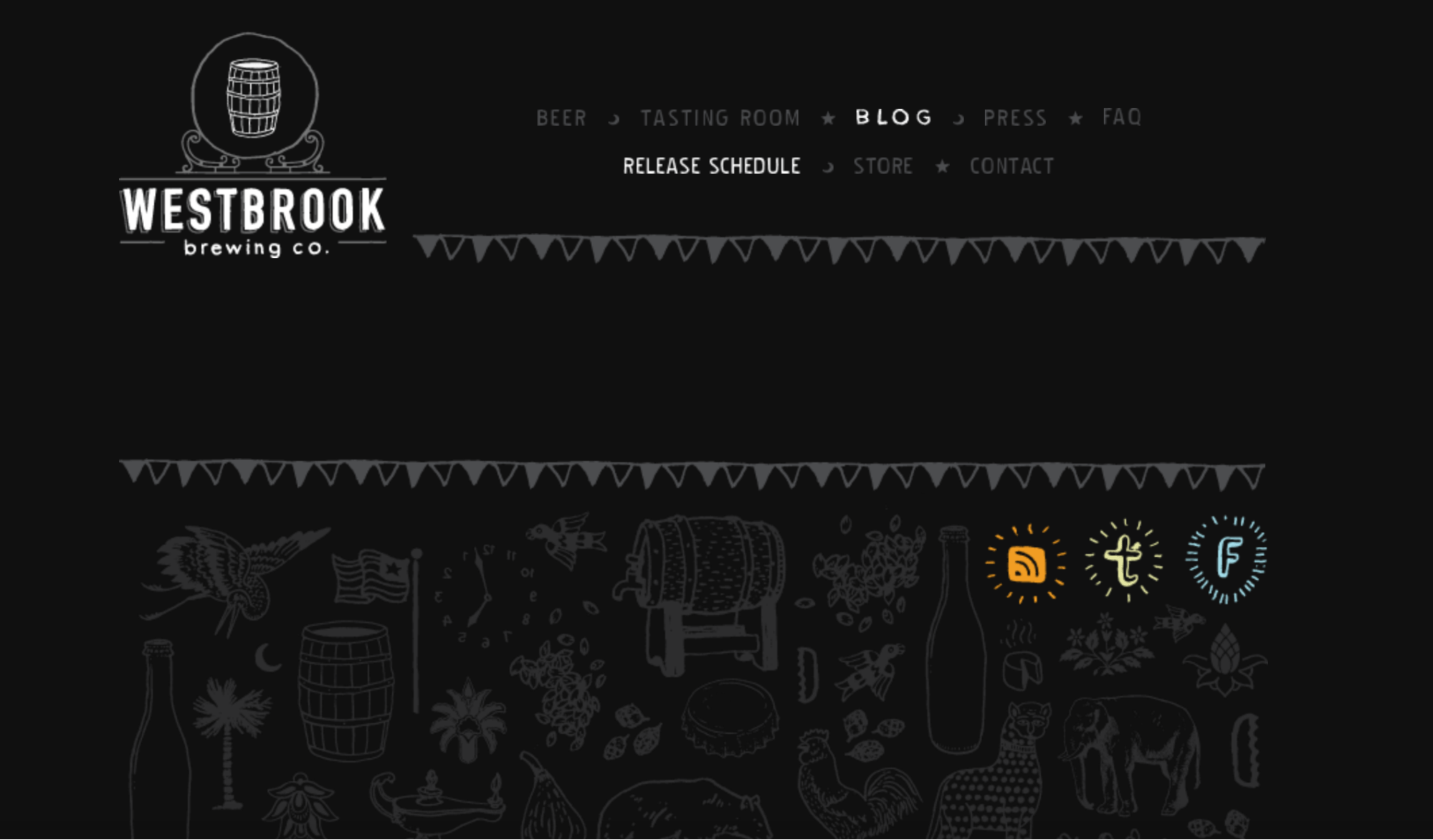 9. Blue Bottle
Blue Bottle is one of the famous names in third-wave coffee. Their website color scheme reflects the two most important things you need to know about the company: they serve coffee, and their signature color is blue. All other hues serve to provide context and a subtle background.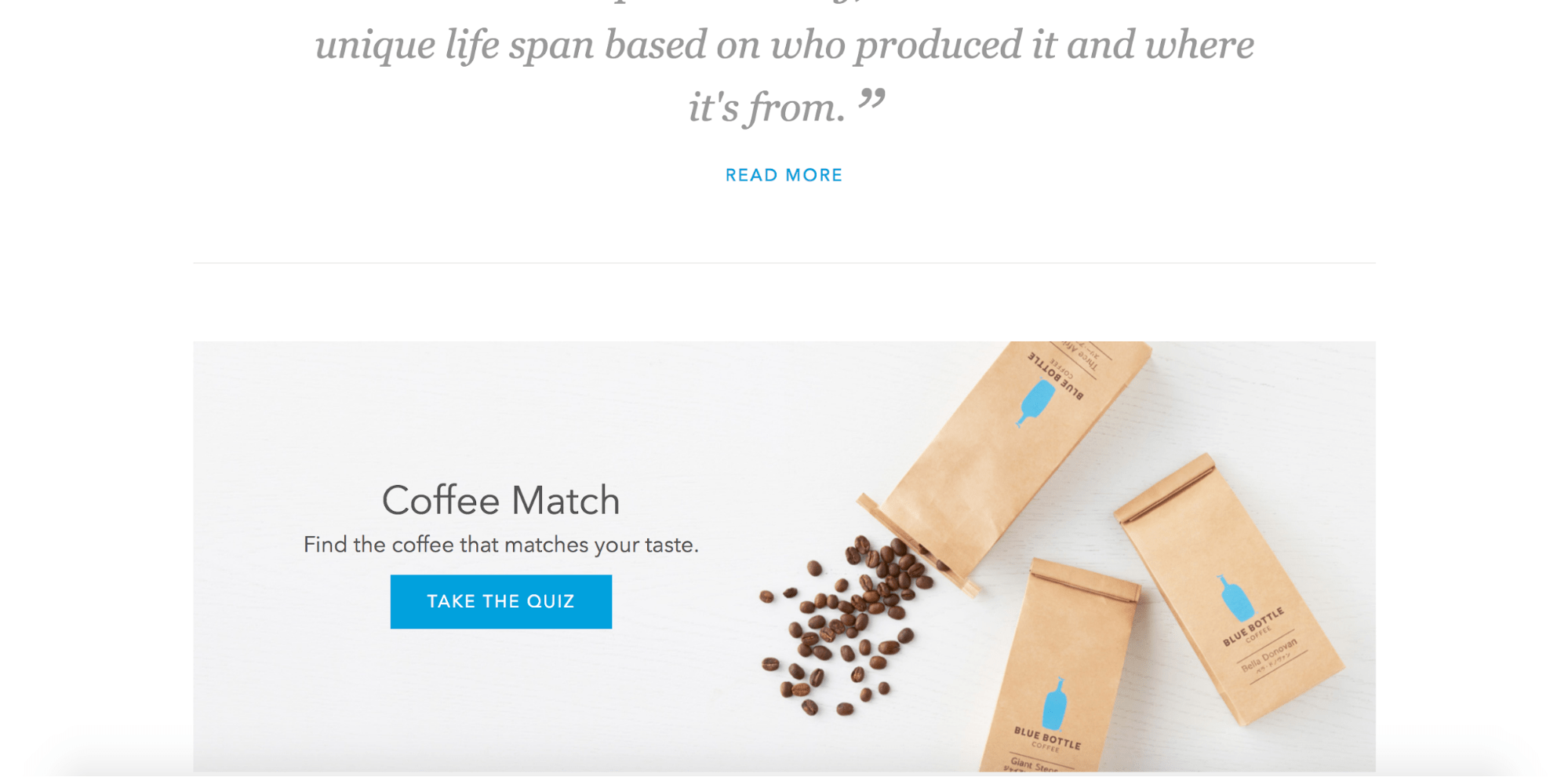 10. Jessica Collins
Among other things, Jessica Collins is a sports nutrition specialist, a fitness writer, and "a sporty gal with hippie blood and a big momma-bear heart."
Her unique brand – a combination of high energy and maternal warmth – is expressed through a consistent theme of green and a tone of nurturing pink.

11. Alex Knight
Freelance UX/UI designer Alex Knight uses blue, green, and pink to introduce his homepage and to frame his portfolio. Each color fades into another to complement the hues of the website designs being displayed.
12. Hubud
Hubud is a coworking space in Bali that distinguishes itself from others with its tropical design and setting. It uses a lot of bamboo, while its interiors often connect to sunlit and verdant outdoor spaces. It's not hard to see why the website chiefly uses brown, green, and yellow.

13. Nexudus
Nexudus is a company that provides software for managing coworking spaces. It uses complementary colors for contrast, making illustrations and CTA buttons stand out on the page.
Their striking website colors of purple and yellow reflect the energy and excitement of an industry that is changing young lifestyles globally.
14. Marija Zaric
A freelance web designer based in Belgrade, Serbia, Marija Zaric uses solid neon colors to make her web page stand out. She uses them to frame words, as well as her work samples. This way, the colors lend her site a cohesive aesthetic without distracting the viewer from her portfolio.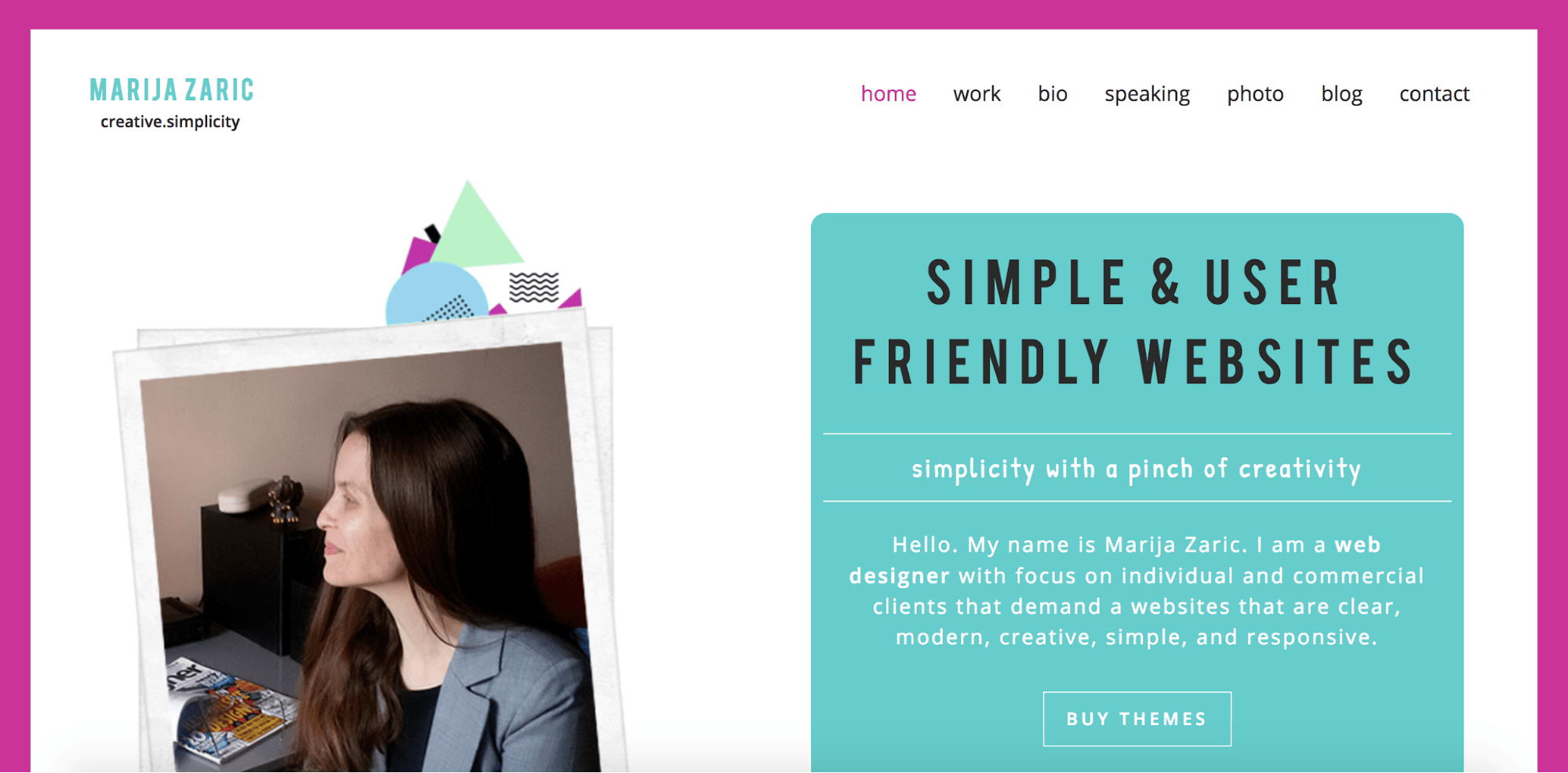 15. Tokopedia
Another Indonesian startup, Tokopedia keeps things simple with a recurring green accent on a white background. Such design decisions help improve the user experience by easing clutter. The homepage displays products in several retail categories, and these items come in different colors.
---
How to choose website colors
For a more detailed look into choosing website colors, let's go back to the first example. First, let's examine the header of Marqeta, a fintech company aiming to disrupt the financial cards market.
Marqeta uses both emotional and technical approaches to the color scheme shown above.
The emotional aspect is one we know well – the use of blue to inspire trust. Financial institutions such as Citi, Deutsche Bank, and Standard Chartered, and even fintech companies like PayPal, Ethereum, and Coinbase – all use blue for their corporate branding.
Since Marqeta is a financial institution, its use of a dark blue makes sense. However, it also aims to be a disruptor in the space – hence, its use of a less mainstream blue for finance brands, as well as cyan and purple.
The use of cyan and purple isn't just any arbitrary choice, either. They're next to blue on the color wheel, making up three analogous colors – a strategic choice that allows one color to be dominant. Using analogous colors also allows for a bit of color diversity while retaining a sense of harmony, because the three hues share similarities.
Refer to the below color wheel: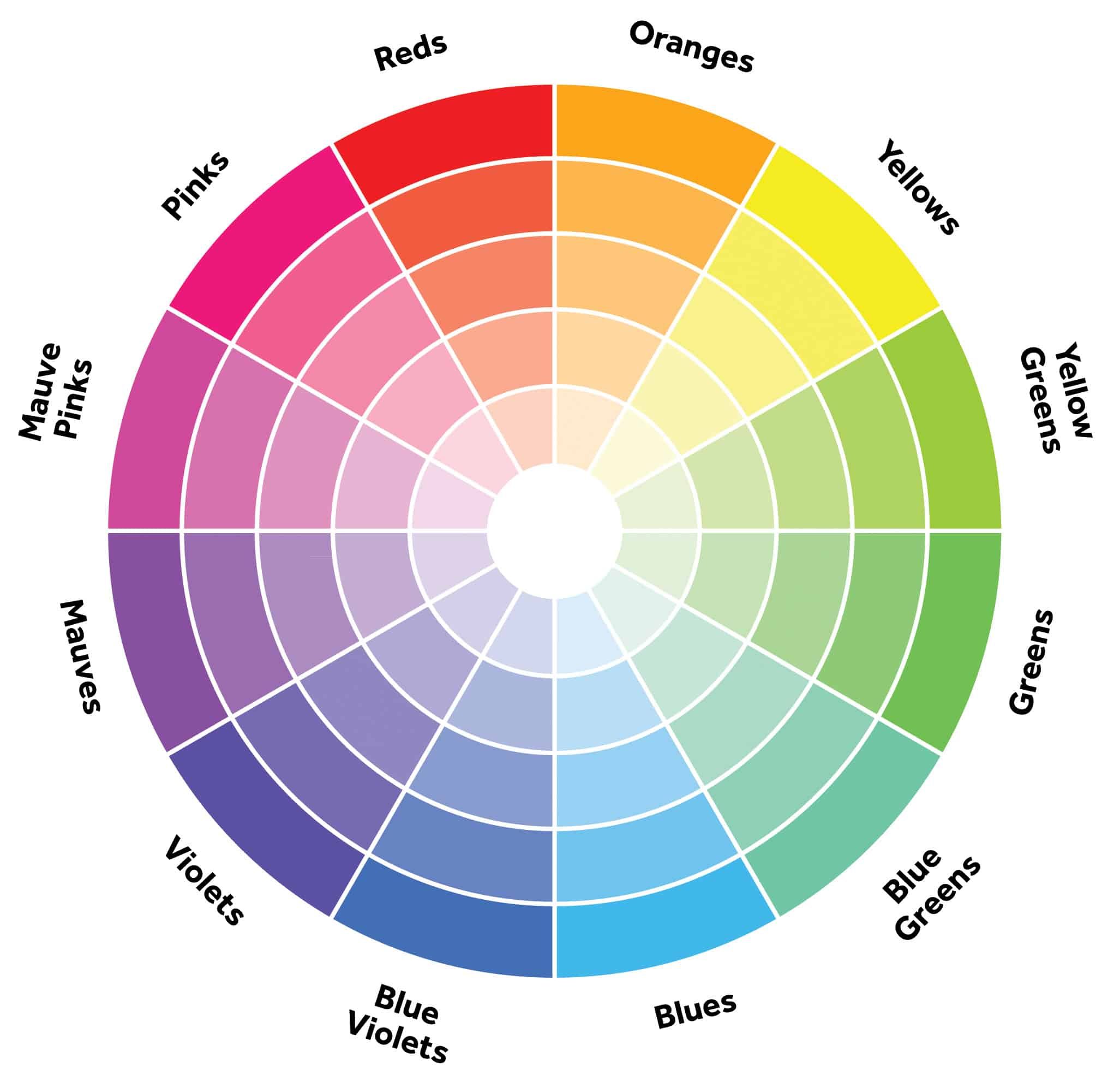 Although cyan and purple represent Marqeta's logo, the decision to use dark blue in the website header is also practical as it is provides suitable background for white text. Research shows that high contrast between the text and background color improves legibility and readability.
What this shows is that in choosing a website color scheme, you need to consider emotional appeal, technical compatibility, and practicality. Choose the colors that reflect your brand value and keep in mind your website visitors' browsing experience at all times.
Create infographics, reports, and presentations online.
Watch this demo to learn how to, with Piktochart. It's easy to get started.
Watch the demo