Our brains LOVE visuals. Don't just take it from us though. We gathered some fascinating statistics that we are excited to share with you. Visuals help us retain more information, drives engagement with your target audience, and can help turn lengthy and dull presentations into appealing yet simplified informational images.
Did You Know?

Infographics capture information using a visually stimulating approach. Grab the attention of your clients in creative and memorable ways using visuals. Below are ten ideas on how to use visuals to attract your clients.
You could also jump right into creating a visual by signing up on Piktochart.
1. Create a Unique Media Kit
What is a media kit?
A media kit is typically described as "a pre-packaged set of promotional materials of a person or company that can be distributed to members of the media for promotional use" (Millo). Most media kits fit on 1-10 pages and are in PDF format.
Why create a media kit?
The purpose of a media kit is to catch the attention of potential clients. That means no more writing lengthy emails explaining what you do and attaching a boring resume, bio, or head shot. Woo!
Another great way to use your media kit is to have satisfied clients pass your kit to others that may need similar services. This is a great way to get leads for even more potential clients.
How to get started:
You may be wondering what should be included in a media kit. Here are some ways to get the ideas flowing:
Photo of yourself
Bio about your business
Samples of work you are most proud of
Include images if possible
Logo
Links to your social media accounts
Contact Info
Something that makes you unique
Read more about how a media kit can land you awesome clients. Piktochart has an awesome feature that lets you convert infographics into PDFs with their PRO account. This is a great option for those who do not have Adobe Acrobat.
Need inspiration? Click the image below to view an example of a media kit.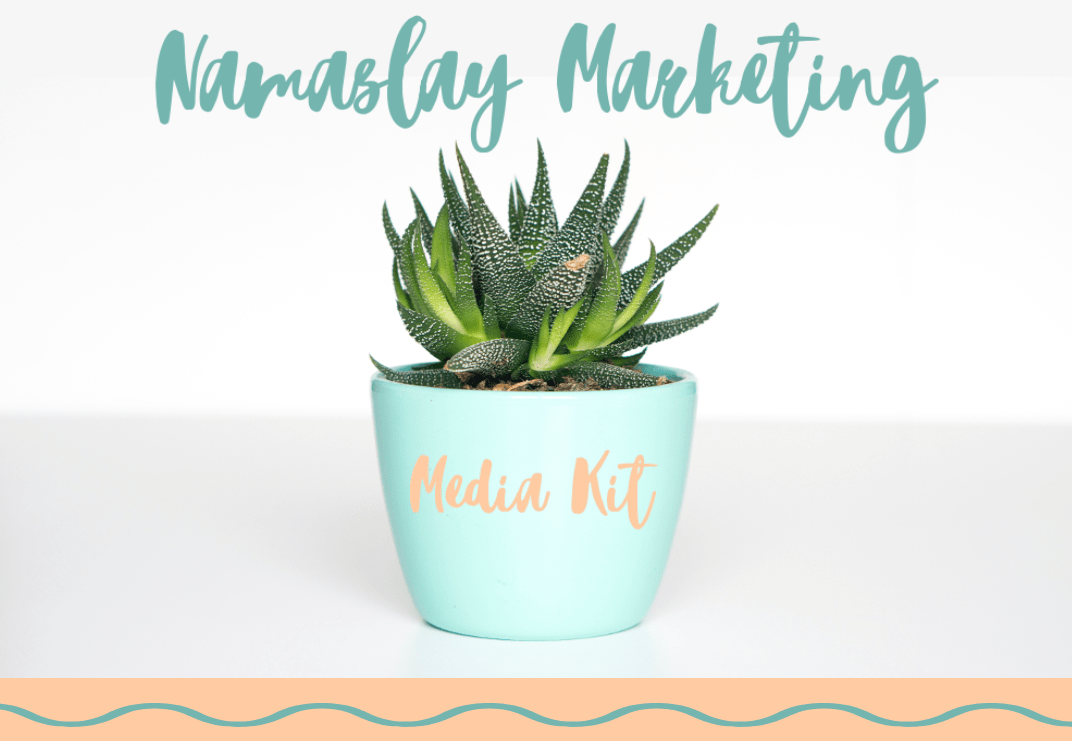 Source: Namaslay Marketing
2. Capture Your Products and Services Beautifully
Sometimes looking at a list of services can be overwhelming to the client. Finding a simplified way to deliver that information will not only save you time, but make the client feel more at ease.
What Key Things to Include:
Your prices: It is okay if there needs to be wiggle room with the costs, but at least ballpark so the client knows if you are within budget for them.
What the client gets: Create a short and sweet breakdown of what is included for the price.
What Things You Should Leave Out:
Complex verbiage: Hard to understand marketing language can be intimidating to some clients. Of course, this depends on who you are trying to reach. Regardless, make sure all the information is easy to comprehend.
Low resolution photos: Low resolution photos when shared will show up pixelated. Avoid this by making sure all photos used are a high resolution.
How to get started:
Brainstorm how you want your products or services displayed.
Create short and sweet eye-catching descriptions of the products or services.
Find attractive images to use throughout the infographic.
Create or find a template to work from. Piktochart has lots of free templates to choose from if you are in need of ideas.
Click the below image to see an example of a products and services deck.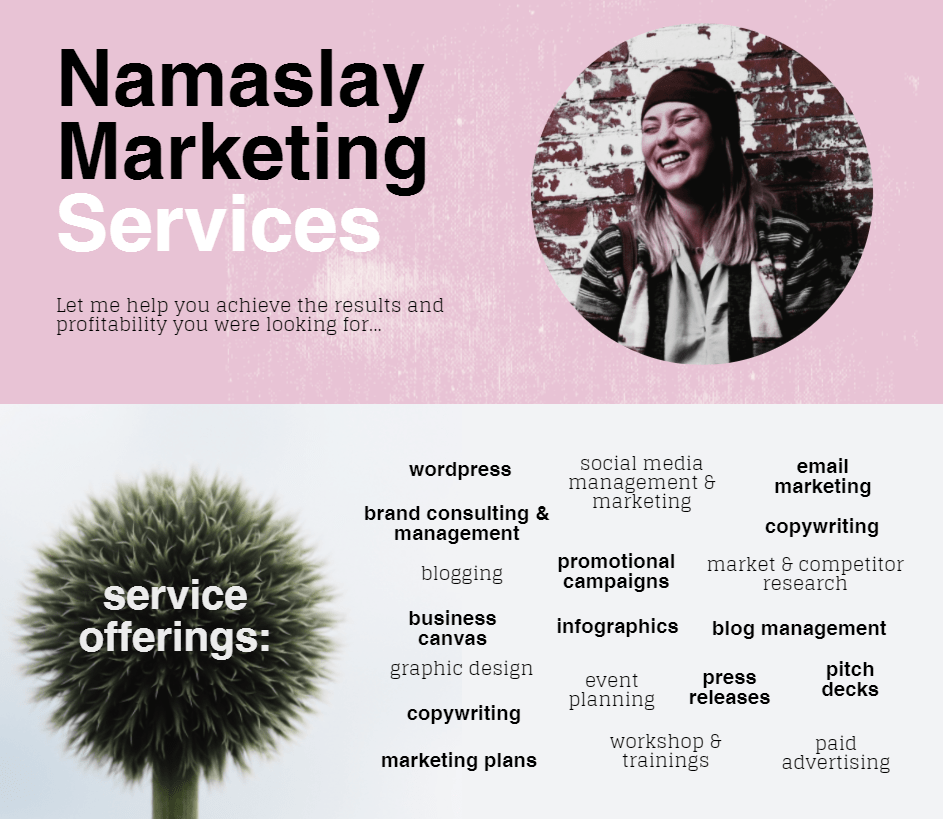 3. Promote Offers and Discounts
Announce an upcoming product or service in style. By creating an infographic, you can display all the information creatively. After all, people retain 80 percent of what they see, just 20 percent of what they read, and a measly 10 percent of what they hear.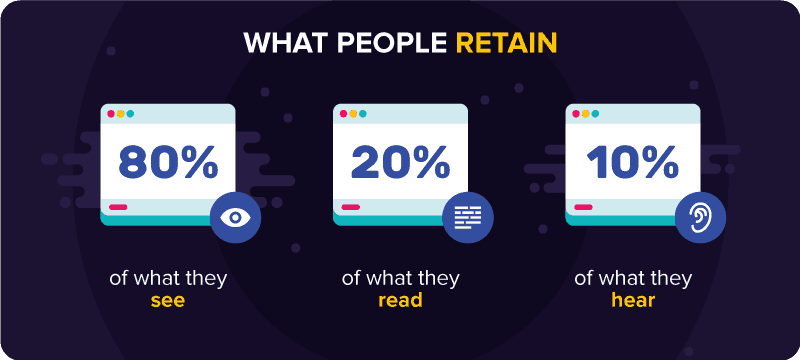 An infographic is a unique way to show people the wonderful deals you are currently promoting. When planning your content strategy for your business it is helpful to plan out what promotions you want to do ahead of time.
There is this awesome tool Meltwater that suggests what relevant topics you should include in your strategy. Meltwater even mentions quirky holidays and pop culture events that are coming up. When promotions are planned around a trendy holiday or event it is likely they will get more engagement and brand awareness.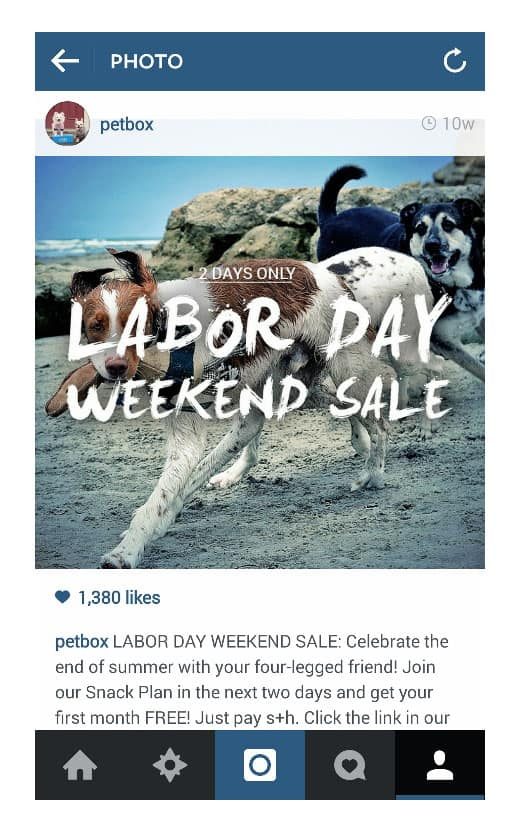 Source: KissMetrics
How to get started:
Let your personality shine with a creative visual to promote an awesome offer you have.
Piktochart also has some gorgeous free "printable" templates to choose from.
4. Customer Feedback
[clickToTweet tweet="Did you know that on average, 55 percent of visitors spend less than 15 seconds on your website?" quote="Did you know that on average, 55 percent of visitors spend less than 15 seconds on your website?"]
According to Hubspot, that means you only have 15 seconds to grab the attention of a potential client. People rely heavily on reviews before considering a purchase. Imagine having your testimonials displayed in an eye-catching visual that is easy to read.
How to get started:
Begin to brainstorm the layout of your visual. Think of a creative way to display the testimonials rather than just copying and pasting plain text.
Choose an attractive color palette and stick to it.
Less Text, More Images. Create a form or provide a list of questions to give your past clients. Have them rate your services and products on a 1 to 5 or 1 to 10 scale. Once the data has been collected, you can create a visual showing your average ratings based on the questions you asked clients.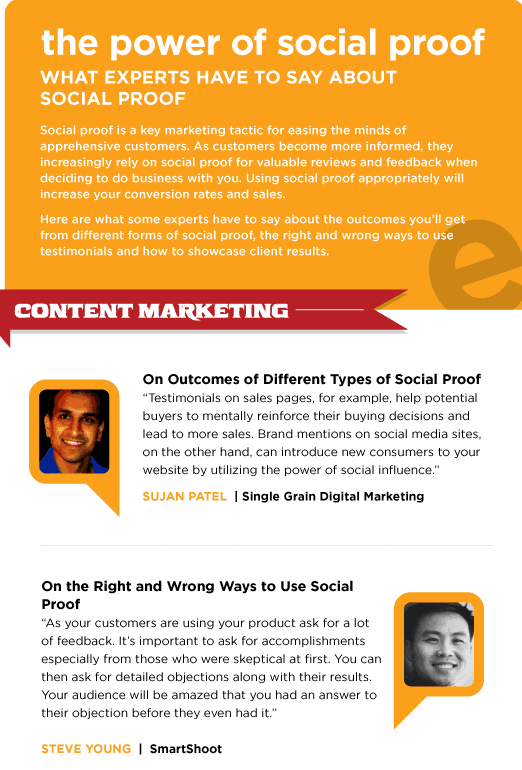 Source: Fiore Communications
5. Provide Free Downloadable Content
Collecting leads can be tedious. Offering free content for download is a great way to build a rapport with current and potential clients. It is your goal to entice people to give you their contact information in exchange for the free download. Hubspot shared that the most popular content offered is a "Downloadable Kit". According to Hubspot (refer to below chart), people prefer content over trials or demos so this is something worth considering if you are looking for ways to attract clients.

Source: HubSpot
How to get started:
Brainstorm what you think would be of the most value to your target audience. If you are unsure, ask your loyal customers what they would love to see offered.
Create a rough outline of what the resource will look like.
Design the resource using a design tool such as ones I mentioned above like Canva, GIMP, or Piktochart.
Create a form for people to fill out in order to receive their download. You can create the form using free tools like Google Forms or Typeform.
Click the image below to check out an eBook Piktochart co-wrote with HubSpot.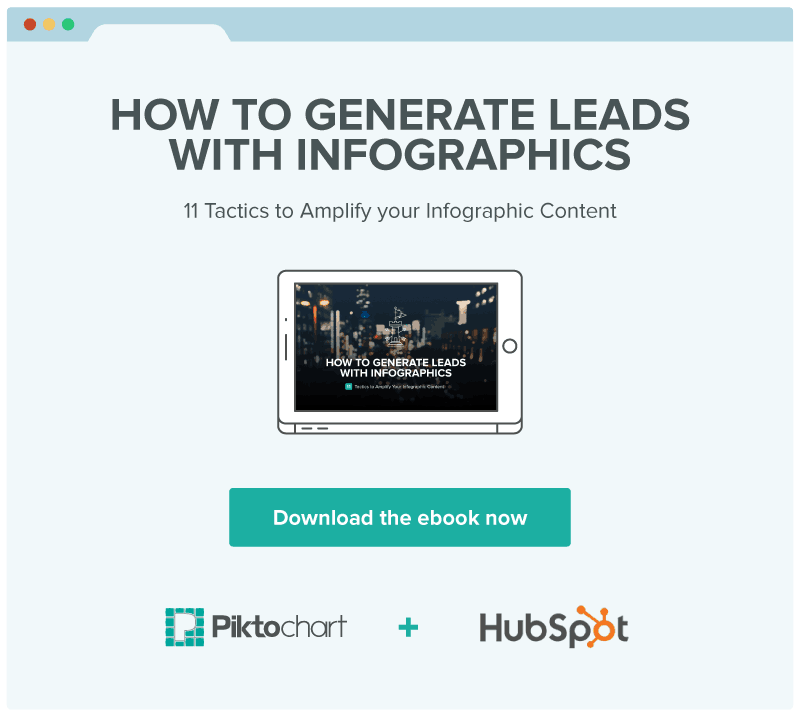 6. Free Template/Checklist Download
This is fairly similar to the above except that you are offering people a template they can take and make into their own resource. Some great examples of what you could create are a content calendar, a blog post checklist, a freelance contract template, or maybe even a template for people to use so they can create their very own positive affirmations. Be creative, express yourself with these templates. They do not need to be boring and full of text. Add images that align with your brand, make it entertaining to read, have fun with it!
How to get started:
Decide what type of template or checklist would work best for your target audience. If you are unsure, ask groups that are filled with people similar to your customers. You could even go to Quora for help or join a Facebook group like Blogger Insights or Social Media Managers.
Once you've decided what type of content you want to create, begin to layout the look of your visual. You can doodle on a pad or pick out a template and just start messing around with it until something inspires you.
Create a way for people to enter their information in exchange for the content. You can use a contact form or integrate software into your website such as Drip which also has lead and contact forms that you can use.
Source: Curata
Piktochart offers professional templates for creating beautiful presentations, reports, infographics, posters, flyers, and social media graphics. You can get started by signing up for free.
7. Increase Brand Awareness
Bring attention to your business in an attractive way. Visuals are a fantastic way of doing so. This tactic can also increase your brand recognition since our brains retain information from visuals much better than text. Bring your story to life in a way people won't forget.

How to get started:
Think about what makes your business stand out. What are the advantages of working with you? Find a way to capture that in a visual.
Keep the context short and sweet to prevent information overload.
Use vibrant colors that catch people's attention.
Make sure the visual represents your brand well and that the information stays relevant to your target audience.
Source: We Are Huntly
8. Simplify Your Project Data
Powerpoints can be dull and boring. Use visuals and infographics to keep people engaged. Show people just how fun data can be.
[clickToTweet tweet="Did you know that humans only have an attention span of 2.8 to 8 seconds?" quote="Did you know that humans only have an attention span of 2.8 to 8 seconds?"]
With such little time to share information, it is important to find ways to engage with your audience. Ask your audience questions and be playful or entertaining if and when appropriate.
How to get started:
Use one of the software or services mentioned above to create your infographics and visuals.
Break up your visuals into slides using Slideshare if there is a lot of information to share. If you are using Piktochart, you can actually download your infographic as blocks that are perfectly sized for a presentation.
If you are presenting in person or via webinar, try not to read from the slides. Check in with your audience. If you feel like people have begun to tune you out, ask them questions or have them participate which requires them to do something beyond just listening to you talk.
Structure your presentation so it's engaging and helps your audience understand how to solve their problem.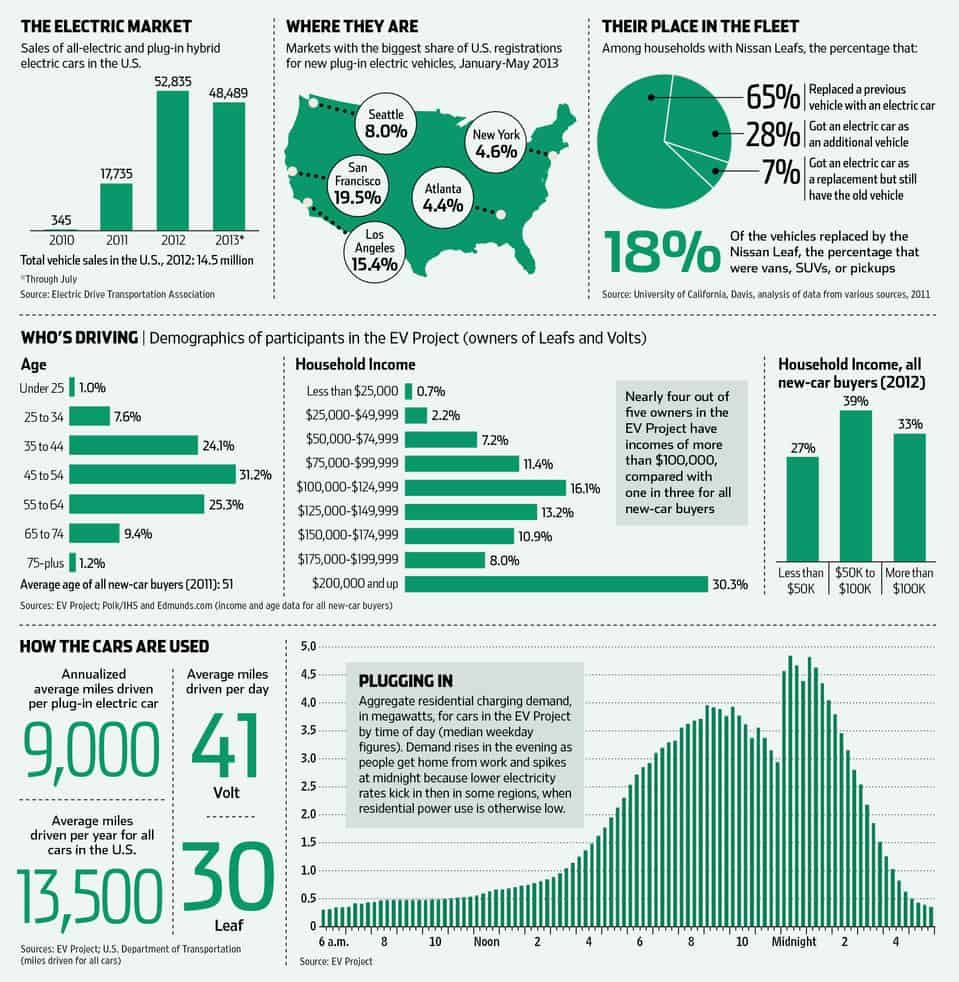 Source: Inside EVs
9. Celebrate a Milestone
So you've just reached a milestone or hit a goal on social media. What better way to celebrate than with a giveaway or token of appreciation? Share some gratitude with your loyal fans and customers with a small gift, whether it be a discount code or a service/product for a selected winner(s). Your customers will appreciate you for it and most likely it will bring you more potential clients.
Need an example? Click the image below to read about Piktochart's iPad giveaway in celebration of its fifth birthday!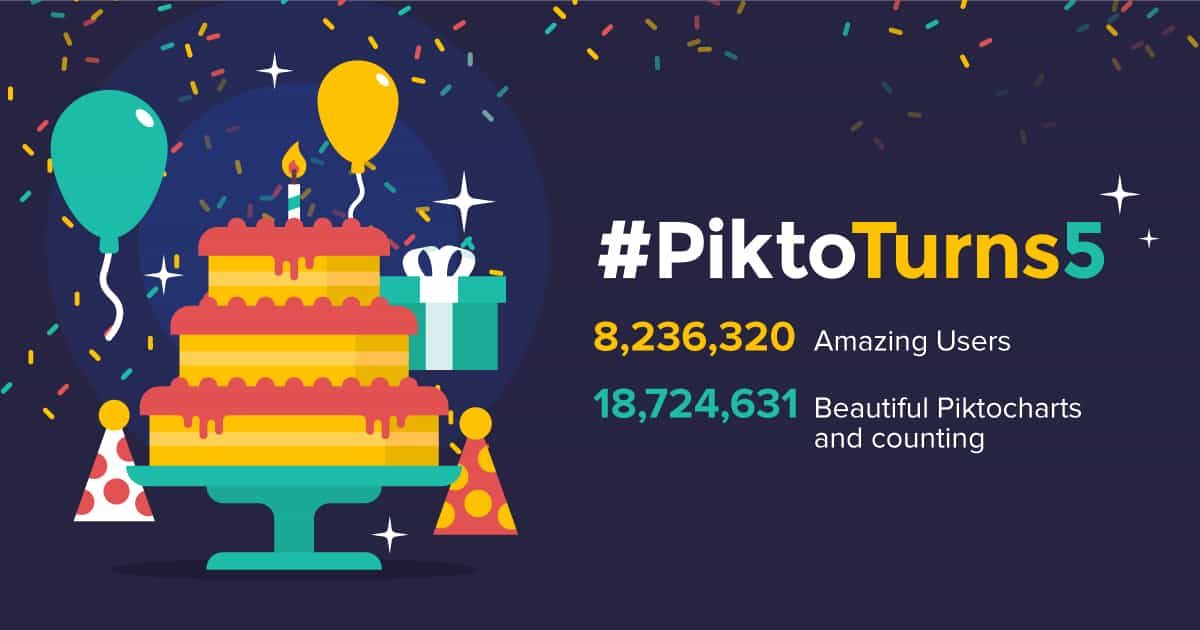 How to get started:
Decide what to giveaway or discount that seems justified for the milestone.
Create a visual to promote the milestone. We included an example below. Keep it as simple or as detailed as you like, but avoid flooding the image with text.

Collaborate with other like-minded brands to expand the reach of your promotion.




This can be a great opportunity to work with other companies and cross-promote each other. Be sure they share the same philosophies and attract a similar audience in order for this to be the most beneficial for the both of you.
10. Blog Post with CTA
It is always a good idea to have intention and purpose behind the content you put out. If you get bored cranking out the typical blog post, consider making your post into an awesome infographic instead. Leave a nice little call-to-action (CTA) at the bottom of your infographic to encourage people to join your email list in exchange for a discount, free course, or whatever interesting offer comes to mind.
How to get started:
Decide if you want to create a new blog post or revamp an old one into an infographic. This is a simple way to boost traffic to an older blog post.

Once you have a topic in mind, sketch a rough outline so you can make sure the flow of the infographic is solid.

Get yourself a delicious cup of coffee or tea if that is more your style and start creating.

Add a CTA at the bottom of the infographic. This can be a button that leads to a secondary page or maybe even use a subtle pop-up window. If your website is on WordPress, there are many free plugins you can use such as

Sumome

that work nicely. Refer to the image below for an example of a pop-up. Be sure the pop-up is not too aggressive by carefully timing the pop-up. You don't want the pop-up to appear right when someone lands on your page. Let them scroll through your infographic a bit, then hit them up with a subtle message.
Source: HubSpot
As you can see, there are lots of ways you can use visuals to attract potential clients. This is a fun way to make yourself stand out and shine like the bright star that you are. Be true to yourself and your brand. Go get 'em tiger, you got this.
Feeling inspired? Get started by creating a free account and selecting a template that sparks your imagination.
What are some ways you guys have used visuals to attract clients? Drop your ideas in the comments, we would love to hear them!