The ability to effectively share ideas, illustrate a concept, and convince an audience is invaluable whether you're a student or a C-level executive.
These days, the software you use to create presentations is just as important as your public-speaking skills.
On top of that, most companies transitioned to remote work recently due to the current coronavirus situation and will now need to share their stories online through a virtual conference room with their distributed teams.
That's why we've come up with a list of some of the best presentation software available right now.
Choose the right presentation software by weighing the pros and cons
You'll see some of the most popular applications: from free to paid subscription platforms, and slideshow applications to full-blown visual design software.
Each one has its pros and cons, so it's up to you to figure out which suits you best.

Piktochart is an online design software that can create a variety of visuals, from infographics to social media stories.
An area in which Piktochart shines is crafting presentations.
On Piktochart, users can choose from a wide range of professionally-designed slide templates.
These include monthly marketing reports to employee onboarding templates.
This broad selection is especially useful for those who don't have much design experience or know-how but need to create a visually stunning presentation in a pinch.
Piktochart also makes it easy to include design elements such as lists, timelines, comparisons, graphs, and different types of charts through drag-and-drop tools.
You can even make visual maps with it.
And if your company uses a Piktochart TEAM plan, you can enjoy the platform's ability to store brand assets, color schemes, and bespoke templates.
Here, replicating company-branded visuals is a breeze. Piktochart comes with a free version but with certain limitations.
Active visuals are capped at five per month and published visuals have a Piktochart watermark.
If you want features such as team template collaboration, project sharing, and annotated commenting, you'll have to get a Team account. To sum it up:
Pros:
Lots of professionally-designed templates
Good for both design professionals and non-professionals
Easy to store brand assets and bespoke templates
Access from anywhere via a web browser
Free version available
Cons:
Might take some getting used to if you're used to PowerPoint
Present and collaborate with ease using Piktochart's presentation templates.
You don't have to worry about how your presentation will look like. Piktochart's easy-to-edit templates will take care of the visual aspect for you.
Try Piktochart for free
2. Microsoft PowerPoint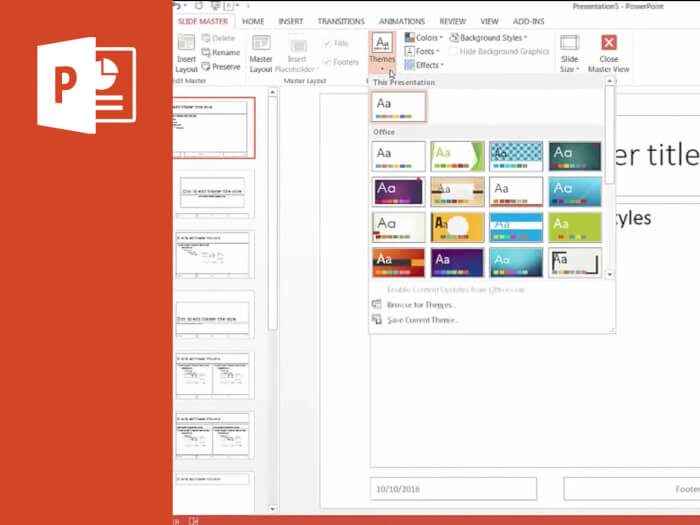 Microsoft PowerPoint is often the first presentation software to come to mind.
Considered the "O.G." of presentations, it is widely used and has quite a familiar interface—which means most are comfortable with using it.
It's got everything you need to create a presentation: from animated transitions to pre-installed fonts and graphic elements.
Users can also upload their own fonts, graphics, and images into their presentations.
Lastly, it's available as part of the Microsoft Office software package; and you can work on your presentations via web and mobile, too.
However, PowerPoint has very few templates to choose from, and these tend to fall quite flat.
It's easy to fall back into a boring slideshow if you don't know what you're doing.
And because most people use PowerPoint, you're likely using the same template as the next guy.
As standalone software, PowerPoint is pricey at US$139.99—and accessible through only one device unless you upgrade your package.
And while PowerPoint is primarily a slideshow application, its strengths are limited to this category.
So if you're looking for the best bang for your buck, you might want to look elsewhere.
Pros:
Market leader in slideshow applications
Widely used and familiar interface
Reliable and usable on most devices
Cons:
Expensive
Flat templates
Limitations with its standalone-software price
3. Google Slides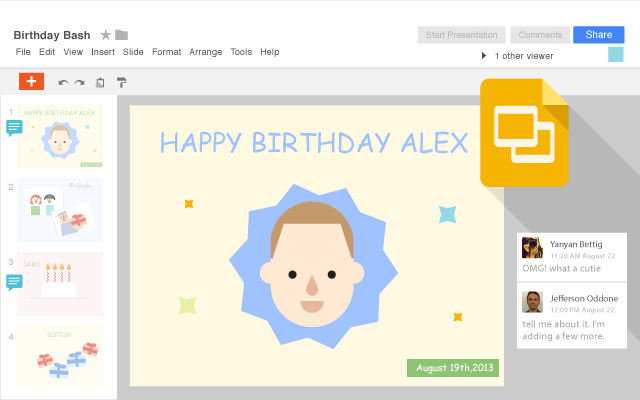 Google Slides is a slideshow application that is very similar to PowerPoint. But there are three main differences: it's fully online, collaborative, and free.
The great thing about Google Slides (besides the fact that it's completely free for anyone with a Google account) is that you can log on via browser or official app.
You can access all your presentations from any device, and share them with other people so you can collaborate in real-time.
And there's no need to worry about disruptions as all changes are saved as they happen, as long as you have an active internet connection.
Additionally, anyone familiar with PowerPoint will be comfortable using Google's iteration.
It's also a lot simpler, so even those new to presentation making will find it easy to navigate.
These include embedding videos from sources other than YouTube, plus adding audio tracks and sound effects.
Some users also encounter issues with downloading and exporting to different formats, including PowerPoint.
Some slides may even turn out completely different from the original version.
All in all, Google Slides is a great option for those who are looking for a free application and only need to create simple presentations.
Pros:
Free
Web-based and collaborative
Simple and familiar interface
Cons:
Too simple for advanced presentation making
Difficult to export to other formats
4. Keynote
You could say Keynote is Apple's version of PowerPoint. It's also a slideshow application—but in typical Apple fashion, it comes with a sleek, minimalist interface.
There are 30 different themes to choose from, which serve as templates for those who need a quick fix. And it can do most of what PowerPoint can.
Keynote's main perk is that it's part of the Apple ecosystem. That means it has built-in iCloud and Apple Watch support so users can control their presentation from their wrists.
And it comes pre-installed in most Mac devices. Otherwise, you can purchase it from the Apple store for just US$9.99 for mobile and US$19.99 for OS X. The big downside is that Keynote is exclusive to Mac OS.
Non-Apple users can create, upload, and sync their own Keynote presentations through their iCloud Drive, but this feature is completely helpful only for those who use multiple Apple devices.
And if you're used to working on PowerPoint, you might find Keynote a bit confusing in the beginning.
Pros:
Sleek, minimalist interface
Free with most Apple devices
Cons:
No access for PC and Android devices except through iCloud
5. SlideDog
Sliding away from straightforward slideshow applications, SlideDog is a web-based multimedia presentation tool that lets users combine different types of media to create rich presentations.
This includes everything from PowerPoint decks to videos to PDFs that can all be played side by side without any awkward transitions.
It's also very easy to customize a SlideDog presentation.
You just need to upload the files into the SlideDog web browser application, then drag and drop according to the order in which you want them to play.
You can control your presentations and playlists from another device, and audience members can view your slideshow on their devices by clicking a link.
SlideDog has a free version that provides all of the basic features.
However, live sharing and premium support is only available with a Pro account that costs US$99 per year.
And while SlideDog is technically considered presentation software, you can't actually create presentations on it.
You can simply stitch together different pre-made presentations in various formats into what is essentially a playlist.
Lastly, SlideDog supports only Windows devices, so Apple and Linux users can't use it.
Pros:
Supports a lot of different media
Provides live-sharing
More dynamic compared to the usual slideshow presentation
Cons:
Only collates media; doesn't create them
6. Haiku Deck

Ever come across presentations with size-eight fonts and blocks of indecipherable paragraphs on each slide?
You can avoid such an unfortunate scenario with Haiku Deck.
HaikuDeck is a web and mobile application that favors images over text.
It works by limiting the number of words users can put on each slide, and allowing them to search for images on their platform related to the slide's main idea.
This makes it ideal for those who want to simplify their thoughts and let the images do all the talking.
Users have over 40 million royalty-free photos to choose from, plus dozens of simple slide layouts on the platform itself.
While this certainly simplifies the process of creating a visually rich presentation, it can be limiting for those who need to include more information into their slides.
It's a great option for someone giving a TED Talk, for example. But for others who need to pass on more facts and figures, having a built-in word limit might be too restrictive.
Pros:
Simple and easy to use
Access to millions of royalty-free stock images
Cons:
May be too simple for some
No Android support
Limited features
7. Prezi Business
Among the software on this list, Prezi Business might be one of the most unique presentation tools.
Rather than offering a regular slideshow format, Prezi looks more like a 3D interactive mind map where viewers jump dynamically from one idea to the next.
You can zoom in to one "slide" and then zoom out for the next.
Prezi has over 100 templates to choose from and comes with a very simple interface and a drag-and-drop style of editing.
It's compatible with both Mac and PC desktops as well as smartphones.
It's also similar to a regular PowerPoint deck in that you can jump back and forth from one "slide" to the next.
And like SlideDog, you can send viewers the link to the presentation as you're presenting.
Also, up to 10 people can work on a Prezi presentation at the same time, one of its main selling points.
This is great for collaboration, but having so many hands-on deck at once can get messy.
Pros:
Dynamic and immersive presentations
Highly visual
Easy to use
Cons:
May not be appropriate for all types of presentations
The best presentation software is…
When it comes to presentation software, the world is your oyster.
Each of these tools either has a free or trial version for you to check out, so you don't have to commit yet.
But when it's time to choose, consider the following aspects:
Ease of use. Is it easy for you to understand or will it require lots of training before you can start creating presentations?
Accessibility. Can you access your presentations from any device or are you limited to carrying your laptop to every presentation?
Real-time collaboration. Can multiple people work on the same project or do you have to keep downloading and emailing drafts?
Create design tools. Can you create presentations with dynamic design elements or are you stuck with the same kind of slide each time?
Template availability. Is this tool only accessible to a design professional or can anyone create stunning presentations through pre-designed and updated templates?
Hopefully, this list sheds some light on the tools at your disposal. Choose wisely!
Collaborate on presentations, reports, and more with Piktochart.
Watch this free demo to learn how your team can collaborate on visual content projects more effectively with Piktochart.
Watch the demo