Piktochart has been a remote first organization since 2021 and we have never looked back. Today, we're fully remote, after having let go off our office in Penang. We may be biased, but we think it's the way to move forward in the world today!
Lots of companies are thinking about how to manage remote teams or a hybrid work arrangement, and we are penning our thoughts down in this post.
Table of Contents
What are the benefits of remote work?
Working remotely has brought a number of benefits, and they're worth highlighting! First up – flexibility! With the ability to work when they're most productive, remote workers can better juggle their work and personal responsibilities.
Remote working also means no more time spent commuting to the office. Not only is that a huge time saver, but it's also environmentally friendly.
Beyond that, studies suggest that remote workers are often more productive! With fewer distractions and a comfortable environment, workers are able to give their best effort every day!
Employers also benefit from remote work, as it allows them to tap the best talent from anywhere in the world. A more diverse and skilled workforce is always a happy side-effect! 😃
Finally, did I mention that remote working can save you a lot of money? No more office rent, no more commuter expenses, and no more fancy lunches to try and impress coworkers. The savings are real!💰
However, we also do not take the challenges of remote work lightly. We are cognizant that our team is small, and we're distributed around the same time zones (mostly 8-10 hours apart).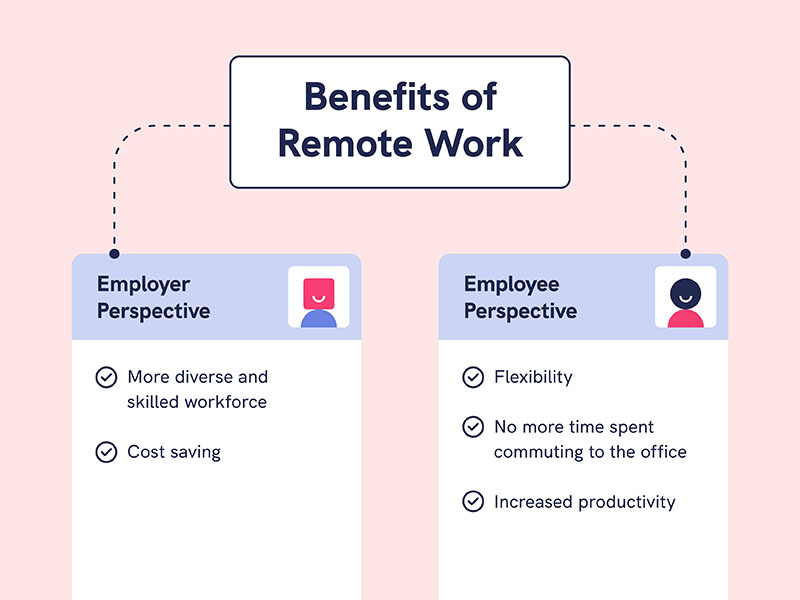 What are the challenges faced by remote employees and employers?
Remote work brings significant benefits, but it also comes with a set of challenges for both remote workers and employers. Below are some challenges of remote management, supported by statistics:
Employer Perspective
Communication Barriers
20% of companies found communication as one of their biggest struggles with managing remote employees work.
According to a Buffer's State of Remote Work report (2020), 20% of companies pointed to communication as one of their biggest struggles with managing remote employees work. But when we dig into the data further, a lot of these companies employ a partially remote or hybrid team formula. A fully-remote organization would usually have learned how to make communication work.
We have created visually-appealing templates perfect for improving communication at your remote workplace. Get started for free to create personalized presentations, reports, and more with ease. Apply your brand assets with our tool in seconds.
Performance Measurement
Evaluating productivity and output can be difficult with remote teams. Team members can find it challenging to monitor work effectively, which can lead to misunderstandings regarding performance and expectations.
These management challenges can be circumvented by having a different perspective of managing employees. Hiring the right people who would like to work remote and focusing on outcome rather than output is a clear way to go.
Employee Perspective
Work-Life Balance
25% of remote employees find unplugging after work hours was their biggest challenge.
In a study by Buffer (2022), 25% of remote employees reported that unplugging after work hours was their biggest challenge. The blurred lines between personal and professional life can lead to burnout if not managed well.
Isolation and Loneliness
24% of remote employees struggle with loneliness.
Buffer's report also revealed that 24% of remote employees struggle with loneliness. This can significantly impact mental health and overall work satisfaction.
Distractions at Home
48.7% of people who work remotely from home struggle with distractions at home.
A survey by Beyond Booksmart found that 48.7% of people who work remotely from home struggle with distractions at home. The lack of a dedicated workspace or presence of household chores and family members can interrupt work.
Keep in mind that these challenges can be mitigated through effective project management tool and strategies, proper tools, and clear communication within the team.
What does company culture mean in remote work?
Company culture in a remote work environment refers to the set of company values, practices, and attitudes that shape the way remote teams interact and work together. While it shares many elements with traditional office culture, it also includes unique elements due to the nature of remote work.
Here are a few key aspects of company culture in remote work:
Trust and Autonomy
In a remote work environment, managers can't physically see their employees working. So, a culture of trust and autonomy is crucial. This means believing in your team's ability to get the work done and giving them the independence to manage their own tasks and schedules.
Communication
Clear communication guidelines are even more critical in a remote work setup because employees can't walk over to a colleague in a physical office for a quick chat. An open and transparent communication culture, leveraging various communication tools, is essential to ensure that everyone stays on the same page.
Many remote companies also have face to face interaction in a yearly company retreat.
Collaboration
The ability of remote managers to collaborate effectively is a significant part of a remote company's culture. This involves regular virtual team meetings, brainstorming sessions, and collaboration on shared digital platforms.
Work-life Balance
Remote work can blur the boundaries between professional and personal life. Hence, a remote company culture often emphasizes the importance of maintaining a healthy work-life balance, encouraging employees to set boundaries and take time off when needed.
The company can assist to establish rules, i.e. no meetings outside of work hours etc.
Employee Well-being
As remote work can sometimes lead to isolation and burnout, many remote companies are prioritizing a culture that values employee mental health and well-being. This could include offering flexible working hours, mental health resources, a virtual team presence, or regular check-ins to discuss any work-related stress or provide emotional support.
Building and maintaining a positive company culture in a remote work setting can be a challenge, but with intentional strategies and a focus on employee engagement, companies can cultivate a culture and remote environment that supports productivity and employee satisfaction.
There's a tendency to rely on remote team management style of building activities, which we have compiled here, but we are also suggesting that that's the icing on the cake, but the principles and foundations also need to be present!
How to manage your remote team effectively?
Great remote managers do a few things differently, but the foundational pillars are set by the company. They encourage team members by trusting them, and not to micro-manage remote team members.
Set Clear Expectations in the Entire Company
Ensure your remote team members know what is expected of them. This can include deadlines, quality of work, communication, and availability hours.
Establish Regular Communication
Regular check-ins and team meetings are vital in a remote work setting. Make use of various tools like video conferencing, instant messaging, and project management tools (also listed below) to facilitate communication.
While that is usually the advice given, Piktochart does not believe in regular conference calls. We believe rather that the "fat should be trimmed" and team members kept to focus on the most important things. However, check-ins from the managers are required at a minimum of once a month.
Provide the Right Tools
Your remote team members needs the right software and hardware to work effectively. We have a list of tools you can look at the bottom of this article!
You can also access our resources to learn more about employee engagement, wellness, and remote workplaces. Sign up for free.
Promote a Culture of Trust
Show confidence in your team's abilities to perform their tasks independently. Micro-managing can be detrimental to the team morale and individual productivity. Establish some ground rules so that the employees know if asynchronous communication is okay.
Create Opportunities for Social Interaction
Virtual team-building activities, casual chat rooms, and occasional in-person meet-ups can help combat feelings of isolation and build a sense of camaraderie.
Encourage Work-Life Balance
It's easy for work and personal life to blur in a remote setting. Encourage your team to take regular breaks, set boundaries, and make time for rest and relaxation.
Promote Continuous Learning
Encourage remote employees to enhance their skills through online courses, webinars, or workshops. This not only benefits the individual remote leader but also the company.
Support Employee Well-Being
Recognize that remote work can be stressful, and make sure your own team member has access to resources that support their mental health. We provide subsidies to a physical workspace or a co-working space nearby. Regular one to one meetings can also help managers gauge the well-being of their employees.
Recognize and Reward Good Work
Remote workers can sometimes feel that their hard work goes unnoticed. Employee recognition and rewards can go a long way in boosting morale and motivation.
Be Inclusive
Your remote team may be spread across different time zones and cultures. Strive to create an inclusive environment that respects and accommodates these differences, such as flexible meeting times and acknowledgment of various holidays or cultural events.
We have summarized all the tips in a handy infographic below!
What are some must-have tools for remote collaboration?
Here are some of our favorites in our remote working model!
As remote work becomes increasingly prevalent, many tools have been developed to help teams collaborate effectively. Here are some must-have tools for remote collaboration:
Communication Tools
Slack: A messaging platform for teams with features like direct messaging, team channels, file sharing, and integration with many other productivity tools. We love having virtual meetings, also known as Huddles!
Microsoft Teams: Provides chat functionality, video meetings, file storage, and application integration.
Video Conferencing Tools
Zoom: Known for its high-quality video and audio, screen sharing capabilities, and large meeting capacity. A staple for our all-hands meetings.
Google Meet: Part of the Google Workspace, it offers secure video meetings, screen sharing, and integrates well with Google's other tools. This is the video conferencing tool of choice for our project teams.
Project Management Tools
Trello: A card-based system for organizing and prioritizing projects. Each card can contain checklists, attachments, deadlines, and comments.
Asana: Helps teams organize and manage tasks and projects. Features include to-do lists, reminders, and progress charts.
Jira: A popular tool for software development teams, providing issue tracking, agile project management, and more.
Document Collaboration Tools
Google Workspace: Provides a suite of productivity tools including Docs, Sheets, Slides, and Drive for real-time collaboration on documents, spreadsheets, and presentations.
Microsoft 365: Offers tools like Word, Excel, PowerPoint, and OneDrive, which allow for real-time editing and collaboration.
Design Collaboration Tools
Piktochart: A visual communication tool for team alignment, which also has great branding features to streamline your internal communication channels.
Figma: A cloud-based design tool that allows multiple users to work on a design simultaneously.
InVision: Allows for prototyping, collaboration, and workflow integration, making it a great tool for design teams.
Time Zone Tools
World Time Buddy: A user-friendly time zone converter to help schedule meetings across different time zones.
Every Time Zone: Offers a visual comparison of different time zones.
Dropbox: A cloud-based tool for storing and sharing files and folders, with options for access control.
Google Drive: Allows for storing, sharing, and real-time collaboration on files.
Remember to consider the unique needs of your team when selecting the right tools in working remotely, as one size doesn't fit all.
Some templates you can count on in managing remote team
SOP (Standard Operating Procedures) Templates
Internal Alignment Templates
Internal Report Templates
Internal Communication and Announcement Templates
Internal Newsletter Templates

Wellbeing Educational Templates

Internal Email and Blog Banner Templates
Piktochart as a visual communication tool for remote teams
Branding Made Easy
Piktochart takes the complexity out of brand-consistent design, allowing your team to focus on crafting impactful visuals rather than sweating over design details.
Our easy-to-use branding feature enables you to set up a Brand Kit that contains your brand's logos, color palette, and fonts, ensuring all your visual content is in line with your brand identity and set yourself apart from the competition.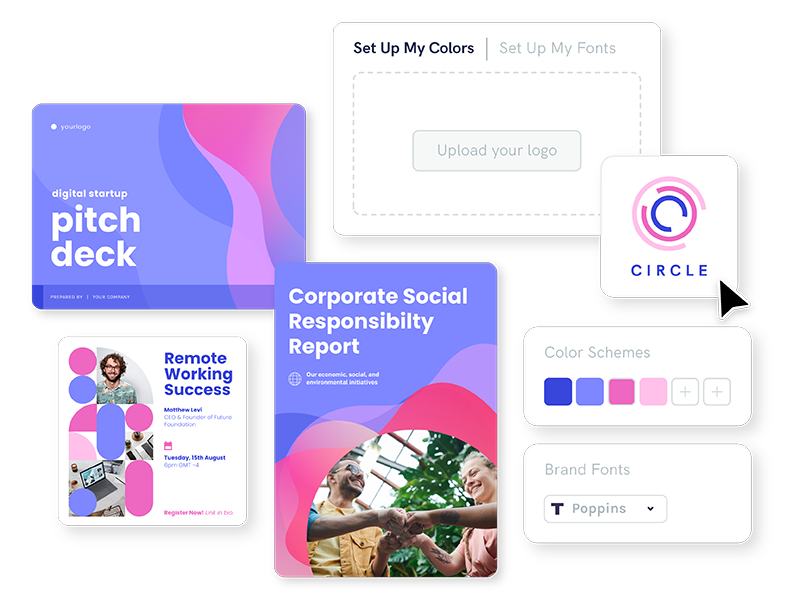 Enhanced Collaboration
Whether you're working on an infographic, presentation, or report, team members can contribute, provide feedback, and make revisions in real time, streamlining the process and ensuring everyone is aligned.
This collaborative feature not only reduces the time spent emailing back and forth but also fosters a more engaged, creative, and efficient team environment.
Organized and Accessible
Piktochart's robust folder and organization feature helps you neatly store and manage your visual assets.
By creating folders for different projects or categories, you can quickly locate and access the files you need, when you need them.
Furthermore, Piktochart's cloud-based system means your work is accessible from anywhere, making it easier than ever to share reports or deliver presentations.
Check Out Piktochart for Teams
Streamline workflow, and boost team collaboration and productivity with Piktochart.
Learn more