Fewer meetings.
Less email.
More of what matters.
Piktochart's collaborative design tool brings your entire team and all your brand assets into a single workspace so that you can create great visual work. Together.
Over 6M Users Worldwide Design with Piktochart
Collaboration
Collaborate with your team
Bring your team members into one single workspace. Share your visual work, your brand assets, and review your peers' work on the fly. With Piktochart, everyone's on the same page. Finally.
Get Started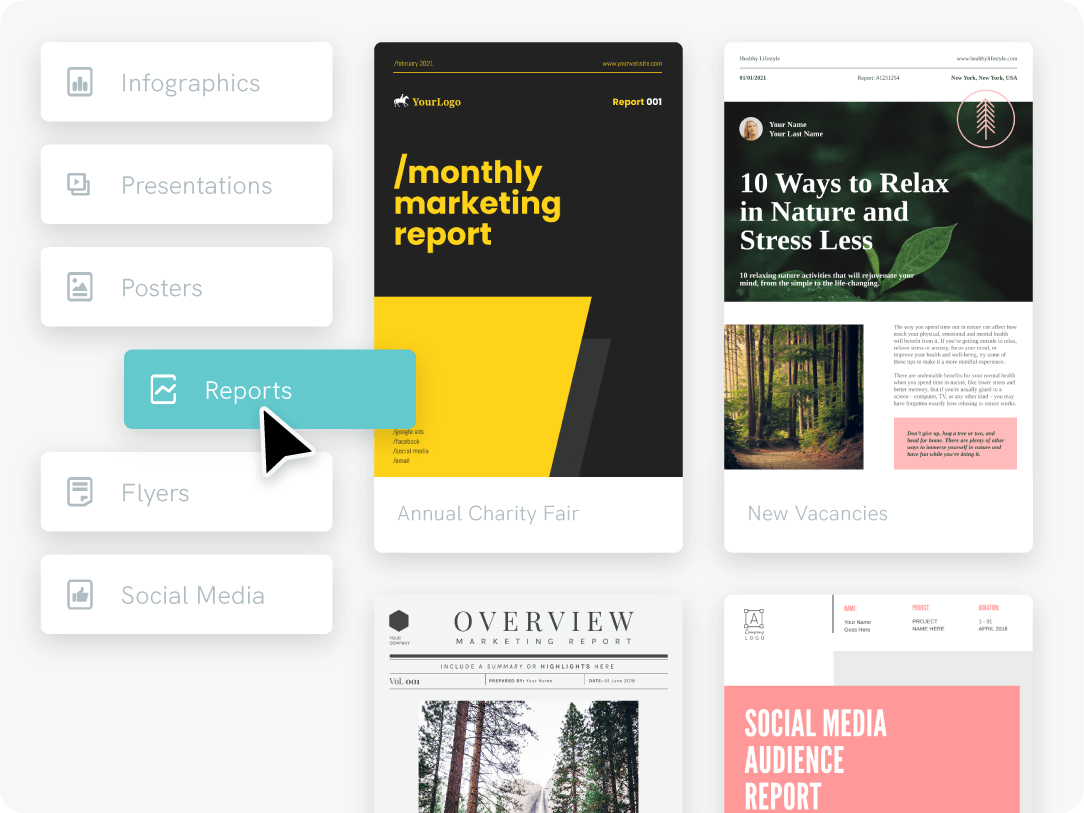 Templates
Create professional content with templates
Choose from a library of over hundreds infographic, presentation, report, social media graphic, and print templates designed by visual communication experts. Wherever your ideas take you, you might just get there faster with our ready-made designs.
Get Started
Visualize your data with charts and maps
It's time to make your data understandable, compelling, and convincing. With Piktochart's robust charts and maps you can quickly translate your data into a visual story that will grasp the attention of your audience.
Get Started
Asset Library
Put a personal stamp on it
Upload your own images or choose from a large library of high-resolution photos, beautiful illustrations, and icons. Want to customize a photo in a ready-made template? No problem. Just drag and drop. Snap. 
You're done!
Get Started
"Thanks to Piktochart we have been able to tackle the stigma of an old company, give a new approach to content marketing."

Neil O'Sullivan

Marketing and Communication Manager at PRIA
"The reports created in Piktochart have helped us to get featured in important industry media outlets many times. This increased our brand awareness."

Julia Gómez Acuña

Co-founder and Content Strategist at Dear Content
"Piktochart enables our teams to internally communicate results, news and updates in a visually-appealing way."

Thomas Trip

Marketing Specialist at Booking.com
Scatter Plot Maker: Frequently Asked Questions (FAQs)
A scatter plot is a graph displaying two sets of numerical data (or two variables) as a collection of points. The position of each point is determined by its values on the two pairs of variables being plotted.
To make a scatter plot, you must first determine the two sets of numerical data you want to plot. Then, choose a scale for y values on each axis and plot each data point on the graph using the values on the corresponding x-axis and y-axis.
The horizontal axis of a scatter plot represents one variable (x values), while the vertical axis line represents the other variable (y values or y data). Typically, the independent variable is plotted on the x-axis line, and the dependent variable on the y-axis line.
Finally, add a chart title and labels for each value on each axis (y values and x values) to provide context and interpretation of the plotted input data.
Scatter plots and plot graphs can visually depict the relationships and correlation between two variables, helping the presenter convey a message's key elements more effectively. A scatter plot (or scatterplot) can also provide insights into patterns and trends in the data, helping the audience better understand the represented information being displayed.
Are you the next visual hero?
Join more than 11 million people who already use Piktochart to craft amazing visual stories.