In January 2004, a young Harvard student along with his friends started writing code for a new website in their dorm rooms.
The team of friends were Mark Zuckerberg, Chris Hughes, Dustin Moskowitz, and Eduardo Saverin. The site, which launched on February 4, 2004, was called Thefacebook.com.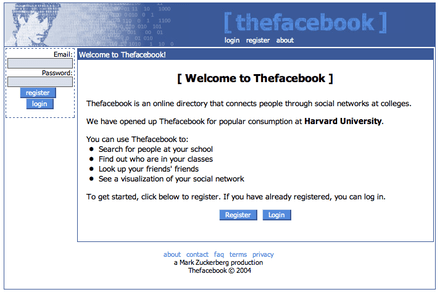 Since that day, it's been growing like crazy. In a 2015 interview with The New Yorker, Dustin Moskowitz mentioned:
When Mark finished the site, he told a couple of friends … then one of them suggested putting it on the Kirkland House online mailing list, which was … three hundred people. By the end of the night, we were … actively watching the registration process. Within twenty-four hours, we had somewhere between twelve hundred and fifteen hundred registrants.
After the Facebook frenzy, Eduardo left to attend other business, Dustin founded Asana, and Chris bought the political newspaper The New Republic. But Mark stayed, and grew Facebook from a dorm room business to an IPO with a market cap of $295 billion.
One of the key reasons why Facebook is so valuable is the success of it's advertising platform. With the help of a fantastic team, in April 2008 Mark launched Facebook Ads, which turned out to be one of the most sophisticated advertising platforms in the world.
A platform that's easy to use, and that you can leverage to promote your infographic.
You can jump right into creating infographics by signing up for free on Piktochart and customizing a template.
Why use it to promote your infographic?
Facebook is special. It does a lot to help marketers find their ideal audience online. That's because the targeting capabilities on Facebook are far more sophisticated than any other social media platform.
Marketers, 25 to 30 years old, who live in New York or San Francisco, and like Tim Ferriss? You got it.
People between 30 and 40 who just got married and live in Europe? You bet.
Dads who run their own businesses from home, and enjoy watching Shark Tank? Most definitely.
Facebook allows you to reach new audiences you could've never reached before, at an affordable price.
Creating your first Facebook Ads campaign
Facebook Ads is a magnificent tool, but before taking advantage of it, we need something to promote. For that, we created a fictional scenario. We have Paleo Recipes Daily which is a paleo recipes food blog, and we want to promote this blog using recently created infographic templates.
If you need some help designing your infographic, take a look at this post.
[irp posts="11128″ name="Piktochart Design Series: With These 8 Articles You Can Now Design Like a Pro"]
One of the most attractive characteristics about Facebook Ads is it's ease of use. Unlike Adwords, virtually anyone can start their first campaign in less than 10 minutes. This is what we'll do now.
Creating the campaign in 15 steps
1 – Open your Facebook's Ads Manager account. To do that, visit the left sidebar on your Facebook News Feed, and click on the Ads Manager link.
2 – Create your ad. If you experimented with Facebook Ads in the past, that will take you to your Ads Manager Dashboard, which should be empty. If not, it will prompt you to create a new Facebook Ads account. It's super simple, and you only need your contact details and a payment method.
Once you are settled, click on Create Ad to start the process. Yay!
Pro tip: many services offer a free $100 dollar credit for new Facebook Ads account. Use Google and browse the internet and look for a coupon code.
3 – Choose your objective. Over the years, Facebook has evolved as an advertising platform. Now, it has 10 different goals for your ads – including app installs, even confirmations or simply video views.
Right now, we want to promote your infographic, so we are going to pick goal #3: Send people to your website. Essentially, what this does is optimize your ads for clicks, to generate traffic to your website (or in this case, infographic).
4 – Add your URL. When you click on Sendpeople to your website, a slider appears from the left. This prompts you to add the URL targeted for increased visits. This would be the link to your infographic, or the the blog post that hosts your design.
In our case, we used the URL of our blogpost that contains the infographics we want to promote: https://piktochart.com/new-theme-food-infographic-and-poster-templates/.
5 – Pick a Campaign Name. This is fairly quick – you should pick a name that's descriptive of the goal of your campaign. We used Infographic Promotion by Piktochart, as it explains what we are trying to do with the campaign.
Before we dive in any deeper, this is also a good time to talk about Facebook campaign structure. A Facebook Ads campaign has three layers – the campaign, ad sets, and ads.
A Campaign corresponds to an advertising objective – in this case, driving traffic to your infographic. Inside the campaign, you'll find Ad Sets. At the Ad Set level, you define your budget, your targeting and the placement of your ads. Finally, you have each individual Ad – which includes images, texts, videos and call-to-action. Several ads are created inside each Ad Set to test how different creatives perform under different circumstances.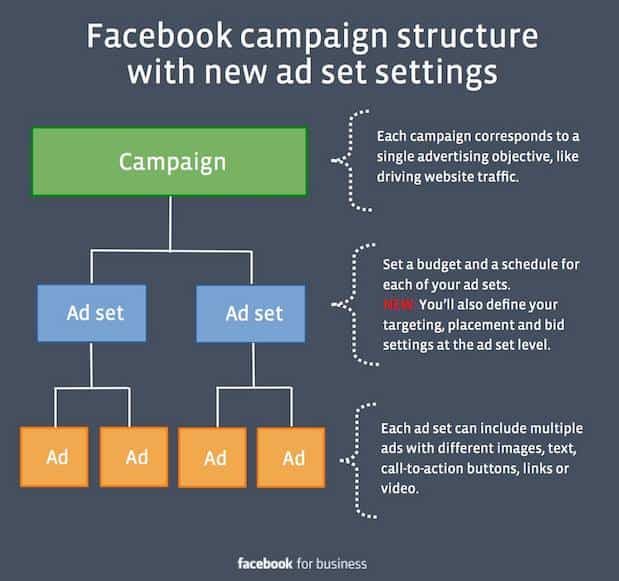 Defining your ad set
6 – Defining your demographic. This is when things start to get fun! The numerous specific targeting capabilities is what makes Facebook Ads unique. As we mentioned before…
Marketers, 25 to 30 years old, who live in New York and San Francisco, and like Tim Ferriss? You got it.
People between 30 and 40 who just got married and live in Europe? You bet.
Dads who run their own businesses from home, and enjoy watching Shark Tank? Most definitely.
In our case, we want to target people who live in the United States, who are between 25 and 40.
But how will you find who to target? Unfortunately, you're on your own for this one. Each audience and each business is unique, so this involves some serious customer research.
At Piktochart, we talk to users, do customer development, and then created user personas based on that information.
According to Hubspot, there are 20 different questions you could use to create customer personas. With that said, we are going to simplify things a bit, and use 3 questions. Quick tip: when answering them, you should be as detailed as possible.
Description.

Who are your customers? How old are they? What are their goals?

Problems.

What are the pain points they are trying to solve? What problems do they have?

Interests.

What are they interested in? What does their day to day look like?
7 – Defining your interests. If you've already created your user personas, you might have some information.
In this case, we targeted Facebook users who are interested in recipes and organic cuisine. However, the flexibility of the platform is unlimited! Below you'll find a few ideas worth trying when starting with Facebook Ads:
target your Facebook fans.

target your competitors fans.

target your newsletter subscribers.

target people similar to your newsletter subscribers using Lookalike Audiences.
8 – Budget. With Facebook, you can spend as much as you want – from $5 to $10,000 a day, or more. Personally, we recommend you start with $10 a day, for 5 days. Anything less than that will take ages for you to collect enough meaningful data or see any results.
It's important to let the ad run for a few days, while Facebook gathers data and optimizes your ad. If you don't see what you expected in the first 24 hours, don't sweat it. Pick a budget for your campaign ($50, or $100), and commit to it!
If you want, you can set your ads to end on a specific days (like 5 days from the day you created the campaign) to ensure it doesn't run continuously and drains your marketing budget.
9 – Optimization and bidding. Let's keep things simple for now, and use Facebook's default options – bid for clicks on your ad, and let Facebook automatically optimize your ads and targeting to get more clicks at a lower price. After all, Facebook knows more about Facebook than we do!
10 – Ad Set Name. This should be fairly straightforward. Your Ad Sets describe your demographic so that's what the name should portray. Facebook automatically fills in a descriptive name for you, which you can change or leave as is. In this case, we took Facebook's recommendation: US – 25-40 (United States, from 25 to 40 years old).
Designing your ads
11 & 12 – Picking Your Images. The image is the most important part of a Facebook Ad. As our brains are much better at processing visual information than text, this is what grabs someone's attention. Facebook has it's own image best practices:
Choose an image that is directly relevant to your product or service

Use an image that is bright and eye-catching, even when viewed at a small size

Avoid images that have many small details or text and opt for something simple instead

The recommended image size is 1200 x 628 pixels, or a 1.91:1 ratio.

Your image may not include more than 20% text.
The Facebook Ads Manager allows you to upload multiple pictures during the ad creation process. It will, in turn, generate and show 3 different ads, and assess which one has better performance. Since you have a daily budget of $10, we recommend you start with 2 or 3 images. This will allow you and Facebook to gather meaningful faster (if you have more ads, you'll have to spread your budget across more data points).
But how to get these images? You have several methods, and they are all effective:
Use a free stock site like

Unsplash

,

StockSnap.io

or

Death to the Stock Photo

. This is what we did.

Design your own images – you can use something like

Piktochart

or

Pablo

, by our friends at

Buffer

, to do it in minutes, and for free.

Use a Shutterstock image. Facebook

has partnered

with Shutterstock to allow you to use their entire photo library, for free.
13 – Linking your Facebook Page. As this is your first time with Facebook Ads, I recommend you stick with News Feed ads – avoid Mobile Ads, Instagram Ads, or Sidebar Ads. They all work, they are all effective, but let's keep it simple.
The only condition is that for you to run a News Feed ad, you must connect a valid Facebook page to your ad. This is actually beneficial, as people who are attracted to your ad will also visit your page.  If you don't have one, you'll have to create one.
In this case, we created a page called Paleo Recipes Daily, and connected it to our ads.
14 – Writing the copy. This is one of the most challenging parts of the ad creation process – writing copy that will attract Facebook users. Your news feed is swamped with pictures of babies and weddings. How on earth will you differentiate yourselves from an invasion of cuteness?
First, the text. This is the regular text of a Facebook publication. It's what will complement the image, and drive attention towards your ad.
"The Organic Center set up their New Year's Resolutions, and we decided to make a beautiful infographic of it!" – it's short, compelling, explains why there is a picture of delicious food, and makes you want to check the 'beautiful infographic'.
Second, the headline. This is the title of the link, and it will play a major role in deciding whether people click on the ad or not. It needs to be short, and compelling. A good idea might be to ask a question, or be mysterious. That will encourage people who have already read your ad to take the final step and click on it.
15 – Place order. Yes! You made it! When you click on Place Order, your ad enters the approval process. As you are a new advertiser, it will only take a couple of hours to start seeing some activity in your account. If you followed our recommendations closely (especially the 20% text limit on images!) you won't have a problem.
Going Further
Well, that's it for now! As it's probably your first experience with Facebook Ads, we tried to keep things really simple. My final piece of advice is make a choice, pick an ad, and run with it for a week. If you don't see results after a few days, you can stop (and try again!).
If you do see results, and want to go a bit further, you can optimize your performance by trying these two things.
Split testing more images
As I mentioned before, images are the most relevant part of an ad. For that reason, it's the first thing you want to split test. For that, you should simply create new ads inside the same ad set. They will share the target demographic, budget, and schedule, but you'll be able to play with the creatives.
The key thing is to test different approaches, not marginally different pictures. For instance, if the Control is a picture of a sandwich, don't use a picture of a burger as Variation 1. Instead, pick the inside of a restaurant as Variation 1, and a stunning photograph of a farmer's market as Variation 2.
Creating new ad sets
If you are feeling courageous, and you want to explore more things in depth, I suggest you create a second ad set, with a different segmentation. This can produce drastic changes – or huge flops!
For example, if you were advertising to your existing Facebook fans, try uploading your a list of your customer emails, or targeting using your competitor's fan page as an interest.
Thanks for reading! Good luck with this new experience! We'd love to know how it went, so share it in the comments! If you have questions, we'd love to answer them too!
Images via Facebook Ads, Unsplash, Adweek.
Create attractive social media graphics for your social media campaigns with Piktochart. Customize almost every element of a template by adding your brand assets, illustrations, charts, and more. Collaborate with a team to save rounds of editing. Get started for free.
Create eye-catching social media graphics to reach your digital marketing goals with Piktochart.
Create a visual for all your digital marketing aspirations from social media graphics to infographics to flyers. Create presentations, reports, infographics, posters, and more. Add more icons, illustrations, graphs, and images. Customize color scheme with brand assets. Save rounds of editing with collaborative features. Get started for free.
Sign up for free