There are certain mysterious hacks only the most experienced Pikto-wizards know about. Sometimes they are so hidden, even the Piktochart team members go "Whoa!" when they witness them for the first time (#truestory).
One of these secret gems is including GIFs in infographic presentations, and today we're going to share the secret with you!
You can follow along by creating an account on Piktochart for free.
First, Know This: The Most Powerful Presentations Are Simple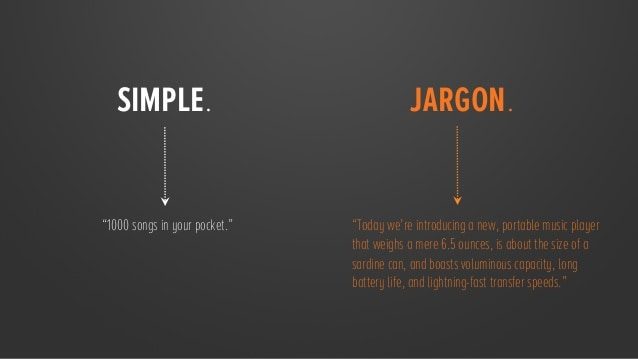 Steve Jobs used to say: "People who know what they're talking about don't need PowerPoint".
In some situations, you don't need an overwhelming presentation or voluminous slide decy. Think of the best TED talks or keynote speeches. Most of the time, all of your attention is on the fantastic storyteller in front of you. You know, the ones who are able to silence the crowd and captivate it with the structure of their talk, the tone of their voice, and their intonation. What stays is the key message. But not everyone can deliver a strong message this way.
Visuals, on the other hand, are proven to help us remember certain things easier. Our brain associates imagery with the message that goes with it, and it's more likely to stick with us.
Although PowerPoint has been with us for ages, some people still make the mistake of trying to fit too much into the slides and overflowing them with text. You still see those text-heavy presentations here and there, and most of the time, they're cringe-worthy. Too much text is no good. When you've explained everything on the slides and leave no story to tell, how do you manage to capture people's attention?
[clickToTweet tweet=""People who know what they're talking about don't need PowerPoint" – Steve Jobs" quote=""People who know what they're talking about don't need PowerPoint" – Steve Jobs"]
Go for simplicity instead. Keeping your presentation as clean and minimalistic as possible and highlighting what's important is absolutely essential.
Wait, what were we talking about? Oh, right. GIFs.
Let's jump right into it. GIFs can serve a few purposes in your presentation. They can:
grab your audience's attention much better
help you highlight an important message
be self-explanatory with no extra words needed
make people laugh
Piktochart uses GIFs in many of our emails and everyday internal communications, and they just make things funnier, lighter (or sometimes more confusing and hence, even funnier…).
The great news is that GIFs can be used in Piktochart! The only condition is that your visual needs to be published and viewed on the web. Our download options don't cover the .gif format.
How to Add GIFs in Piktochart
Adding GIFs to your Piktochart visual is really easy. It's exactly the same as adding images, but with 1 more trick: you need to change your saved file's extension from .gif to .jpg or .png. Create an account and follow along.
Here is what you need to do:
Find an awesome GIF on Dribbble, Tumblr, or Giphy (or anywhere else you go for animated image magic).
Download it and save it to your computer or other storage device.
Find your saved file and change its extension from "cooldribbble.gif" to "cooldribbble.jpg" (or "cooldribbble.png" if your gif has a transparent background)
Upload your renamed GIF in disguise to Piktochart as you would normally upload an image: you can drag-and-drop it to directly onto your canvas (another hack worth knowing!), or you can use the upload button.
Publish your visual and then embed it into your blog or website, or you can share the link with others via social media or by email.
Here is an example of gifs in a presentation from our Monday Morning Meeting. During those meetings, we share our key statistics, make announcements, and give team or project updates. Those kind of gatherings can be very boring, but we have ways to spice them up. See for yourself!
(Note: some facts have been changed, but it's surprising to know that only 30% of people can flare their nostrils!)
For the the above GIFs, Harrison searched Dribble and found:
---
How to Spice up GIFs in Your Presentation
GIFs make your presentation stand out. Using them as simple backgrounds (like in the example above) can add that extra fun element to your meetings.
But… there are other things you can do to make it even cooler. Here's another Monday Morning Meeting presentation created by Mok, one of our graphic designers.
What She Did, And What You Can Do, Too
Combine text with GIFs – On the title, anouncement and 180th day slides, Mok inserted GIFs and added text frames (found in TEXT tool in the left side navigation) on top. It looks like one element when in fact it's a combination of two to create one consistent visual.
Create continuity and use humor – for the scrum section, Mok used the same dancing characters and kept adding new ones to each new slide until there were a bunch of grooving chickens on the last one. Clever and funny!
Be simple – Mok says to use simple GIFs that don't steal attention away from the main information. She used Tumblr to find the chickens, btw.
GIFs can be fun, and they have a power to brighten up your meetings and presentations. Now that you know it's possible to add them to Piktochart, how will you use them?
Feeling excited to try out this feature? Sign up for free to get started. With Piktochart, you can also make reports, infographics, social media graphics, posters, and more!
Create impressive presentations with professional templates.
Also create infographics, posters, reports, and more.
Sign up for free