Visme is a popular tool to design presentations and infographics. It's easy to use and comes with plenty of benefits such as free templates, a drag and drop editor, data analytics functions, and so on.
However, it's not for everyone. There are certain limitations that might compromise your ability to create engaging graphics with ease. For example, many users don't like that the fact that it doesn't have a mobile app — Not to mention the limited storage space.
So if you're on the lookout for Visme alternatives, you're in luck. In this post, we'll show you what other options you have, apart from Visme, to design professional-looking visuals in no time.
The 9 Best Visme Alternatives 2022
The following list will help you find graphic design software similar to Visme while avoiding the limitations that impact your design experience.
1. Piktochart — Best for businesses that need to communicate data internally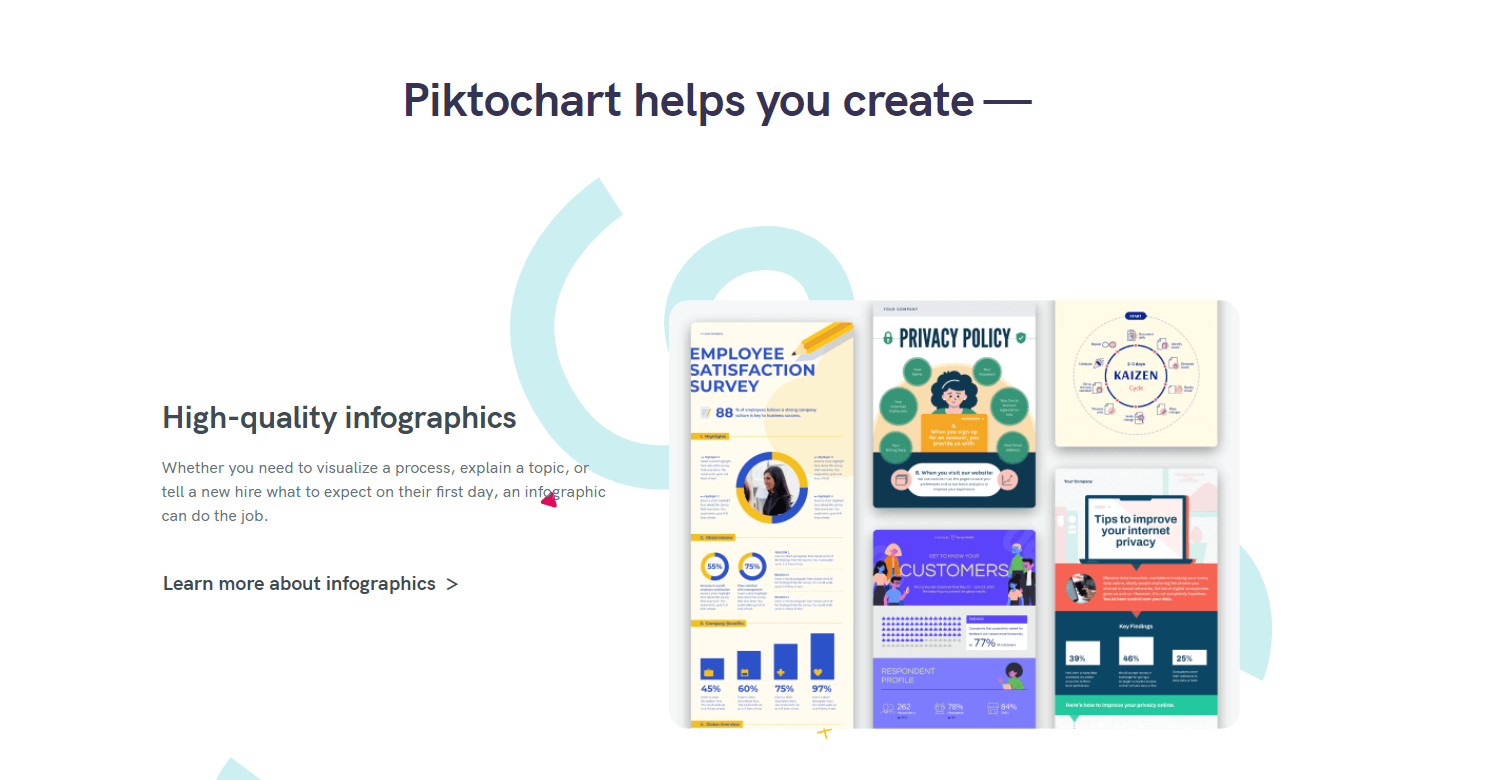 Piktochart comes with a selection of 600 templates for different types of graphics, which also include social media photos. Moreover, you get plenty of storage space to upload custom photos, several download formats, and options to collaborate with team members even with the Free plan.
Even if you pay for a Visme standard account you are still limited to only 15 visuals. With a Piktochart Pro account you can create as many visuals as you want. Plus, you get unlimited visual downloads and folders, 100GB for image uploads, brand assets, and a lot more.
Notable features of Piktochart include:
600+ templates ranging from infographics, presentations, posters, brochures, and more
All plans include collaboration
Interactive maps and charts
4000+ free icons and photos
Export images in PDF, PNG, and PPT formats
Pricing: You can access all the premium features of Piktochart starting from $14 per month per member.
2. Canva — Best for beginners looking for a multipurpose design tool
Canva is a note-worthy Visme alternative to design modern infographics, presentations, posters, social media graphics, and more. It has an intuitive interface and a big selection of predesigned templates for several industries. You also get features to collaborate with team members by inviting them via email.
Canva offers thousands of photos to be included on your designs and 2 million extra for a price. And you're free to upload your own photos.
Other benefits in the free plan include icons, illustrations, charts, frames, and color customization, while the premium package provides extra fonts, organization tools, special animations, resizing, and transparent background.
Notable features of Canva include:
Charts, graphs, mind maps, and diagrams
Simple drag and drop editor
Real-time staff collaboration
Pricing: You can get advanced features with a Canva subscription, starting from $12.99/month.
3. Venngage — Best for marketing communication and data visualization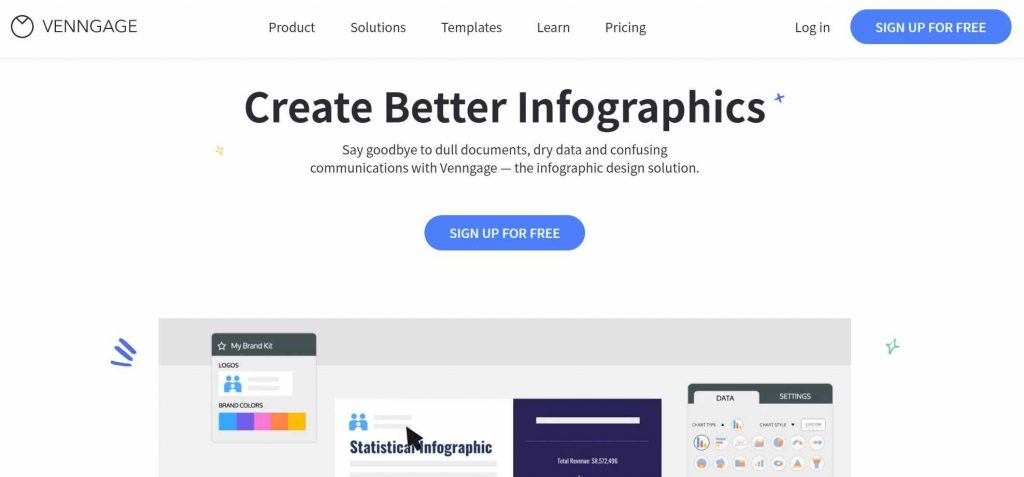 Venngage is a viable alternative to Visme for professionals looking to create a wide range of graphics, including social media photos, postcards, and infographics.
It also has several unique templates to choose from when you're launching a new design project. You can give it a try with a free plan, but your options will be limited. Plus, there will be a small watermark on your downloaded designs.
The premium version gives you access to all the features, along with working on designs as a team, but it's expensive as compared to other Visme alternatives.
Notable features of Venngage include:
40,000+ icons, illustrations, and charts
7500+ templates
100 image uploads
Real-time team collaboration
Pricing: Venngage has different pricing plans: premium, business, and enterprise. The minimum plan starts at $16 per month per user.
4. Crello — Best for creating and sharing animations on social media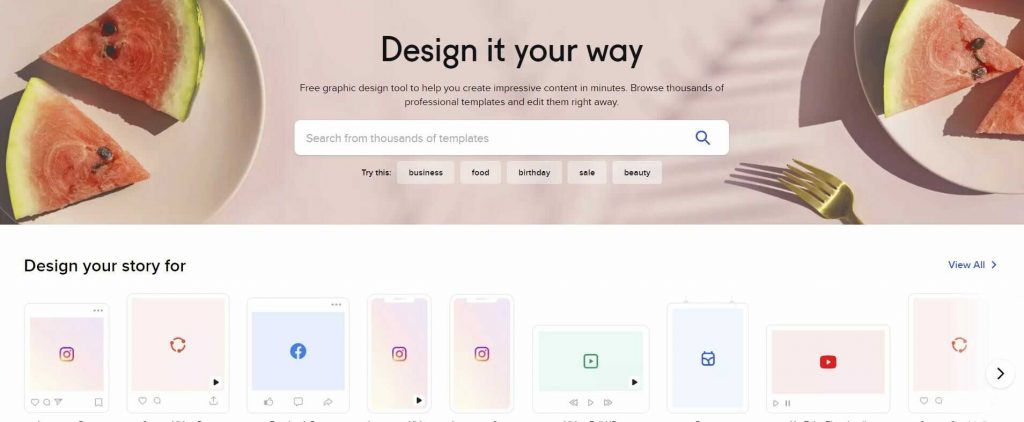 Crello is a versatile graphic design tool that's similar to Visme in many ways. But unlike Visme, it lets you create graphics for plenty of use cases. The type of graphics you can create with Crello include event flyers, social media, animated designs, advertising banners, print media, blog headers, marketing materials, and more.
Crello also has a large array of templates, illustrations, and images, including many options suitable for different formats and platforms. There is a free plan, but you'll need to be a paid subscriber for main features such as the animation maker.
Notable features of Crello include:
50,000+ templates
140 million stock images, or upload your own
32,000 animations and videos
Team collaboration on designs
Pricing: To create animations using Crello, you can buy Crello Pro at $7.99 per month.
5. Snappa — Best for social media marketers to quickly publish and share their designs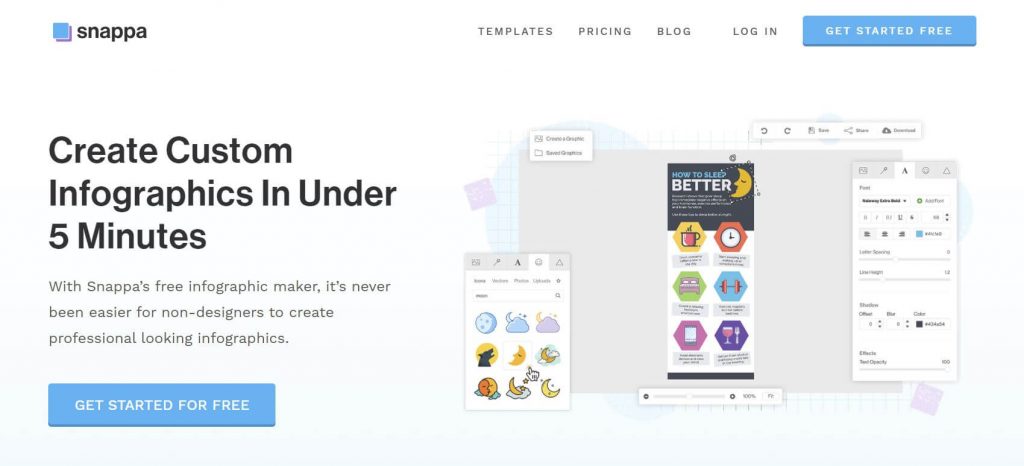 Snappa is another Visme alternative with 4 million stock photos, trendy charts, and ready-made templates. It also lets you include your own custom photos in design projects.
The free plan limits you to a maximum of five graphic downloads per month. And you don't have the option to share your designs on social media. If you want to take full advantage of what Snappa has to offer, it's better to have a paid plan.
Notable features of Snappa include:
4 million stock images
200 fonts and typefaces
100+ templates
Pricing: You can get access to all the Snappa features with a paid plan which is priced at $10/month.
6. Stencil — Best for bloggers and social media marketers
Stencil is a cloud-based graphic design tool just like Visme. With its premium plan, you can create an unlimited number of designs using tons of icons, photos, and graphics.
Its instant resizing feature lets you quickly change the dimensions of your design to match the requirements of any social media network. In addition, it offers integration with social media scheduling tools like Buffer to post your images automatically at time slots selected by you.
Notable features of Stencil include:
3 million royalty-free icons
5 million stock photos
1000+ readymade templates
3700+ Google web fonts
Pricing: Stencil's pricing starts from a monthly fee of $9.
7. Lucidpress — Best for users who need to design branding and print media
Lucidpress is another feature-rich alternative to Visme. You can use it to make nearly any type of design such as a brochure, magazine layout, flyer, poster, and so on. Other than that, you can also design visual content for social media marketing. With LucidPress, you also get team collaboration capabilities. You can share individual designs or entire folders with coworkers to work together on projects.
Notable features of Lucidpress include:
Drag and drop editor
Free Unsplash photos and Icon Finder icons
100+ professional templates
Real-time team collaboration
Pricing: It will cost you $3 a month to unlock premium functionalities on LucidPress.
8. Infogram — Best for users who want to visualize complex data sets
Infogram is a great Visme alternative, especially if you want to display statistical data in a visual manner. It has a ton of stock photos, seven general shapes, 25 icons, and 41 charts that can be used to design a wide range of graphs and maps.
Its intuitive drag and drop editor lets you customize several aspects of your design, including layout and colors. Infogram comes with a free plan, but it doesn't let you download a design or share it privately.
Notable features of Infogram include:
100+ templates
25 icons and 40+ interactive charts
550+ maps
Real-time data import
Pricing: You can download your Infogram designs by upgrading to a paid plan that costs $19 a month.
9. easel.ly — Best for educational institutions seeking an affordable tool
Easelly's free plan doesn't have a lot to offer. But the good news is that it has one of the most budget-friendly premium packages on the market. With Easil.ly, you get access to 11 million images, 112 fonts, and 320+ templates — all for a low monthly price.
It comes with an intuitive drag-and-drop design editor interface. Plus, you have the option to download your work or share your designs privately with team members.
Notable features of Easily include:
1.1 million photos
112 fonts
320 templates
Pricing: This design tool has the most economical premium plan among all the Visme alternatives that starts from $4 per month.
Conclusion
Visual content has the power to draw more attention than regular text. It also makes the information you want to convey easy to digest and memorable. No wonder professionals are investing heavily in visual content, regardless of whether they are communicating inside or outside their organizations.
So it's obvious that you shouldn't miss out on this opportunity to engage your audience like never before. But what can you do if you're not a professional designer and Visme isn't working for you?
Well, now you have your answer. In this article, we have tried to ensure that no matter what's holding you back, it's not for the lack of options. You have plenty of Visme alternatives to pick from. So give them a try and see what works best for your needs. Happy hunting!