If you've ever created a business plan or tried to make an organizational decision, chances are you've heard of a SWOT analysis.
A SWOT analysis is a methodological tool for identifying an organization's internal strengths (S) and weaknesses (W), as well as its external opportunities (O) and threats (T).
Some say the tool was developed by the Stanford Research Institute in the 1960s, while others credit the efforts of the Harvard Business School in the 1950s.
One thing's for sure though, the different origin stories agree that the SWOT analysis was developed to improve strategic decision making in organizations.
You can jump right into creating a SWOT analysis with Piktochart by creating a free account and following along.
Who needs a SWOT analysis?
Businesses typically conduct a SWOT analysis to make strategic decisions. But other organizations, such as non-profits and universities, can use this tool too.
SWOT analyses may also be done simultaneously at different levels. For instance, the Millennial Cities Initiative of Columbia University's Earth Institute decided to undertake SWOT analyses on three levels to determine the recipients of investment.
One level focused on the location, such as the city that wants to attract investors. Another looked at the sector or sub-sector for which the investment is sought. The third looked at organizations within the city, sector or sub-sector that were responsible for fundraising.
Individuals can benefit from a SWOT analysis too. If you're confused about taking a new job, switching careers, or pursuing further studies, you can apply the SWOT analysis method to help you decide.
How to conduct a SWOT analysis
At its most basic, a SWOT analysis encompasses an organization's internal capabilities (strengths and weaknesses) and external environment (opportunities and threats).
Before jumping right in, here are some tips to consider:
Establish your goal for the SWOT analysis.

What is it for? Identify the decision you want to make or the strategy you want to develop.

Conduct background research.

The topic depends on your SWOT objective. You may need to focus on your industry, competitors, and market trends. Or you might research about a new technology or a potential investment.
Get input from others in your organization.

Talk to people representing different teams. Don't limit your sources to sales and product development teams. Talk to finance, marketing, and customer-facing staff too.
Once you've established your goal and gathered the data and input you need, you can start working on the SWOT analysis. For the first four steps, encourage brainstorming and ideas. You can organize the list later on.
Start with a table with space for each category. Make a table with two rows and two columns. Place strengths at the top left, weaknesses at the top right, opportunities on the bottom left, and threats on the bottom right.
Here's how that would look like:
Steps to identifying your SWOT
1. Strengths
The first step is to identify your organization's internal capacities and resources – things that you can control. These are your strengths. Think in terms of product, service, finance, brand leadership, technology, company culture, and related areas.
One tip from Columbia University is to assess your strengths – as well as weaknesses – in relation to those of your competitors.
2. Weaknesses
Identify your organization's internal weaknesses. Examples include high employee turnover, weak sales performance, lack of a clear branding strategy, poor cash flow, inefficient processes, and others. These are under your control too.
3. Opportunities
This time, think externally. List possible opportunities for your organization. These can be new trends that complement your products, a lack of competitors in your space, industry events, and new software that will help streamline your workflow.
4. Threats
Lastly, list down external threats. These may include tough competition, strong branding by other companies, an unstable economy, political uncertainty, community traditions or beliefs that may clash with your product.
Making sense of your SWOT
Now that you've listed your SWOT, take a look at each category and lay out your priorities. Select issues that you need to address now, and decide which ones you'll deal with in the future.
Now it's time to develop a strategy to address your prioritized issues. As part of its tips for starting a business, the Queensland government advises asking these questions:
How can we use our strengths to take advantage of the opportunities identified?

How can we use these strengths to overcome the threats identified?

What do we need to do to overcome the identified weaknesses in order to take advantage of the opportunities?

How will we minimize our weaknesses to overcome the identified threats?
If you take a closer look, you'll see that the questions address what you can do about your strengths and weaknesses. That's because they're a part of your organization. What you do about them can have an effect on how you leverage your opportunities and deal with your threats.
In other words, you can control internal issues in order to influence external outcomes.
To apply everything we've learned, let's try out a SWOT analysis using the above questions from the Queensland government.
Here's a scenario. You're thinking of setting up a digital marketing agency for small businesses in the hospitality industry. You've identified plenty of items under each SWOT category, and narrowed them down to your priorities as such: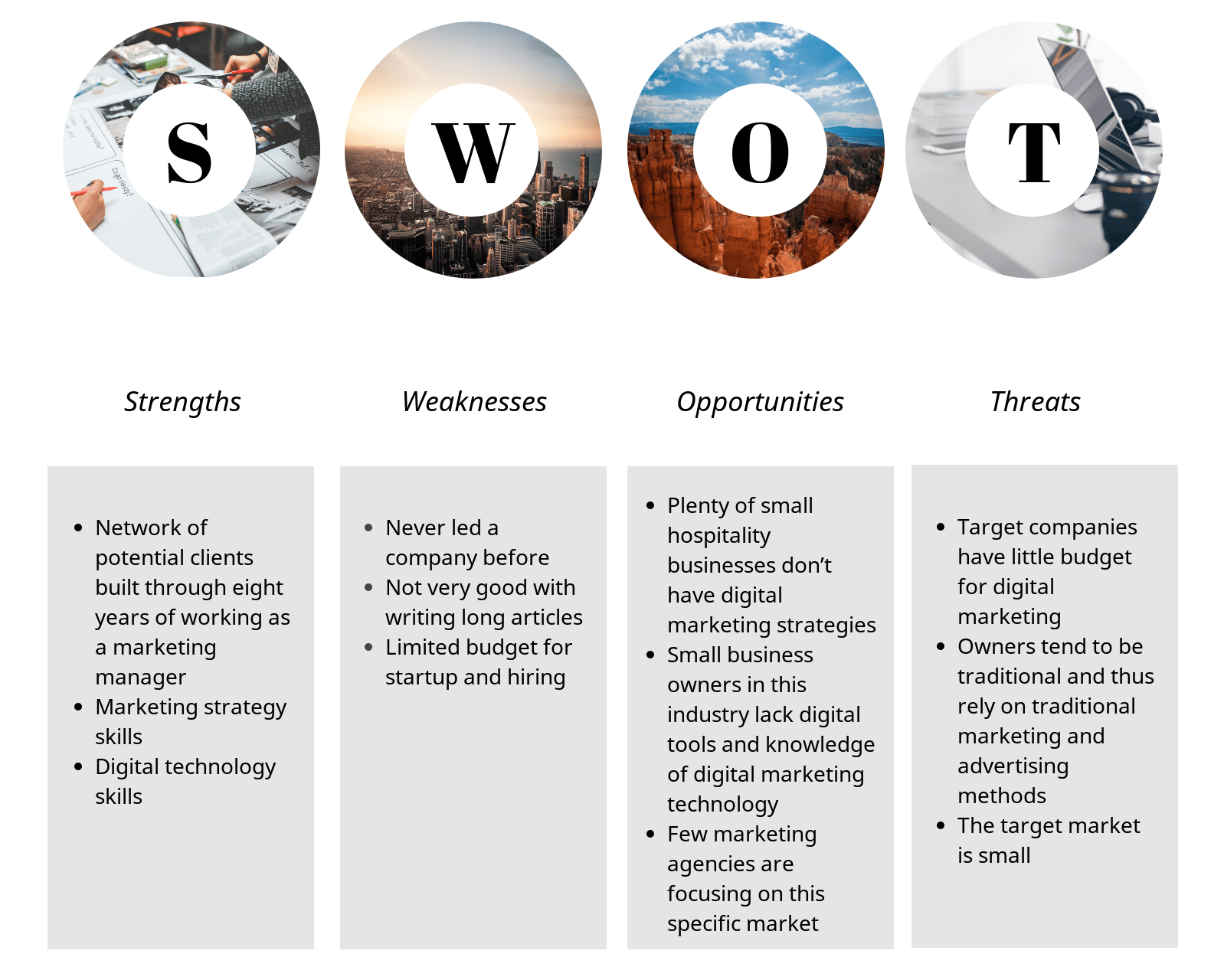 Now, it's time to ask yourself the questions that will help you form a strategy.
Sell your skills and take the burden of learning digital marketing tricks off the business owners' shoulders. Position yourself as an expert focused on this market, which very few agencies can claim to do. Your network and years of experience are a testament to your credibility.
Offer a full-service digital marketing package that includes strategy and implementation, as well as the use of digital marketing tools. No need for your customers to subscribe to the tools themselves, or create a whole new digital marketing team.
Use the leadership strategies that helped you excel as a marketing manager in leading your own company. Leverage your network to gain clients as well as revenue, and to partner with freelancers.
For your services, focus on strategy and digital campaign management rather than long-form content.
Establish clear business goals and strategies at the outset. Take charge of strategy and management, so your staff or freelancers can focus on implementation. And of course, hire a writer.
You can also turn your 'newbie' company status into an asset, because it complements the novelty of your business plan. A niche market will have needs that traditional and large marketing agencies might not understand as well as you do.
Persuade clients to hire your company on an ongoing basis rather than for a one-time campaign. Show them the results you've achieved in previous digital campaigns, focusing on your extensive marketing experience rather than your brief entrepreneurial history.
Minimize initial expenses and focus on hiring staff or freelancers who have marketing experience in your niche industry. Include growth strategies for expanding into larger but related markets – such as medium-sized hospitality businesses – in the near future.
As you can see, the answers to those four questions can help you make strategic decisions that answer your SWOT objective. Each answer, in essence, is a plan of action that influences external situations by controlling internal factors.
Are you now ready to dive deeper? Let's look at SWOT analysis examples for different types of organizations and projects.
Powerful SWOT analysis examples
Non-profit
Overseas Development Institute (ODI), a think tank, developed a SWOT analysis for a small non-profit organization. The goal was to decide how to use its research results to influence government decisions.
We've taken some of their SWOT points and placed them in one of our SWOT templates to show you how you can make your analysis more attractive. You can find out more about the ODI's SWOT example here.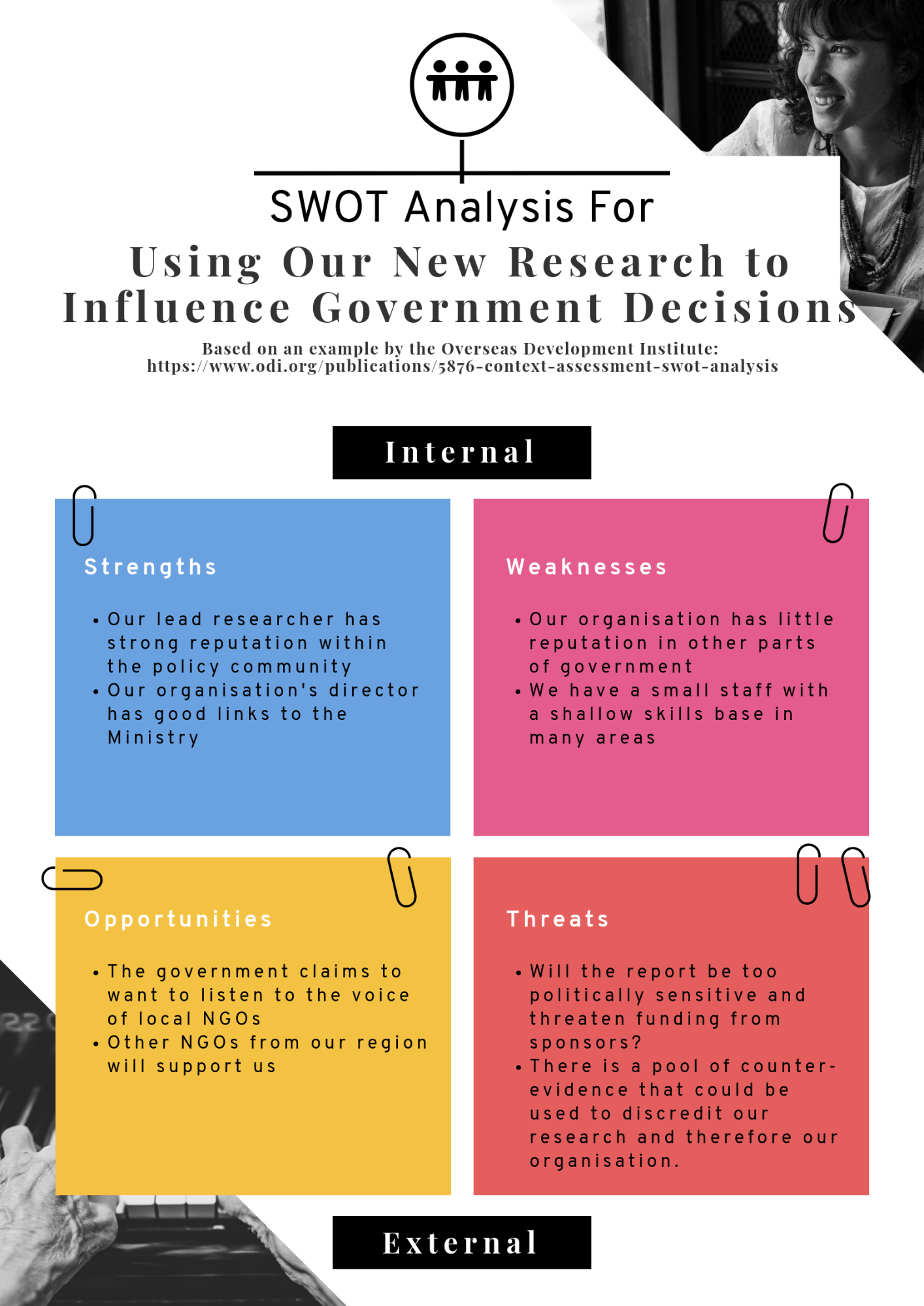 Government
The London School of Economics (LSE) published a SWOT analysis of the London government's position to innovate in a time of austerity. You can read the full report here.
Like the ODI example, we've taken a few tidbits from the LSE's SWOT analysis and added them to one of our templates:
The LSE followed the list with a detailed discussion of each category, including background context and supporting studies. They concluded that in the five years following the report, the London government will lean most towards 'digital era governance' innovations.
Business
Here's a SWOT analysis example focusing on Uber. Let's take an excerpt from the full SWOT list by Research Methodology, and make it visually attractive using one of our own SWOT analysis templates.
Improving on the method
If you need to conduct a more in-depth analysis, you can look to the myriad of alternatives or extended methods that researchers and management professionals have developed over the decades.
One of these is the TELESCOPIC OBSERVATIONS (TO) framework, developed by George Panagiotou and Riëtte van Wijnen in 1999 and published in 2005.
The TO framework expands on the original SWOT analysis instead of changing its basic components. "TELESCOPIC OBSERVATIONS" is actually an acronym for business areas that need to be addressed. Here's what they stand for:
Source: Business Strategy Review
When all boxes have been filled, lay out your priorities and juxtapose the weaknesses, opportunities, and threats against the strengths. This step is similar to answering the four questions recommended by the Queensland government.
Source: Business Strategy Review
Whether you use the original version or the one with the TO framework – you'll be ready to package it up in an attractive-looking report.
But if making your analysis pleasing to the eye sounds like a daunting task, don't fret. We've created several SWOT analysis templates that you can use as a starting point. Sign up for a free account to get unlimited access to all the templates!
SWOT analysis templates
In this section, we'll show you four ways you can present your SWOT analysis visually. You can edit them as needed.
The first SWOT analysis template is an example we used earlier in this article:
Use the above SWOT analysis template in Piktochart!
This template presents the SWOT analysis in its most basic form – in four quadrants. All you need to add is the title.
You can also present the four quadrants as side-by-side columns, as seen in the SWOT analysis template below:

Try out the above SWOT analysis template in Piktochart!
If you have more space, you can use a longer graphic. This next SWOT analysis template is best presented digitally than in print, as it takes on the dimensions typical of infographics.
The template below provides space for a very brief introduction of your SWOT analysis, as well as a list of sources, such as published research and market studies.
Create the above SWOT analysis template in Piktochart!
As you can see, a SWOT analysis can be packaged in a visually pleasing way. Heavy, practical content should not remove the need for aesthetics. In fact, the more you're able to make your SWOT appealing to the eyes, the easier it will be to read and absorb.
With Piktochart, you can create visuals including infographics, posters, presentations, reports, social media graphics, and more. Collaborate with your team to achieve your visual communication goals. Get started by creating a free account.
Achieve your visual communication and marketing goals with Piktochart.
Add and customize charts, images and icons. Select a template and create presentations, reports, and infographics.
Sign up for free