I believe in a visual language that should be as strong as the written word. – David LaChapelle
Piktochart is now updated with new and improved download options to let you save your infographic and bring your message across to others offline! It has always been a custom to do offline presentation slideshows, hand out printed reports or flyers, so it's no surprise many of you were looking forward to us having more download options to help you achieve great causes.
We've made some improvements for image exports to include a new 'Download as Blocks' feature, and an upgrade that comes in a wider range of download options for PDF format downloads are also implemented.
New 'Download as Blocks' feature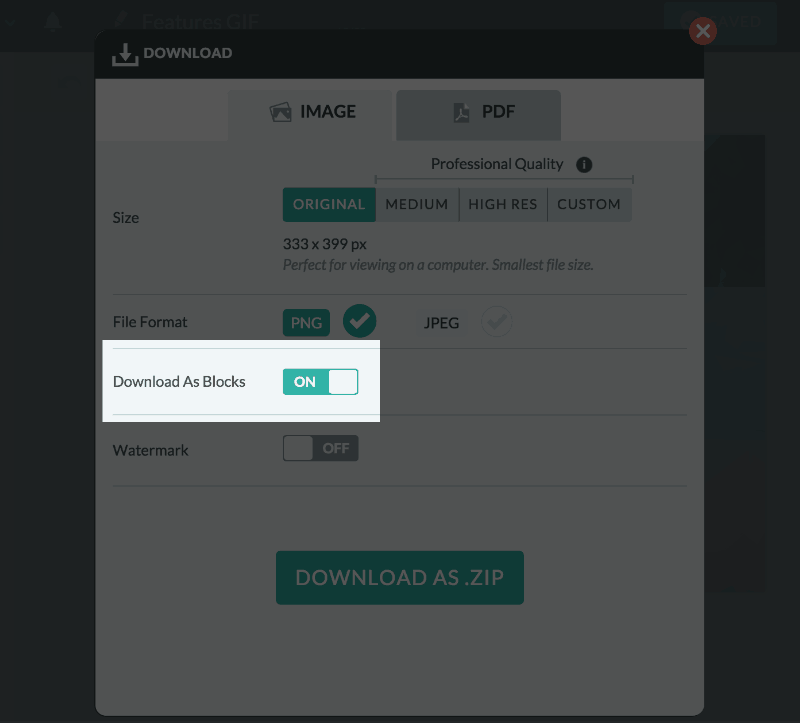 Under 'Downloads > Image', you can now choose to download your project blocks as images by toggling the 'Download as Blocks' options. This option will download individual block images in a .zip file, which will make offline presentations easier to coordinate. If you're looking to present your presentation as images offline, or to print them out individually to hand them to your meeting participants, this feature is definitely something you'd like to try out!
Extra: As an improvement for image downloads, high-res image downloads are now optimized to provide better quality downloading. Crystal clear, glorious high definition images are now possible!
Download Options for PDF Format Expanded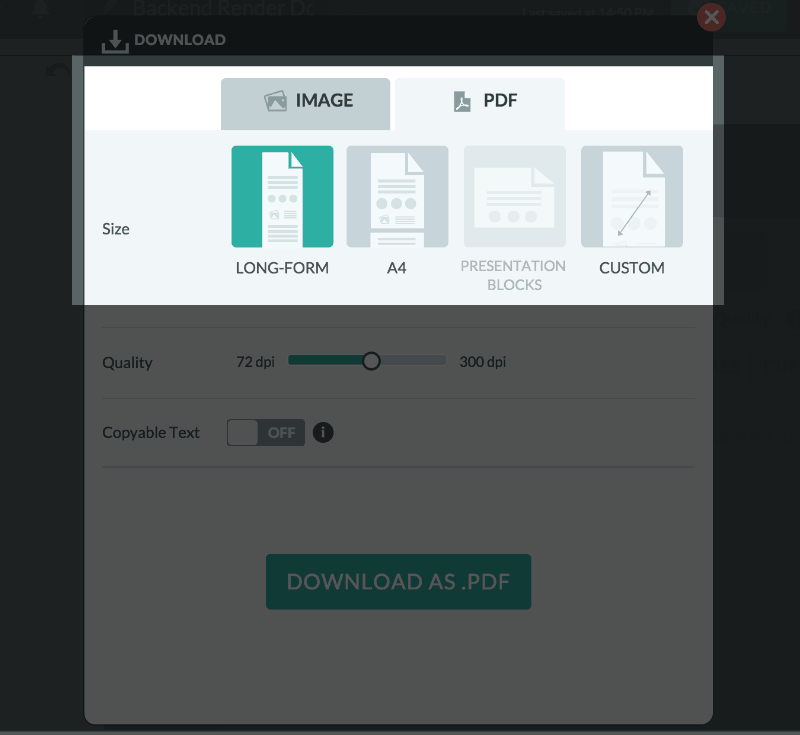 We have expanded our range of download options for PDF format to:
Long-form: The full infographic will be exported to a single page with no cut-off throughout the whole project. This option is meant to be optimal for offline view on devices.
A4: Your infographic will be downloaded and fit into several A4 pages. This is the default and best option for Report format infographics, especially if you'd like to print them out.
Presentation Blocks: This option is only available for Presentation format templates. You can download each of your block in individual pages for convenience of offline presentations.
Custom: Similar to the long-form infographic option, with extra options to customize the paper size and DPI for printing purposes. If you want to print out large, long-form infographics for promotional uses or banners, this is the place to adjust the optimum settings.
By expanding these range of options, we look forward towards being able to increase the flexibility of sharing and bringing infographics offline. If you're a startup founder, marketer, or educator, being able to optimize your projects like long-form infographics, A4 reports or presentation slideshows and bring them offline to share with clients, colleagues or students will surely be invaluable.
FAQs About Downloading Infographics
If you still have questions about this new feature update, take a look at the following list of FAQs, or watch our brief tutorial about how to download and save your infographic to your computer.
[youtube id="wYLGMngOwtA"]
1) I've downloaded my blocks as images in a zip file. Now how do I present them offline?
As you now have the blocks (or slides) as several images, you can select multiple of them at once and open with your Mac or PC's default preview option. Clicking next between images will perform in a similar manner to doing a slideshow.
2) What's the primary usage of downloading my infographic in long-form PDF?
This is the preferred download option for users who want to read their infographic offline or share it with others. The width of the infographic will fit snugly into the exact width of a PDF page, with no cut-off until the end of the infographic. This lets viewers scroll down the infographic and read it as how it is intended. You might notice a tiny margin of white space after the end of the infographic – this is to prevent additional pages from being generated, so that your infographic looks as good as it should be after the download.
3) Why is the 'Presentation Blocks' option not available for my infographic or report?
To download in Presentation Blocks, your template should ideally be a presentation format with 4:3 ratio blocks throughout the project. This way, your blocks are optimized for presentation slideshows. Infographic and report formats usually have blocks that are not 4:3 ratio, which will look subpar for slideshows.
Let us know if these new options help you in your journey to create and share wonderful content!