Information can be useful – and even beautiful – but only when it's presented well. Today, being able to quickly grasp the most important pieces of information about a topic in less than 30 seconds is a luxury, but it shouldn't be. It should be something everyone is able to do easily. We're here to help!
A great way to solve this issue is by designing infographics that help to explain complicated data in a simple way, but the problem is that infographics sometimes turn out like this: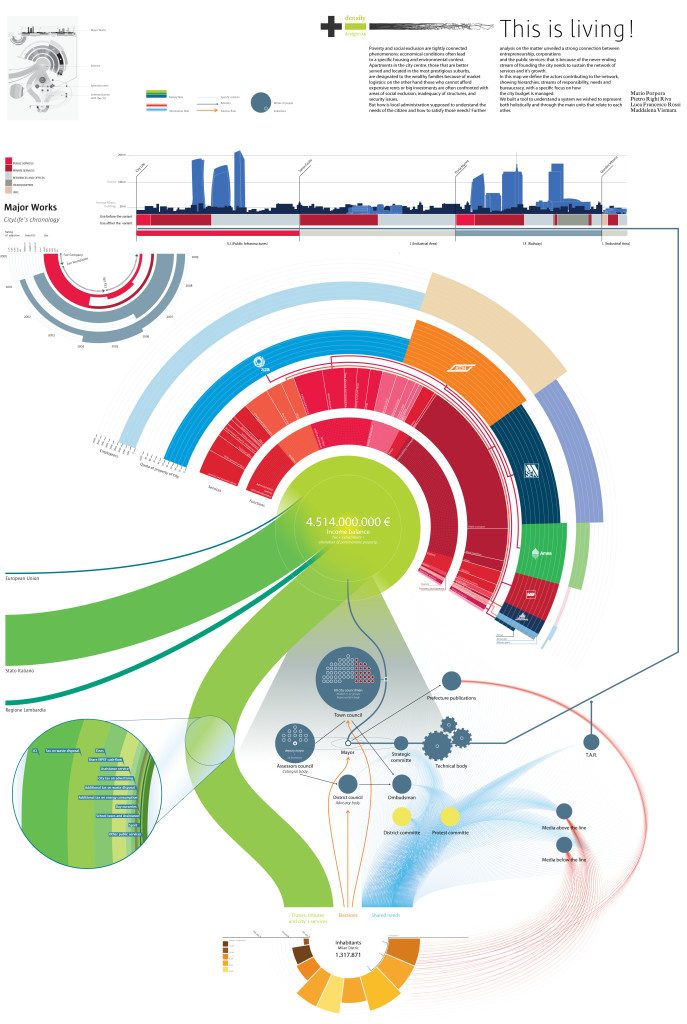 Amongst this symphony of wonderful colors lacks a design that truly makes information comprehensive and easily readable. By only being visually compelling, it beats the purpose of an infographic. A good infographic has to be simple and comprehensive for readers, more so than just being attractive.
Now, take a look at this one:
This infographic about infographics utilizes a cool blueprint flowchart concept… a type of diagram you'd think of using in a blueprint. It's cool, but it might be a tad ironic – it's harder to read than you'd like it to be.
Let's jump into the things that you should focus on to make sure your infographic looks simple, readable, and beautiful. And to apply everything you're learning, create a free Piktochart account. You can make beautiful infographics and other visuals easily, without having graphic design skills.

That's the infographic we designed for one of our latest blog posts, Managing Time and Resources: How Startups Deal With Productivity. Let's use it as our example!
Below you'll find a brief step-by-step description of the process we use to design wildly beautiful infographics. It's designed this way in order to avoid going straight from idea to web canvas – that almost always results in a mess. Instead, we've carefully deconstructed the entire design process into significantly smaller baby steps that will allow you to transform information into a clear, concise and stunning infographic.
Step 1: Pick your topic
Start by selecting the subject or content you want to design your infographic around. You might have the next viral idea in mind for your infographic, but it's a good idea to keep your audience in mind. There are evident benefits when you listen to your audience, so try to cater your content towards them. Address their pain points and challenges, find out about their interests and possible questions they have about the particular industry. Alternatively, take a look at what's trending now in your industry or location via Google Trends or Buzzsumo to find your topic.
Step 2: Organize your data
The second step is organizing your content and picking the most relevant points for your audience. If it's a blog post, then you should dissect the basic structure of the content, and pick those 4 or 5 key elements. If it's a set of data, you should identify the top 8-10 impactful numbers that speak louder than words. Then create graphs and charts to visualize your data.
For our infographic, we picked 8 different sections outlined in the post:
Step 3: Design the basic structure
Start by grabbing a piece of paper and a pen. Then, start designing the basic structure of your infographic. Don't be afraid to make a mistake, you can always redo it as the cost of starting over is close to zero. Sometimes it takes a few takes to get it right. But it's always best to try out your infographic structure on paper first as changing it once you start with the design process can be counterproductive and frustrating.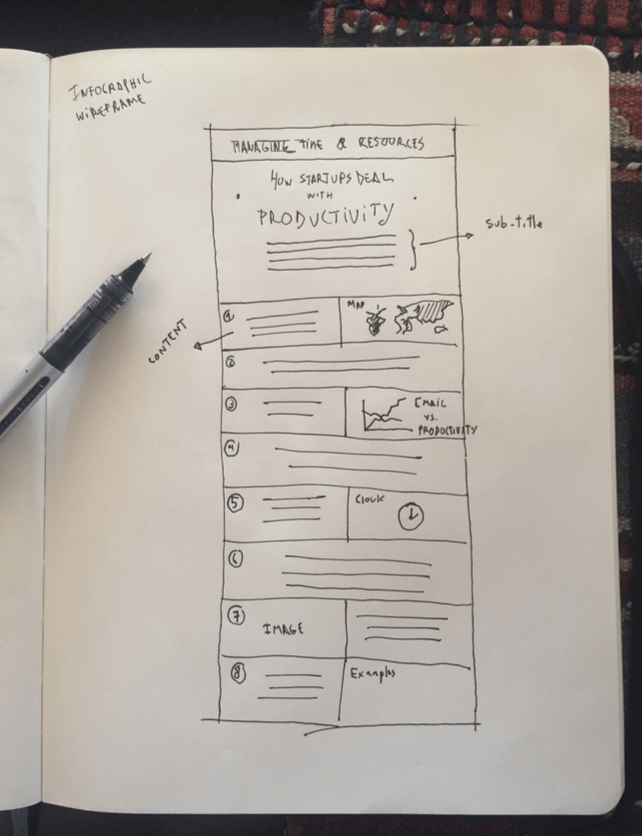 Step 4: Digitalize your wireframes
Use Piktochart's editor to translate your wireframes into a basic structure. It's really easy to learn, making it a great graphics tool for first-time designers. If it's your first time with Piktochart though, we recommend you to choose one of our visuals templates rather than starting with a blank canvas. This approach allows you to get the base with the lowest effort possible. Now, all you need to do is start filling the blanks with the important points you've previously picked.
Pro tip: Our own Piktochart designers suggest you try several layouts before you settle for the right one.
Step 5: Fill in the blanks
Now that your basic structure is taken care of, you should start filling the empty space with remarkable content your readers will love. Start by describing or giving a more thorough explanation of the points or data you selected in Step 2. As you can appreciate in our infographic, the bulk of the design is about those 8 points.
An extra step we recommend is to pick an image or graph that supports the information. As an infographic is a visual element, you should always aim to use imagery to strengthen your points. Below, you'll be able to observe how the small laptop icon plays a key support role for the information block beneath.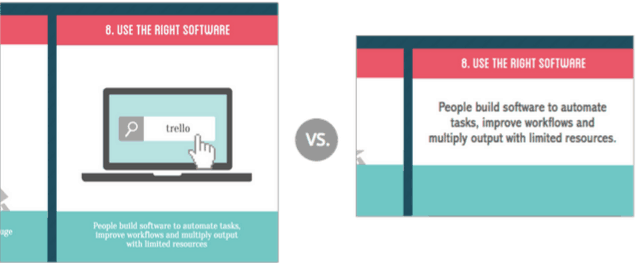 Pro tip: Piktochart has thousands of free, beautiful icons and graphics you could use. It's a simple as dragging and dropping so it's perfect for beginners. You can start by reading this article.
Step 6: Give your infographic a lift with a coat of paint
Now that your structure, your content and your supporting imagery is in place, you can start having fun.
First pick a consistent style and a color scheme. If you need inspiration, check out our featured infographics gallery.
Then, choose the right typeface. This is extremely important, as it will dictate the personality and readability of your infographic and determine how attractive your design is. These two resources should be extremely helpful:
Typography I: How 4 Typeface Personalities Set The Tone of Your Infographics
Typography II: 4 Things You Need To Know To Pair Fonts Well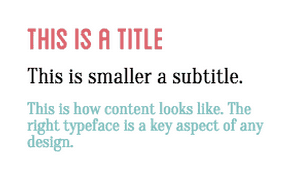 Now, once you've picked the right typeface, it's time to select the right color scheme. For our infographic, we went for soft tones of blue, brown and red, because we wanted the information to be the main element of the design. If we were to give you one tip today, it would be to pick only 2 or 3 colors and use different shade variations of them, but if you want to dig further into color picking, this article should come in handy:
4 Easy Steps to Pick Great Color Schemes For Your Infographics

Step 7: Proofread
This is the final step of the process. Simply go back and give an additional thorough look at your design and content. A simple spelling mistake is all it takes to ruin an otherwise perfect and spotless infographic!
Extra. Transform data into beautiful graphics
If you are looking to go that extra mile, using Piktochart's built-in graphics and charts to illustrate complex data is the way to go. As a matter of fact, this is one of our preferred techniques to turn information into a clear and concise infographic. Our designers shared a few secrets of how to go creative with charts in this article. Learn how to dress up your statistics, decorate your graphs and "picturize" your pie charts!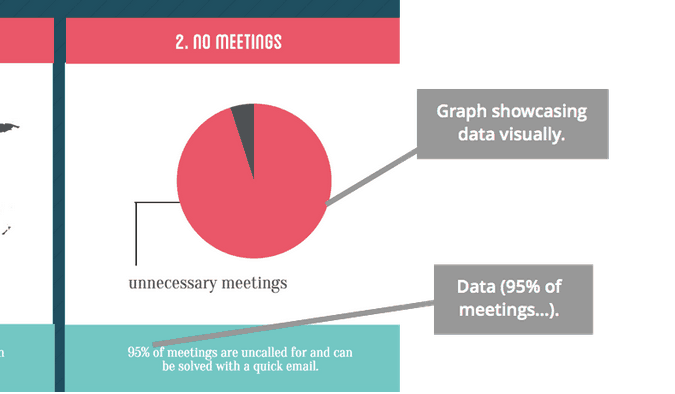 Do you have your own process for creating an infographic? Share your tactics with us, we are curious to hear about your strategy!
Collaborate on visuals with your team members.
Watch this demo to learn about Piktochart for Teams.
Watch the demo