Video conferencing has become a part of our daily lives and I'm sure you have attended too many to count since 2019! 🤯
Have you ever tried blurring your Zoom virtual backgrounds to hide your messy surroundings? Or do you want to step up your game and show off a professional virtual background that represents your brand?
We've got some amazing professional Zoom background images that will blow your mind and make you look like a pro! 🎉 Customize them with your brand logo and colors to make them truly yours!
Table of Contents
How to change your Zoom virtual background
Open the Zoom App: Start by launching the Zoom app on your computer. You can't change your Zoom background on some devices, such as certain Androids and iOS devices.
Go to Settings: Once the app is open, click on your profile picture in the top right corner, then select "Settings."
Click Choose Virtual Background: In the settings menu, you'll see a tab on the left-hand side labeled "Virtual Background."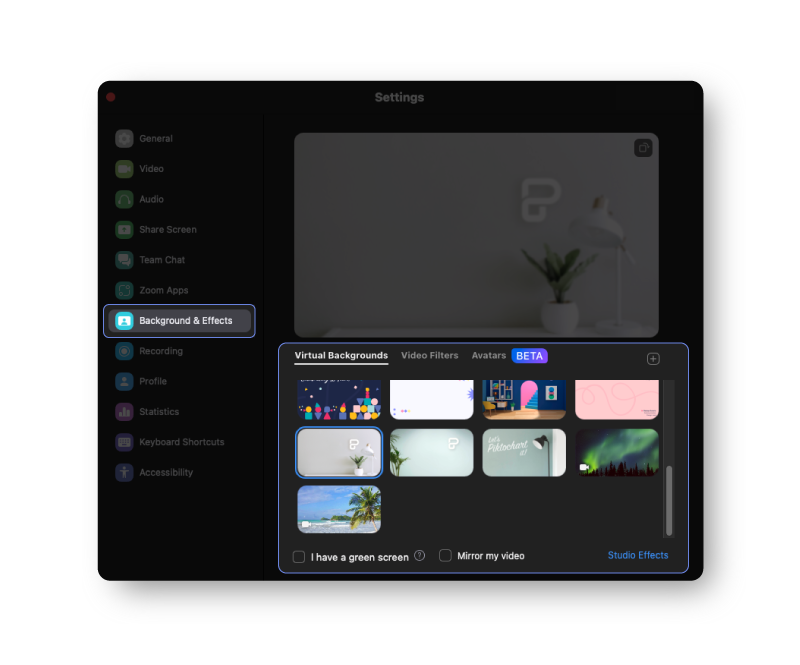 Choose a Background: Once you're in the "Virtual Background" feature, you'll see a few default background options to choose from. Click on any of these images to change your background.
Upload a Custom Background: If you want to use a custom background image, click on the "+" icon to the right of the video preview, then select "Add Image" or "Add Video." From there, you can choose any image or video file on your computer.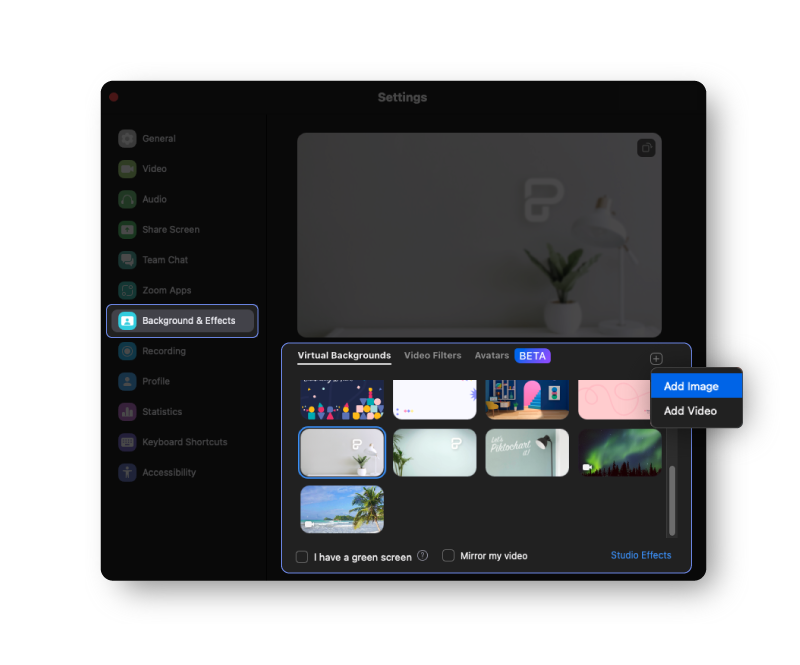 Editing and customizing your Zoom background images
Now that you know how to change these background images, you can also edit them for free on Piktochart. Here are 4 simple steps:
Access Piktochart for free. Select a Zoom virtual background template.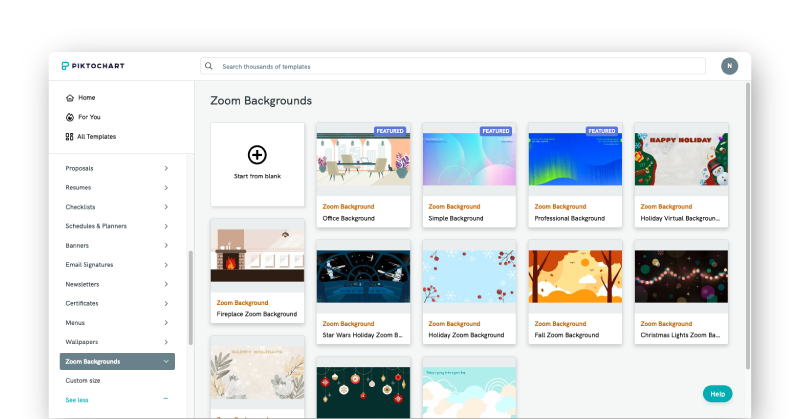 Enter the editor, and add in elements, change the photo or add a logo. Keep the aspect ratio.
Download your zoom background images.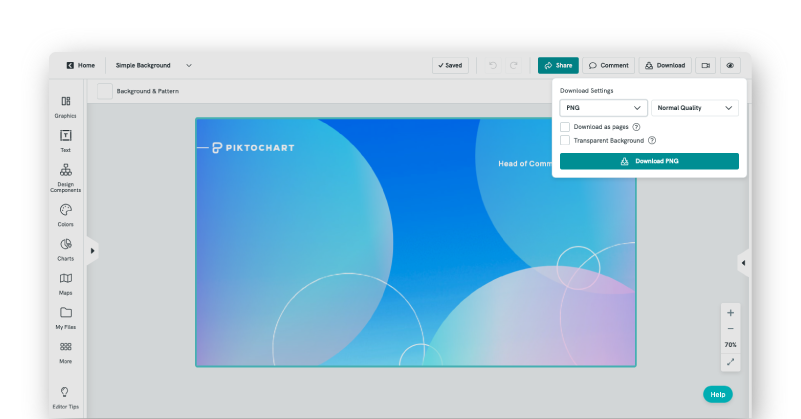 Follow the instructions above to test and see if you look alright in your new virtual background!
Bonus point: Try to elevate the laptop/camera to eye level and make sure your lighting is on point.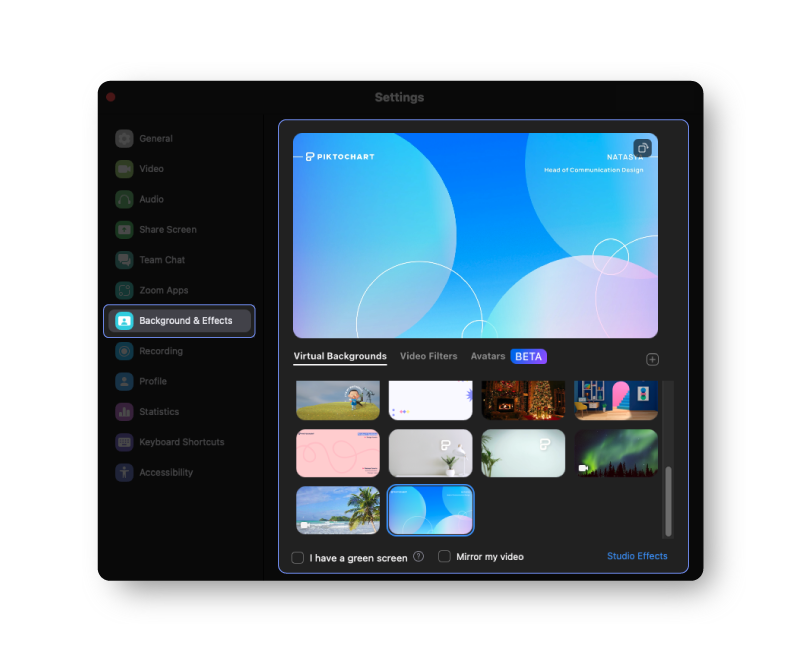 25+ free Zoom backgrounds to edit for free
Piktochart offers free virtual backgrounds for you to customize, add your own image or logo and have branded Zoom meetings!
It is important that the virtual backgrounds offer a nice contrast with you and support you! Just like a wall, you will not want your background to be too cluttered.
1. Office Background
Project an atmosphere of productivity with this professional office background, perfect for your Zoom meeting sessions and presentations.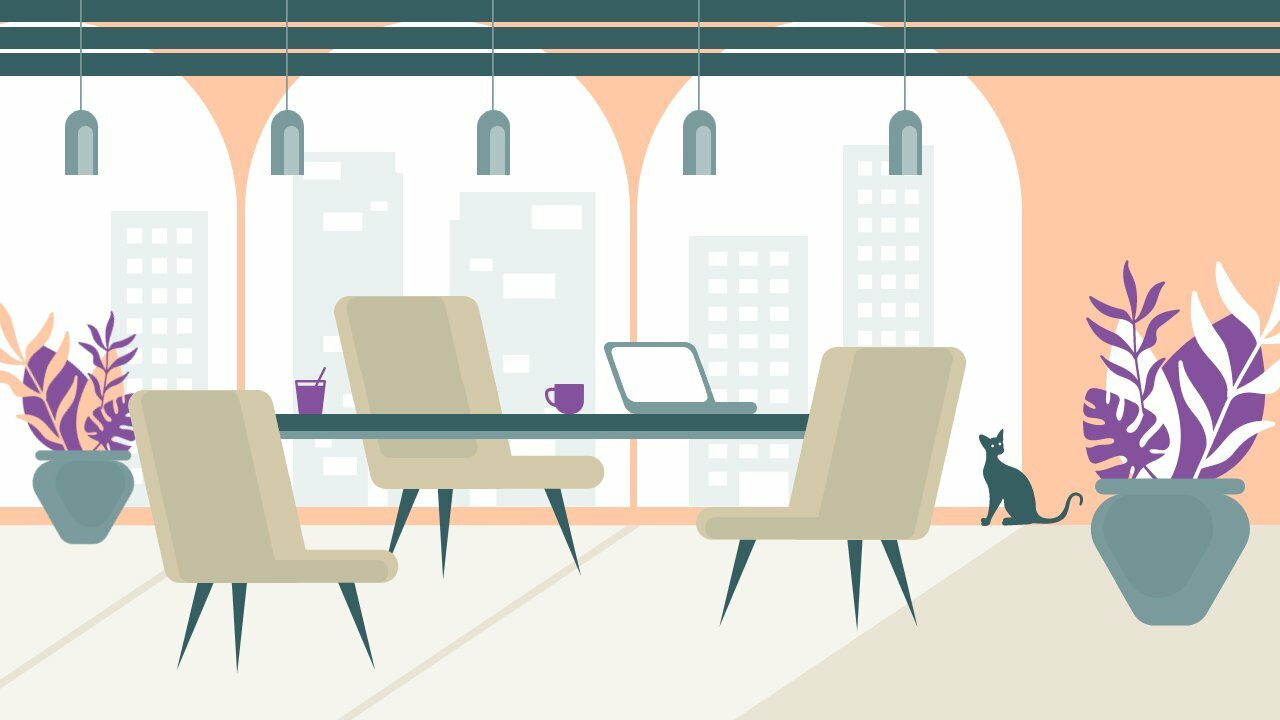 2. Simple Background
A minimalist, clutter-free backdrop that provides a neat and undistracted setting for all types of Zoom calls.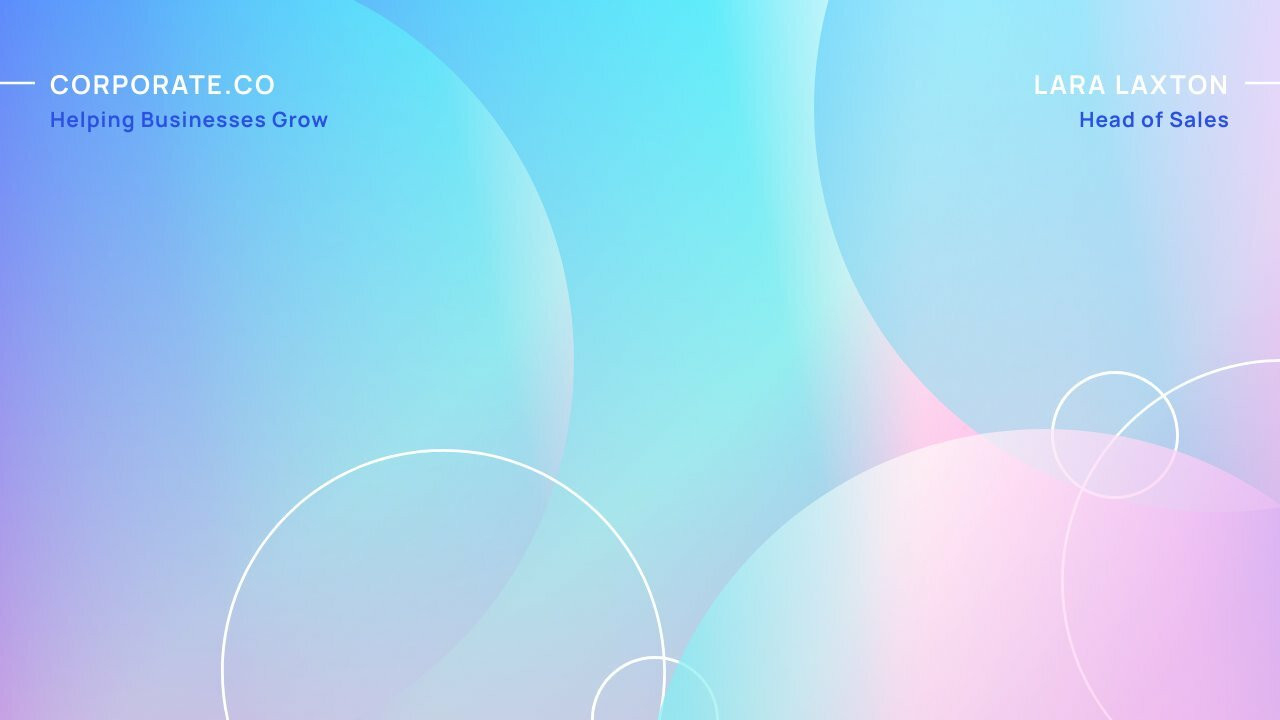 3. Professional Background
Convey a polished, business-like image with this sleek, professional background, ideal for formal meetings, presentations, or conferences.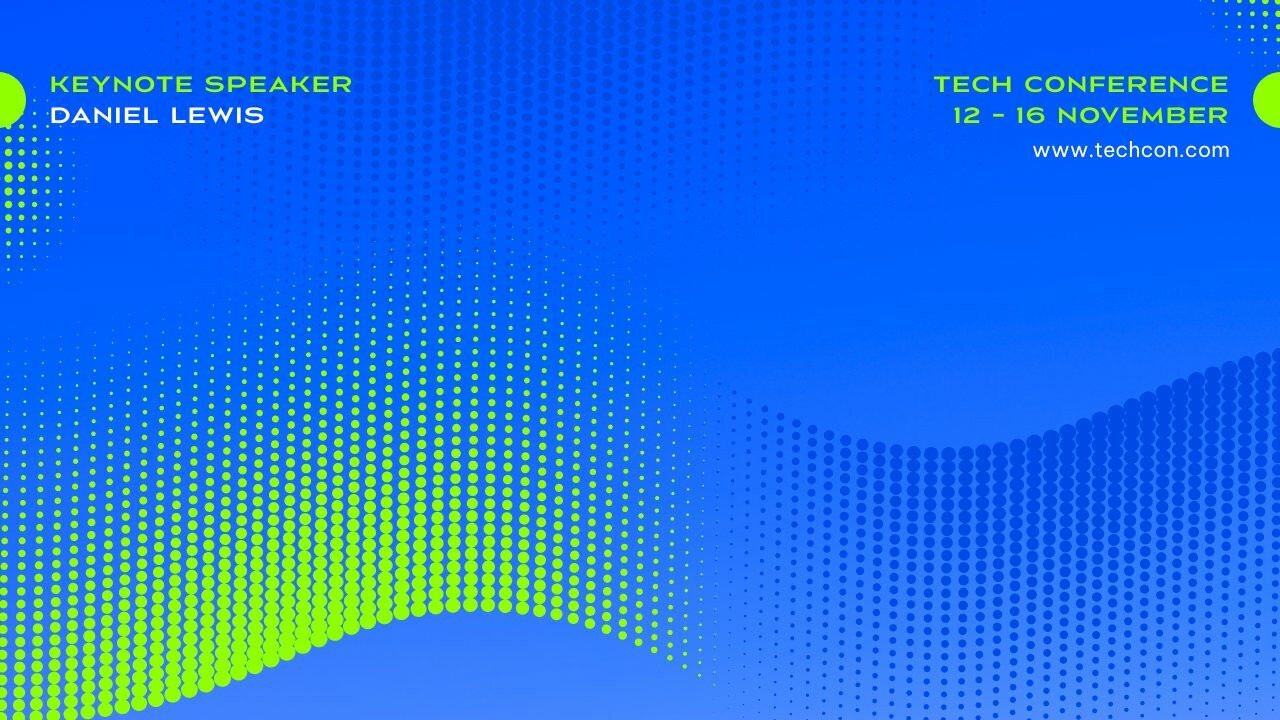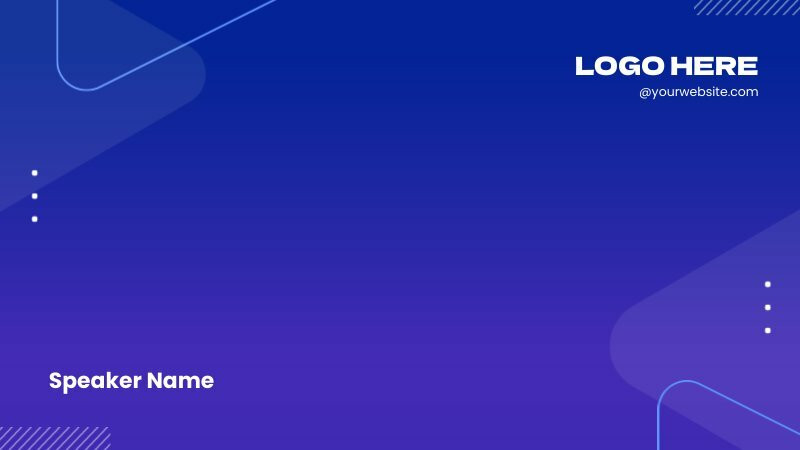 4. Birthday Zoom Backgrounds
The birthday zoom background template sets the perfect festive tone for virtual celebrations, featuring vibrant decorations and joyful elements. It adds a lively and cheerful atmosphere to your online birthday gatherings, making the day special and memorable.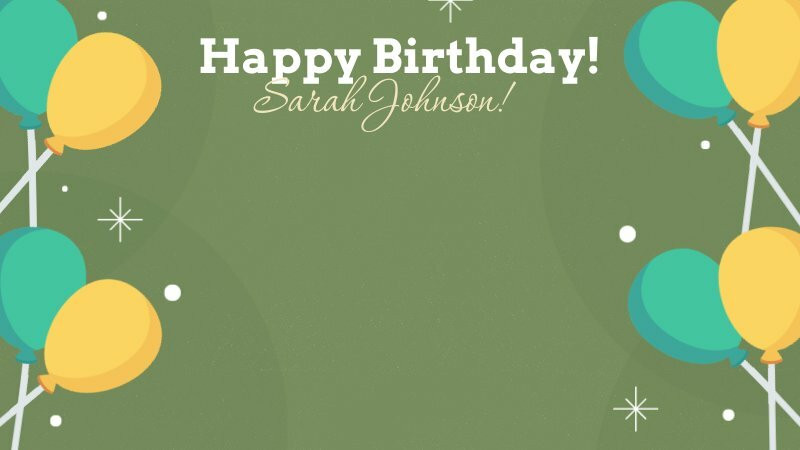 5. Holiday Virtual Backgrounds
Add a festive touch to your Zoom calls with our range of holiday backgrounds, perfect for that fun time of the year!
5. Fireplace Zoom Background
Provide a cozy, warm ambiance for your Zoom calls with this inviting fireplace background.
6. Star Wars Virtual Background
Channel your inner Jedi or Sith with these exciting Star Wars-themed backgrounds, great for casual calls or fan meetups.
7. Fall Zoom Backgrounds
Embrace the changing seasons with our fall-themed backgrounds, featuring beautiful autumnal scenes.
8. Winter Zoom Backgrounds
Transport yourself to a winter wonderland with these cool, serene winter-themed backgrounds.
10. Pinterest-like Office
Give your Zoom calls a trendy, creative feel with our Pinterest-inspired office backgrounds.
11. Classy Home Settings
Add a touch of sophistication to your Zoom calls with these classy home setting backgrounds, perfect for creating a relaxed yet elegant atmosphere.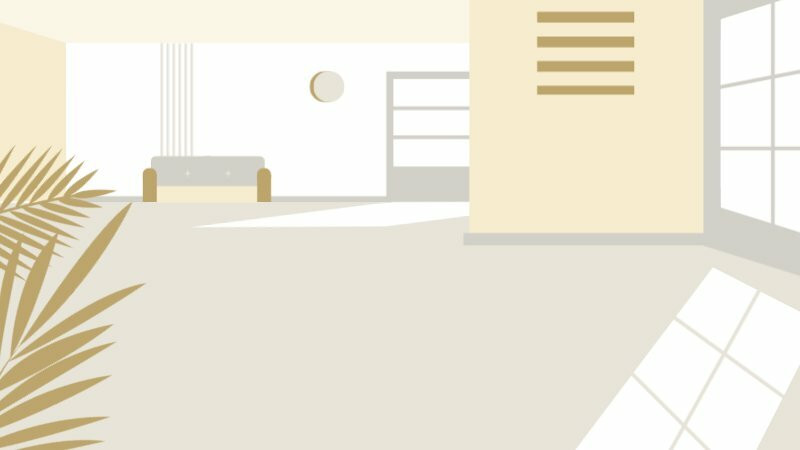 12. Library Settings
Channel a studious, intellectual ambiance with our library-themed backgrounds, ideal for educational discussions or book club meetings.
13. Studio Background
Keep the focus on you with this clean, minimalistic studio lighting background, great for work calls where you need to be the center of attention.
14. Solid Background
Keep your audience focused and engaged with this professional, unobtrusive background, designed to complement your important presentations. It en
15. Nature Background
The nature zoom background template provides a captivating backdrop of lush greenery and vibrant nature, bringing the outdoors to your virtual meetings.
16. Cloud Background
Soothe your Zoom call participants with this calm and peaceful cloud background, giving the impression of a serene sky.
17. Aesthetic Zoom Background
These aesthetic zoom background templates offer a visually pleasing backdrop with professionally designed elements to add an artistic touch to your virtual meetings, reflecting a sense of style and creativity in the digital space.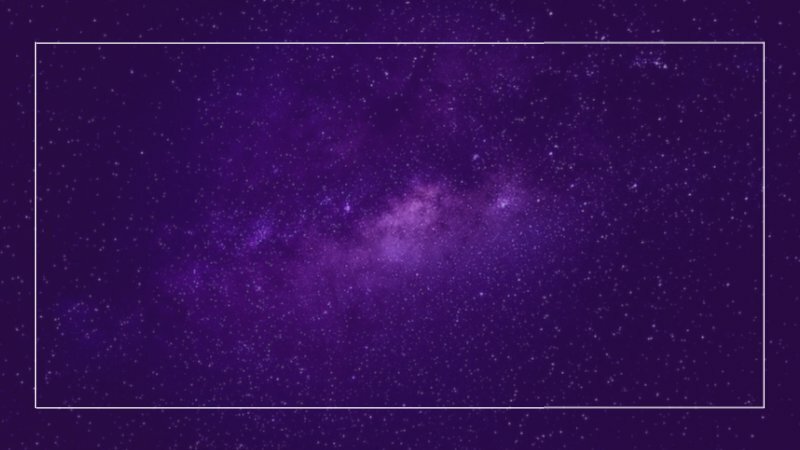 18. Funny Background
Bring fun to your casual Zoom calls with our Funny Zoom Background template.
Remember, the right Zoom background can add a fun or professional touch to your calls, helping to set the right tone for any virtual meeting. Choose a background that fits your meeting type and your personality to make the most of your virtual interactions.
As we navigate this era of remote work, our virtual environments become ever more important in connecting with clients, colleagues, and partners.
For your next virtual meeting, whether it's a casual catch-up with remote workers or a formal business call with a high-profile client, consider customizing your display screen to complement your conversation.
With a well-chosen Zoom background, you can ensure your focus – and theirs – stays where it should be: on the discussion, ideas, and connections that drive us forward.
Personalize your Zoom Background
And add a fun or professional touch to every virtual meeting.
Design a Zoom background