Table of Contents
Mental Health Awareness at Work
In today's fast-paced business world, do we truly grasp the myriad of factors influencing our employees' mental well-being? I recall our founder, Ai Ching's story. In her first corporate stint, she was overwhelmed with the responsibility of her media role and it led to devastating health outcomes for the first working years of her life.
According to WHO, the daily grind at work unveils potential pitfalls:
Skills mismatch or underutilization
Overburdened tasks or understaffing
Unpredictable, extended, or rigid work hours
Little autonomy in shaping one's role
Sparse support or overly directive leadership
Instances of aggression, intimidation, or hostility
Feeling sidelined or unjustly treated
Thankfully, Comms teams around the world now recognize the significance of promoting employee well-being to establish a healthy and productive workplace.
The Role of Mental Health Awareness Poster
Visual aids such as posters and infographics are strategic elements that:
Shine a spotlight on workplace mental-emotional health nuances.
Cultivate an environment of inclusivity, empathy and understanding among employees.
Reduce stigma and fostering candid mental health dialogues.
Designing Effective Mental Health Awareness Posters
The significance of well-designed mental health poster lies in their ability to evoke emotions, foster a deeper connection, and motivate action. As a designer, we have to be particularly careful about what the entire composition evokes in the eyes of the beholder.
Be thoughtful with color choices, typography, imagery, and composition for your posters
Inject emotions into your poster with color psychology. Calming blues and greens evoke tranquility, while warm tones like red and orange promote comfort and positivity.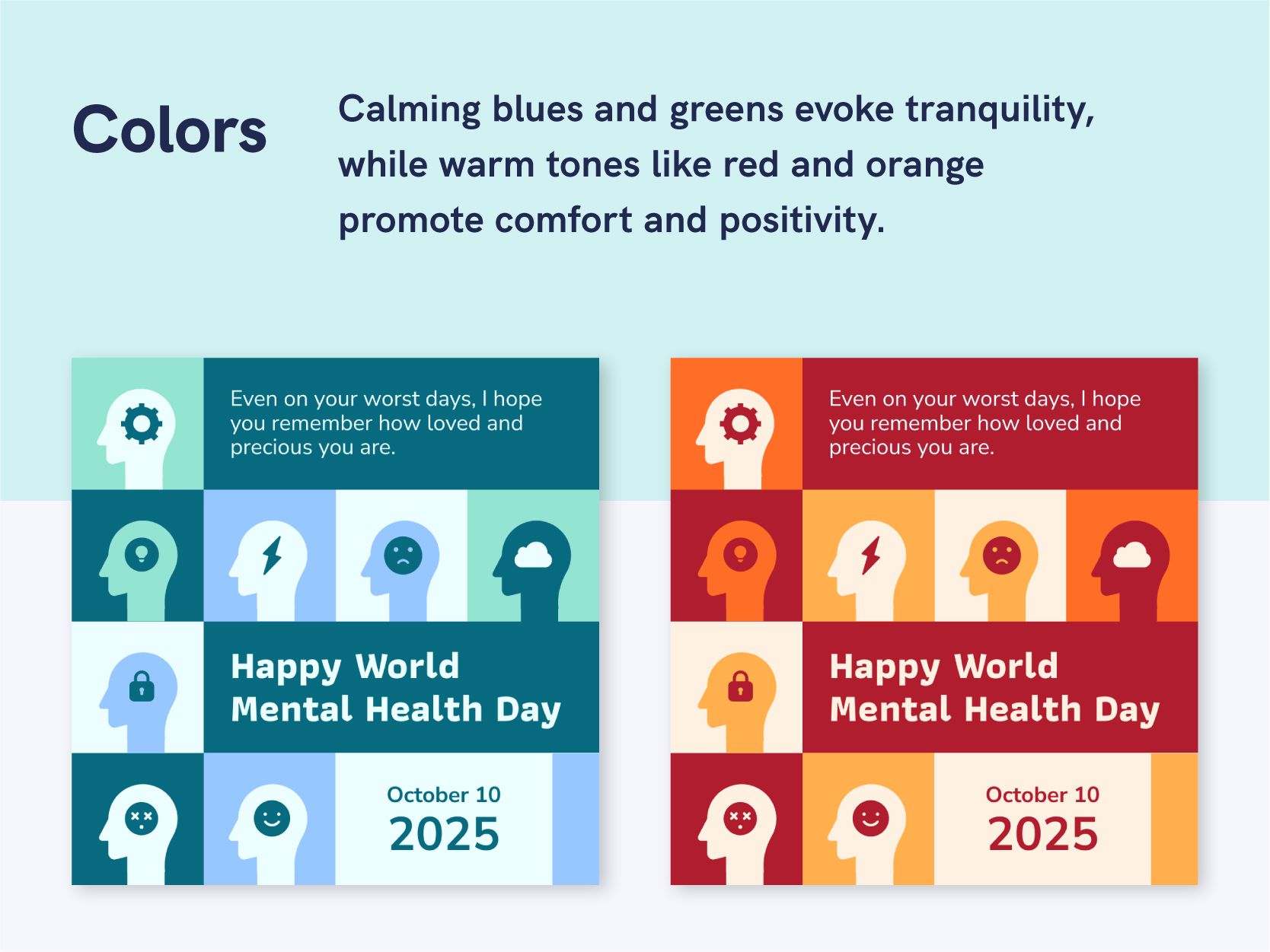 Choosing the right font is crucial for a readable and compelling poster design. It's important to balance striking and readable typeface to convey the message through typography.
Imagery, too, should be chosen wisely. Choose relatable graphics to let employees reflect on the message.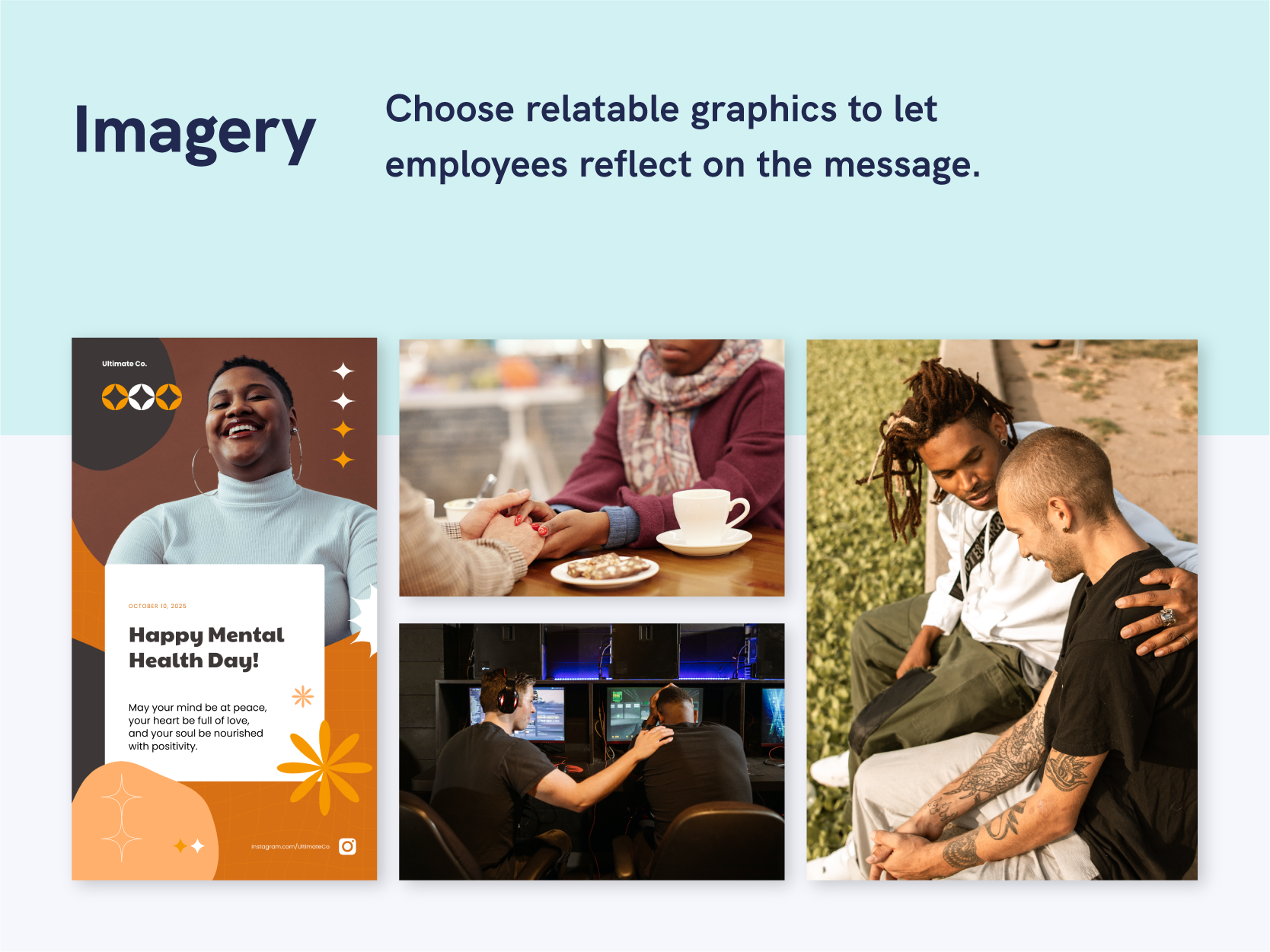 The balance between visual appeal and clear communication is crucial for the poster's effectiveness. Complex visuals or cluttered layouts can lead to confusion, diluting the message's impact.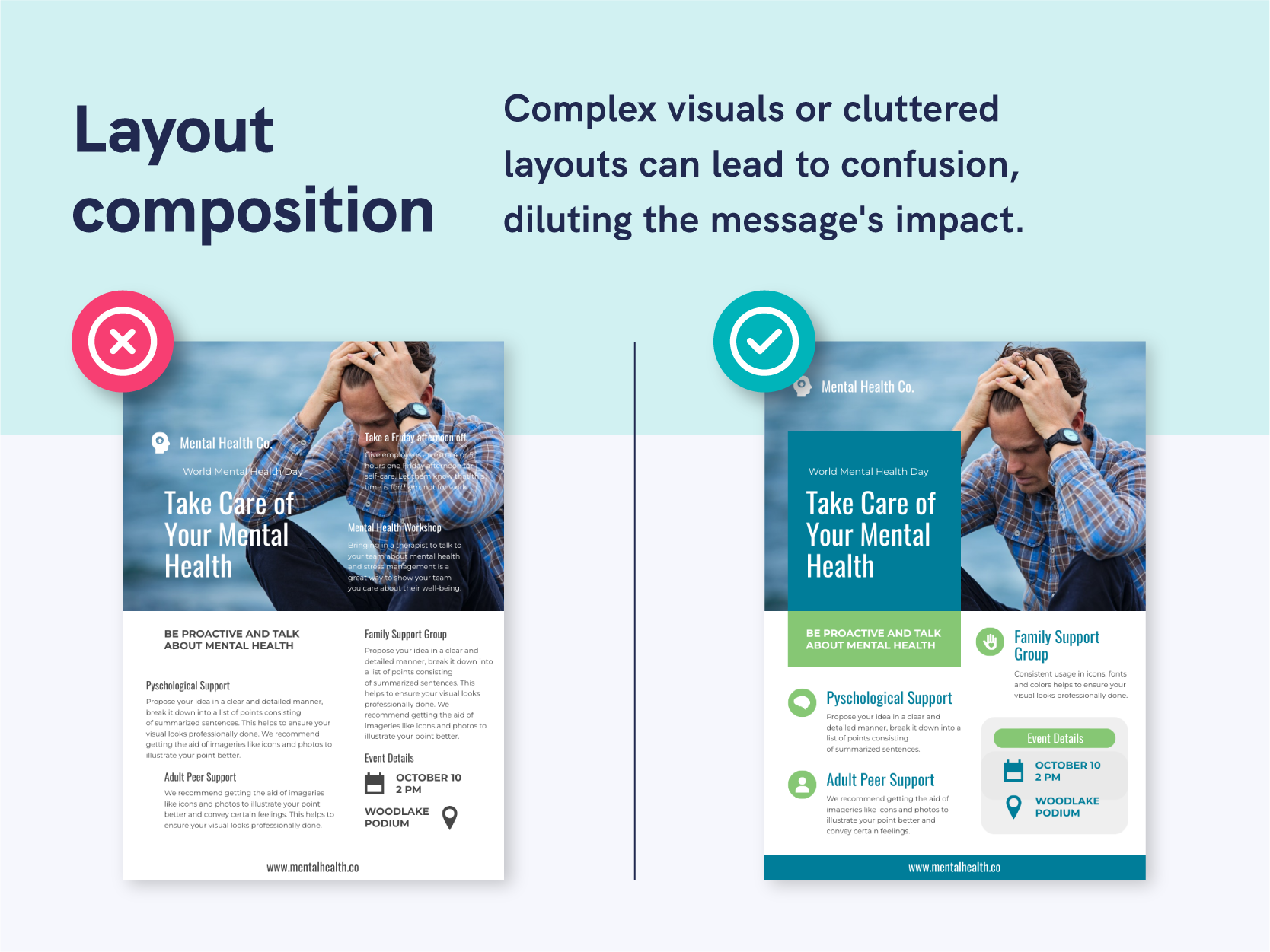 These factors collectively ensure that the poster catches the eyes, engages the mind and feelings, making it an essential tool for promoting mental health awareness in the workplace.
Types and Key Elements of Mental Health Posters
Discover different mental health posters and their key components to promote mental health awareness in your organization.
Posters and Infographics for Mental Health Check-ins
Mental health issues in the workplace may go unnoticed as employees can maintain productivity despite their struggles.
Designing poster and infographic for this topic is about making things simple, relatable, and effective. The goal is to make these materials approachable and relatable, like a friendly chat over a cup of tea.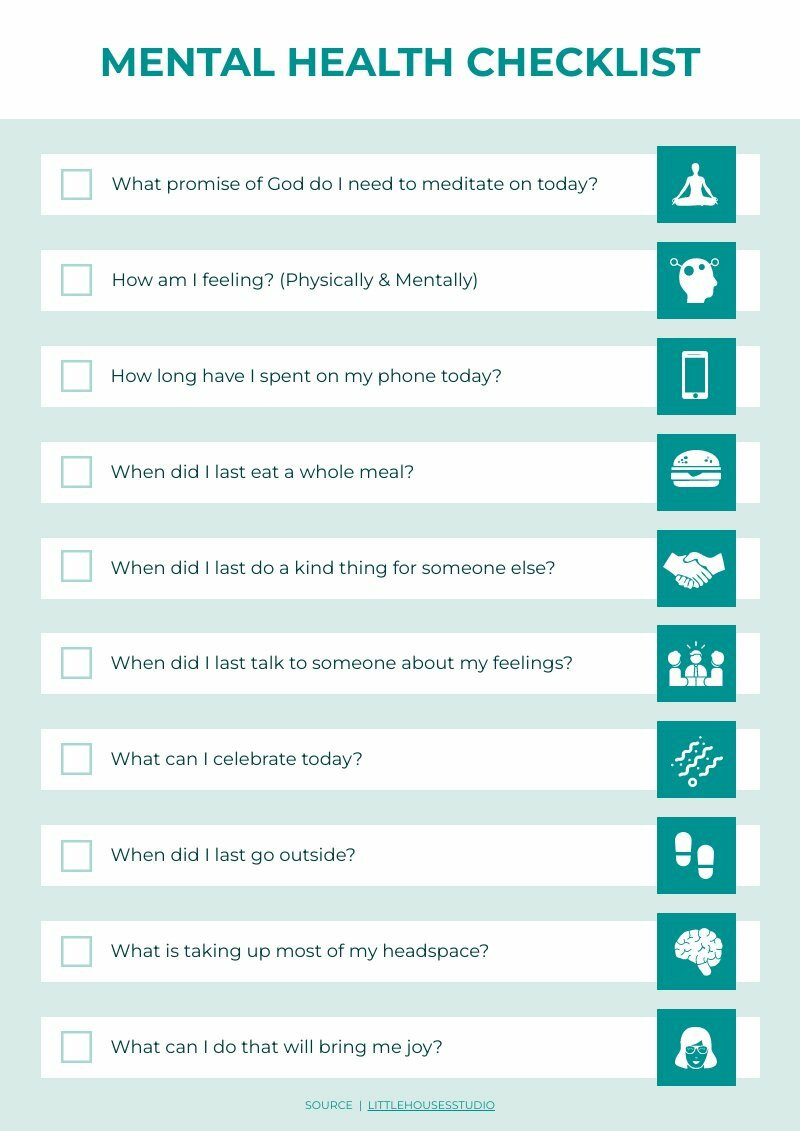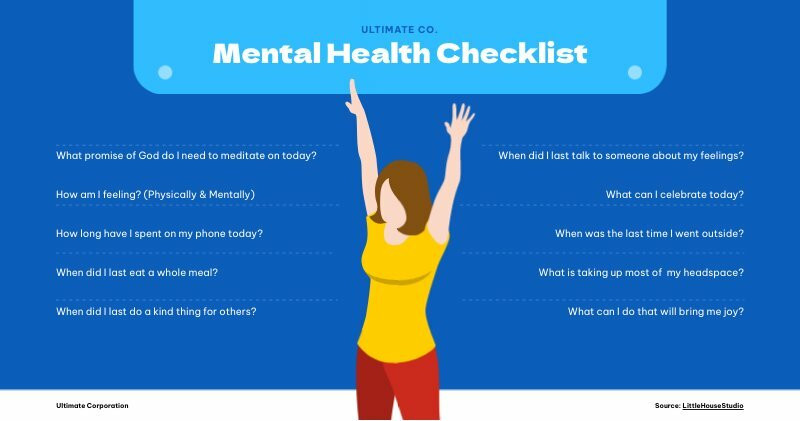 Simple language makes it easy for anyone to connect with the message. Use everyday language, and avoid making it feel clinical or intimidating.
Create a checklist with straightforward questions that guide individuals through their emotions and well-being. Think of this as a mini self-awareness roadmap.
Wrap up the poster with a warm call to action. Offer simple suggestions for what to do next based on their feelings. Whether it's reaching out to a friend, taking a walk, or taking a few deep breaths, these small steps can make a big difference.
Educational Mental Health Statistics for Employee Awareness
Designing educational and statistical (mental) health posters can be impactful yet easy to grasp. The aim is to make this information feel like a helpful daily tidbit, not overwhelming data.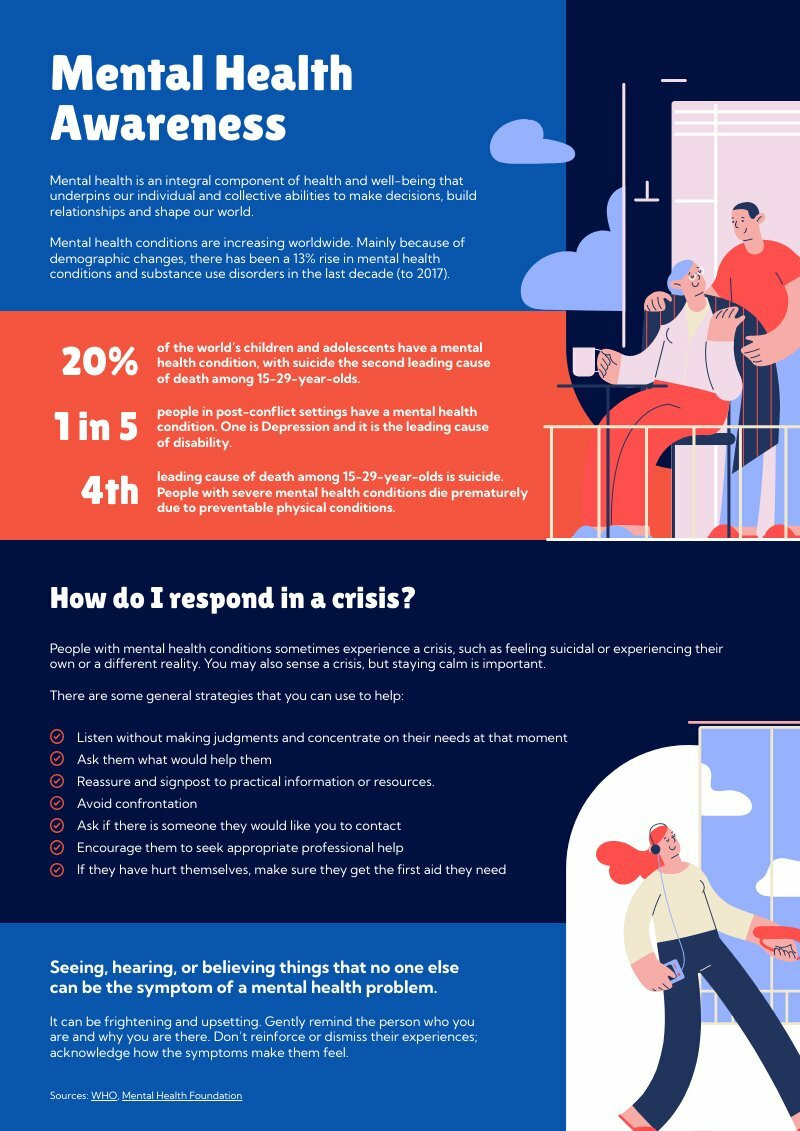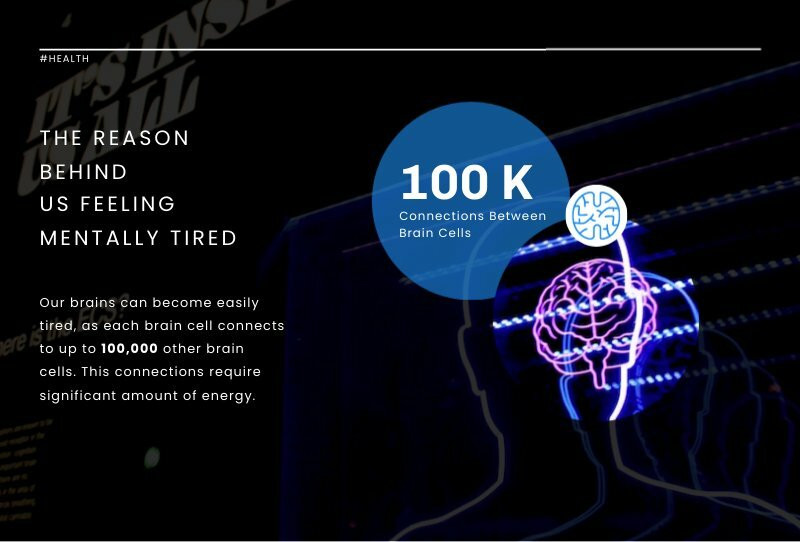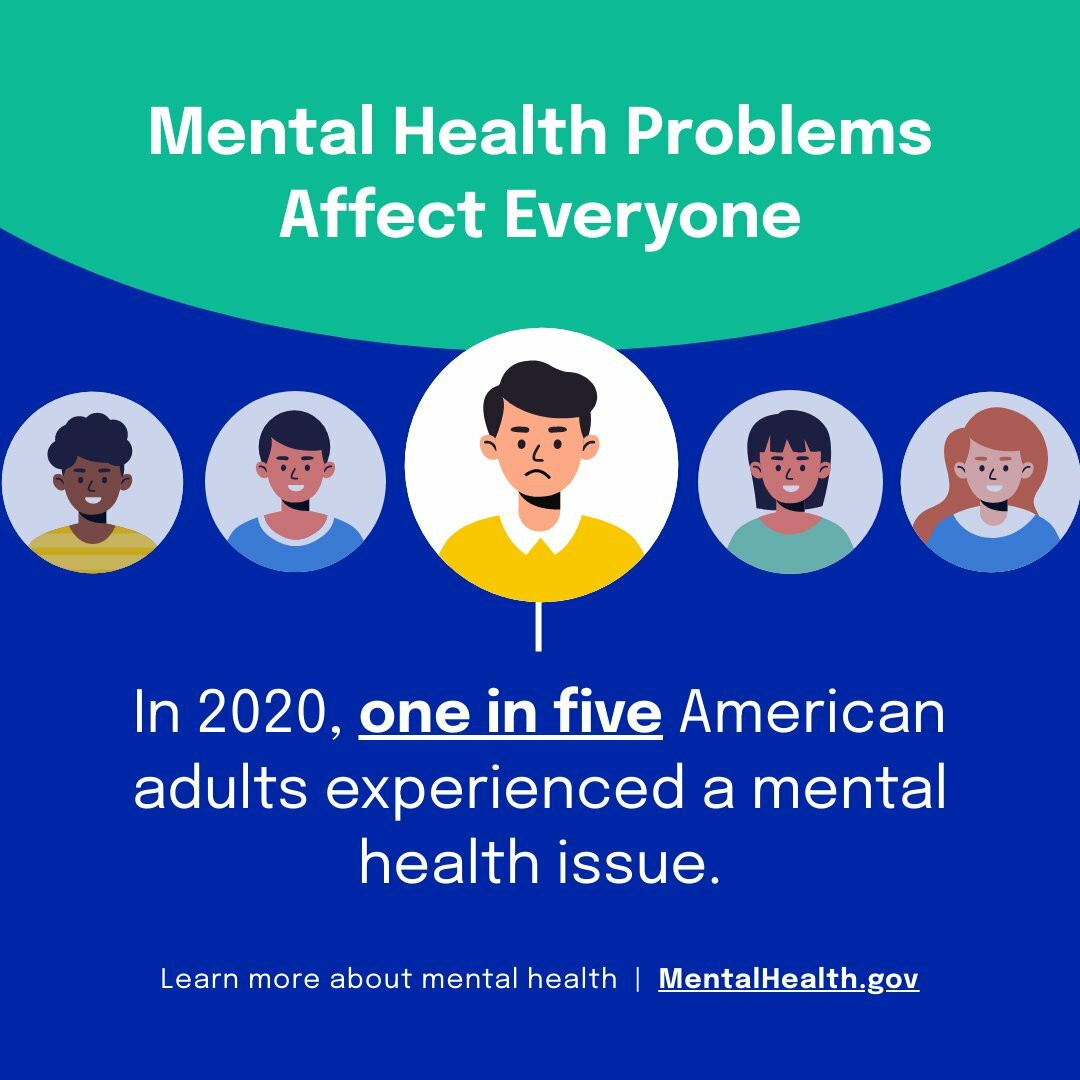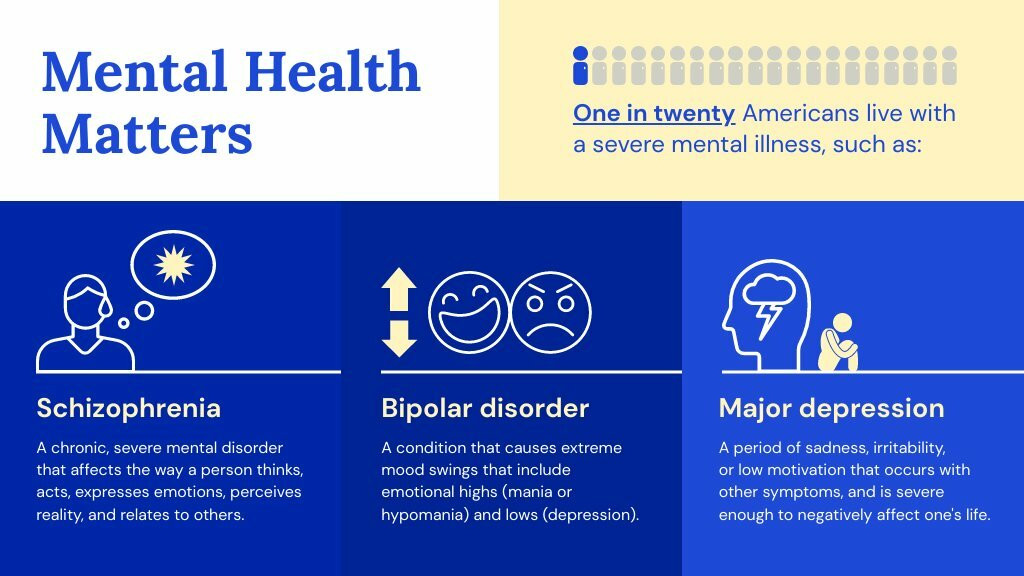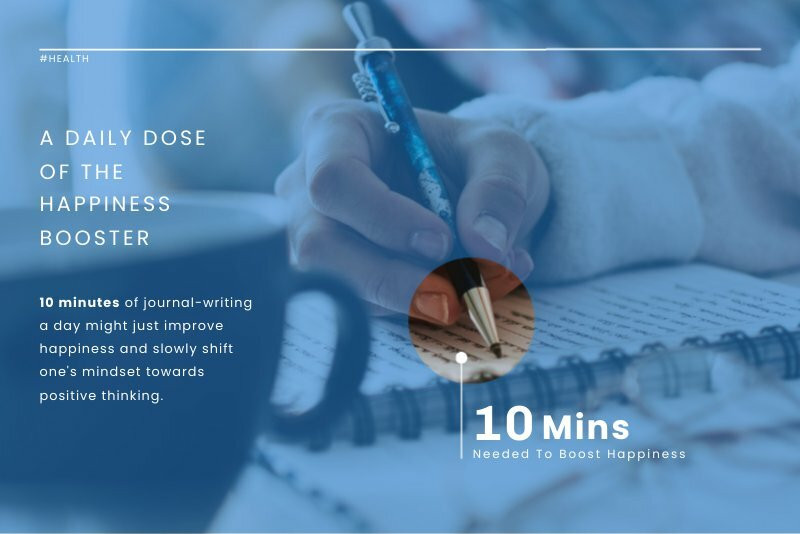 Visualize and transform statistics into visuals that instantly tell a story. Use simple graphs or charts to destigmatize this sensitive issue.
Break down information into bite-sized pieces. Present a new statistic or insight that employees can absorb each day quickly. Think of it as a nugget for the day – short, insightful, and easy to remember.
You can also offer simple steps to stay mentally well. These can be tiny changes in daily habits that collectively make a difference.
Inspirational and Motivational Quotes Poster
The goal here is to create an atmosphere of compassion and understanding. By sharing humble yet inspiring words, you're fostering a space where mental health awareness is nurtured and celebrated.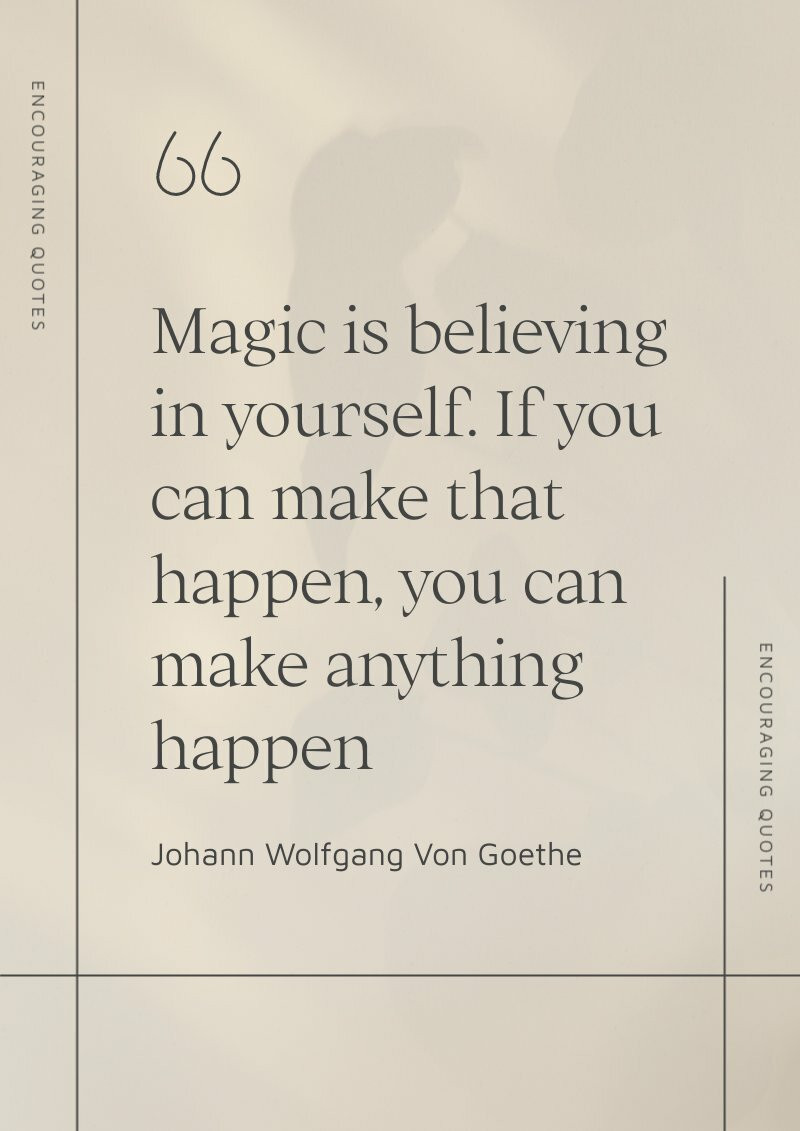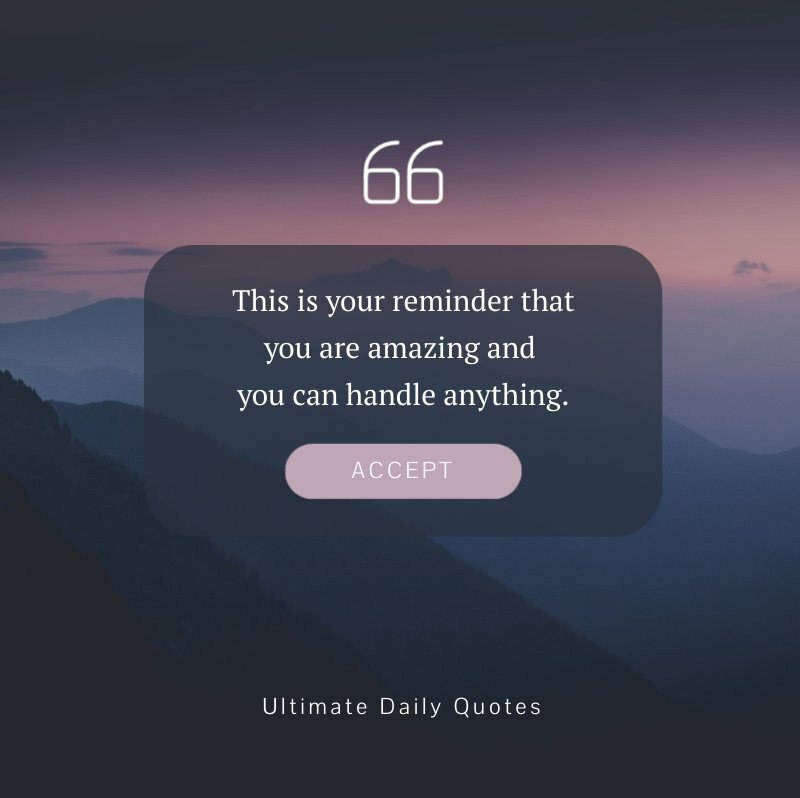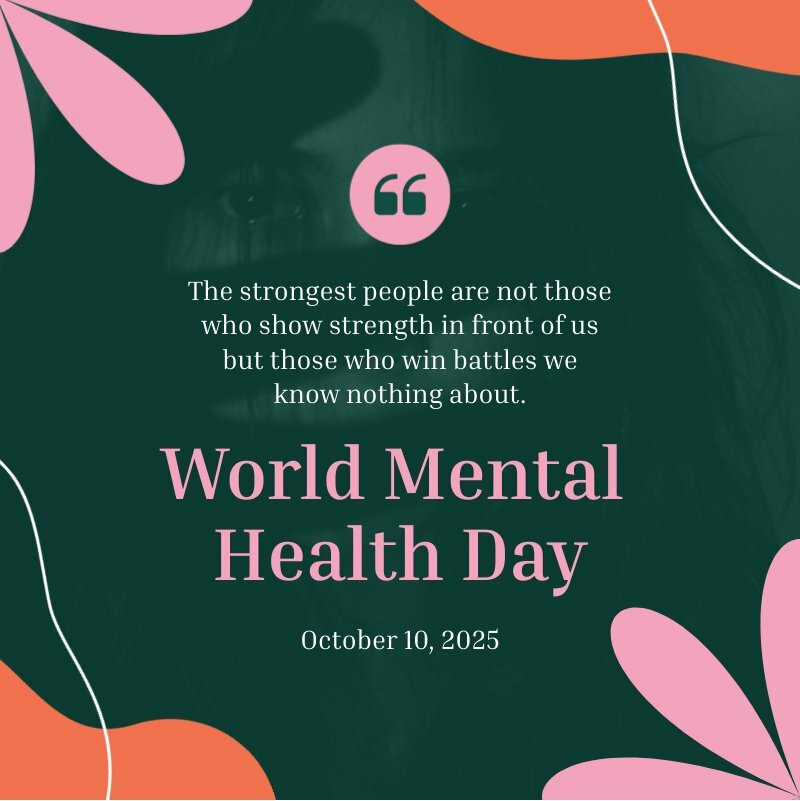 Designing inspirational mental health posters for employees is a wonderful idea to create a supportive community at your workplace. Consider these important elements:
Go for words that offer hope, courage, and understanding. The quotes should resonate with employees on a personal level it becomes a touchstone for employees, reminding them that their well-being matters.
Design visuals that match the quotes' emotions. Soft colors and calming imagery can make your poster feel like a comforting presence on the office walls.
Print and put up these posters where everyone can easily see them, like a therapy counseling wall art. Make it a cozy corner or a hallway where people often walk by.

How about expanding your therapy counseling wall art into the digital spaces? Use Design Components in Piktochart to quickly include your favorite quotes on email and digital signage.
Uplifting (Digital) Posters to Observe Mental Health Day
The idea is to create a warm and welcoming visual. You contribute to a workplace culture where health is openly acknowledged and celebrated by infusing the poster with positivity, inclusivity, and genuine humility.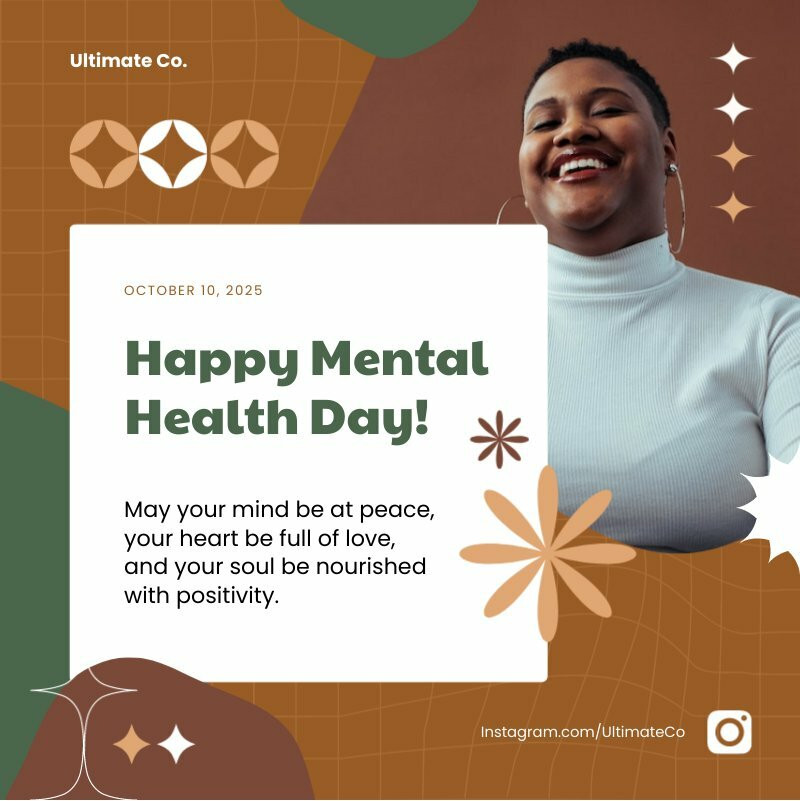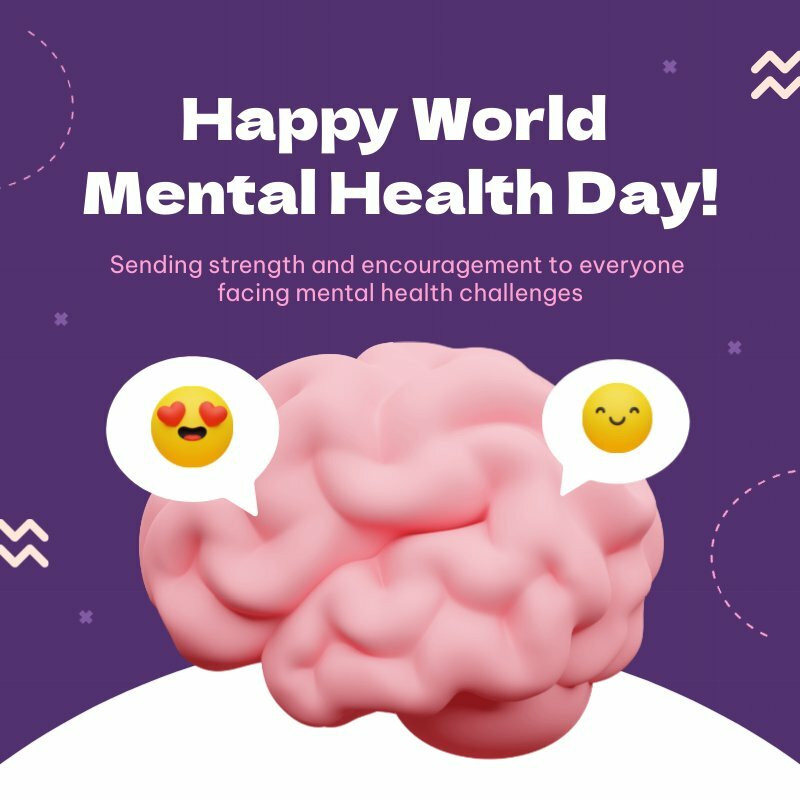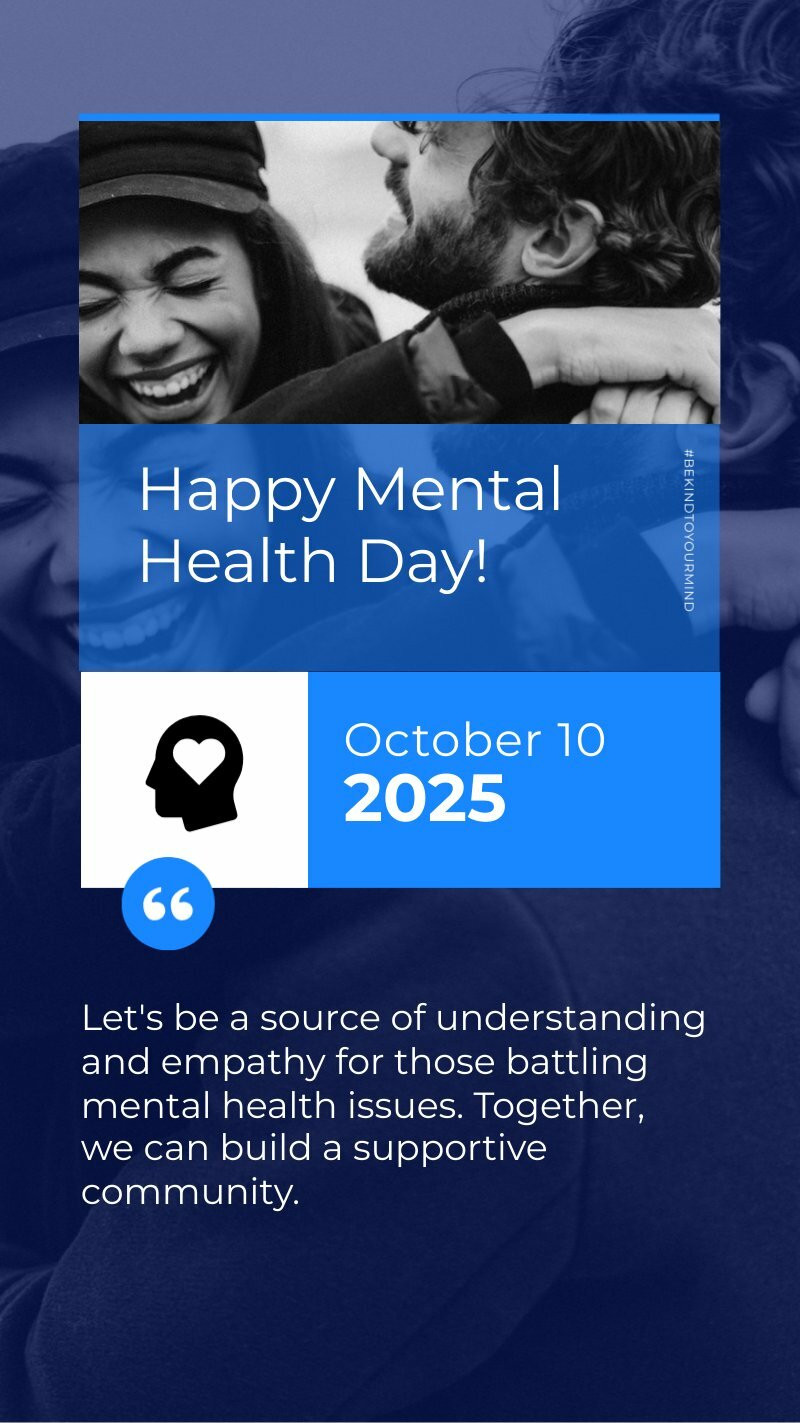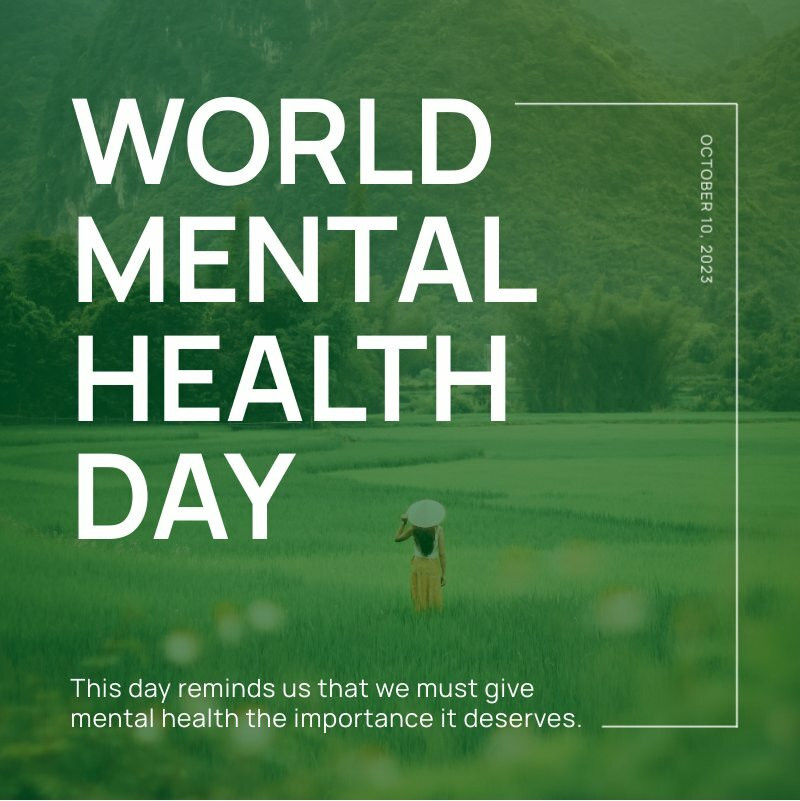 Opt for visuals that radiate positivity and happiness. Think of photos of happy people smiling or calming blue and green colors. These visuals can evoke feelings of optimism and tranquility, creating an inviting and cheerful atmosphere on the poster.
Ensure that the poster resonates with a diverse range of employees. Reflect on different backgrounds and experiences through the visuals and wording. The aim is to create a sense of unity and shared experience where everyone feels seen and appreciated.
Discussion and Event Posters to Promote Engagement and Interaction
Regular discussions and events provide a safe space for open conversations as part of the company's ongoing commitment to building workplace well-being. Use these poster templates to advertise your events.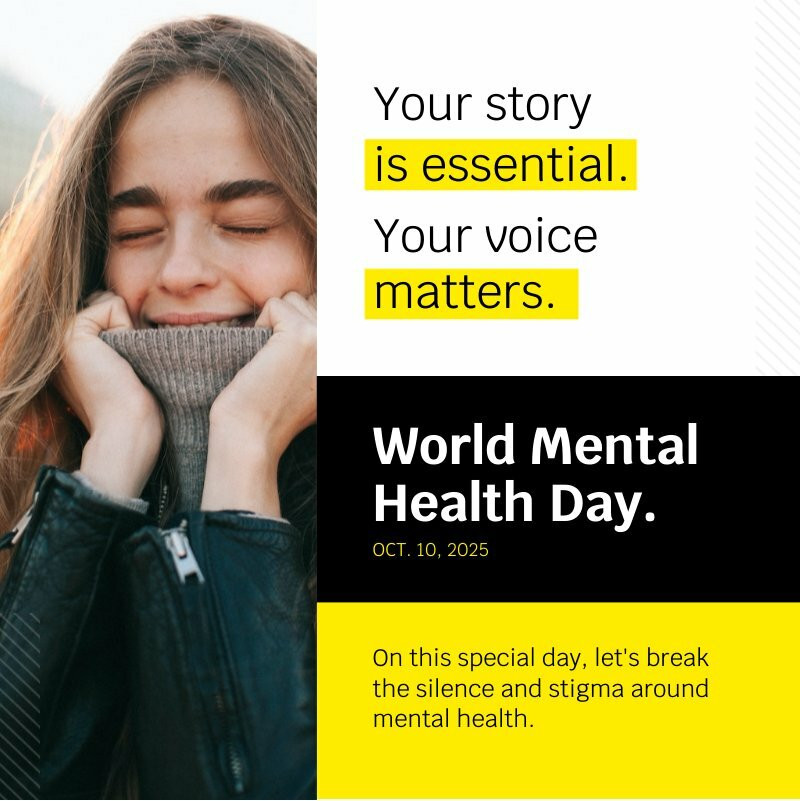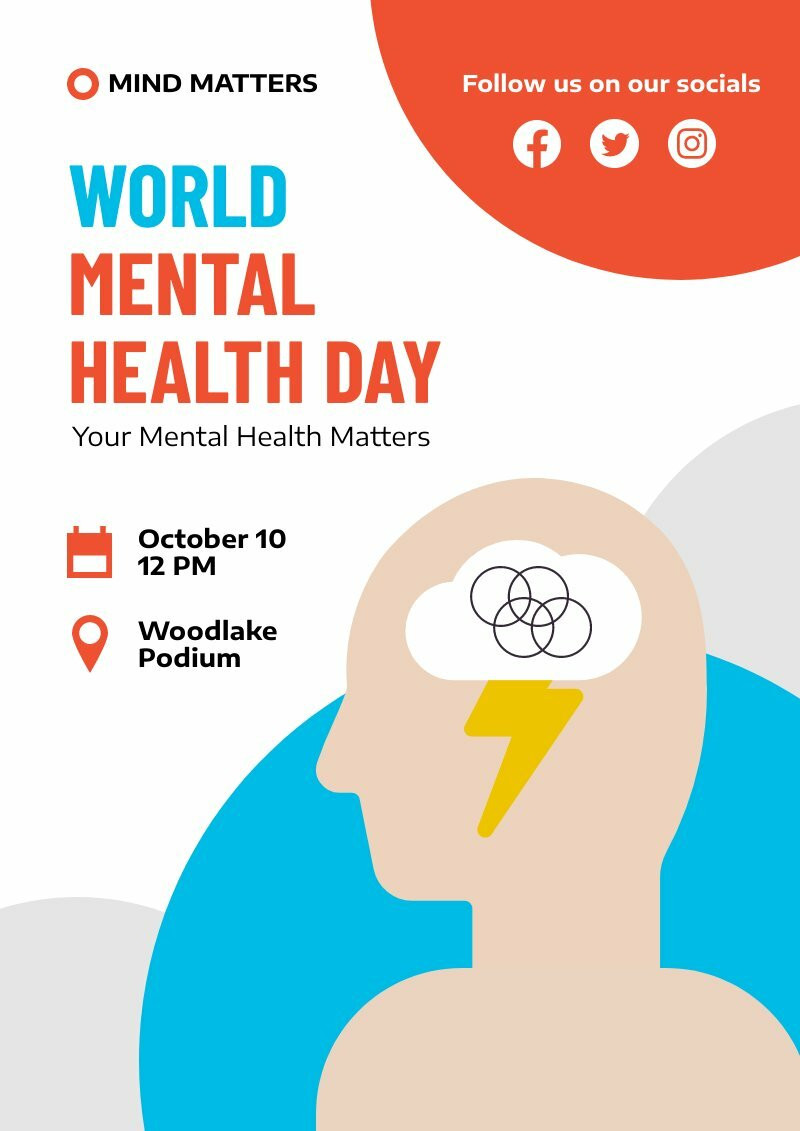 The goal is to use the poster as a call to action – a gentle nudge to start conversations and participate in activities offered by the organization. These are the key elements you want to consider:
Craft engaging prompts that encourage meaningful conversations. Consider questions like "How do you practice self-care?" or "What helps you stay resilient?" These prompts invite everyone to share their thoughts and experiences in a safe and supportive space.

Make sure to showcase dates, times, and details clearly.

Use friendly language and relatable visuals that make everyone feel invited. Imagine it as saying, "Your voice matters, and we're here to listen and learn together."
Informational Mental Health Infographics
Create informative and thought-provoking infographics to promote a culture of open dialogue and continual learning about mental health. It is a valuable resource, aiding ongoing discussions after your events.

Share actionable tips that everyone can integrate into their lives. Keep the language simple and concise, offering advice that's easy to remember and apply.
Use icons and images that directly relate to each tip. Think of it as creating a visual guide that anyone can quickly grasp, like following a friendly map.
In a world where I've seen friends and loved ones struggle silently, knowing the importance of mental health first-hand, well-crafted posters become more than just decoration. They are heartwarming declarations of an organization's dedication to cradle every individual in understanding and compassion.
As a Comms professional, we want to show that the organization that here, mental well-being isn't just acknowledged, it's cherished.
Start your journey today!
Elevate workplace well-being with our ready-to-use Mental Health Awareness Poster Templates.
Signup for Free