Pie Chart Maker by Piktochart
Transform boring data into a compelling story with our free pie chart maker. No design experience is needed. Create and customize professional-grade charts using a template in a few clicks with Piktochart.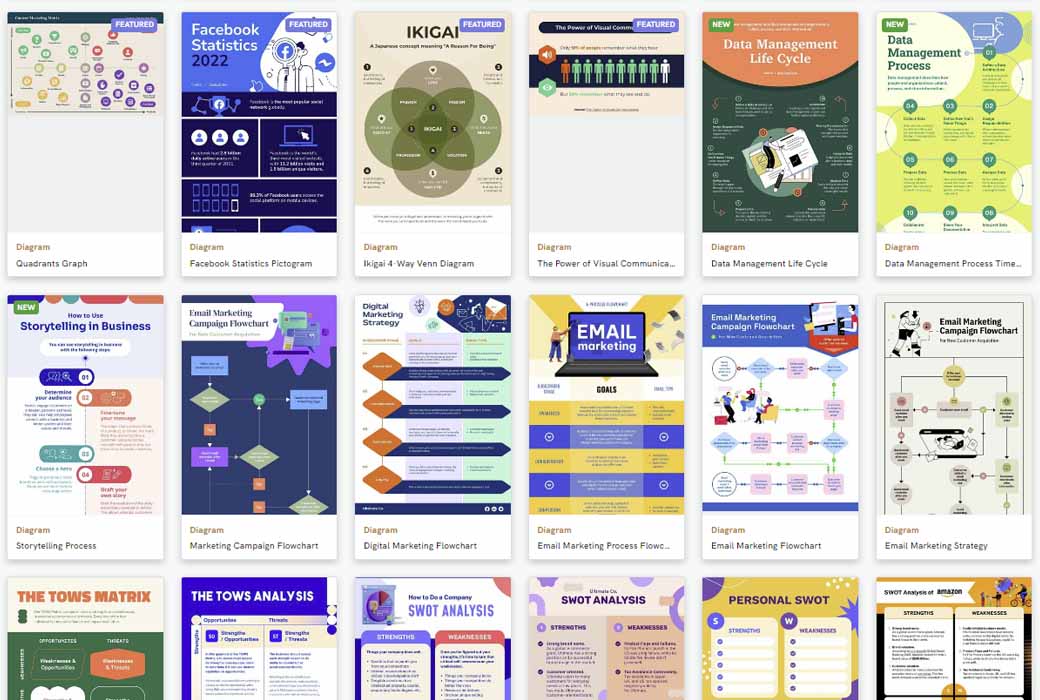 Our free pie chart maker tool is chosen by professionals and educators worldwide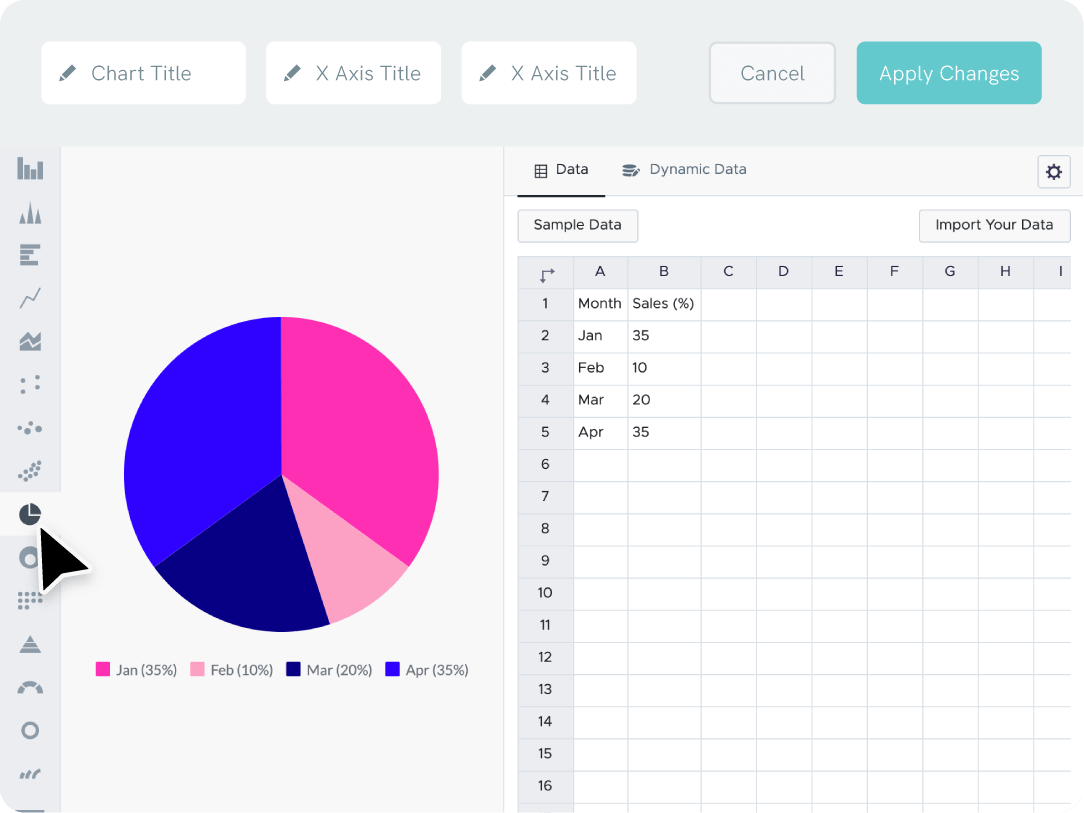 Create pie charts on the web for free
Elevate Your Data Visualization With the Ultimate Online Pie Chart Maker Tool
Create your own pie chart online with Piktochart and add it to reports and presentations for free. Link up your Excel or Google Sheets file to easily make charts that automatically update when your data does. Combine various pie charts into one page to show progress, represent percentages, and ultimately create a professionally-looking, interactive dashboard to share with your stakeholders.
Create a free account
Branding through our pie chart maker
Adjust the Colors of Your Pie Chart to Match Your Brand
Drag your logo or a screenshot of your website to extract your brand colors automatically. Do you want to use your company's fonts (or even icons)? No problem. Your custom color palette and uploaded fonts will always be accessible in the pie chart maker and editor.
Get started
How To Create a Pie Chart
1
Log in
Create or log into your Piktochart account
2
Pick a pie chart template
Pick a pie chart template made by designers or start from scratch
3
Open the pie chart maker
Go to tools and open up our pie chart maker
4
Enter your data points
Copy-paste your data points straight from excel, CSV or link a Google sheet
5
Adjust to your liking
Adjust data labels, x-axis, y-axis, graph title, background color, and more
6
Download or share
Download your finished pie chart as a jpg, png, pdf file, or share your graphic on social media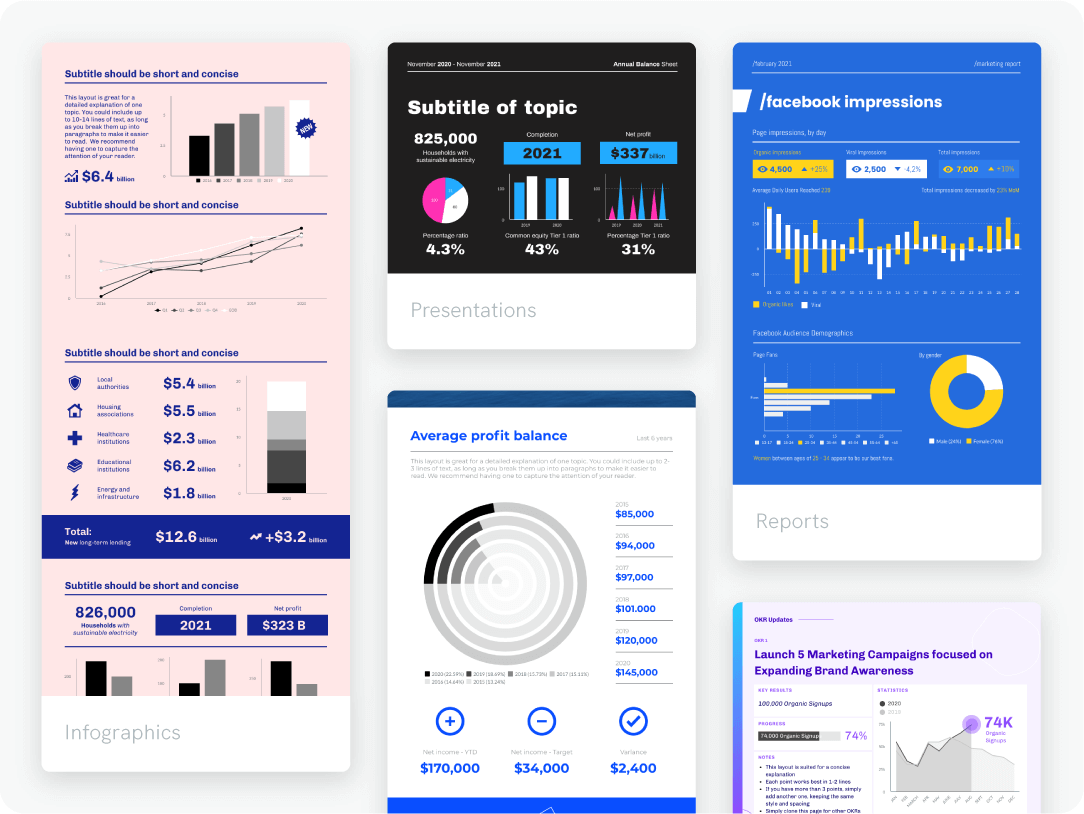 Content creation tool for design assets
Add Your Pie Chart Graph to Any Format
With our online pie chart maker, you can easily create reports, presentations, infographics (and more) that will impress your peers. Piktochart is so simple that you can immediately use it without training. Start with a pie graph template designed by experts or design a graphic from scratch.
Create a free account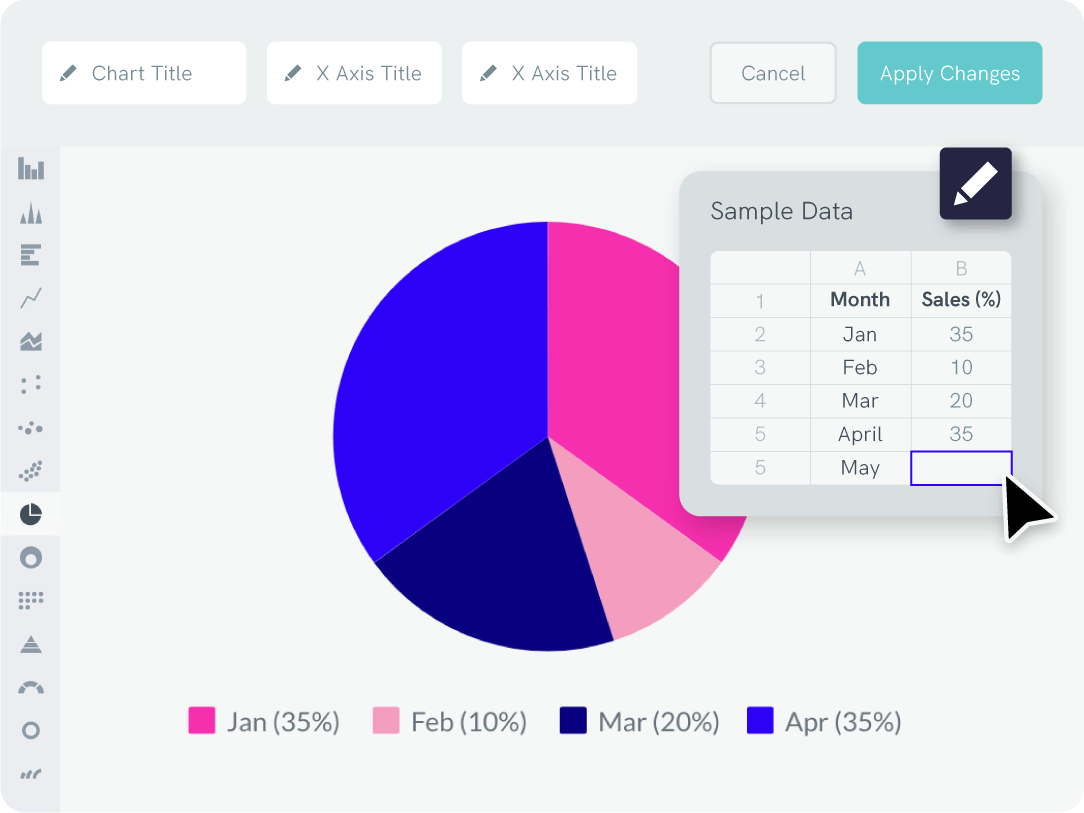 Repurposing pie charts
Make a Pie Chart Once & Use It Forever
No need to spend hours re-creating the same assets every month. Organize your templates and past projects in folders. Make it easy for anyone on your team to repurpose pie charts on the fly, ultimately saving their time.
Sign up for free
Ready to create beautiful pie charts?
Join more than 11 million people who already design information with Piktochart's free pie chart maker.
Templates to use a pie chart in
A pie chart is similar to a donut chart in that it's good for showing off how things are divided. If you have a budget and you want to show how much of it goes to each department, you can use a pie chart. Similarly, if you want to show many people out of a group have specific characteristics, charts work wonders as well.
With Piktochart, sharing and printing your finalized chart has never been easier. Download your finished visual in your preferred file format to print, as a jpg, png, pdf file, or share your graphic directly on social media channels or even your website for free.
Here are some tips for making pie charts quickly:
Use software or tools that allow you to make charts easily. 
Choose data that lends itself well to a pie chart.
Keep your presentation design simple.
Double-check your spreadsheet data and labels. Ensure your data values are accurate and your labels are clear and easy to read.
  Save time by using a project template.
  Following these tips lets you create and download charts quickly and effectively.
You can create a free graphic (and even download it) using various software and online tools offering free features. Piktochart offers free chart making for business users and academics alike and offers a paid plan, including additional features.
You can use a pie chart generator to create pie charts for presentations or reports. When using a chart maker for presentations or reports, there are a few things to keep in mind:
Choose the right free tool.
Use accurate data values.
Keep your graphs simple.
Customize as needed.

Check out other chart types