Are you looking for the best infographic maker software to easily create infographics for work, school, or personal use? We've got your back.
In addition, the better people understand what you are trying to communicate, the more likely they will share your story on social media or email to their network. Especially if your infographic template is visually appealing.
You can, of course, have a go at infographic creation from scratch, but you'll probably find this to be a difficult and time-consuming undertaking without graphic designers, especially considering the plethora of online resources.
The top infographic makers and software aid your data visualization journey by allowing your information to be easily understood through a wide range of customizable and generative templates.
A good infographic maker is essential for any business looking to enhance internal collaboration or external communications, whether the infographic creation is prompted by wanting to enhance your Google charts and reports or brand social media channels.
That's why in this post, we have picked the most effective infographic software to help you transform any data into exciting visual illustrations with an easy-to-use creation process without the need for a graphic designer.
Sounds good? Let's dive in.
Best Infographic Makers of 2023
Below is our compilation of the best infographic makers (chosen from a vast library) housing the best standard and professional infographic templates of 2023, along with the users they are best suited for, the availability of various design elements, and ease of collaboration.
You can also check out our video overview of these good infographic makers to start creating engaging infographics today:
1. Piktochart — best for businesses that need to communicate with clients, investors, or internal stakeholders.
If you're new to the world of design and lack professional design skills, Piktochart is the perfect infographic tool for you.
With more than 600 highly customizable templates, infographic layouts, maps, and interactive charts in both Free and Pro plans, you can create stunning infographics in no time with our maker software.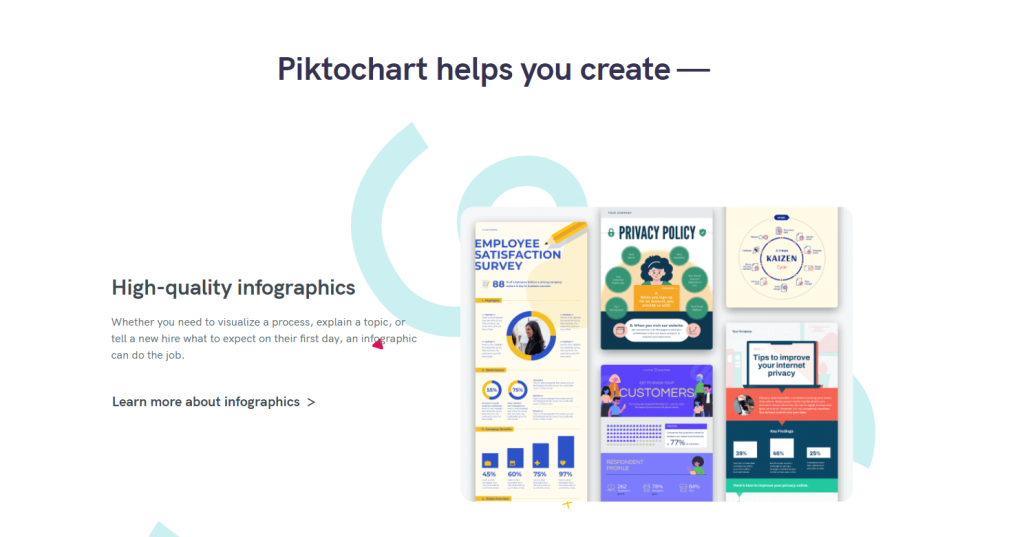 Moreover, the infographic layouts and templates are not generic designs like those provided by other infographic tools on the market, but highly polished and professional.
Another highlight of this free infographic maker is that all the maps are free of charge and accessible in just a few clicks.
Plus, you get enough storage space to upload your own content, photos, custom visuals, marketing materials, multiple download formats, and collaboration options.
In fact, collaboration features for making infographics are open across all plans, including Free.
Notable features of this free infographic maker include:
600+ templates
4000+ free icons and photos
Interactive maps and charts with a drag-and-drop interface
All plans can export visuals in PNG, PDF, and PPT format
2. Snappa — best for non-designers seeking quick and easy ways to create and publish visual content online.
Snappa is an easy-to-use infographic maker that provides 48 free infographic templates and trendy charts, along with more than three million free images, fonts, and other assets to visualize data for beautiful infographics.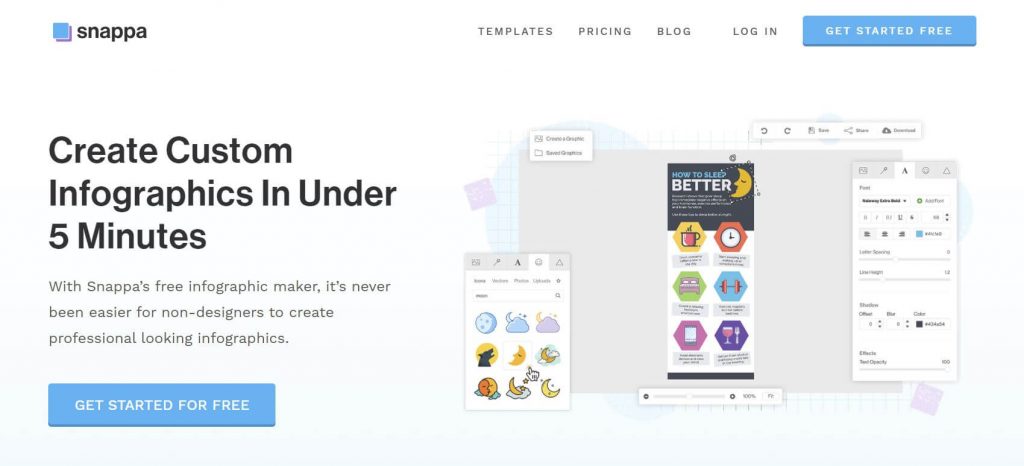 There are a ton of customization options and professionally designed infographic templates.
You can upload your own images and simply drag for your own custom infographic, and edit anything with just a double click (save time and start editing now!).
Both its free and premium versions have similar features, the main difference being the limited number of downloads in the free version.
You also can't save any of your designs in Snappa unless you have the paid version.
Notable features include:
48 infographic templates
5 million stock images with a drag-and-drop interface
200 fonts and typefaces
3. Infogram — best for businesses looking to visualize complex data sets
Infogram is a great choice if you want to present statistical information visually.
With a ton of stock images, data widgets, 25 icons, seven general shapes, and 41 unique charts in the free plan, you can use this infographic software to create various maps and graphs.
Apart from that, you get access to a simple drag-and-drop infographic editor to fine-tune many aspects of your infographic, such as colors and layout.
Both free and premium plans are available, but you can't download an infographic or share it privately in the free plan.
Notable features include:
100+ infographic templates
40+ interactive charts and 25 icons
550+ maps
Real-time data import
4. Freepik — best for businesses seeking a variety of vector illustrations
Freepik is not an infographic maker, but it is still a suitable option if you need vector designs and pictures to use in your infographics.
Even with a free account, it lets you pick from thousands of infographic visuals. And the premium version gives you access to 3 million more.
Notable features include:
Comprehensive search capabilities
72,000+ infographic templates
8 million design elements in the premium version
5. Canva — best for personal use and small businesses looking to build their brand from scratch.
Canva is an ideal choice for creating modern infographics.
With a user-friendly interface and a large offering of 53 free infographic templates spanning multiple industries (Business, Social Services, Education, and more), you can easily create any type of infographic (even a video infographic) and even collaborate with others by sharing your design work via email; simplifying infographics creation altogether.
It's good for when you need to create content for Facebook, Twitter, Instagram, or any other social media post.
With Canva, you get thousands of images for your projects and 2 million more for a monthly fee. There is also an option to upload your own images.
The free plan of this infographic software also comes with charts, frames, color customization, illustrations, and icons, while with a paid plan, you also get extra fonts, special animations, organization tools, transparent backgrounds, and resizing capabilities.
Notable features include:
53 free templates
Graphs, mind maps, charts, and diagrams
Easy drag-and-drop editor
Real-time team collaboration
Best used for social media visuals
6. Venngage — best for marketers looking to create infographics for external communication
Venngage is surely worth checking out if you can get on its paid plan.
It's a comprehensive infographic creator with hundreds of photos, templates, icons, and charts. It's not for businesses looking for a simple, free tool.
On the flip side, Venngage's search engine could use some improvement.
It can sometimes be difficult to find the right image for your project.
And free members cannot download their designs. They are limited to previewing only.
However, Venngage makes up for these minor shortcomings with its user-friendliness and ease of use. The business subscription also lets you work on designs as a team.
Notable features include:
7500+ templates (including templates for a video infographic)
100 image uploads
40,000+ illustrations, charts, and icons
Real-time team collaboration
7. Visme — best for marketers looking for an all-in-one graphic design tool with a focus on animation
With both free and paid versions available, Visme offers several features, thousands of templates, and 50+ charts and maps to design static and interactive infographics.
And you get 250 MB of storage to upload your own images or free photos.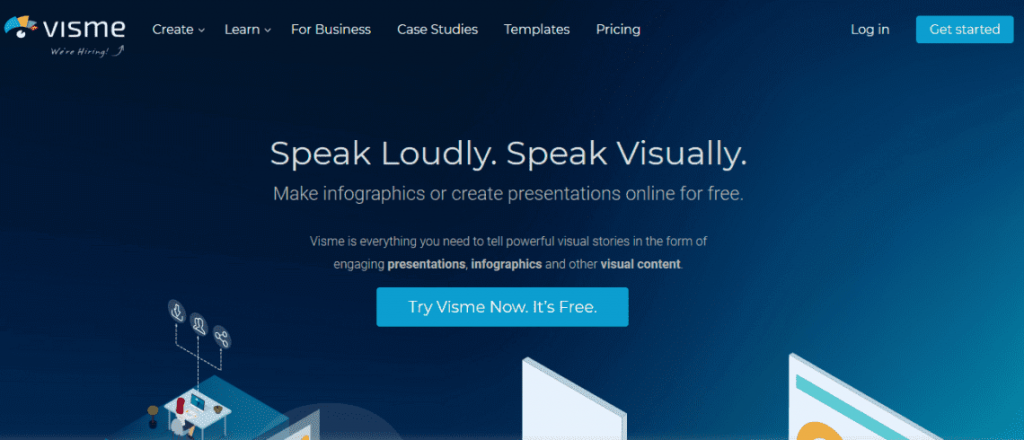 However, the customization is not as easy as some of the other tools on our list.
You can add a lot of blocks, but you can't customize them with a simple double-click.
You'll need to click on the block's settings to add new data.
Regarding collaboration, the premium plan allows you to share your designs with specific people, along with commenting and annotation tools.
Notable features include:
50+ graphs, maps, and charts
1000+ content blocks and templates
1.5 million high-resolution images and 125 fonts
Collaborate with comments and annotations
8. Adobe Creative Cloud Express — best for businesses looking to make and share quick infographics on the go
Adobe Creative Cloud Express and Adobe Spark allow you to design infographics from both mobile and desktop devices without graphic design experience, as well as resize them for social media.
Adobe Spark and Adobe Creative Cloud Express do fall short on some essential elements expected from infographic software, such as charts.
Adobe Spark has a variety of images, icons, fonts, layouts, colors, and editing options to realize your imagination. It comes in both free and premium plans.
Notable Adobe Spark features include:
Cross-device synchronization
Professionally designed fonts
Thousands of images, layouts, and colors
Invite team members to edit your design
9. Easel.ly — best for educational organizations on a budget
Easelly doesn't offer much in its free plan (lacking a dynamic free license, free assets, etc.) as an infographic tool, but its premium subscription is one of the most affordable plans in the market.
It provides you with 1.1 million images, 320+ templates, and 112 fonts for a low monthly fee.
It has a user-friendly drag-and-drop interface. You can also download your designs and share them privately with your team.
Notable features include:
1.1 million photos
320 templates
112 fonts
How can I create an infographic online for free?
There's a lot more to designing an infographic than just arranging some text and images together.
From defining your infographic's audience and gathering content to forming a layout and adding visual elements, your infographic software should support you every step of the way.
Choose Piktochart for your infographic maker
If you're looking to create your own infographic for free, you can't go wrong with Piktochart's infographic maker.
Its free plan has tons of superb infographic templates, along with thousands of free assets to create stunning visuals and resources to customize your design.
Conclusion: Infographic maker software suggestions
Still, the importance of visuals and employing an online infographic maker cannot be overlooked if you want to drive more engagement.
Well-designed and engaging infographics can go a long way in meeting your communication objectives.
It's all a matter of persistence, practice, and having the right infographic software.
We hope this article has encouraged you to pick the best infographic maker software and get started on the right foot.
Once you get the hang of the design process, you'll not just be able to create eye-catching infographics but also enjoy designing them.