Infographic Maker From Piktochart
Try an easy-to-use infographic builder that helps you make visuals quickly, online. No graphic design skills needed.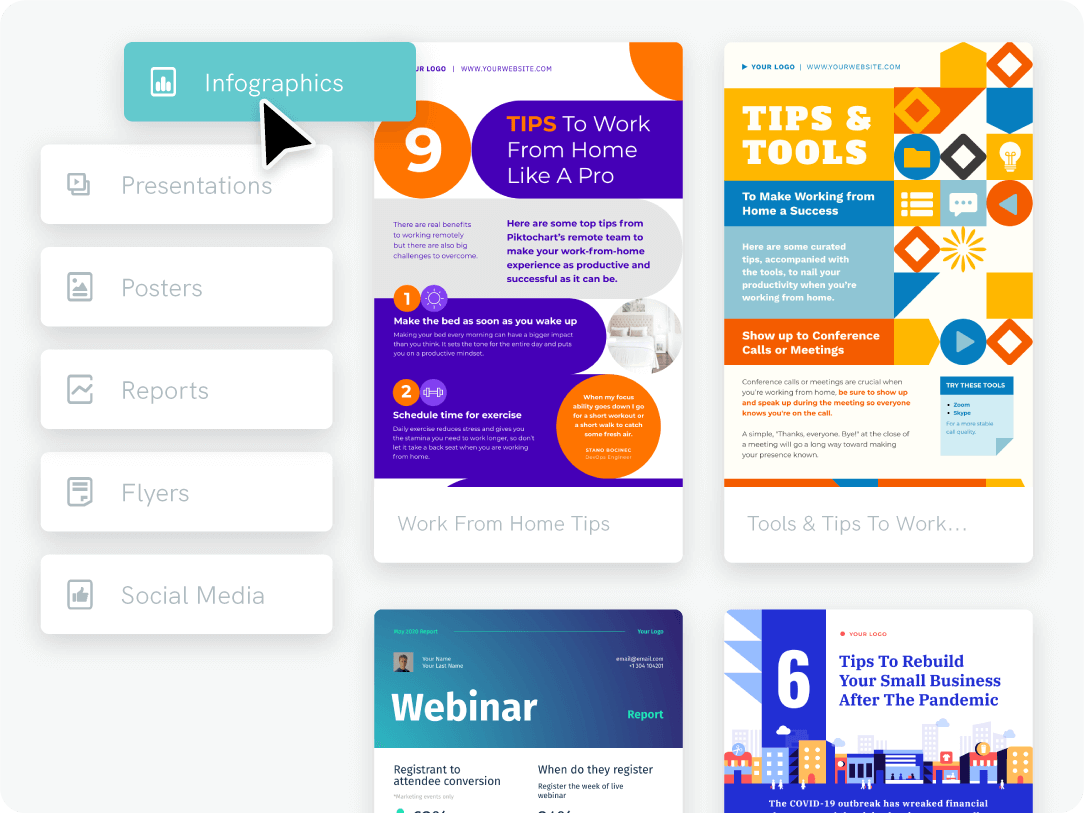 Make your own infographic
Whether you need to explain a process, show off data, or tell a story, infographics are the perfect tool for the job. With Piktochart's infographic software, you can start from a template or create an infographic from scratch. The free library of images, icons, illustrations, and templates saves time, enabling you to create a beautiful visual easily.
Brand assets and data visualization in one infographic builder
Your custom color palette and uploaded fonts will be added to the editor so that you or your team can easily apply them to any project. Furthermore, link up an Excel or Google Sheets file to easily create graphs that automatically update when your data does.
Ready to see Piktochart in action? Start creating infographics for free!
Try our easy infographic maker at no cost and upgrade when you're ready. Collaboration features and much more await!
"The thing I liked most about Piktochart is how it makes it so easy to make a high-quality visual. Be it a poster, or an infographic, Piktochart makes it super easy for someone like me who is not a graphic designer to end up with a nice graphic at the end."
Erik Kingissepp Sr. Manager, Learning and Development, Tucows
"Started to use it like a month ago, and just love it. You can easily start with a template and customize it to your brand and look and feel."
Susanne Petri Knowledge Transfer Responsible, Apptus Technologies AB
"Piktochart, the best software for creating infographics."
Diana Alvarado Graphic Designer, Texas Creative
"Piktochart allows us to create simple infographics that are not only engaging but very impactful as well."
Theodore Paat Instructional Designer, Affirm
Over 11 million users worldwide create graphics with Piktochart
Ready to make your own infographic?
Create infographics online for free with Piktochart's easy infographic maker.