What is a job posting?
A job posting is a public advertisement designed to attract a large pool of applicants for a job. It's typically a streamlined version of the job description and often includes marketing language aimed to attract potential candidates. It typically includes key responsibilities, necessary qualifications, and some information about the company and its culture. The goal of a job posting is to present the role in an appealing way, so as to encourage potential applicants to apply.
A job description, on the other hand, is a comprehensive document that fully outlines the duties, responsibilities, necessary skills, outcomes, and work environment of a particular job. It's generally used internally for things like role clarification, performance management, and compensation grading. It can also form the basis of the employment contract. While job descriptions may also be made available to candidates during the recruitment process, they are typically more detailed and less "marketing-oriented" than job postings.
In summary, a job posting is essentially a public-facing, marketing-focused version of a job description. It's designed to sell the job to potential candidates, whereas a job description is a more detailed and functional document used for internal purposes.
Table Of Contents
How to create the best job postings?
I've often cheekily remarked that I can spy on our competitors using their job postings! A good job posting will often reveal the necessity of the business and how the role fits in to drive that change in the company. You can jump right into creating a visual for the job posting by accessing our templates with a free account.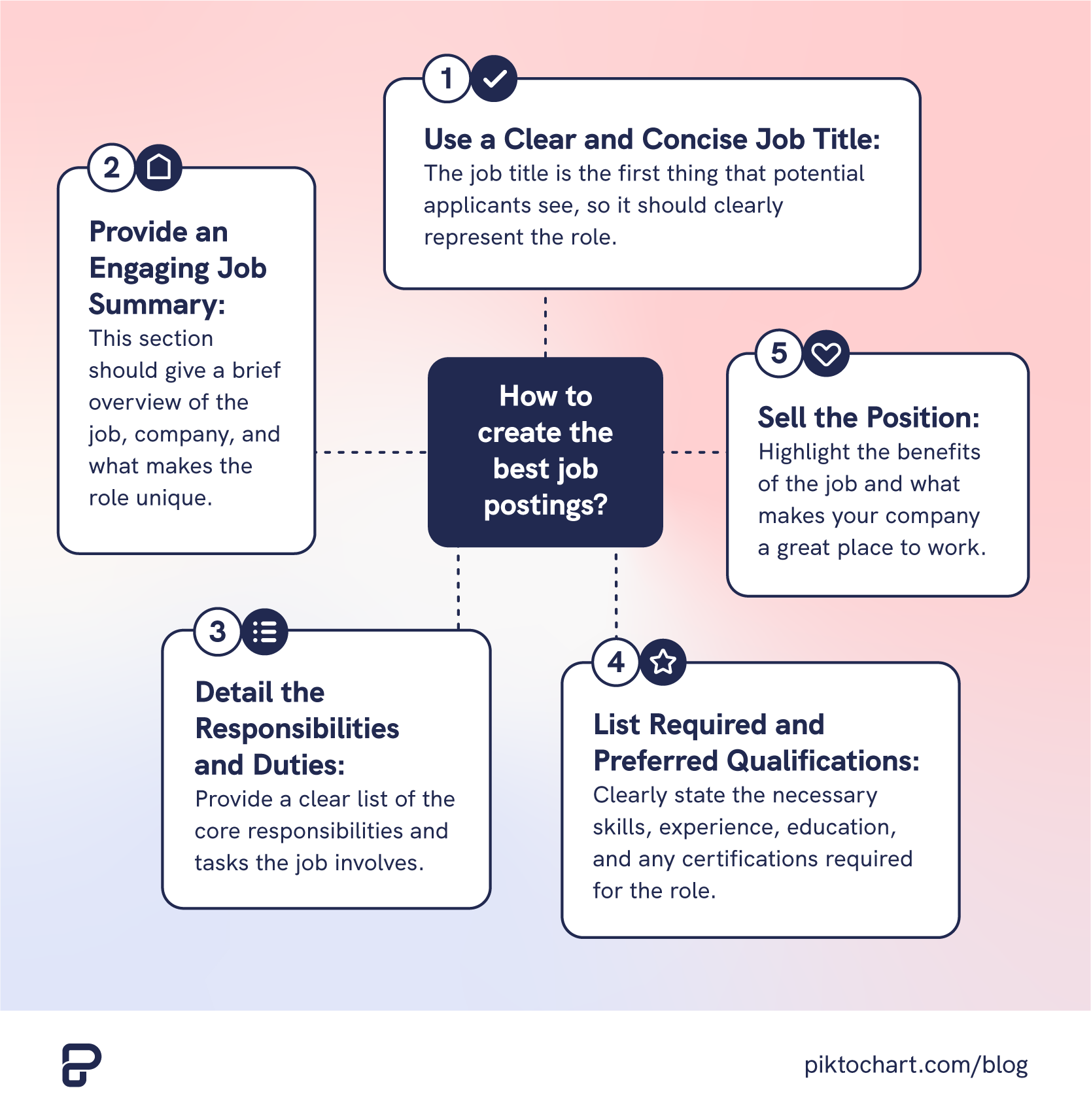 1. Use a Clear and Concise Job Title: The job title is the first thing that potential applicants see, so it should clearly represent the role. Avoid jargon or company-specific titles that may be confusing to outside candidates.
2. Provide an Engaging Job Summary: This section should give a brief overview of the job, company, and what makes the role unique. This helps to grab the reader's attention and sets the tone for the rest of the posting.
3. Detail the Responsibilities and Duties: Provide a clear list of the core responsibilities and tasks the job involves. However, avoid making this section too long or daunting; focus on the most significant parts of the job.
4. List Required and Preferred Qualifications: Clearly state the necessary skills, experience, education, and any certifications required for the role. It can be helpful to separate "required" and "preferred" qualifications to give applicants a sense of flexibility.
5. Sell the Position: Highlight the benefits of the job and what makes your company a great place to work. This could include benefits, opportunities for growth, company culture, and unique perks.
Here is a recent one that we have created and we've transformed it into a template that you can use!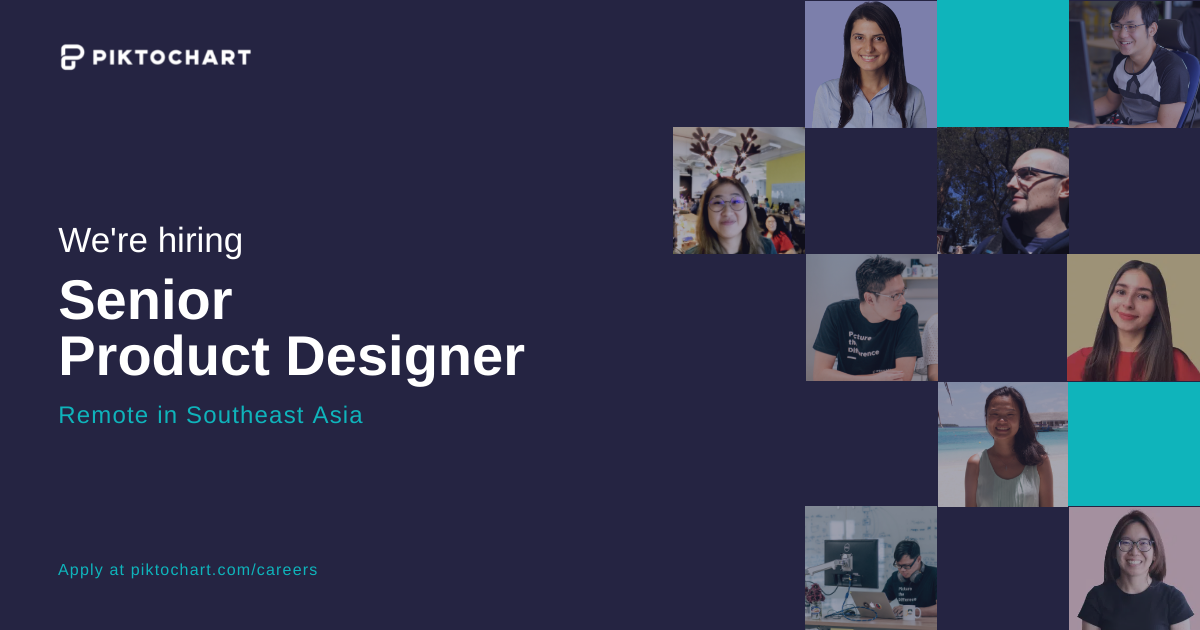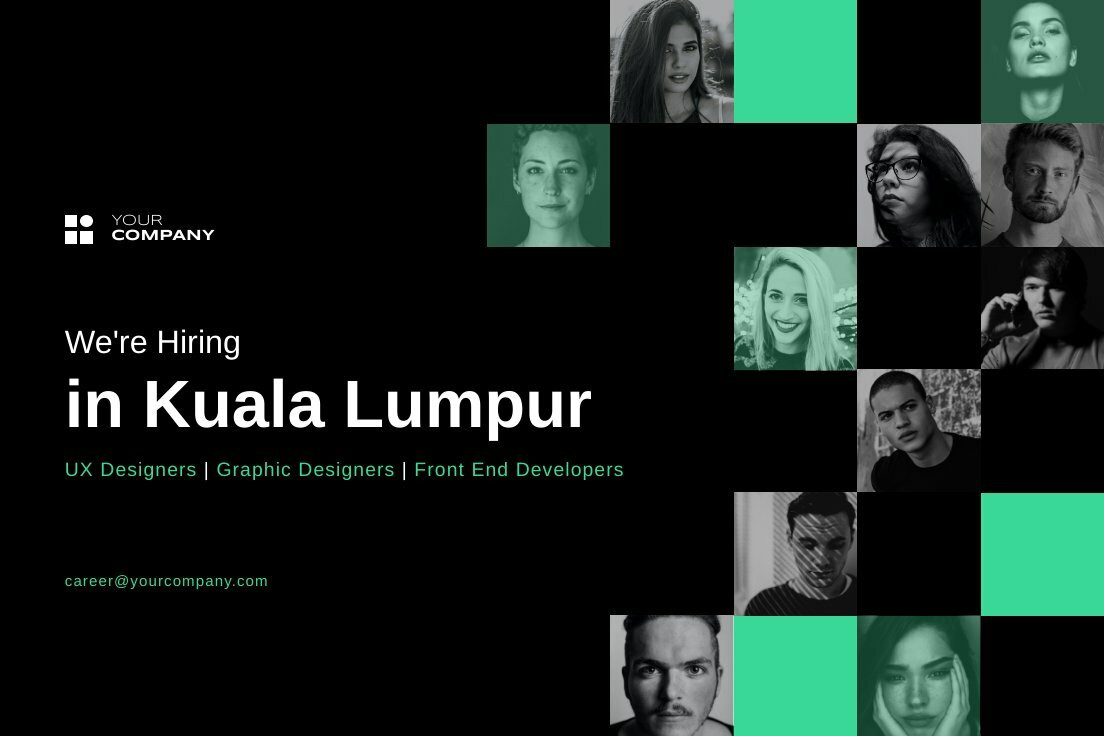 Piktochart is a [name your one line boiler plate of what makes your mission unique, e.g. 4 day work week, bootstrapped, fully remote, visual communication company in the SAAS space]. Our [department] team is looking for a driven [title of the role, including seniority] excited about bringing [main goal of the role] together. We're searching for a self-driven and detail-oriented mind who loves to [more details about the role]. [Skill 1] and [Skill/Aptitude 2] are a must. This job post is for [location details, e.g. hybrid, remote].
If this sounds like you, read on!
As an ideal candidate, [name 3-4 key qualifications they need – this doesn't necessarily come in the form of their academic qualifications. It can also be aptitude, track record, or experience having done something].
As our [role title], you'll be [executing/strategizing X].
We need your help to: [You can also include day to day tasks, or OKRs here if that is what you use at your company. The key is to make it relatable and not use fluffy language]
Bullet point 1
Bullet point 2
Bullet point 3
Your superpowers will include:
Bullet point 1
Bullet point 2
Bullet point 3
Click here to apply. [Keep the application process short or succinct, if possible! Insert contact and application information here too]
10 World's best job posting designs
Apple hid their code in their source code so only developers can find them. What's smart about this is it's highly contextual and targeted. No one else was doing this until… Apple!
The best job in the world, as advertised really had offerings (a high pay, doing not much at all) that sounded too good to be true. They got more than 100,000 applications per position and on top of that, also promoted tourism in
Get the Gen Z's where they are at. Snapchat! This Snaplications was an invention of McDonalds and it worked!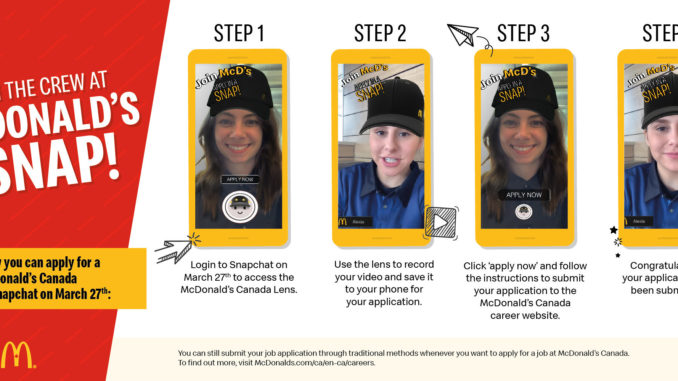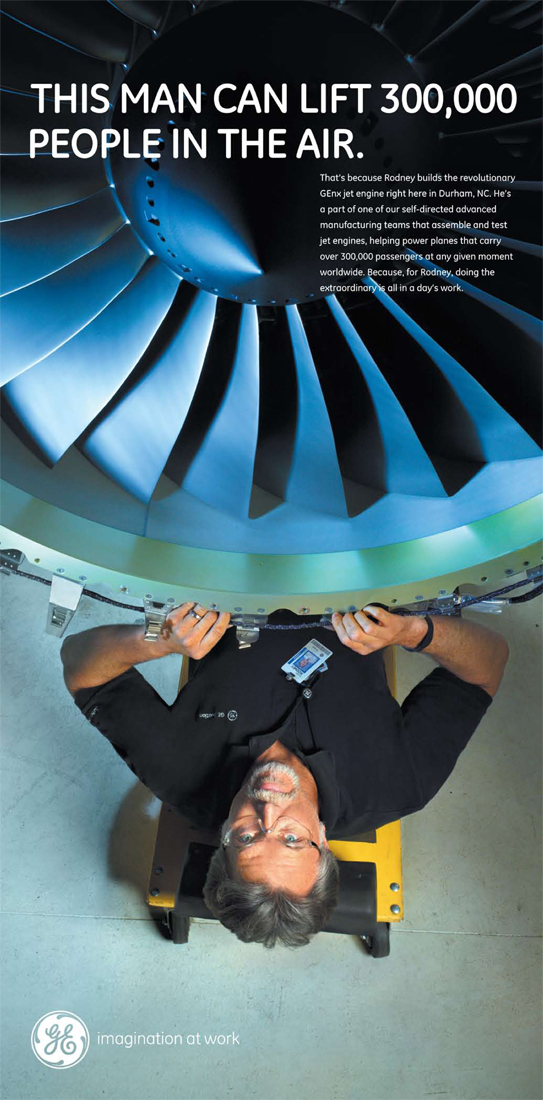 Capitalizing on the Animal Crossing's widespread appeal, London and LA-based digital creative agency Waste Creative devised an innovative approach to connect with potential candidates. They created a virtual replica of their office within Animal Crossing, allowing players to visit and explore the space in the game.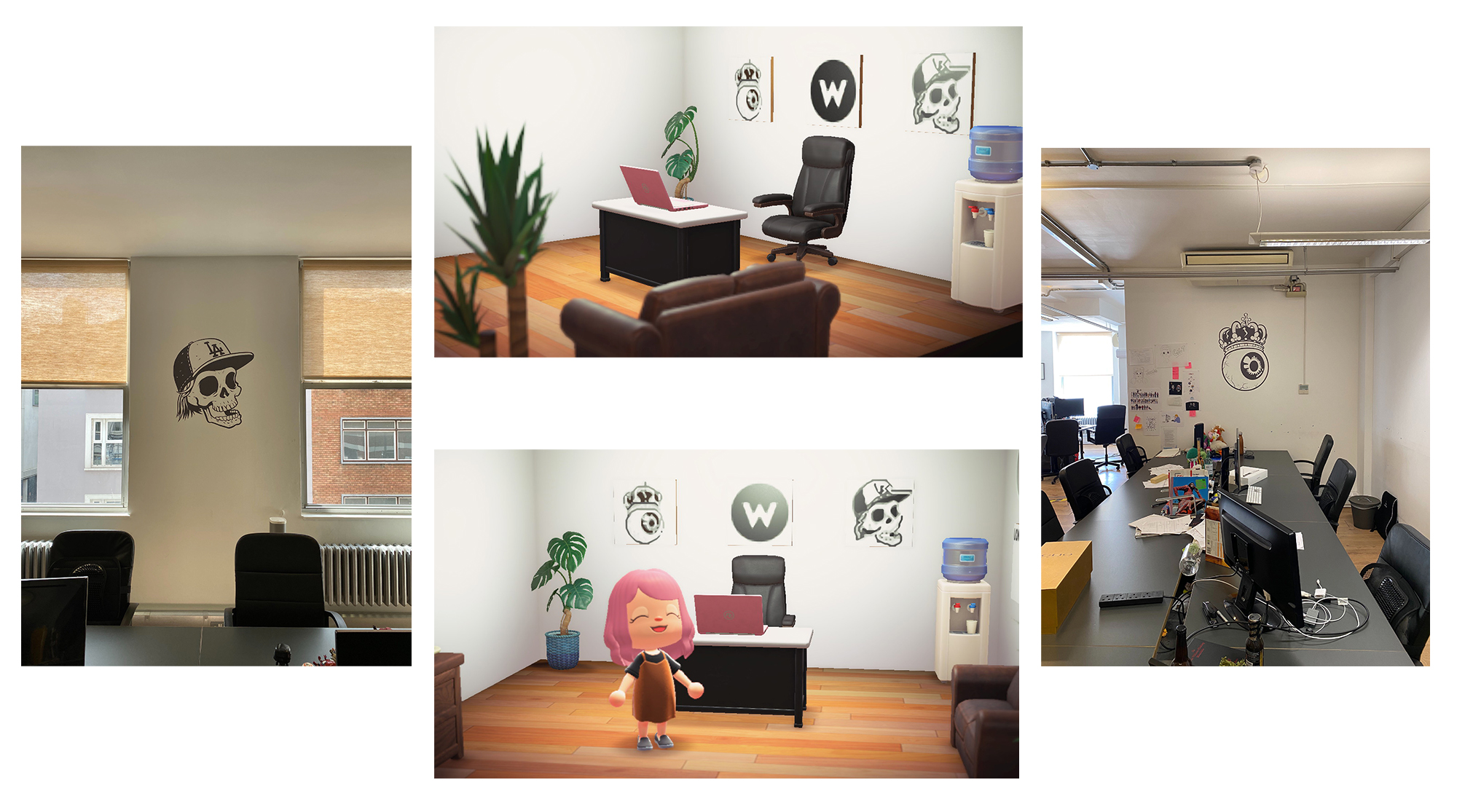 In 2019, Twitter posted a job advertisement with an unconventional title. The social media behemoth sought a "Tweeter in Chief." Beyond the eye-catching title, the job itself was relatively typical — Twitter simply needed someone to manage its official account. However, a title like that demands attention and makes you pause, which is precisely its intended effect.
Email marketing platform MailChimp isn't hesitant to infuse some humor into its advertisements. The company experimented with an ad inspired by Napoleon Dynamite to gauge its effect on attendance at a casual meet and greet event. The result was noteworthy, as the number of attendees almost doubled in comparison to a prior gathering.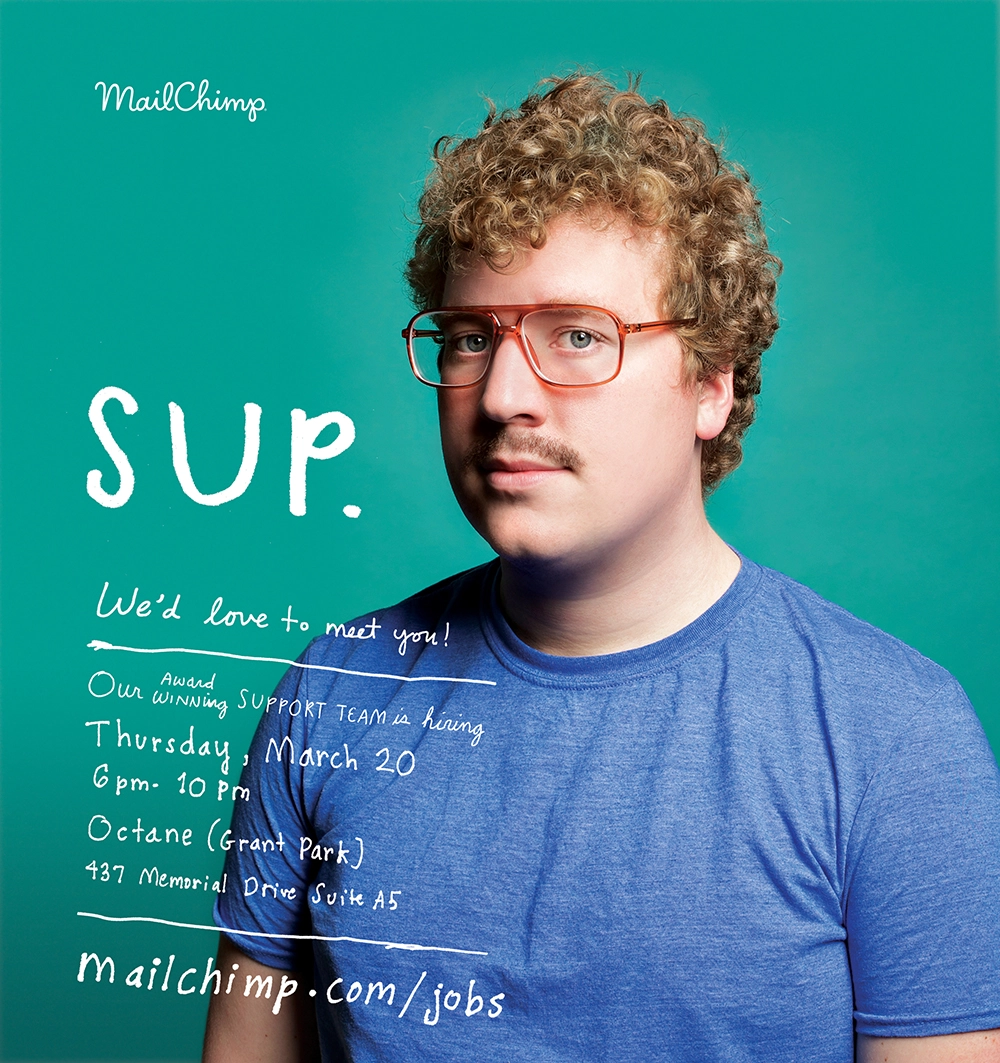 McDonald's ran a job campaign aimed at students, emphasizing that no prior experience was required and that making mista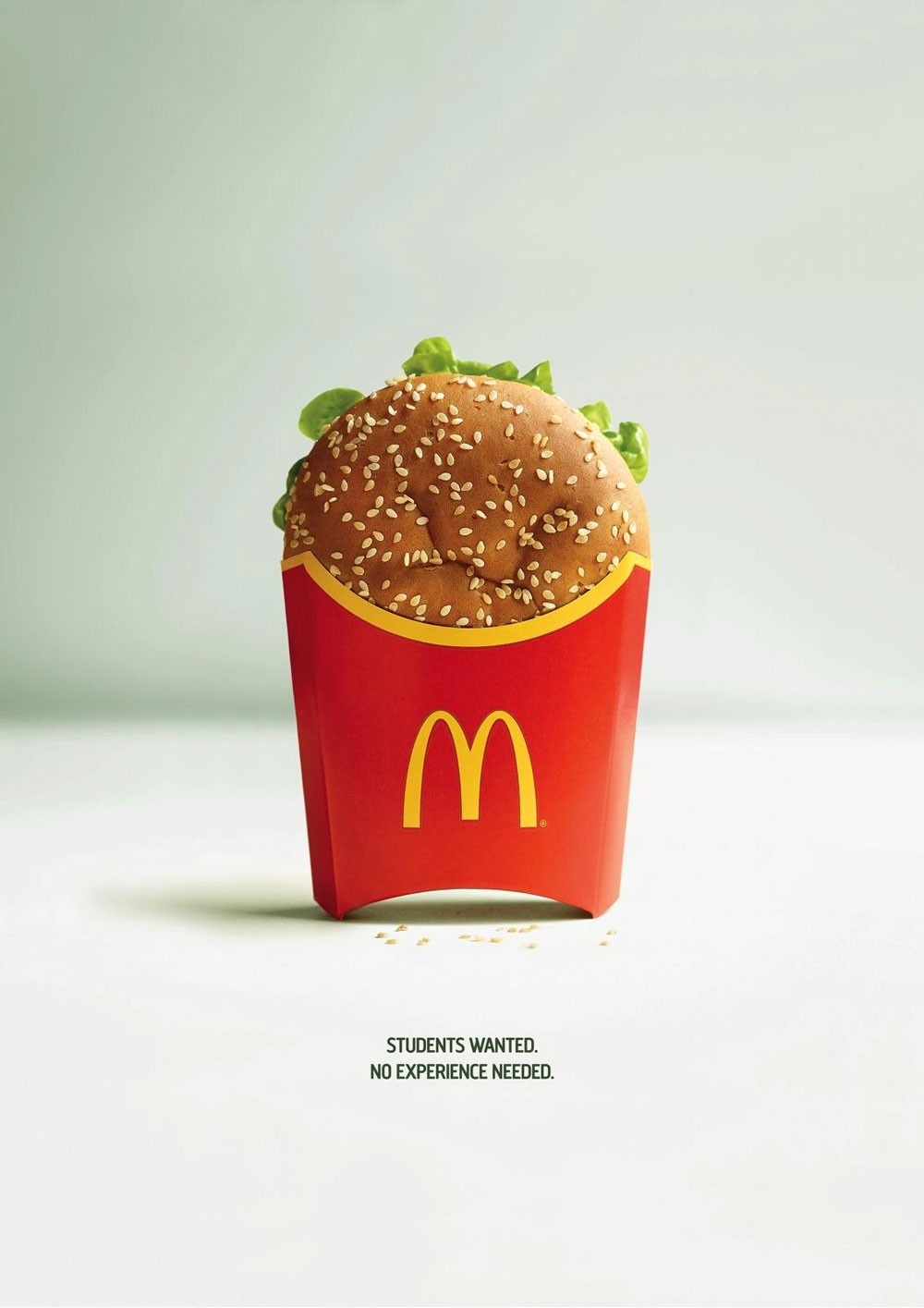 This Navy recruitment poster is effective due to its ingenious visual design and easily relatable message. It conveys the inclusive notion that anyone can join the Navy, create a significant impact, and accomplish remarkable feats.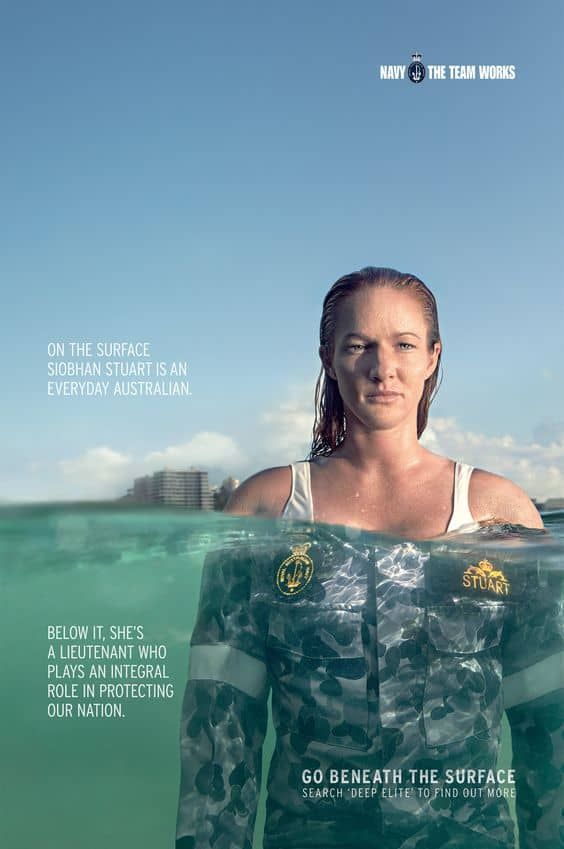 Free and creative job posting templates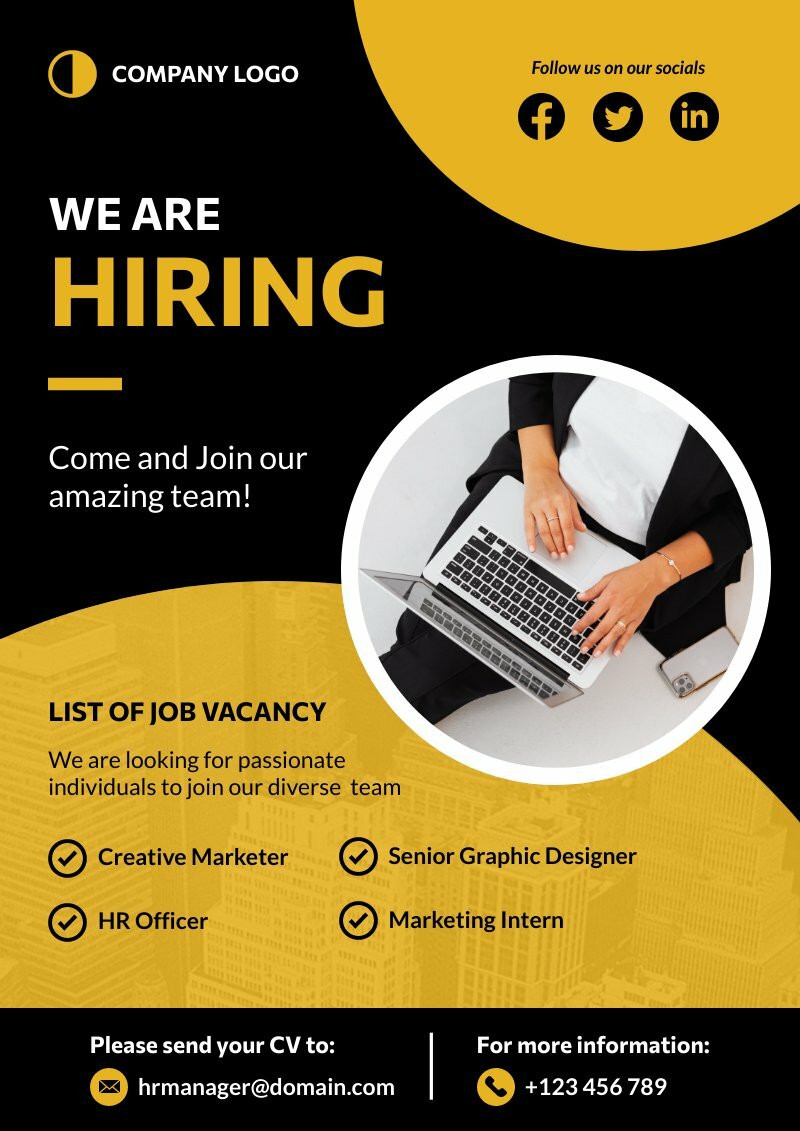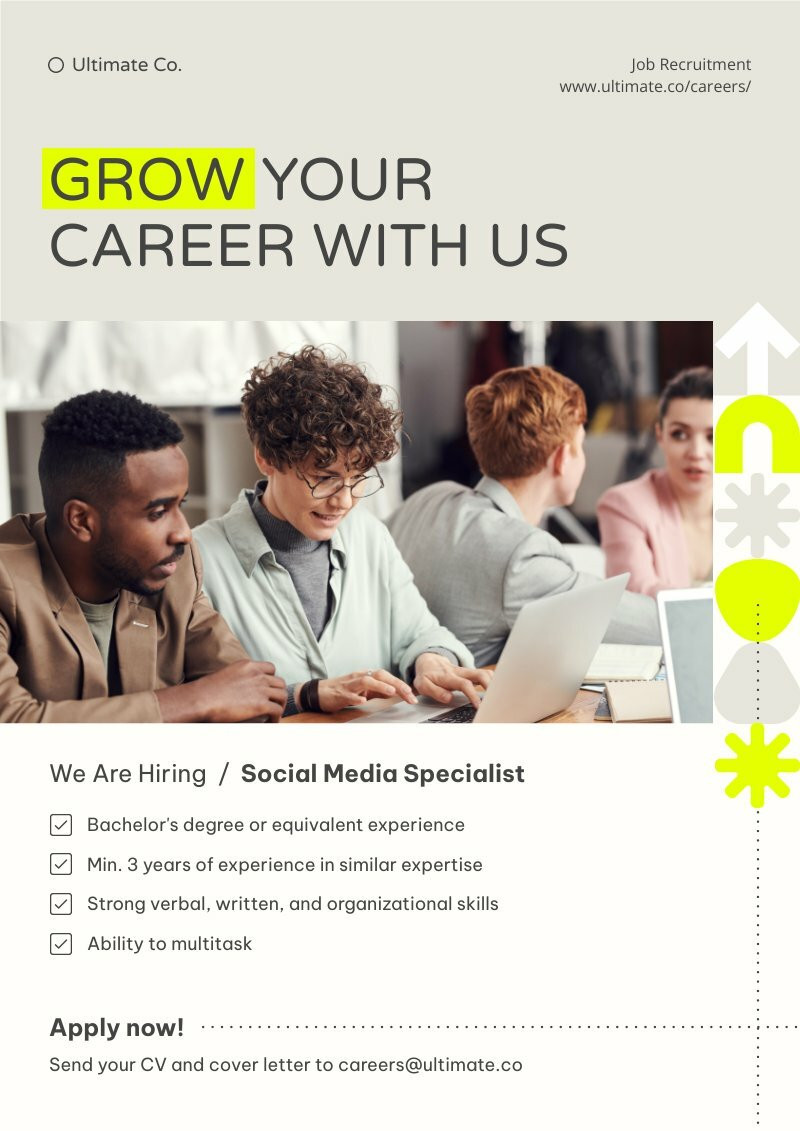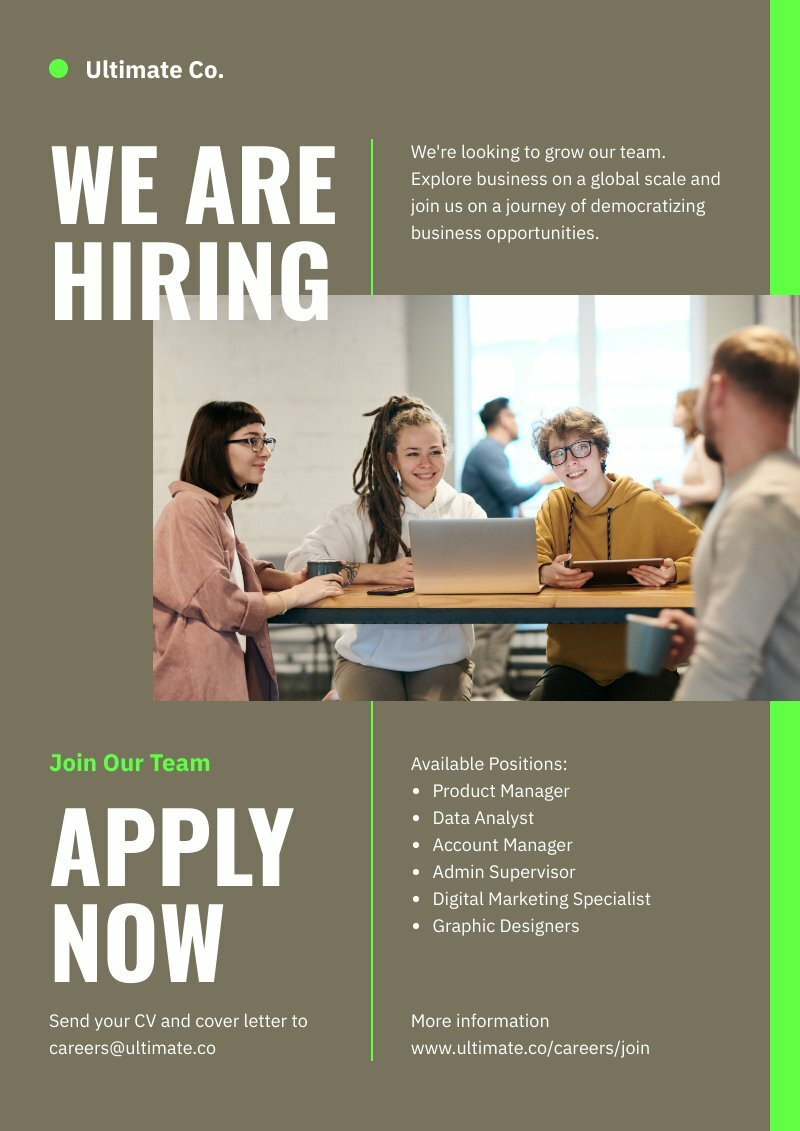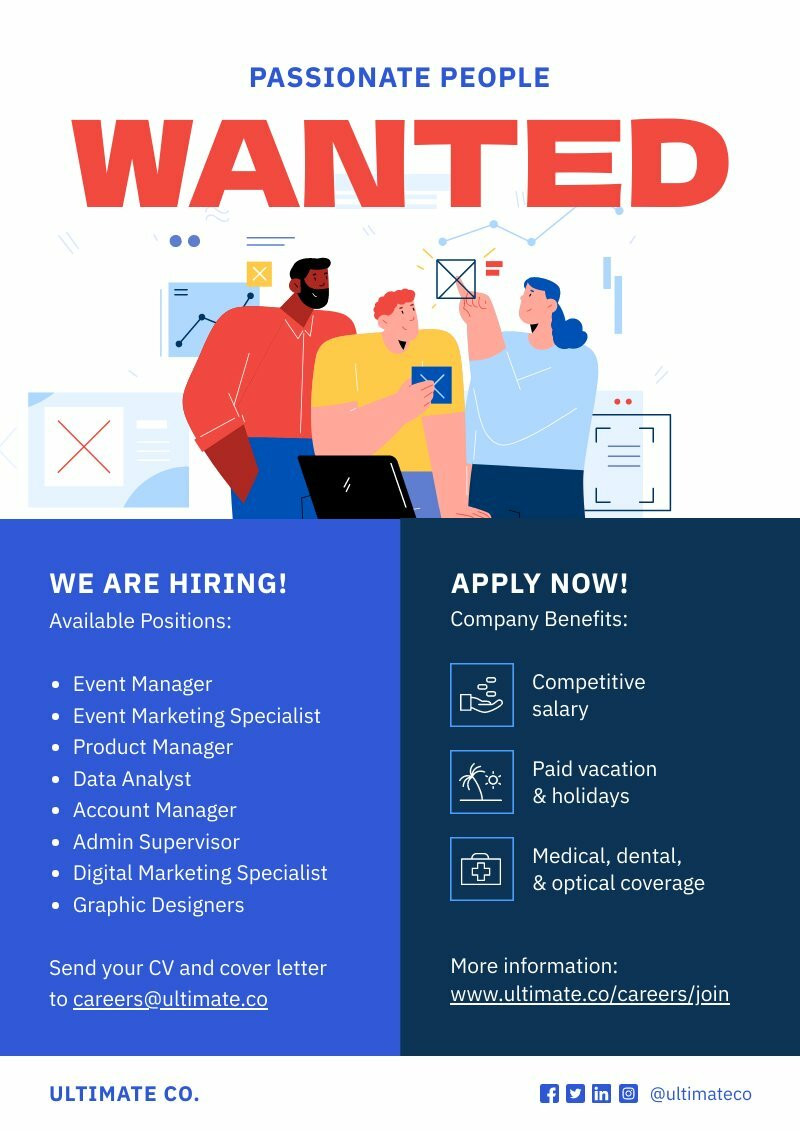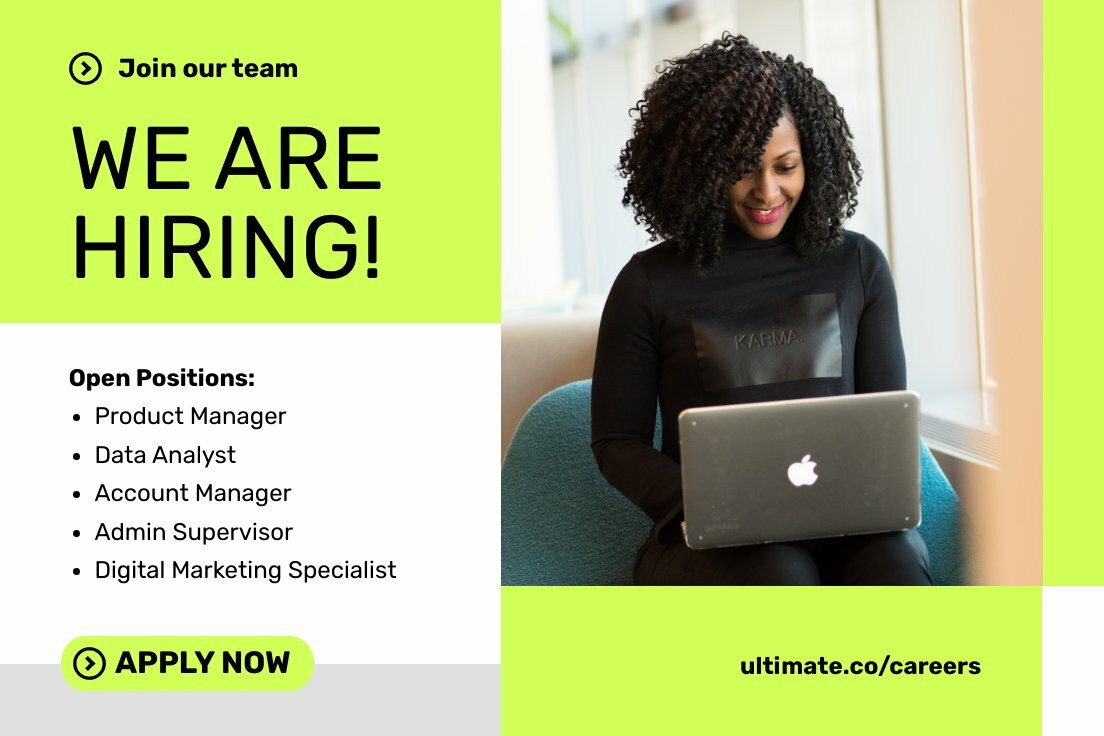 Job Posting template FAQs
What is the best format for a job posting or what to include in a job posting?
1. Job Title: Start with a clear and concise job title that accurately represents the role. Avoid jargon or internal terms that may not be universally understood, e.g. Marketing Ninja, SEO guru.
2. Company Overview: Provide a brief introduction to your company, outlining its mission, values, and culture. This is where you shine!
3. Job Summary: Give a quick overview of the role, mentioning where it sits within the organization and why it's important.
4. Key Responsibilities: List the main duties and tasks the successful candidate will be expected to perform. Aim to list between 5-10 key responsibilities. Use bullet points to make this section easy to read.
5. Qualifications and Skills: Clearly state the skills, experience, and qualifications required for the role. Don't focus on academic qualifications and number of years of experience only. Experience would dictate otherwise. It's important to look for a proven track record at accomplishing a certain outcome/results in their previous tenure.
6. Benefits and Perks: Highlight the benefits of working for your company. This could include healthcare, retirement plans, professional development opportunities, and other perks like flexible working arrangements or company events.
7. Application Process: Include clear instructions on how to apply. This could be a link to an online application form, an email address to send CVs and cover letters to, or instructions to apply via a job portal.
How to write an internal job posting template?
It's the same as writing it for external job postings. You may want to skip the parts of introducing the company for an internal candidate, but all other information in the above template is still critical.
How do you write a compelling job description for job posting?
The most important thing when writing a job description is to already imagine the individual here. An job posting template can have the following information:
What are some of the items the person will be working on the first 90 days, extending into their actual career?
What metrics would you measure this person with?
What would be the ideal seniority/level of experience of this job position?
What aptitude/skills would they need to be successful?
When the above is answered and aligned internally between the hiring manager and the HR team, a job description can be created. The role of the HR team would be to then transform the language into something that is palatable and stands out among the sea of vacancy posts.
Ready to find your next star team member?
Craft job postings using our templates and follow expert tips for a successful recruitment process.
Create your job posting today!