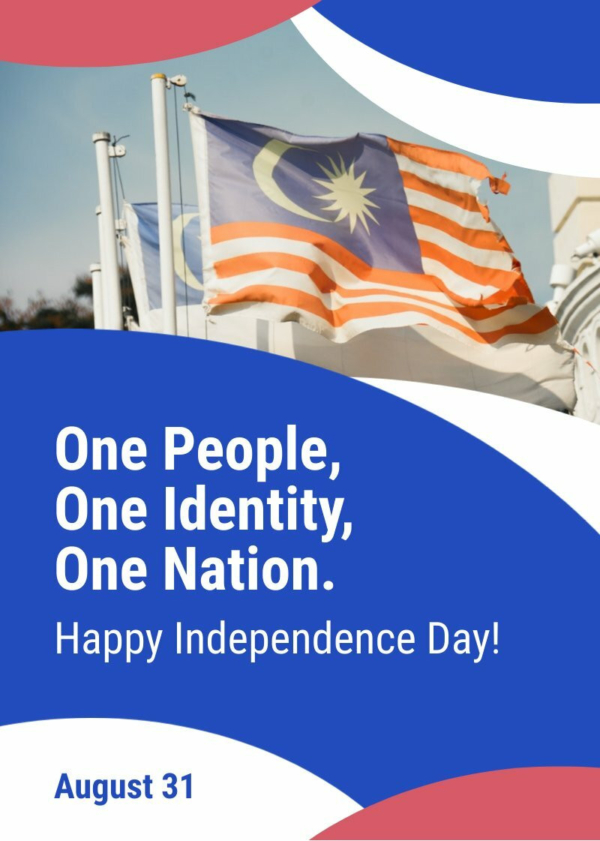 Malaysia National Day
Cards
Edit for free
You'll be asked to log in or sign up for a free Piktochart account first.
Malaysia National Day is a significant and patriotic celebration that commemorates the country's independence from British colonial rule.It's a time when Malaysians come together to celebrate their rich cultural heritage and express their love for their nation.If you want to create engaging content about Malaysia National Day, Piktochart's templates can help you do it in style.
Available File Type
Customization
100% customizable
Tags
Template Details
Here are five steps to get you started: 1. Template Selection: Begin by choosing a Piktochart template that aligns with the theme of Malaysia National Day. Look for templates that incorporate the colors of the Malaysian flag – red, blue, yellow, and white – or ones that feature iconic Malaysian symbols like the Petronas Twin Towers. Piktochart offers a range of templates suitable for various design needs. 2. Customize Your Design: Once you've selected a template, it's time to personalize it. Replace the template's text and images with content related to Malaysia National Day. Add your own message or information about the significance of the day. Use Piktochart's user-friendly editors to adjust colors, fonts, and layout elements to match your vision. 3. Incorporate Visuals and Icons: Make your Malaysia National Day content visually appealing by incorporating relevant visuals, such as the Malaysian flag, traditional attire, or images of patriotic celebrations. Piktochart provides access to a library of icons and images that you can easily drag and drop into your design. These visuals can enhance the overall look and feel of your content. 4. Include Informative Text: Ensure your content provides valuable information about Malaysia National Day. Explain the history and importance of the day, including key events and celebrations that take place throughout the country. Use Piktochart's text tools to format your content in an easy-to-read and visually pleasing manner. 5. Share Your Creation: Once you're satisfied with your Malaysia National Day content, save it and share it with your target audience. Piktochart offers various export options, including PDFs and image files, which you can easily share on social media platforms, websites, or through email. Be sure to include relevant hashtags and keywords to maximize the reach of your content. In conclusion, Piktochart's templates and user-friendly editor can help you create captivating content about Malaysia National Day. By selecting a suitable template, customizing the design, incorporating visuals and icons, providing informative text, and sharing your creation strategically, you can engage your audience and contribute to the celebration of this important national event. Whether you're sharing educational content or promoting Malaysia National Day events, Piktochart makes it easier to convey your message effectively.
More Templates Like This