Create inspiring presentations with our online presentation maker
It's time to ditch PowerPoint. You can easily create a professionally-looking business presentation, keynote, sales pitch, product update, HR presentation, or webinar deck with the presentation templates.
Create My Presentation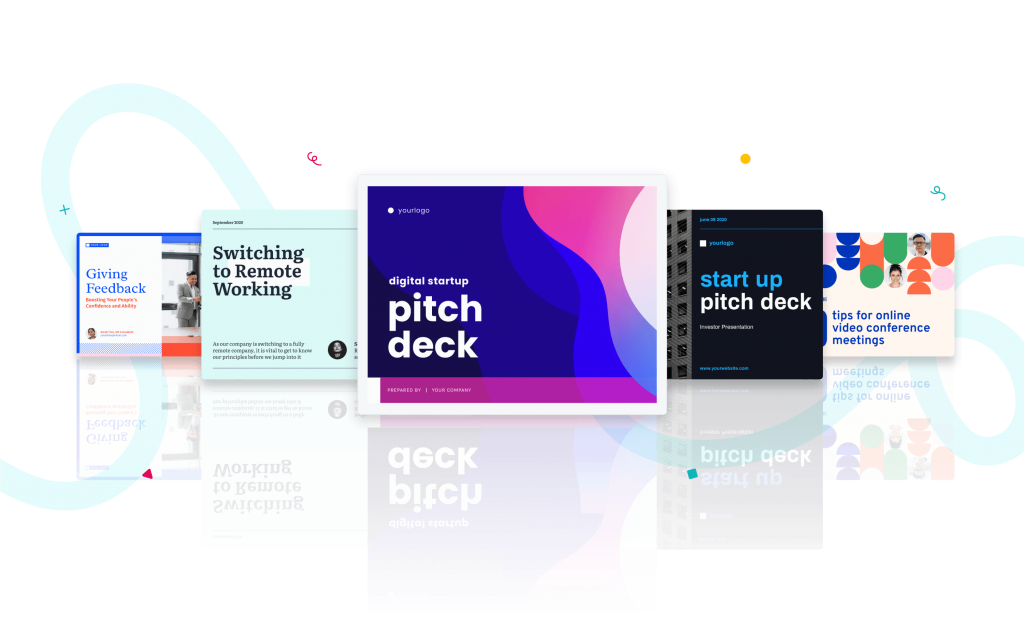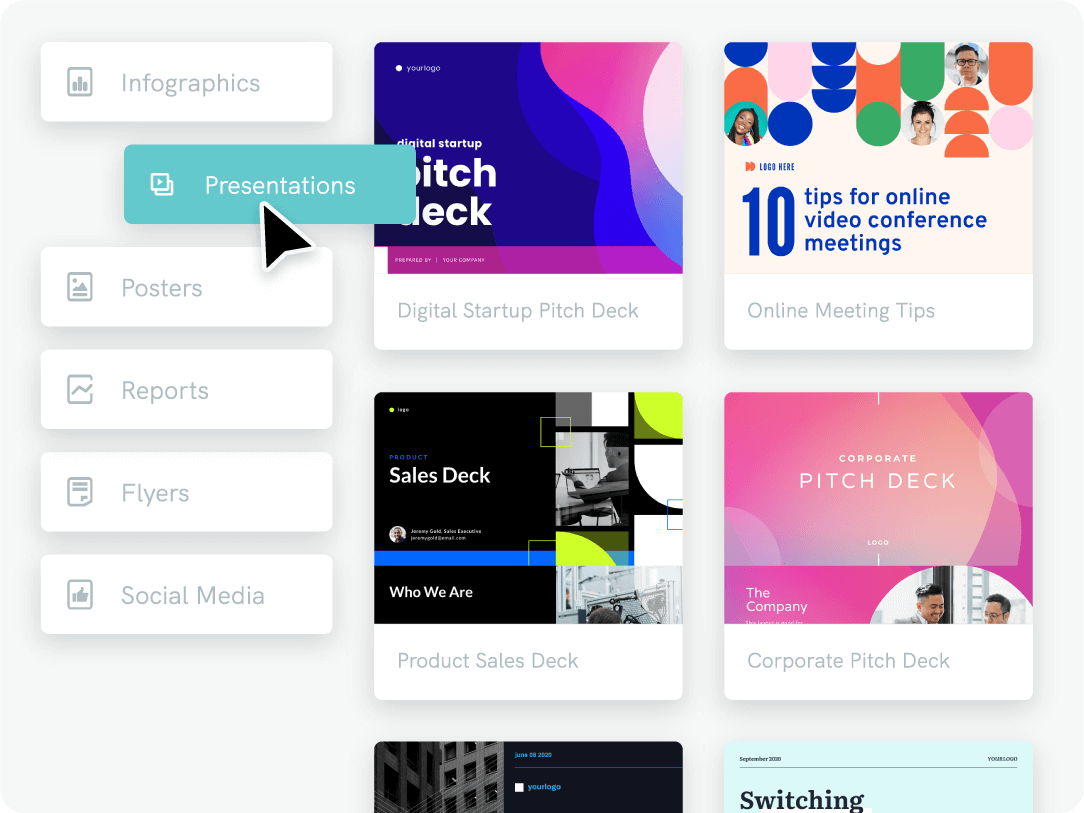 Asset Library
Easily create engaging and professional presentations
Piktochart is so simple that you can immediately use it, without training. Start with a template designed by experts. Quickly get to a professionally-looking presentation that will help you engage with your audience and drive the results you are looking for.
Get started
Online and offline sharing
Present online or download in .ppt
Want to present your slides during a video call or a virtual conference? No problem. Easily switch to presentation mode and you are ready to go. You can also download your presentation in a .ppt or .pdf format and share it on social media or offline with your stakeholders. It's up to you how you want to use your presentation.
Get started
Collaborartion
"Making presentations beautiful takes time". Said no Piktochart user ever.
The times of searching for the perfect image, illustration, or icon are over. With Piktochart's free library of high-quality graphics, designs components, and templates, the visual inspiration you are looking for is there where you need it. Just drag and drop them into our editor and you're good to go. Making your presentations beautiful has never been so easy.
Get started
Presentation Mode
Translate complex data into a visual story
With Piktochart's charts and maps tool you can quickly translate your data into a visual story that will grasp the attention of your audience. Link up an Excel or Google Sheets file to easily create graphs that automatically update when your data does. Add interactive maps to your presentation to highlight your main points.
Get started
People like you use Piktochart's presentation software to: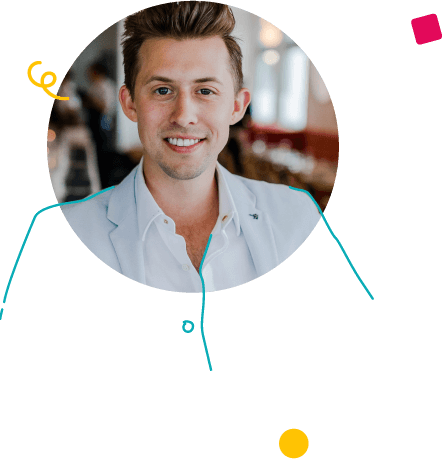 Marketers
Create the perfect pitch deck
Turn infographics into social media-ready presentations
Increase brand awareness
Drive traffic and leads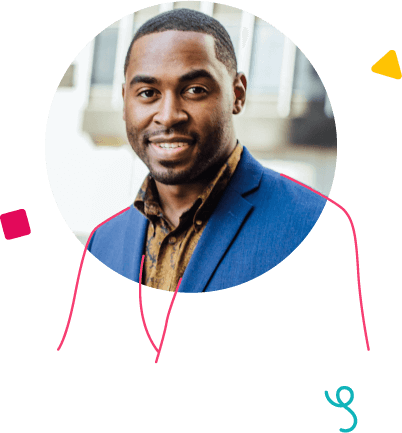 SMEs & Enterprises
Explain a process
Report on progress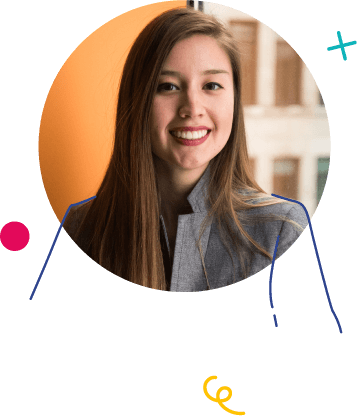 NGOs & Government Organizations
Inform the public
Report to stakeholders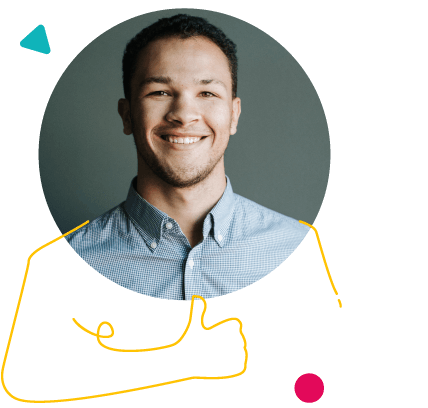 Business Owners & Consultants
Create the perfect pitch deck
Pitch to clients
Report on progress
Built to help you, every step of the way
1
Select a presentation template
Choose from customizable presentation designs created by professionals.
2
Make it yours
Add in your company logo and your own images or pick from a wide range of design elements. The possibilities are endless.
3
Present or download
Either use our built- in presentation mode or download your presentation slides in Microsoft's .ppt format.
You have an idea. We have a template to visualize it.
Yes, you can definitely purchase more than 5 seats. Please contact us at
[email protected]
so that we can discuss the details and provide a custom quote.
Yes, you can submit a request to cancel your subscription from within the your Account Settings. Piktochart Platform. You can also request an upgrade or downgrade to your plan by reaching out to
[email protected]
We accept Visa, MasterCard, or Paypal. If you want to use American Express, you can select the option to pay via PayPal with the Amex card. For purchases of $290 or more, or minimum 5 licenses/seats for EDU/NPO ($199.95) for which you'd like to make a direct bank deposit, you can contact us at
[email protected]
and we'll respond with further instructions. Please be aware that a funds transfer such as this does take several days to complete.
You can change the number of people in your Team plan by selecting 'Add/Remove Seats' from your Team Settings page. Further information on the process will be found here.
We're happy to provide refunds for any payments within the last 30 days of the initial transaction for subscriptions purchased at the standard rate, or at the discounted rate applied to EDU and NPO accounts. Classroom subscriptions purchased at a bulk rate are not eligible for refunds. For more information, you can refer to our Terms of Use
here.
Have questions?
Contact Us Anytime
Ready to create an engaging presentation?
Join more than 8 million people who already use Piktochart to create the perfect presentation.
Yes, I'm ready