Free online flyer maker to create eye-catching flyers
Choose from Piktochart's wide range of flyer templates for any occasion – be it an event, business promotion, or a campaign. Effortlessly edit to suit your needs and try your hand at professional flyer design!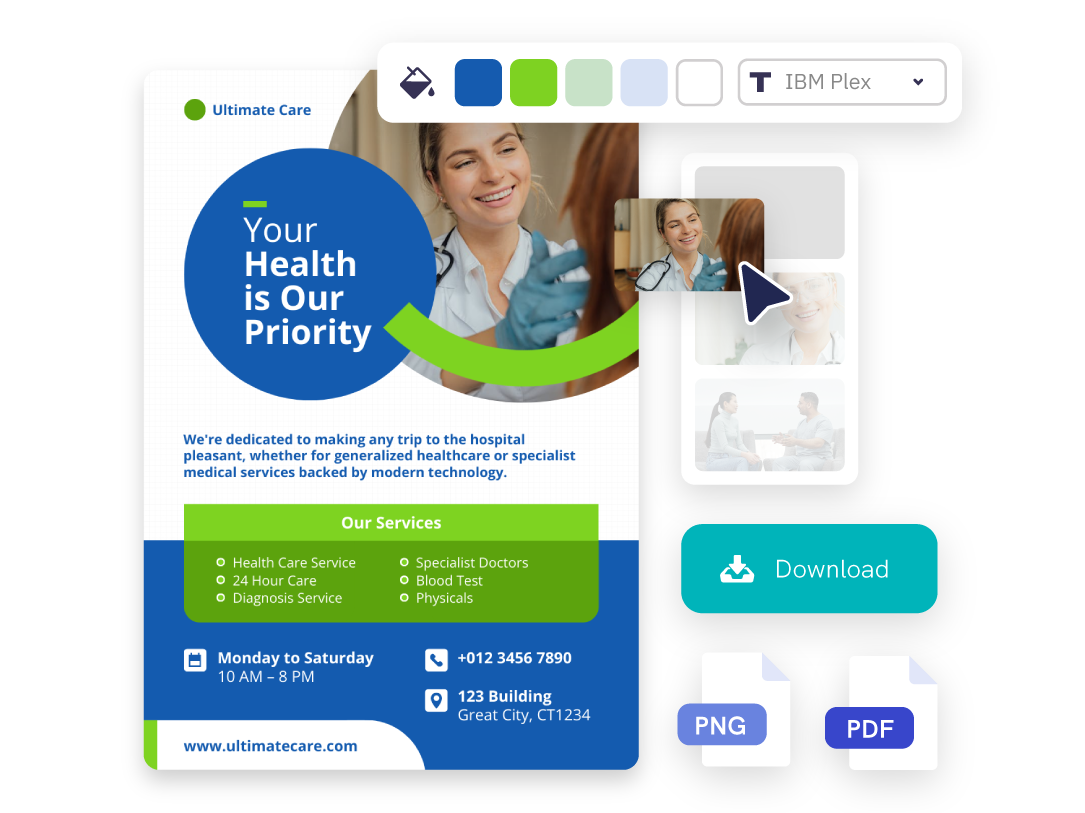 Trusted by 11 million users worldwide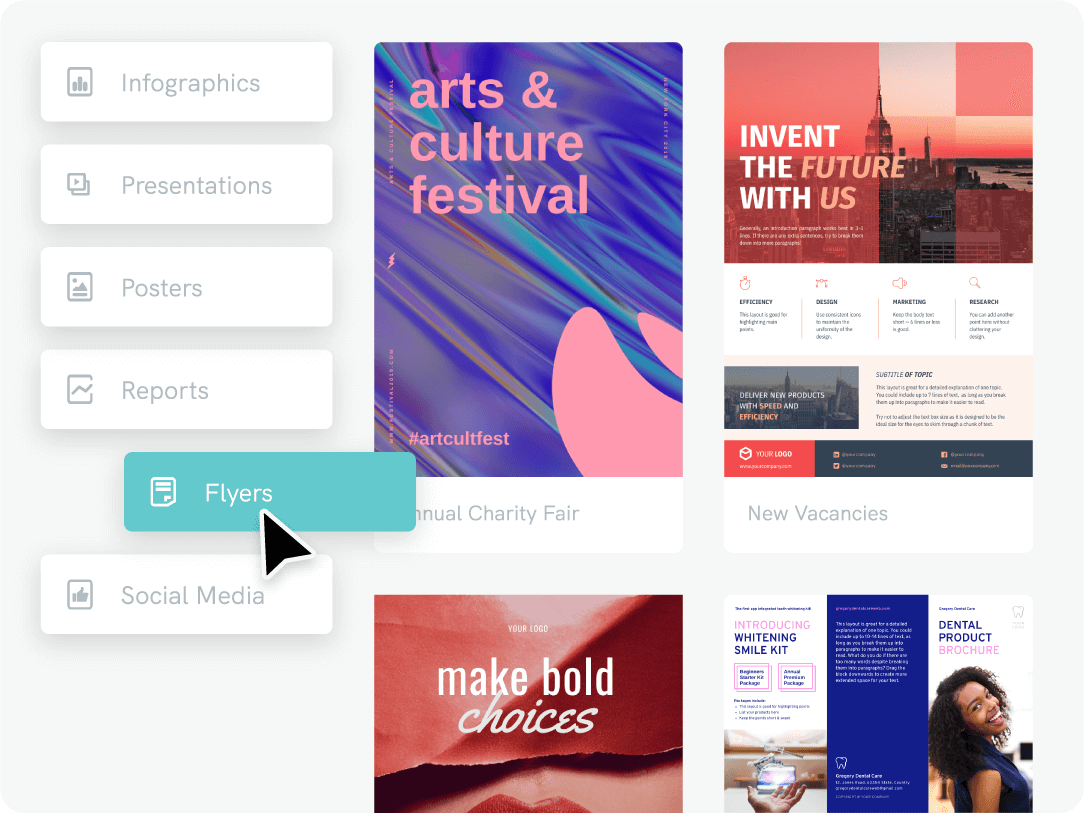 Ease of use
Create a Flyer Online With No Design Experience
Piktochart's user-friendly interface makes it a breeze to create stunning flyers for your events, contests, campaigns, or promotions – no design experience necessary. Start crafting visually appealing flyers quickly and easily, and see the impact of your visuals soar!
Discover Piktochart
Brand-aligned flyers
Streamline Flyer Design with Your Branding
Easily incorporate your company's fonts effortlessly for a sleek, professional look. Access your custom color palette and fonts with ease in our platform.
Piktochart provides an extensive library of graphic design templates, including posters and customizable flyers, saving you valuable time. Design your visuals with precision, and then seamlessly print or share them across social media platforms.
Create a free account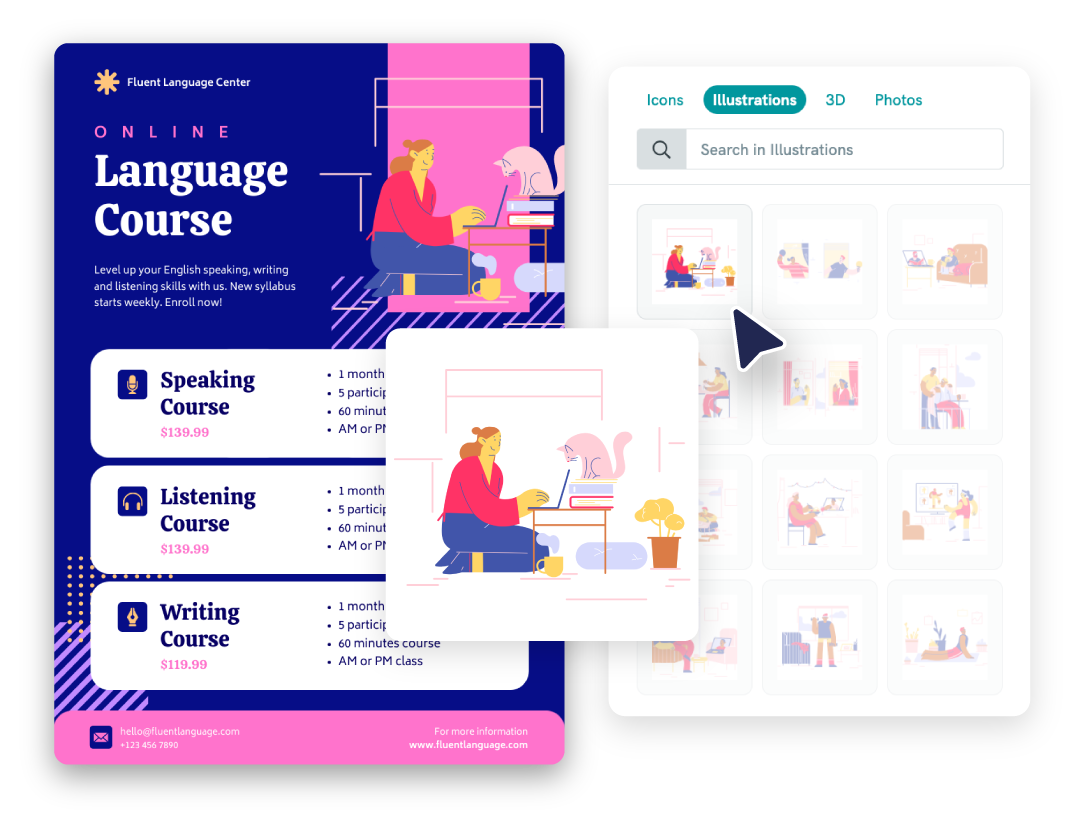 Asset library
All Visual Assets in One Flyer Maker
Find the perfect image, illustration, or icon. With Piktochart's free library of high-quality graphic elements, design components, and templates, you easily create your own custom flyers. Just drag and drop the images into the flyer maker app.
Business flyer templates, posters for social media marketing, party flyer templates, and more – you have access to thousands of editable visuals to get your target audience excited.
Get started now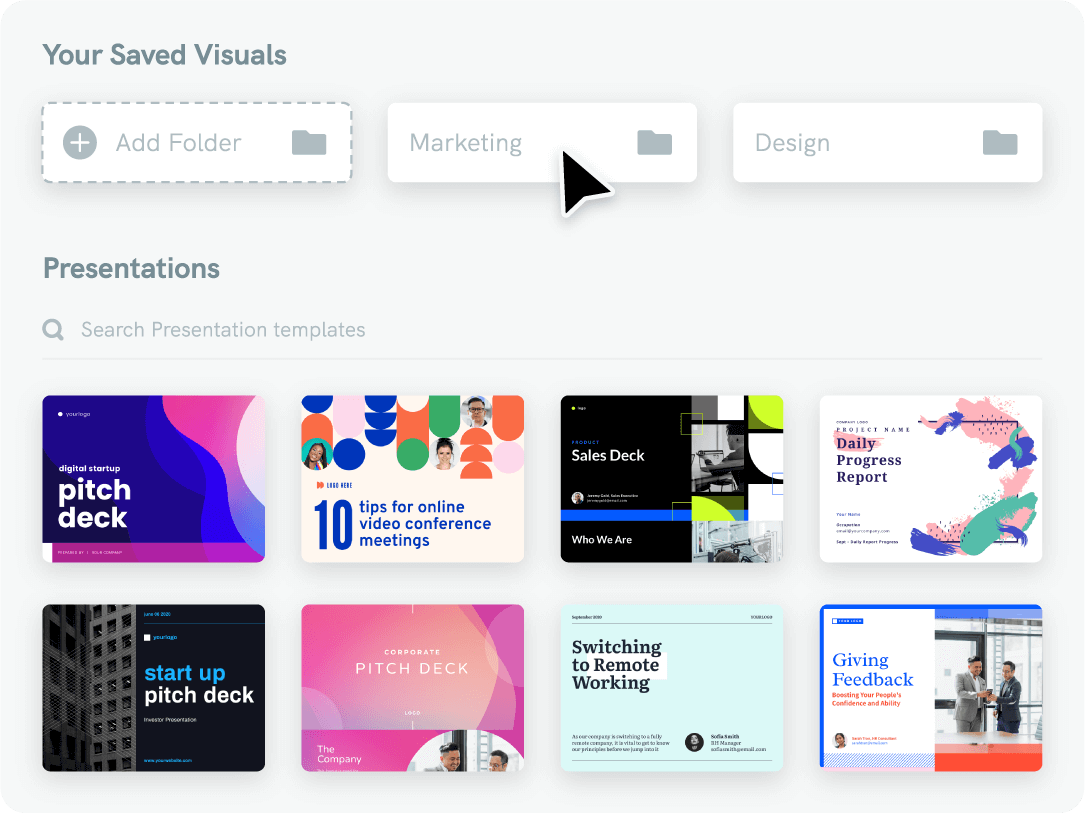 Team folders
Save Time by Organizing and Repurposing Your Flyer Designs
No need to spend hours in design tools or hire another graphic designer to make a flyer. Choose from existing flyer designs and use them as an inspiration for creating team templates. Organize your flyer templates and past projects in folders. Make it easy for anyone on your team to repurpose content on the fly, ultimately saving their time.
Try it now
Professionals use our flyer maker to: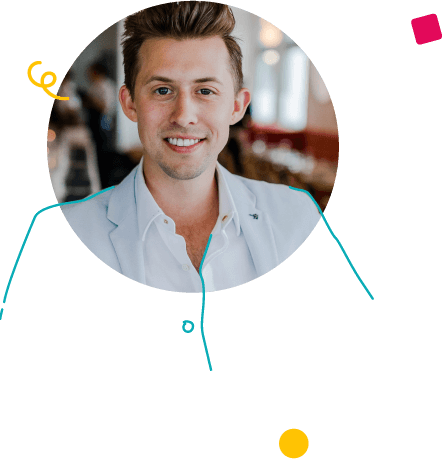 Marketers
Quickly design visually appealing flyers for various marketing campaigns, product launches, and promotional events.
Ensure brand consistency across all marketing collateral by using custom templates that align with your brand identity.
Create high-quality flyers for both digital and print media.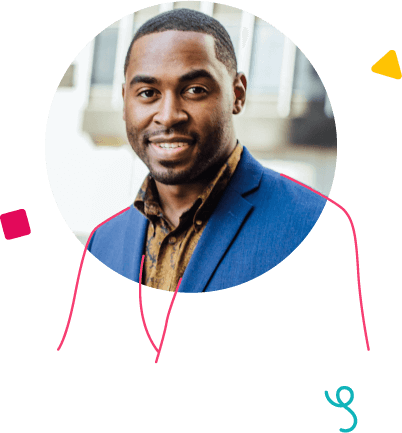 HR & Internal Communications
Craft flyers for internal events, team-building activities, and company announcements.
Design eye-catching recruitment flyers to attract top talent and communicate company culture effectively.
Distribute important policy updates, health advisories, and informational content.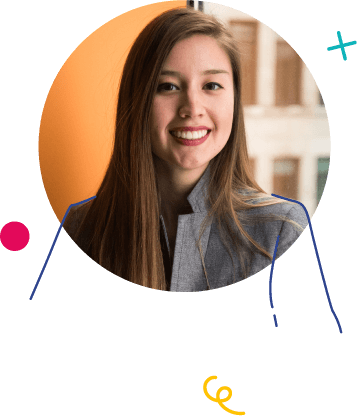 NGOs and Government Organizations
Create compelling flyers for fundraising events, volunteer drives, and awareness campaigns to engage the community.
Promote non-profit events, workshops, and seminars effectively to reach potential donors and volunteers.
Share success stories, project impacts, and testimonials.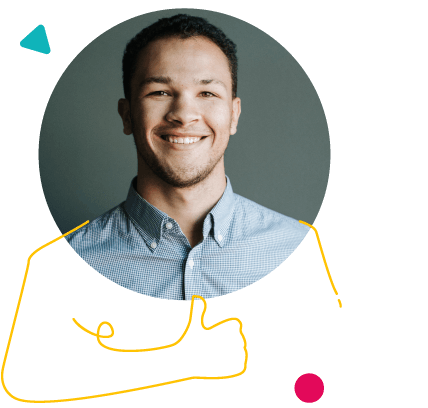 Healthcare
Design informative flyers for health awareness campaigns, medical seminars, and wellness programs.
Highlight the services, specialties, and facilities of healthcare centers, clinics, and hospitals.
Distribute vital health information, vaccination drives, and public health advisories.
Step by Step Tutorial
How to Make a Flyer in Minutes
1. Select a flyer template
Create flyers by choosing from ready-to-use flyer templates made by graphic design experts. Piktochart's online flyer maker is easy to use, enabling you to create professional-looking visuals. Using Piktochart, you are ready to print flyers for conferences, promotional campaigns, or job fairs in minutes. Learn more in our article on how to design an event flyer.
2. Make it yours with just a few clicks
Upload images or pick free stock images from the integrated library to make your own custom flyer. Drag and drop graphic design elements, add text boxes, select brand colors; all in a user-friendly editor. You'll get a finished flyer online.
3. Share your flyer with the world
Download your file from our free flyer creator and either share your flyer on social media or print it out and pass it around. Edit the same visual, comment, change access permissions.
Get Ahead With Our Professional Flyer Templates
Discover the Different Types of Flyers to Promote Your Business or Event
Public event flyers
You can use such a flyer to promote a charity event, a celebration, an open mic, an art exhibit, or upcoming events.
Community action flyers
Business announcement flyers
Use business flyers to promote your products and services. For example, you can share information regarding flash deals, store discounts, clearance sales, and the launch of a new business. You can also engage your buyers with a fact sheet of your company. Check out these flyer examples for business.
Alert flyers
Make use of alert flyers for notifying people about a lost and found item, a missing pet, a new movie release, and other community information.
Read more about types of flyers on this post.
Ready to start designing beautiful flyers?
Join more than 11 million people who already use Piktochart to craft amazing visual stories.
Piktochart, PosterMywall, Canva, Visme, and Venngage are some of the top free flyer makers out there.
You can make a flyer for free by using a design tool that offers a free account or a trial. Piktochart, Canva, Venngage, and Visme have a free version of the tool. With Piktochart, you can make a flyer for free without any graphic design experience.

Step 1: Log into Piktochart.
Step 2: Pick a template or start from scratch.
Step 3: Drag-and-drop illustrations, graphic elements, images, or icons. You can add your brand kit, company logos, or your own photos.
Step 4: Download your visual as a PNG file or another format. You can choose the file quality depending on your plan (paid version or not).
You can make a flyer by using a design tool. Make flyers using desktop-based software like Adobe Photoshop or Illustrator, or use an online tool like Piktochart or Canva. With Piktochart, you can easily make your own flyers for free without any design skills.

Step 1: Log into Piktochart.
Step 2: Pick a template or start from a blank canvas.
Step 3: Make a custom flyer by adding stock photos or your own images with the drag-and-drop editor, upload your company logo and fonts, then choose the colors.
Step 4: Use data visualization through charts and graphs if required.
Step 5: Download or share them online.
Yes, you can choose your own flyer design from the free template gallery. Once you select a pre-made template, you can add your text and customize the design online. Piktochart publishes new templates on a regular basis.
Sign up for Piktochart's flyer maker by filling out the form on the website. You also have the option to sign up with Google.
Yes, you can save your flyers in Piktochart, download them on your desktop, or share online directly from the free flyer maker.
What else can you create with Piktochart?