A startup pitch deck is a brief presentation that provides investors with an overview of your new business and/or startup idea through presentation slides.
It usually focuses on showcasing your product, sharing your business model, giving a look into your monetization strategy, and introducing your team.
A startup pitch deck is an essential fundraising tool for successful startups, whether you're looking to raise funding from $50,000, $500,000, or $50 million. However, an investor pitch deck is just one of the best pitch decks and examples we will share below.
Despite the brevity of the successful startup pitch decks, which usually run for 10 slides or less, creating a pitch deck that wins investment is not an easy task.
What Does a Successful Startup Pitch Deck Cover?
A great pitch deck covers key points through visuals and bullet points and usually has a competition slide, a problem slide, and a solution slide to explain your offering and the market.
Additionally, a business model slide and a team slide (if your business is developed enough to present these) can turn a good deck into a great startup pitch deck.
Don't forget, a simple pitch deck is a good pitch deck—and you're about to learn how to nail it.
In This Legendary Startup Pitch Deck Article You Will Find:
Examples of 33 successful pitch decks
Takeaways that you can apply when creating your own startup pitch deck
Editable templates of 10 pitch decks that you can use for free
Looking for a winning pitch deck template ASAP to present in front of potential investors? Try our free template created in collaboration with HighSpark – an agency that has helped more than 500 startups raise cumulatively over $80 million in funding.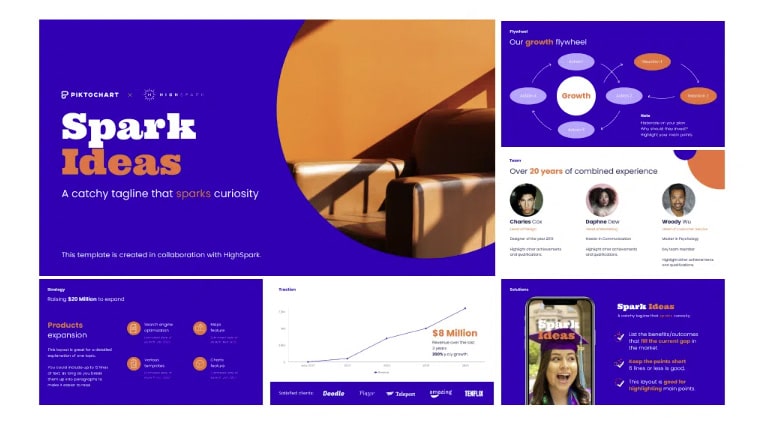 Here is the list of 33 of the best startup pitch deck examples that we will go through:
These startup pitch deck examples were created by top brands in tech. At the time, they were all small startups (seed stage companies) looking to raise money or venture capital through potential investors and grow their businesses. Sound familiar?!
We hope that their business idea and investor pitch decks will inspire you (and of course, potential investors).
If you are more of a visual learner than a reader type, you can watch a video summary of the first 10 startup pitch deck examples mentioned in this blog post:
Alternatively, if you're ready to create your own pitch deck, we've added some startup pitch deck examples and pitch deck templates to the bottom of this article. You can go straight to them by clicking here. Or get access to Piktochart's online design tool by signing up for a free account and choosing a presentation template to get started easily.
From behemoths like Facebook and YouTube to superstars like Buffer, together these startups have raised millions of dollars and are now worth billions!
It's time to see how they did it.
33 Legendary Startup Pitch Deck Examples
1. Facebook pitch deck
Here's a fun fact: Peter Thiel, the billionaire venture capitalist, and entrepreneur, was the first outside investor in Facebook back in 2004. That's when Mark Zuckerberg first set out to turn his dorm room project into a lasting business. Zuckerberg received $500,000 from Peter Thiel.
Facebook's pitch deck was more of a media kit of sorts. It was containing the company's value proposition, key metrics, and marketing services that were used to sell ads to potential clients.
Favorite takeaway: The focus of the startup pitch deck was based on solid numbers such as user engagement, traffic, and growth trajectory.
2. Airbnb pitch deck
Airbnb is a platform that allows people to list, find, and rent lodging.
This company is one of the greatest startup success stories of our time.
The now famous Airbnb pitch deck has become one of the best pitch decks for inspiring entrepreneurs around the world.
Favorite takeaway: The intro. It's all about hooking your audience. You need to describe your business using as few words as possible. Imagine telling a 5-year-old what your business is about. If you can't do that, it's time to put some time into nailing it down.
3. Buffer pitch deck
Buffer is a social media scheduling platform that helps you schedule content for Facebook, Twitter, LinkedIn, and Pinterest.
The almighty startup pitch deck that helped Buffer to raise half a million dollars gained popularity by becoming one of the first pitch decks openly shared online. The founder decided to put it up to help other startups to raise funds.
Favorite takeaway: Similar to Facebook, the deck was based on solid numbers from Buffer's users (e.g., 800 users, $150,000 annual revenue run rate, etc.)
4. Square pitch deck
Square is a company that allows merchants to accept mobile credit card payments via a dongle.
Favorite takeaway: Social proof! It doesn't hurt to promote the management team if they've been with Twitter, Google, LinkedIn, PayPal, and more. It shows that your management team's experience is an armor to the company. This detailed startup pitch deck outlines Square's business model and a simple financial model that portrays its annual revenue and five-year growth rate.
5. LinkedIn pitch deck
Founded in 2002, LinkedIn is the top business-oriented social networking platform.
The company's pitch talks a great deal about company values, the power of networking, and how it's different from other social networks out there.
Favorite takeaway: The deck also provides an extensive analogy to showcase to investors what LinkedIn is. For example, it talks about "Web 1.0" vs. "Web 2.0": Alta Vista was "Search 1.0", and Google was "Search 2.0". The deck talks about how LinkedIn is "Networking for Businesses 2.0".
6. Mint pitch deck
Mint is a personal financial services tool that helps people track their spending and find ways to save money.
This startup pitch deck example was used in a competition and was never used for raising money, but it's still a powerful deck that startups can learn from.
Favorite takeaway: This simple deck provides a clear value proposition to customers and investors. The creators of this deck also understood that one of the key concerns of an investor is the exit mechanism of his or her investments. I love how the deck highlights a number of exit strategy options.
"Piktochart has been a great tool for my small business. It's easy to use, even for beginners."
– Claudia Bayod Borrego, Head of Internal Communications at Arval BNP Paribas Group – Create a professional visual in Piktochart with no graphic design experience. Online.
Try it for free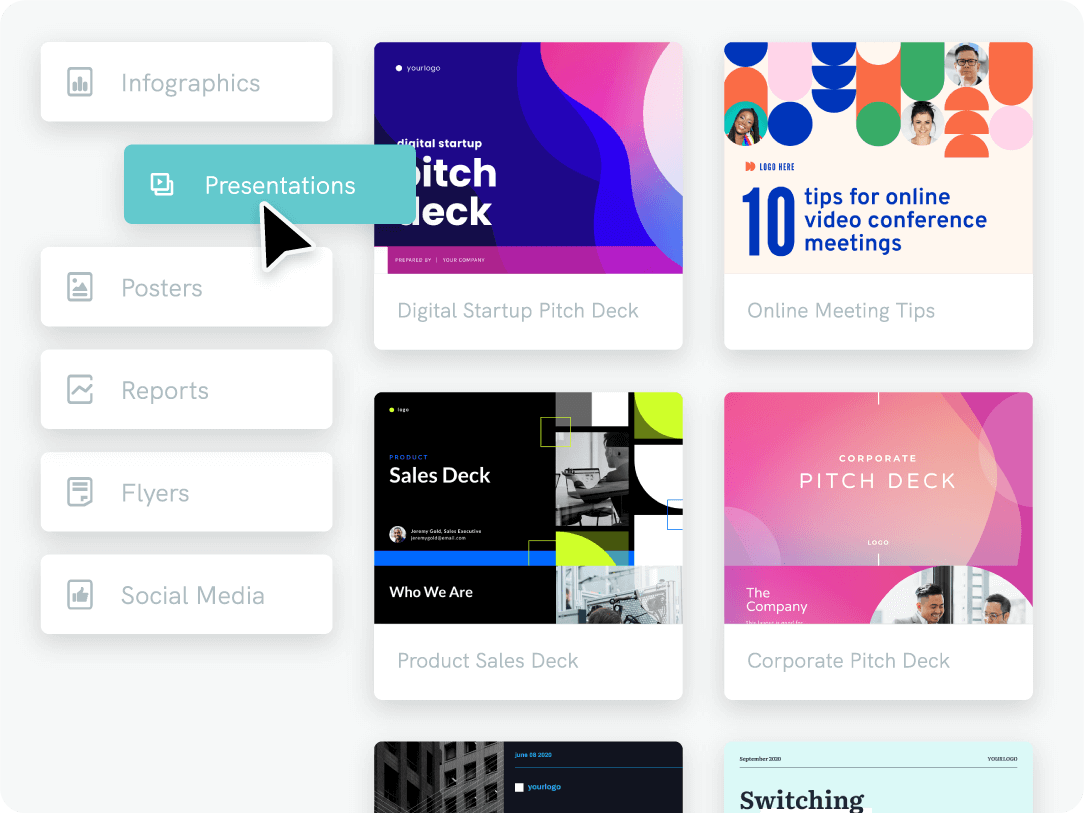 Ready to create your own pitch deck?
Sign up for a free Piktochart account and edit a template right away.
Create a free account