"Man is a tool-using animal. Without tools he is nothing, with tools he is all."
Scottish historian Thomas Carlyle
Making an infographic from scratch with mere editor is not enough. An infographic doesn't live in a silo. The demand for reduced time-to-market delivery has increased, hence streamlining the infographic creation process is a must.
There are many tools, software and apps that we can use collaboratively to achieve peak productivity. These tools can benefit in ways like facilitate content creation, apt ideas forming, faster production, precise copy checking, effective marketing and distributions, and many others. These tools can be segregated to various stages of the workflow depicted below.
[tweet "All the tools you'll ever need to make #infographics"]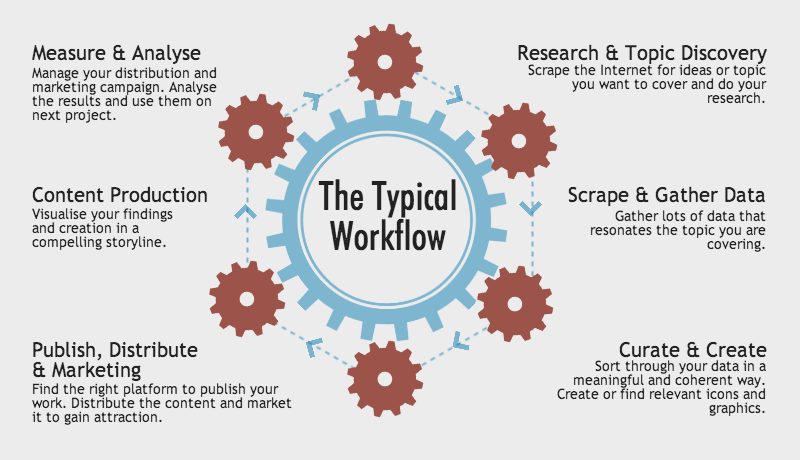 RESEARCH & TOPIC DISCOVERY
Discovering the right topic to work on is the crucial stepping-stone. Getting the right topic out will at least win you some likes and shares. The following tools can help you in the discovery and research process.
1. Buzzsumo – A search tool that makes content hunting easy and you can also search for topics that are buzzing on the social web. Use this to analyse what type of content performs best for you or your client.
2. Feedly – Feedly is a news aggregator where you can save and organize your favourite topics. Use this to monitor your industry for news and content.
3. Instapaper – This tool is great for saving articles for offline reading. It also cleans up saved articles to minimize distractions. You can also highlight the text you find useful for later use.
4. Pocket – This is also another great tool for collecting articles for later reading. You can do topic discovery anytime, anywhere.
5. Prismatic – This tool is one of the great news discovery app to look for content ideas.
6. Digg – Use this new Digg, a highly-curated feed that has the most interesting and talked about stories on the Internet. You can also check out the daily email newsletter for ideas.
7. Fre.sh – Fre.sh is constantly updated with 50 most popular stories on the web.
8. Google Trends – Track the popularity of keywords in Google Search over time. This is a simple, yet powerful way to see what people are interested in. The graphs can also be used as visual objects in your own content.
9. Evernote – Besides collecting your favourite articles with this tool, you can start your idea forming with this tool or make notes with images and voicemails. You can also share the ideas and get feedback from friends.
DATA SCRAPING & GATHERING
Once you have your topic and notes for your project, it's time to look for data and facts that resonates your content. Depending on what kind of data you look for, there are many applications and sites that make data easy to find or access.
10. Google PublicData – This houses a lot of data from world development indicators, Organisation for Economic Co-operation and Development (OECD) and human development indicators, mostly related to economics data and the world.
11. UN Data: World Health Organization (WHO) – Provides access to data and analyses for monitoring the global health situation.
12. UN Data: UNICEF – Holds all kinds of data, from mortality rates to world hunger statistics.
13. Data.gov – This database is from the US government providing data pertaining to the US.
14. The Department of Statistic Malaysia – This is the place to look for statistics pertaining to Malaysia.
15. Infochimps – This is the place for big, fast and complex data. A data marketplace that offers thousands of public and proprietary datasets for download and API access. It comes in a wide range of categories, from historical data, to geo-locations data, in different formats.
16. Data Market – A good place to explore data related to economics, healthcare, food and agriculture, and the automotive industry.
17. Wunderground – Provides detailed weather info and lets you search historical data by zip code or city.
18. Weatherbase – Provides detailed weather stats on temperature, rain and humidity of nearly 27,000 cities.
19. The Guardian Data Blog – News blog that regularly posts visualizations and makes cleaned data available through a Google docs format.
20. Freebase – A community-curated graph database of well-known people, places, and things and they are free. It consists of metadata composed in collection of structured data harvested from many sources, including individual Wiki contributions. Programmers will be delighted with the open API.
CONTENT CURATION & CREATION
Putting all data and information gathered into meaningful and useable form is not an easy task. Luckily, there are ample tools available that can really help expedite the process. You will also need tools for image creations or databases where you can pluck your icons.
Creative content
21. GettyImages – Get your royalty-free images here. Though there is no usage limitation, but the down part is that you will need to give a one-time payment for the images.
22. FindIcons.com – A great search tool of icon databases for commercial-use and link-free icons. If you don't like the hassles of registration, subscription fees, or images citation, this is the go-to site.
23. Vector.me – If you need vector quality images and logos this is the place to go to. You will need to cite a reference to the owners for using their images.
24. Kuler Adobe – If you are one who finds applying the right colours is a hassle like me, you should consider theme colour generator. One of which that I usually use is Kuler Adobe. You can choose from the predefined themes that are sorted by categories like most downloaded or most popular. You can even create your own. You just need to register and sign in to use this tool.
25. Pixelmator – A basic image-editing tool that's sufficient for basic use. As opposed to Photoshop and Illustrator, this is much simpler. The downside is that you need to pay for this tool.
26. RAW – This tool turns spreadsheets to vector graphics. Though outcome is slightly raw, it's an awesome tool to visualize your data. You can choose to edit the raw, explore or embed it into your infographic.
27. Many Eyes – Similar to RAW, but better as it comes with existing datasets that you may find relevant to your topic.
28. Google Docs / Microsoft Excel – If you are processing a small amount of data, I find these tools are sufficient enough to get the graphs or chart I need.
29. Evernote Skitch – Use this tool to create your points using annotation, shapes and sketches and import them into your infographic.
30. Wordle – Generate word clouds and embed into your infographic. Word clouds are a cool way to add context to your content.
Interactive content
31. ThingLink – Go interactive with this easy to use tool. Just upload an image, tag it, and then embed it on infographic. This also makes your overall content clean and organized.
32. Polldaddy – Surveys and quizzes are another way to make content interactive and interesting. Simply use this tool to create and embed it on your infographic.
33. StatSilk – This offers a range of web-based and desktop software to cater to diverse data visualization needs. Their StatPlanet software lets you create interactive visual content. And StatWorld gives you access to world data and lets you customize the way the data is presented visually.
Write-ups
34. Grammarly – Checking your write-ups is important. Mistakes can be overlooked when you are overfamiliar with your content after working on it for some time. This is a very useful grammar-checking tool that integrates with many PC software, applications or websites­­­­­. It is quite comprehensive and covers contextual spellchecking, grammar and punctuation checking.
35. Ginger – Another grammar checking tool with more features like translation, synonyms, training, and others. You can also get rephrasing suggestions on your write-ups.
PUBLISHING, DISTRIBUTION & MARKETING
When your infographic is done and you are satisfied with the output, it's time to publish, distribute, and market it.
36. Slideshare – A sharing platform owns by LinkedIn, providing you with good business networks.
37. Pinterest – Pin your infographic on Pinterest to share with others.
38. Blogspots / WordPress – Blog is one of the best places to feature your infographic.
39. Facebook – You can also choose to post directly to Facebook, share it to public or friends.
40. Twitter – Tweet or micro-blog about your infographic on Tweeter.
41. PRWeb / PRLeap / PR Newswire / PR Free – These are online press release tools. Distribution and marketing help you in gaining traffic and tractions.
42. Pitch Engine – You can also execute a marketing campaign by creating your pitch and share it to the right community with this tool.
MARKETING MEASUREMENTS & ANALYSIS
The workflow does not just end at distribution. You have to complete the loop with feedbacks. Best way to do that would be analytics and measurements. Here are some tools to aid in the campaign management and gauge the results, providing you with better idea on your next infographic project.
43. Google Analytics – Simple, easy-to-use tool that gives you key insights of your posts—from traffic to how user interacts. This definitely gives you a good idea on your course of actions for next infographic project. And what's more, this is available for free with API and easy to follow instructions.
44. Hootsuite  – A social media dashboard where you can manage more than 35 popular social networks. Use this tool to manage and monitor your infographic marketing campaign. This tool is great but requires payment after free 30-day trial.
QUICK REFERENCE LINKS: INFOGRAPHIC PRODUCTIVITY HACKS 
If you are looking for a quick-and-easy access list of tools that can help you to improve your infographic creation process, this is the ultimate reference links. These are compiled links that are handy for you to access whenever you need them.
Yes we know there are only 44 listed! Can you recommend 6 more tools? Talk to us in the comments below!


Use this code if you'd like to embed this infographic on your site:
* Content Production is excluded from the workflow. If you must know, the only infographic production tools we recommend is Piktochart.
** If you have by now already noticed, we're a bit short of 50. How about giving me a hand in sharing the 6 tools you use when making an infographic?
*** Bookmark this link for easy access – you can click through to the tools by clicking on the list in the infographics – they are linked!
**** Better yet – save this! https://create.piktochart.com/output/2331785-50-tools-improve-infographic-wor