"Piktochart has democratized graphic design so that anyone can do it." – Johanna Morley, Aussie Mum Network
Did you know that you can do more than just designing infographics using Piktochart? While we are widely known as an infographic maker, we've added other formats in our tool over the years to help you create beautiful designs. Up to date, you can design a presentation, poster, and report besides just infographic. Give it a try and impress your audience with beautiful designs!  
Last week, we introduced two new templates for the season of Thanksgiving and Movember. We are keeping the season going on this week with a Black Friday poster template and a collaborated report template for non-governmental organizations with Social Misfits Media. Check out everything about the new templates!
Give the fresh templates a try for free right away by signing up.
Black Friday Poster
Black Friday, the one Friday that everyone looks forward to for massive sales and discount on their favourite brands. Use our new Free and PRO templates to design an engaging poster especially for Black Friday with announcement about the deals that you're offering for your business. Print it out, share it on social media, and spread the word about Black Friday with your poster!
The numbers in the template are photo frames which you can easily customise for your convenience. Whether you're giving a massive 70% or 90% discount, this will definitely help you to make a bold statement. You can also use this Free template and design a countdown teaser poster for Black Friday.
Easily replace the photos with your own product photos with our drag and drop feature with this PRO template. Check out the examples below to see how you can easily repurpose the template. To help you get started, here are three simple tips from our designers:
Change the background image.
Change the border color to match the background.
Replace the photos inside the numbers with your own.
NGO Impact Report
This template is designed in collaboration with Social Misfits Media, a consulting agency that works closely with non-governmental organizations and social enterprise to help them build their social media presence for a good cause. Use this template to prepare a review report of the year for a NGO, business, or simply a school assignment. We want to ensure that this template is available for all so here is a good news: this will be a Free template!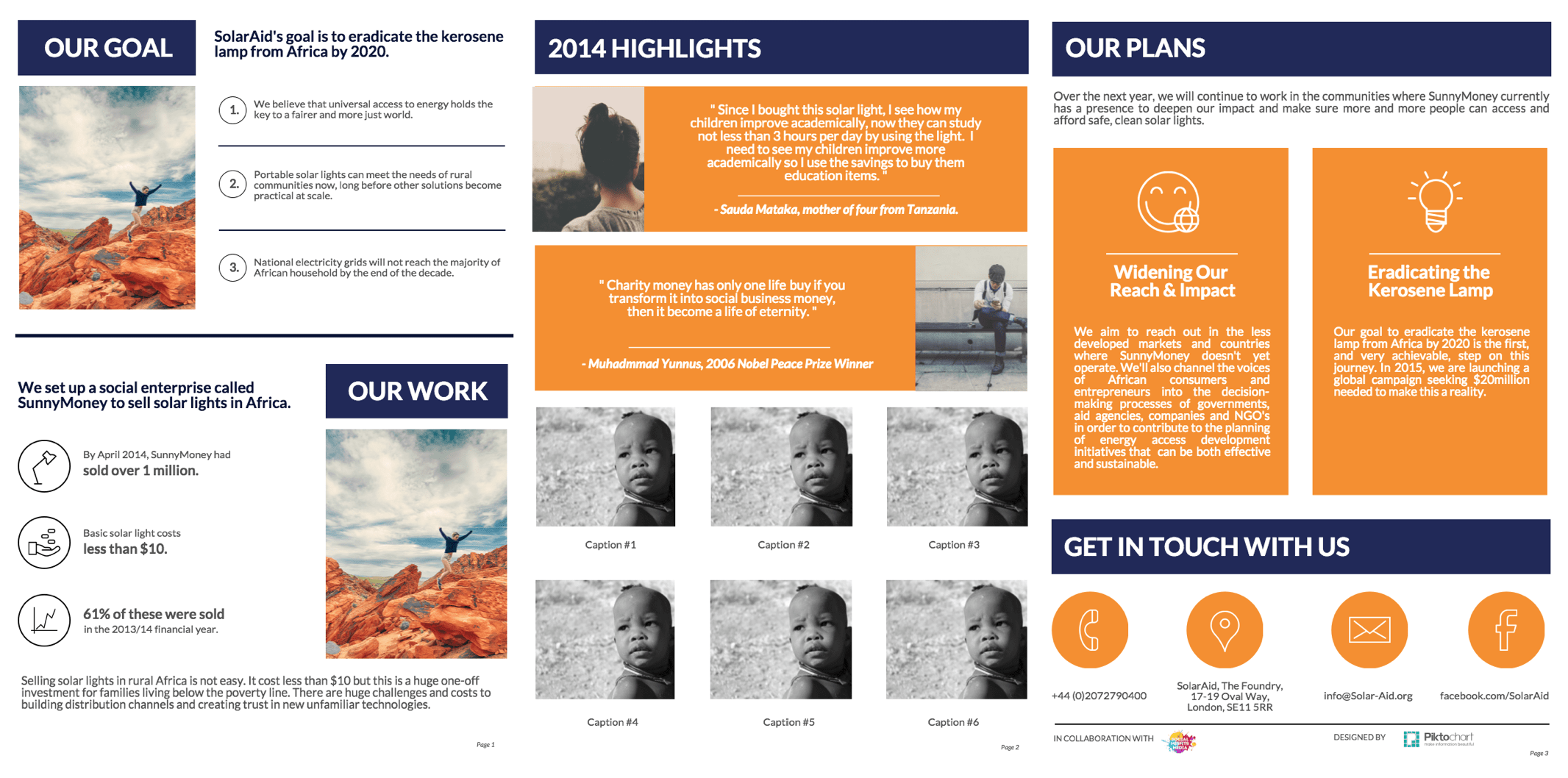 Here are some tips from our designers to make the best out of this template:
List out your goals, objectives and key highlights in point form with suitable icons.  

Simply drag and drop your logo or image into the photo frame to replace the existing images.

Include quotes and testimonies of your advocates to build credibility.

Use the summary layout to summarize your report in a concise manner.
Since we're introducing a Black Friday template this week, it only seems fit to announce our upcoming deal for that highly anticipated weekend. However, I wouldn't ruin the surprise so stay tuned for an exciting announcement about our Cyber Monday deal coming up this week!
Piktochart offers professional templates for creating presentations, reports, infographics, and more. You can customize almost every element of the template without any prior graphic design experience. Explore the features by simply signing up for free.
Keep your visual storytelling always fresh with Piktochart.
Give our new black friday and NGO impact report template a try for free. Add images in the placeholders. Add illustrations, icons and charts. Customize the colors with brand assets. Create visuals within minutes.
Sign up for free