While cultural fit is considered a key trait to look for when hiring, most startups still struggle when using it as an additional recruitment filter. This is usually because the startup has failed to define its company culture, a set of values that everyone should live and work by.
When it comes to hiring for cultural fit, the cart can't come before the horse — startups must first define their culture.
Here at Piktochart, we made sure we were strong on culture code from day one, which was fine tuned along the way by learning from bad hiring decisions. They taught us that it is not just about technical ability but how well they adapt to the team environment.
Cultural Fit Matters as Much as Technical Skill
At Piktochart, we value cultural fit as much as technical competency, and we have a clearly defined set of values that embody the way our company is run on a daily basis.
We're looking for people who believe in our HOPEFUL values. These are people that want to help build the next-generation infographic tool that empowers non-designers to tell stories beautifully.
While there may not be a candidate that would be a 100% fit for our core values, they should resonate with the company culture that we've built at Piktochart.
Since one of our core values (the "O" which stands for Open Up) focuses on transparency, we wanted to be transparent with all of you and share how we determine that candidates are a cultural fit.
With an overall 96% retention rate since the beginning, we've had a lot of success over the years and perhaps those also building a company can refer to this guide when assessing cultural fit for new hires.
What We Look For in a Cultural Interview
One of the interview stages candidates have to go through is the cultural interview. Our awesome HR & Recruitment Officer, Jun Rui finds two interviewers from outside the team to conduct the interview.
Consult the below visual to get a snapshot of actual cultural interview questions.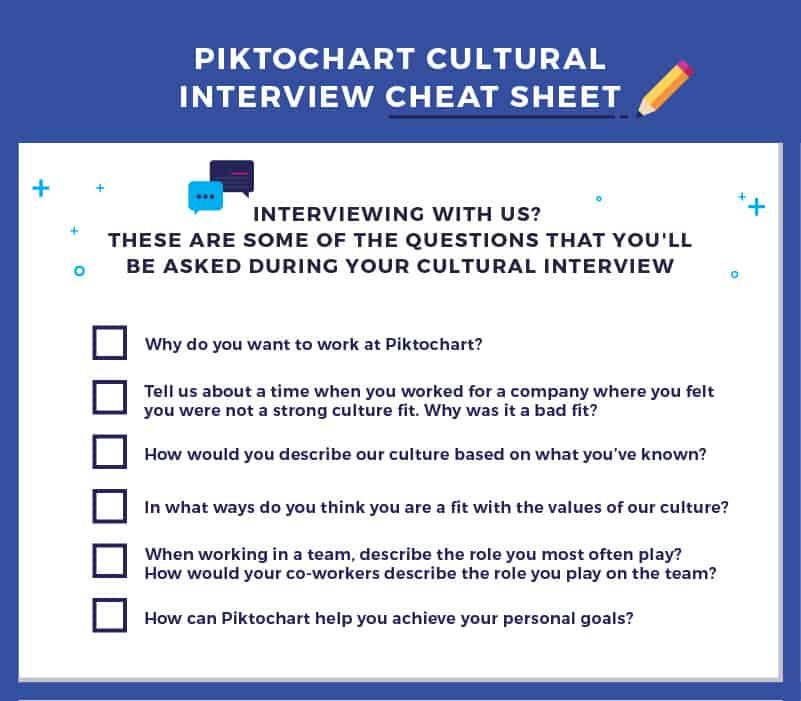 Before the interview, she will forward the candidate an interview guide asking them to check out our product and HOPEFUL values. We hope that if they find out more about our product and our working environment, they can better assess if they will feel comfortable working with us.

Watch the below video of our CEO Ai Ching explaining how each core value factors into our hiring decision.
Fit Works Both Ways
Our interviewers will also share what it's like working at Piktochart and explain the processes in place. The potential hire can then decide if this environment will be challenging enough for them and whether they can see themselves making a difference here.

Providing the right environment naturally helps new employees perform to their full potential. We value people from diverse backgrounds and we hope to find someone who will be happy working here and find purpose in their work. It's a two-way relationship with the company's culture at the center of it.
Asking the right questions during the cultural interview will:
Help us to uncover if the person can grow and thrive in the role.
Allow the candidate to assess if our company fits with their values and beliefs.
See below to get an idea of what the ideal Piktochart candidate looks like.
How We Get Organized For Interviews
We use Greenhouse to help us schedule the different interview stages and found the scorecard feature particularly helpful because we can decide using pre-defined criteria and written feedback.
We can also create custom questions in the Interview Kit to help prepare the interviews and align our expectations.
Below is a screenshot of Greenhouse's candidate management side of the platform.

Under the candidate's profile, you'll be able to see each interviewer's recommendation on whether the candidate has passed the interview or not. Being able to see the candidate's progress, Jun Rui can decide to advance or reject the candidate. It helps in speeding up the hiring process.
In the scorecard summary, we are able to see which areas the interviewers agree on in terms of the candidate's strengths and weaknesses. When the candidate receives mixed reviews, Jun Rui will bring the team together to make an informed decision.
Like Our Ideal Candidates, We Also Prize Autonomy 
Being a startup, we work quite autonomously and every newcomer needs to be able to work independently and find solutions to their problems as we don't have answers to everything.
Although we have systems and processes in place, a lot of times we are still experimenting and learning from our failures. This is why it's so important that a good candidate is someone who views uncertainty as an opportunity to grow.
Ultimately, it all ties back to our core values. We have come a long way since we started with our HOPEFUL values in Piktochart and we cannot imagine hiring without them – it would be like operating without a compass.
If you're interested in joining the Piktochart team, check out the open roles that we have on our 'Careers' page. As always, if you have any questions, you can write to us here.