September 7, 1944. In a rural area of Charleston, South Carolina, a young baby named Earl was born. The youngest of 9 siblings, Earl was 7 years old when he was taken in by a woman named Mary Manigault, after it became clear his parents had little interest in raising him.
If you are a die-hard basketball fan, it was probably easy to connect the dots. The baby we are talking about is Earl Manigault, otherwise known as 'The Goat.' The greatest basketball player of all time.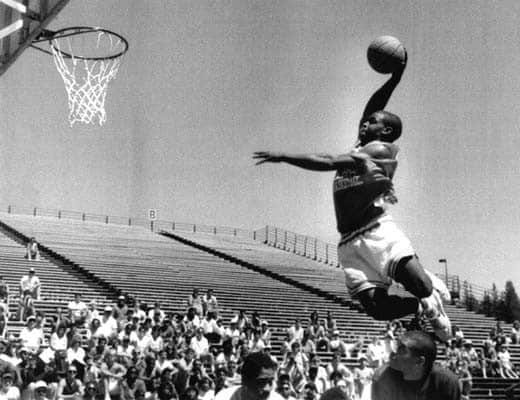 Earl was a ridiculously talented kid. During his high school years at Benjamin Franklin High School, he averaged 24 points and 11 rebounds per game.
In the late 1950s, he set the NYC junior high school record by scoring 57 points in a single game. He got expelled, and finished school at a private academy. In one year there, he averaged 31 points, and 13 rebounds per game.
Despite his amazing gift, The Goat never played in the National Basket Association. Due to drug addictions, a tough upbringing, and conduct issues, the greatest basketball player of all time never played professional basketball.
Earl "The Goat" Manigault was probably the greatest basketball player of all time (the goat is an acronym for "the greatest of all time"), but Michael Jordan is universally regarded as the best ever.
This is because The Goat only did it at Rucker Park, while Michael did it where it mattered: in front of the world.
Getting it out there
The same goes for a painting, a sculpture, or an infographic. This is a problem many people, especially creators, face. The final result might be the most beautiful and insightful infographic ever, but it doesn't matter until you put it in front of people. Otherwise, it will sit in a dark corner gathering dust.
In the past, we've covered how to design an infographic. In this December series, we'll teach you the last step of the process, but one of the most important ones – how to get eyeballs to your infographic.
Without further ado, the December Series.
Virality is the holy grail in marketing. Everyone is seeking it, but it's ridiculously hard to achieve. The reality is, not every piece of content is share-worthy. However, there are certain steps you can take to maximize your odds of creating a viral infographic.
Your existing audience are your evangelists. They love you, and are willing to share the content you produce with their own audiences. In this post, we are going to teach you how leverage your existing audience to amplify the reach of your infographic.
Email is not dead. In fact, email marketing is still one of the most valuable marketing. In this post, we'll learn how to use your infographic to collect email addresses from your readers!
Sometimes you want to give your content a little extra boost. Due to its visual nature, affordability and segmentation options, Facebook Ads is the perfect way to do it.
You just finished your first infographic. It looks amazing. You are proud of it. But now what? In this post, we'll show you 10 different websites to submit your infographic and share it with different audiences.
2015 has been an exciting year for all of us! Every 12 months, as a team, we do a roundup of what Piktochart accomplished in 2015, and what 2016 will look like. This time, we'll share it with you in this post!
As 2015 comes to an end, we want to show you some of the best infographics we've come across during the past 12 months.