"A long time ago in a galaxy far, far away…" – Star Wars
This week, we're introducing new templates which consist of the highly-anticipated blockbuster movie of the decade, Star Wars. This is a template that excites our team and we're proud to be introducing this template a month before the movie premiere.
With the Christmas season not too far away, we're also introducing a few Christmas templates in the weeks to come, and we're starting with a poster template this week.
Find out more about the new templates below and don't miss out on an exciting announcement about our upcoming Cyber Monday deal! Give them a try right away.
Star Wars
Discover all the important facts you need to know about the upcoming Star Wars: The Force Awaken in our new PRO infographic template. If you're a Star Wars fan just like many of our team members, you can also create your own infographic using Star Wars themed icons and share interesting facts about the upcoming movie.
Get a head start and create a Star Wars infographic that will go viral on the web. May the force be with you!
click on image to view full infographic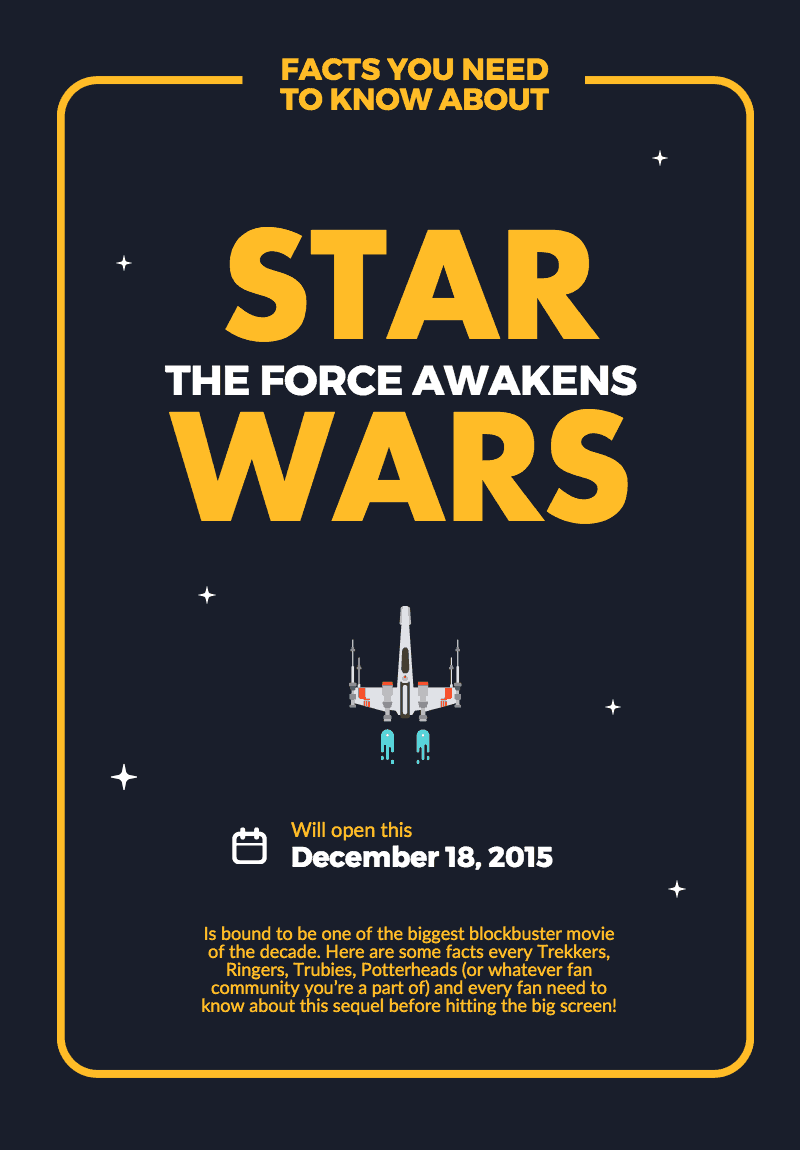 Jolly Christmas Poster
It's beginning to look a lot like Christmas and we're introducing the first of many more Christmas templates! With just a month away, it's time to set up your Christmas tree and decorations to welcome this holly, jolly season. Use our new poster template and light up the atmosphere in your home, school, or office. Give this Pro template a try!   
We also have an exciting piece of news regarding an upcoming Cyber Monday deal happening next weekend! Take advantage of our biggest deal of the year and get an annual PRO plan for 70% off at only $87 instead of $290. Get started for free.
What are you waiting for? Sign up here to receive a reminder to redeem this deal on Cyber Monday happening this November 30, 2015. Head on to this page to find out more information about this amazing deal.
Want to give these templates a try? Piktochart offers professional visuals to create posters, flyers, infographics, and more. You can simply sign up for free to get unlimited access to the template gallery.
Create professional visuals with Piktochart without any prior experience in designing. Try our exciting new themes!
Try our poster maker! Create a visual for all your visual communication aspirations from social media graphics to infographics to flyers. Create presentations, reports, infographics, posters, and more. Add more icons, illustrations, graphs, and images. Customize color scheme with brand assets. Save rounds of editing with collaborative features. Get started for free.
Sign up for free