Poster Maker for Non-Designers
We asked our customers why they switched over to poster maker from Piktochart. Top 3 answers: "Easy to use", "Professional poster templates", and "Better results". Not our words but theirs. Try out for yourself.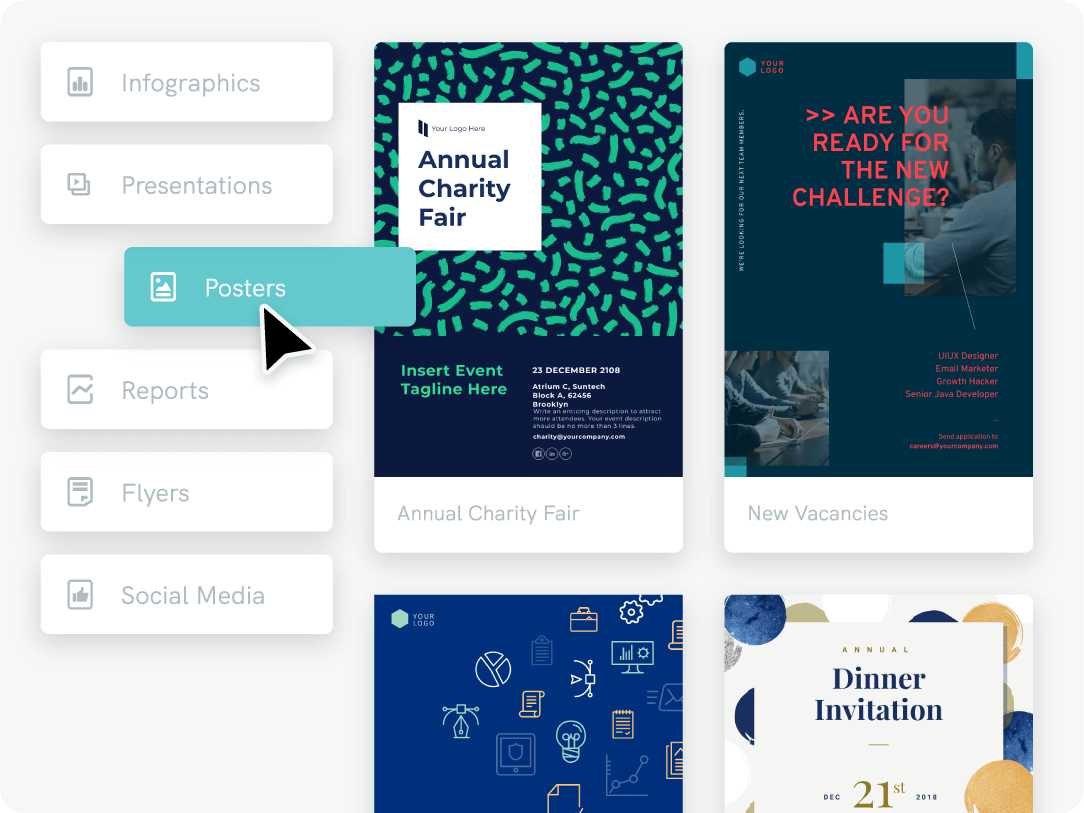 Posters continue to be one of the most popular visual communication formats.
A well-designed poster won't fail you if you need to inspire action, convey information, advertise a product, or promote an event.
Today, I want to show you how you can make an effective poster from scratch in six easy steps.
Whether you are a small business owner, a marketer, a healthcare professional, or a student, at the end of this guide, you will be able to create a professionally-looking poster in minutes.
Here are the six steps we will follow:
But before we get started, let's first look at the:
Brief history of posters
The poster first emerged as an advertising medium in the late 19th century, when French painter Jules Chéret revolutionized lithography with his "three-stone lithographic process."

This trend would usher in an era of artistic poster design, led by Cheret himself, who created more than a thousand posters throughout his illustrious 30-year career.

Over time, posters have been used to express different cultural zeitgeists.
Notable examples include the art nouveau movement in Britain and Paris in the 19th century, the Golden Age of Wartime Propaganda during World War II, the psychedelic movement of the 1960s, and the explosion of pop-culture posters adorning teenagers' walls in modern times.

Today, posters are used for more practical applications, such as political campaigns, public-health drives, education, and safety.
Types of posters
Below are some of the most common types of posters in use today, along with a brief description of what makes them different from each other.
1. Event posters
Even in today's digital world, event posters continue to be a primary medium for promoting concerts, plays and musicals, fairs, sporting events, conferences, and trade shows.

Almost any type of public event is advertised with a poster of some kind, with some leaving a lasting impression on our collective memories.

2. Advertisement posters
Advertisement posters or ad posters have given us many of modern history's most iconic pop-culture images.

Since the turn of the 20th century, brands like Coca-Cola, Camel, Apple, and Nike have produced posters that withstood the test of time.

Many of these ads were designed to be multi-purpose print ads, distributed through magazines, newspapers, billboards, and posters around cities.
Customers are more likely to trust poster ads because they appear in public places, making them more credible to a broader audience.

3. Political posters
Some of the most famous posters are associated with major moments and conflicts in human history.

During World War I, the U.S. Army produced the "I Want You" poster depicting a commanding Uncle Sam urging the viewer to join the war effort in Europe.

In World War II, Westinghouse Electric released the "We Can Do It" poster to boost employee morale and reduce absenteeism.

In 2008, the iconic Barack Obama "Hope" poster, designed by artist Shepard Fairey, came to represent the energy and optimism surrounding the former president's campaign.

4. Movie posters
Of course, no discussion about posters would be complete without movie posters.

These are perhaps the most popular and sought-after of print materials.

This is especially true for posters of classics like The Godfather, Jaws, Star Wars, Pulp Fiction, and Terminator, among many other hit films and franchises.

Create a beautiful poster, infographic, report or presentation online.
Sign up for Piktochart and make posters easily, without having any graphic design experience.
Sign up for free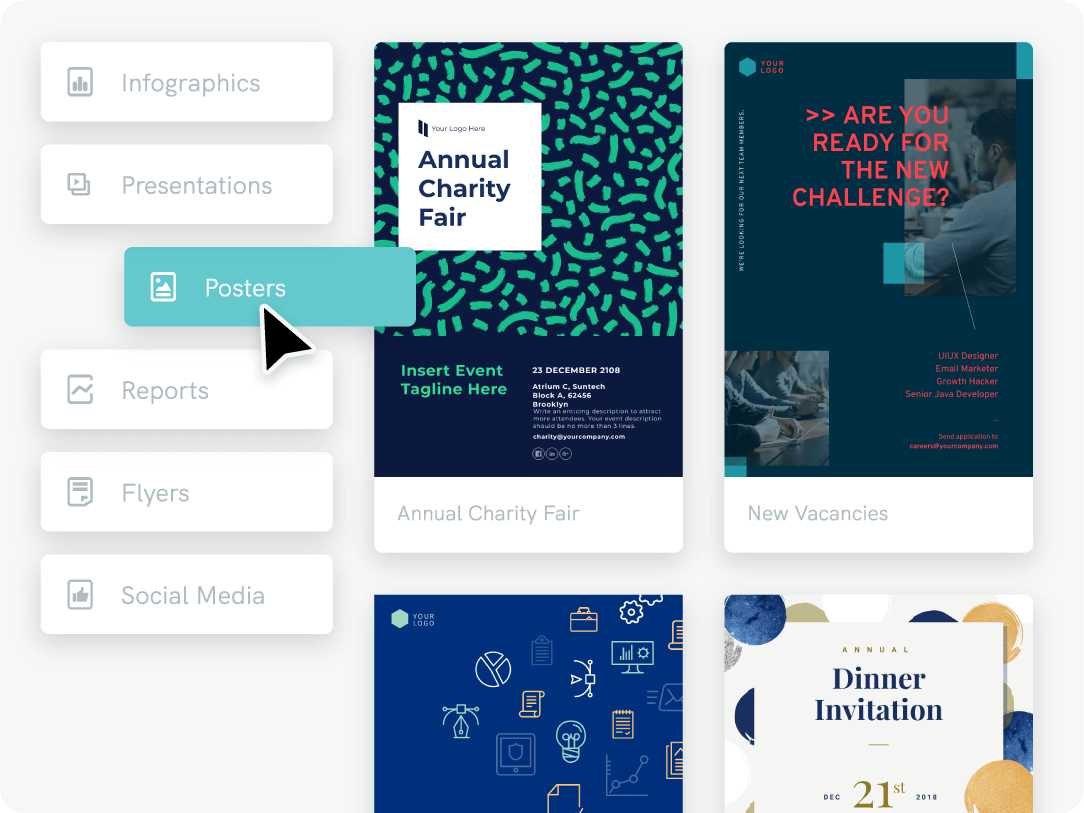 Do you want to be part of these success stories?
Join more than 11 million who already use Piktochart to craft visual stories that stick
Yes, I'm ready!