I was flicking through the channels last night and came across Comedy Central showing one of the episodes of "Friends". It was just starting and the theme song came on:

So no one told you life was gonna be this way…

And then I just thought to myself that no, no one told me that I would have to be locked down 23/7 in the house (that one hour missing is me going out to the shop to buy food) trying to juggle work, kids, home renovation and everything in between at the same time.

And then life happened.

I'm used to working remotely as I have been doing it for over 6 years now. But while it gained in popularity in recent years, there are millions of people who all of a sudden had to move to this new working arrangement and it may not be easy for them.
If you haven't worked remotely before, you will surely be wondering how and where to set up your working space so that you have some peace and quiet to do your job (DISCLAIMER: if you have kids AND need to work from home, you will never have peace and quiet unless you lock yourself in a sound-proof room or work from the basement).

To help you successfully transition to remote working reality, I put together a few cost-effective ideas that will allow you to make best use of the space and objects around you to create your remote workstation.

Here they are in no particular order:
IRONING DESK BOARD
Score:
Creativity: 4 / 5
Practicality: 2 / 5

Generally, I wouldn't recommend this, but if you're ironing, you're getting some exercise so it has a green light from me! Make sure you change sides though! It's important to keep balance.
THE LADDER DESK

Score:
Creativity: 4 / 5
Practicality: 3 / 5

Short of space? You don't need a ton of square meters, you just need to use what you have strategically. I recommend this space-saving setting to replace your office standing desk. This arrangement allows you to move and burn calories too, so it's more fun (and healthier for your back) than sitting all day. While it may be tempting to go up and down the ladder steps, I wouldn't do it. Also not recommended for stationary computers.
THE STACKED DESK AKA BOOKWORM'S DESK
Score:
Creativity: 4 / 5
Practicality: 4 / 5

Did you ever wonder what to do with that old encyclopedia stuck on your bookshelf since your secondary school days? Now you can give it a second life. Here's another recommendation for standing desk fans that is also easily adjustable to your height.
THE PING PONG DESK

Score:
Creativity: 4 / 5
Practicality: 4 / 5

When is too much space too much? I'm not sure, but when it comes to your working area, space definitely matters. This solution can be especially useful to those who need to use multiple monitors to do their job (high five if you just started your remote work adventure and already managed to set up multiple monitors!).
THE COZY ONE
Score:
Creativity: 5 / 5
Practicality: 3 / 5

While having a pet is believed to lower your stress level, I believe having your pets accompany you working is good for your mental health. However, what I do not recommend is sitting on your sofa the whole day as it's bad for your posture. I recommend you move around the house throughout the day (or roll on the pillows).

So there you have it, my very subjective outlook on how to set up your home working space in a very sustainable and cost-effective way. Extraordinary times require extraordinary measures after all.

If, however, any of the above does not appeal to you (I know, not everyone keeps a ladder at home, right?) and you're more into professional look and feel to your working space, here are some of the recommendations that I personally used while setting up my remote work station:
YOUR DESK
You will spend a lot of time sitting behind the desk, so it's certainly important to make sure your desk will properly serve its function. You need to consider things like available space, the technology you will use (for example, multiple monitor set up) and its height. If you have room and appropriate budget, an adjustable height desks are something you may consider. However, for most regular home office set ups, a regular desk will do.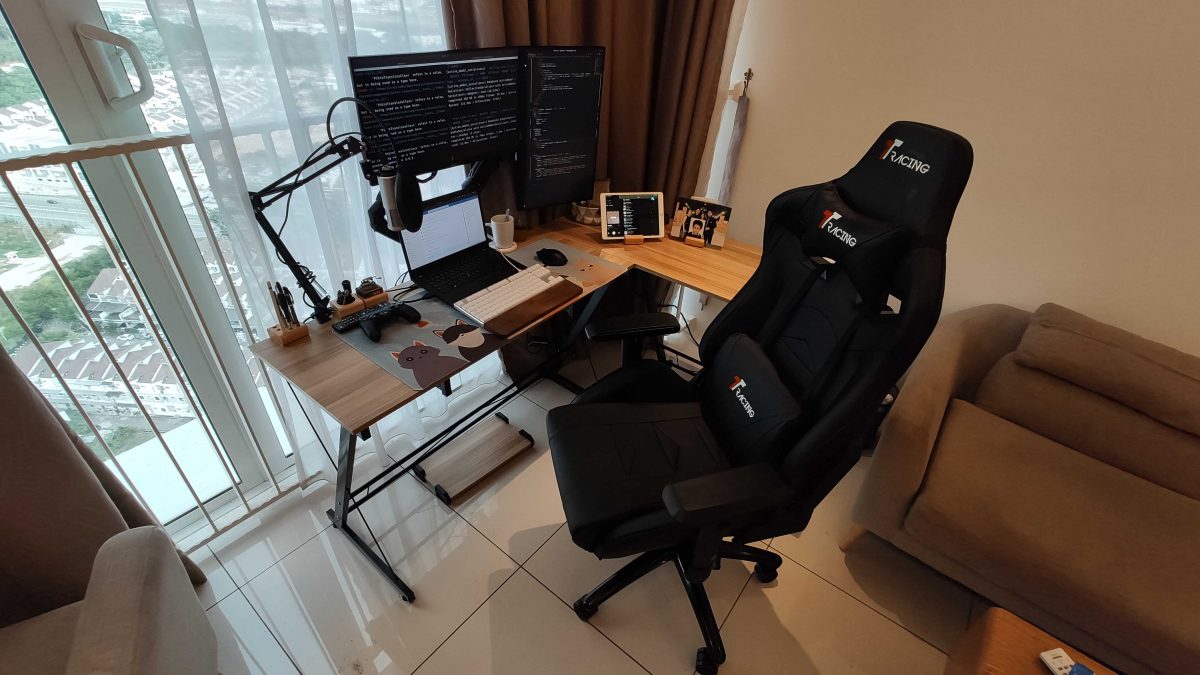 ERGONOMIC CHAIR
Lower back pain is one of the most common disabilities among office workers these days. This is due to prolonged periods of time spent sitting at the desk and having a wrong position while sitting (slouching, leg crossing etc). We often choose comfort over health and that results in posture problems. That is why selecting a proper desk chair should be your priority. There are a lot of good options in the market today, so make sure you choose one that best matches your height, your desk type, supports your lower back and allows you to comfortably rest your arms on the armrests. I know that working from home may bring a lot of challenges, but do your best to include office ergonomics as much as you can in your personal office setting.
STRONG WI-FI CONNECTION
It should go without saying, but a stable internet connection is a must if you are working remotely. You will now be collaborating online with your team on a daily basis and to do it effectively, you should have good connectivity. Poor network quality will negatively impact your video calls, file sharing, online communicating with your team and your overall productivity.
ADEQUATE LIGHTING
This one can be a challenge for a lot of remote employees. While office spaces have proper lighting in place, it's more difficult to achieve the same effect at home. For that reason, you should do your best to work from the area that provides the biggest amount of natural light during the day. Your desk lamp bulb should have a higher wattage so that your eyesight is not tired when you work in the late afternoon or evening.

HEADPHONES
A good pair of headphones goes a long way, especially when you work remotely. Because most of your calls will now be online, this piece of your work equipment is especially important. Quality matters here, so do not settle for the cheapest option. If you want to go even further, you may invest in noise-canceling headphones which will seriously improve your calls.
NICE-TO-HAVEs
Apart from the essential things I mentioned, there are a few other items that will make your working space like your office space. If you have enough room, you can use a filing cabinet to store any documents or stationery. Add some plants or family photos to make it look more cozy.
At the end of the day, your working space should feel inviting, make you feel comfortable and should let you do your job.
To be clear, none of us wanted to be in the situation we're in right now. However, I think it's important to find a silver lining where you can. Remote work can be challenging, but if you approach it with the right mindset and adapt your skills to it, it will work out very well. Be creative, open-minded, motivated and HOPEFUL. And remember, this situation will eventually pass. And who knows, maybe by then, you will love your new work-from-home arrangements so much that you will not want to do it any other way. For now, embrace the change and stay safe.
Working from home does not have to be detrimental to building strong teamwork and internal communications. Add brand assets to visuals to strengthen internal branding. Collaborate asynchronously with your team to save rounds of editing. Sign up on Piktochart for free.
Collaborate to create impressive presentations, reports, and infographics.
Create graphics for achieving all your visual communication aspirations from social media graphics to infographics to flyers. Create presentations, reports, infographics, posters, and more. Add more icons, illustrations, graphs, and images. Customize color scheme with brand assets. Save rounds of editing with collaborative features. Get started for free.
Sign up for free