Infographics are mainly a visual medium. They are a complex composition of text, colors, icons and images created to convey a message. The problem is not everyone is born with that special 'knack' for design. Yes, tools like Piktochart's infographic maker speed up and guide the process considerably, but there are still a few human decisions that can make or break your infographic.
For that reason, we decided to launch the Design Tip Series. During the month of August, we will publish 8 detailed posts that will show you how to use Piktochart and its tools to design the most beautiful and visually compelling infographics ever.
Each post has a ton of research behind it, and its carefully crafted with beginners in mind, so if you are just starting out, then it's the perfect introduction to infographic design.
In short, it will teach you how to avoid A, and design something that looks like B!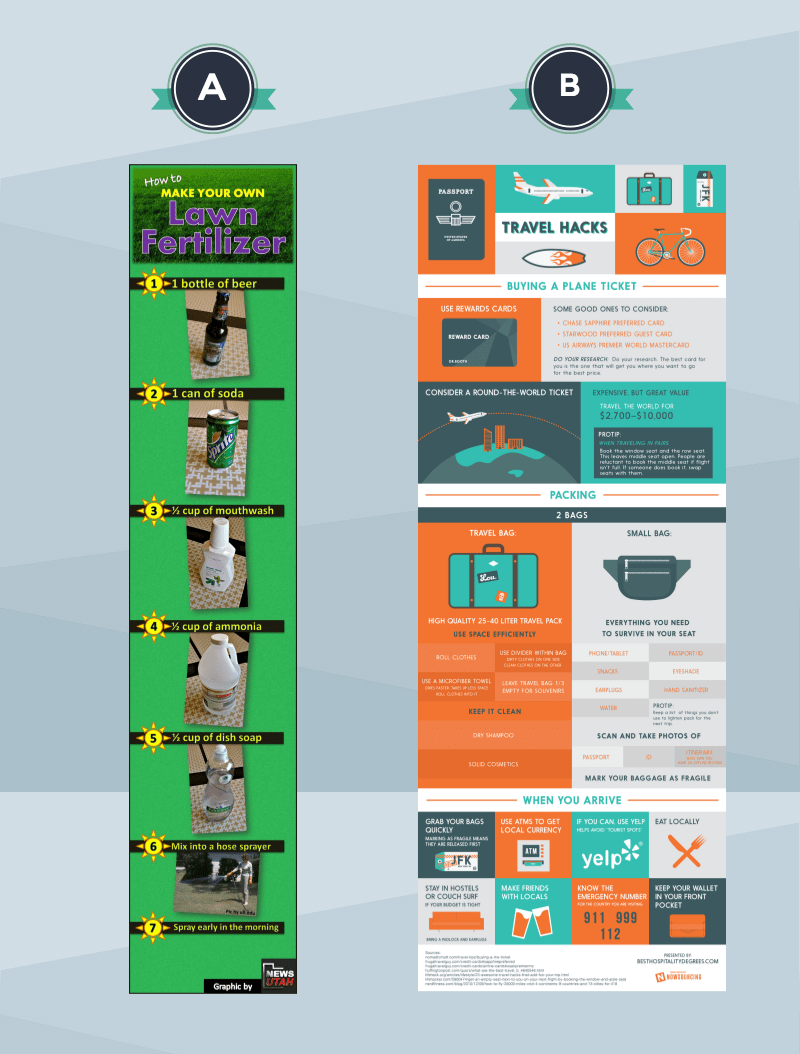 Quick note: This is an ongoing series starting August 5th, and links will be added as soon as we publish each individual post.
You could also follow along and practice your designing skills on the go by creating visuals on Piktochart. Sign up for free to access Piktochart's infographic maker.
Without further ado, August's Design Tip Series:
August 5th
When creating an infographic, your goal is to hook people into your design. But for that, you need an interesting bait. This bait is not the entire offering, but a sample, a tease, something that encourages them to read further and discover more. In this post, we'll show you how to pick the perfect hook and translate it into your design!
August 10th
In today's crowded environment, telling a compelling story is the perfect way to engage with your audience. In this post, we'll show you how our designers transformed a text-heavy infographic into a visual story that's easy to follow.
Also, as a bonus, we'll give you a few tips on how to effectively search and pick the perfect icons for your infographic!
August 17th
Do you know what's the key to Starbucks' success? Consistency. Every time you order a latte and a blueberry muffin, you get the same experience. The same principle applies to graphic design –  for a design to be compelling, all elements need to be related, work well with each other and be consistent.
In this post, we'll show you how to effectively pick consistent fonts and icons to create the perfect design!
August 12th
Our brain is trained to make connections between objects in our surroundings – if one object is bigger or bolder, our brain assumes it's more important than a smaller one.
In design, we use fonts, sizes, and visual elements to create the illusion of hierarchy between elements in a composition, and show readers what has more relevance. This is more an art than a science, so in this post we'll show you how to implement the right hierarchy in your infographic to make your key information stand out.
August 19th
Infographics are the perfect medium to tell a story or quickly deliver a message. As we mentioned before, people process images 60,000x faster than words, so visual elements are the perfect way to do it. The problem is that, often, people go with text-heavy infographics, instead of a more visual language.
In this post, you'll learn why the latter option is the way to go, and how to apply it, step by step, to your own infographics!
August 24th
It's time for back to basics. In this post, understand the fundamentals of color palettes and apply these tips to your design for a better, neater, more welcoming infographic.
August 26th
Why do some colors match while others look strange? Pairing colors effectively makes your design beautiful and helps your audience consume your content. In this post, learn how to pair colors easier and better.
August 31st
Color plays a huge role in graphic design – your choice of colors will set the mood and the tone for your infographic, and will help convey a specific message. That's why it's extremely important to understand how color works, how each one interacts with the other and how to pick the right ones to create a stunning infographic.
In the last 3 posts, we'll take a look at the science behind colors, where to find inspiration for beautiful color palettes, which tools to use to pair colors, and something we like to call 'the rule of 3 colors'.
If you'd like to learn about any specific aspect of infographic creation, leave us a comment below and we will write about it!
With Piktochart, you can create presentations, reports, infographics, posters, flyers, brochures, and social media graphics within minutes. Get started for free by creating an account and access Piktochart's infographic maker for all your design needs.
The only design tool you will ever need.
Create visuals with professional templates for all your visual communication requirements.
Sign up for free