Canva is one of the leading graphic design tools in the market when you need to create images quickly. But it's not for everyone, and it certainly has its shortcomings. 
For example, it can be hard to search for free assets separately from the premium elements. It's also not ideal when you need to use charts or maps in your design. Or sometimes, when you download a design, it doesn't quite look the same as it was on the canvas.
That's where several Canva alternatives can come in handy. Here's our list of the best graphic design alternatives to Canva. Like Canva, each of these tools have advanced features that lets you design great visual content even if you're not a professional designer.
Best Canva Alternatives of 2023
The 11 options below will surely help you find an online graphic design software with the same features you liked in Canva — without the drawbacks that pushed you away.
In case you prefer watching over reading, here is a video version of this blog post:
1. Piktochart — best for businesses who need to create infographics and report on data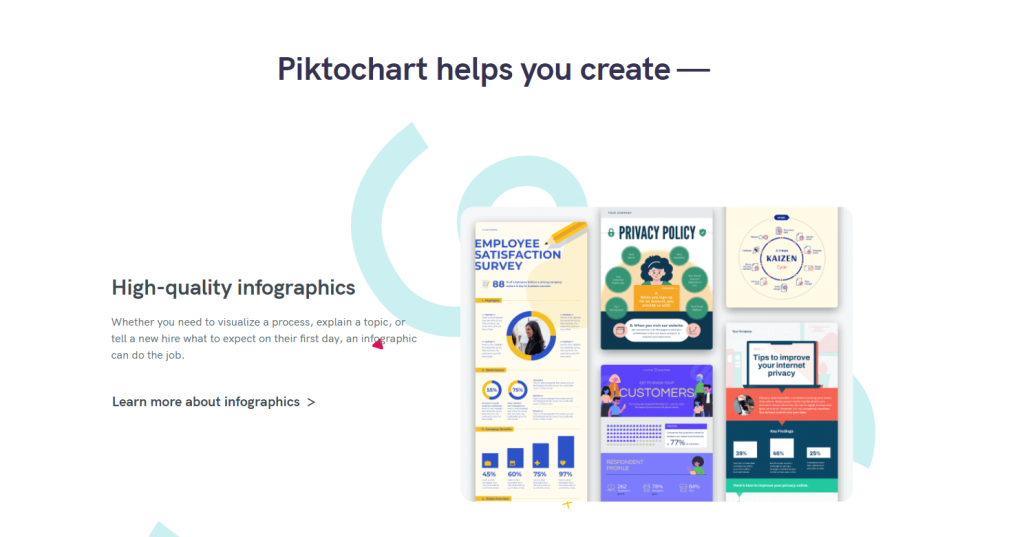 Piktochart has a good selection of polished pre made templates created by professional designers. If you're going to design a lot of infographics, charts, and reports, creating your own template and re-using it over and over again is a good idea. You can also upload your own brand assets such as fonts or brand colors.
Piktochart vs. Canva: Piktochart's biggest strength is the extensive choice of charts and maps. So if you are looking to visualize data you can't go wrong with this tool. What's unique about Piktochart, when compared to the other Canva alternatives, is the level of flexibility you get. You can access all the professionally designed templates, photos, and other assets independent of the plan you are on. You can also purchase individual downloads in a free plan without needing to commit to a monthly or a yearly subscription. In addition, collaboration features are available in all plans including free.
2. Snappa — best for users looking to share their designs instantly on social media
Snappa is another alternative to Canva with several social media templates and royalty-free photos. Plus, you can upload your own custom pictures to be included in your projects.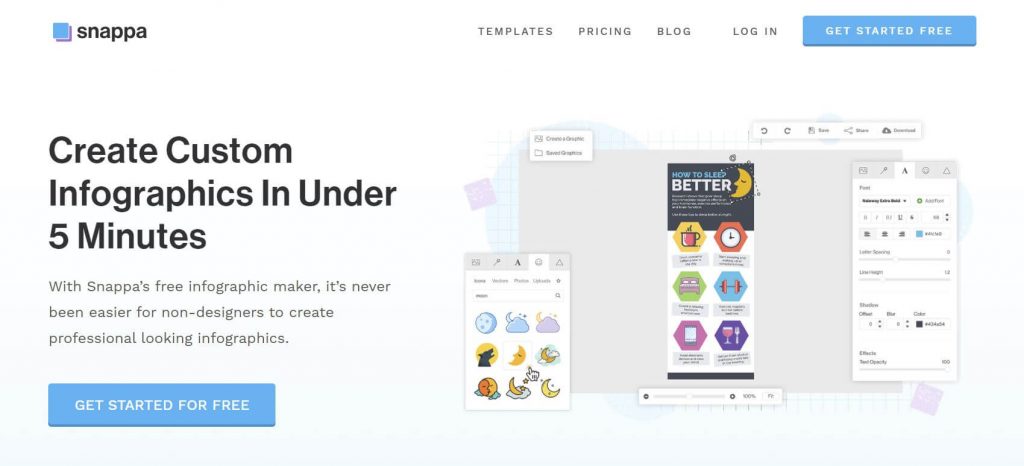 Snappa limits downloads for free members to five at most per month. Besides that, free users can't share their graphics on social media. So you'll be better off with the premium version if you want to take full advantage of everything Snappa has to offer.
Snappa vs. Canva: The main differentiator of Snappa is that you get the ability to share your graphics on social media without leaving the Snappa interface.
3. Pixlr — best for complex photo editing at a cost less than Canva
Pixlr is a great alternative to Canva when you want access to both an advanced photo editor and graphic design software. With Pixlr, you can also add accents or textures, such as dust flecks, glitter, and light streaks, to your images.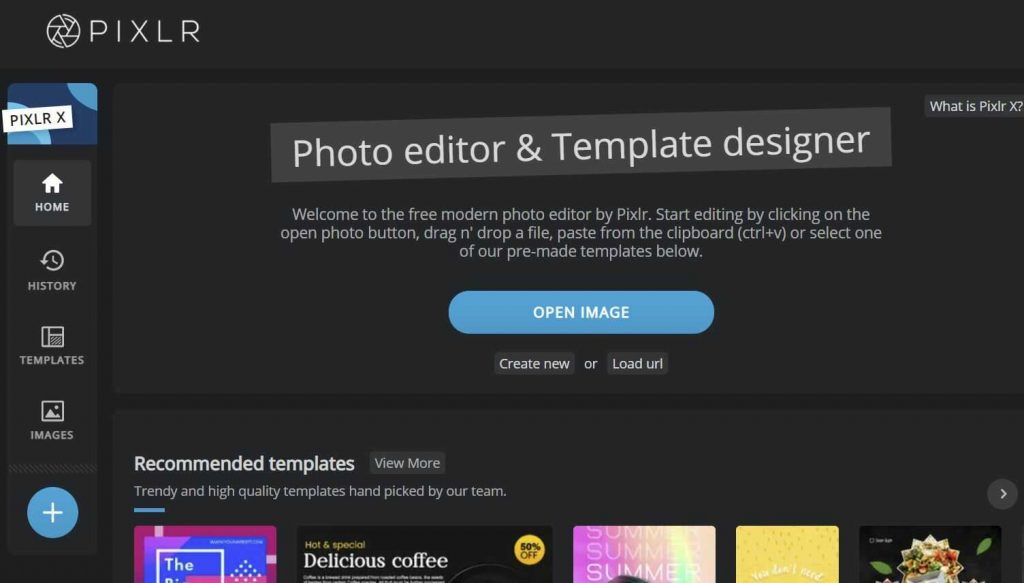 The main highlight of Pixlr is an AI-based Cutout button. If you have ever tried to remove unwanted objects from an image or blur out an ugly-looking background, you're going to love this handy feature that lets you eliminate backgrounds with just a few clicks. 
Pixlr vs. Canva: When compared to Canva, the area where Pixlr shines is photo editing. With Pixlr, editing your images is a lot easier, smarter, and faster, making it a good Canva alternative.
4. Crello — best for users who want to create and share animations on social media
Crello is a multipurpose graphic design software with an interface very similar to Canva. It lets you create graphics for social media, advertising banners, animated design, marketing materials, blogs, events, print, and so on.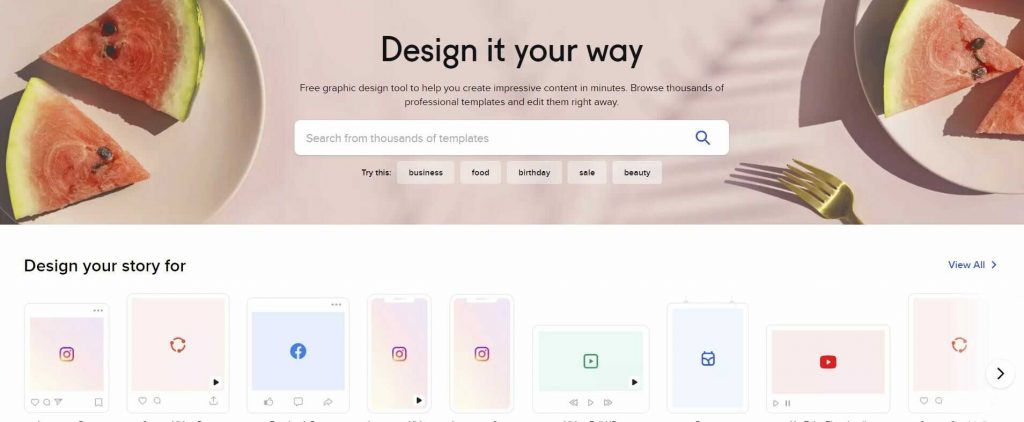 Crello boasts of a huge selection of templates and photos to pick from, including illustrations and several options for different platforms and formats. It comes with a free plan, but main features such as the animation maker can only be accessed from the premium plan.
Crello vs. Canva: The feature that separates Crello from Canva and the rest of the alternatives to Canva is the Animation Maker suite. With Crello, you get animated objects and templates to create more engaging photos and videos.
5. Fotoram — best for users looking for a free online photo editing software
Fotoram.io is a free photo editing tool similar to Canva that includes a collage maker, an art photo maker, and of course, a photo editor. The tool gives you the ability to perform a number of edits, including resizing, cropping, flipping, adjusting brightness, blurring, adding effects, and so on.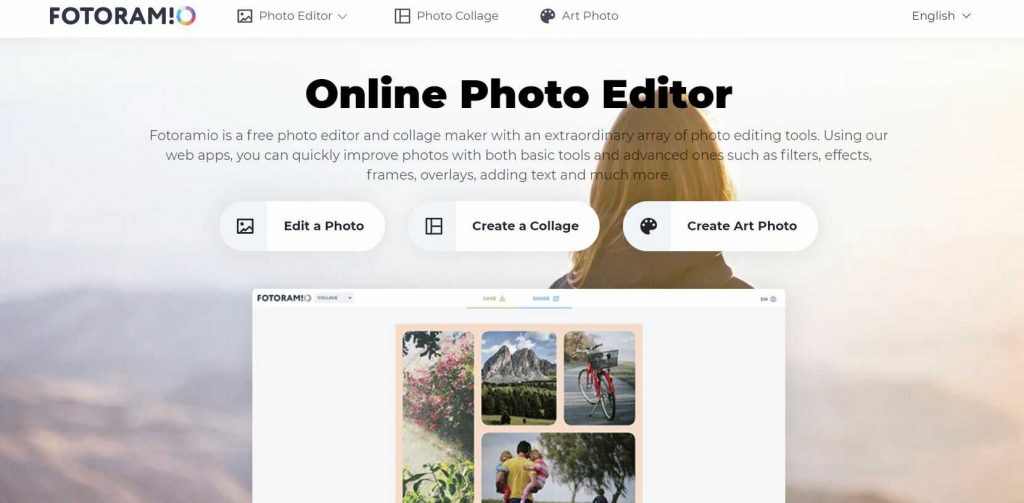 Perhaps, the most impressive feature of Fotoram is its art maker. It allows you to quickly make any image similar to the picture of a famous artist. In addition, you are allowed to download these images at no charge and without creating a user account.
Fotoram vs. Canva: As an alternative to Canva, Fotoram focuses more on image editing than the ability to create different types of graphics for social media, website banners, presentations, or data visualization. So if you're looking to create graphics from scratch, you may want to look elsewhere.
6. Venngage — best for professionals who need a data visualization tool for marketing communications
Venngage is a great Canva alternative for users with a variety of graphic design needs, including postcards, social media images, presentations, infographics, and reports.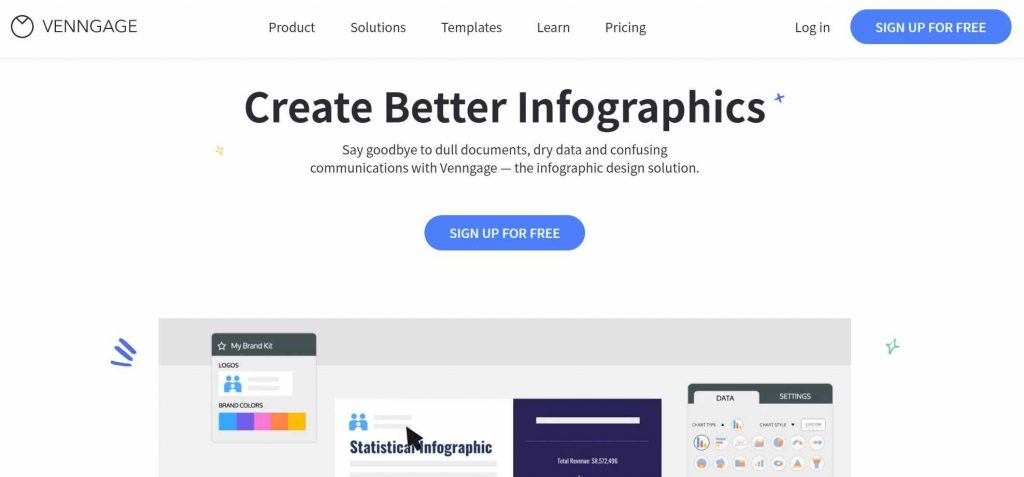 Moreover, it has a wide range of unique templates you can pick from to start a design project. Another thing to note is that its free plan offers limited features and puts a small Venngage watermark on all of your designs. It's also on the costlier side when compared to other options on our list.
Venngage vs. Canva: Venngage's main use case is infographics and data visualization. So as compared to other websites like Canva, you may find that the availability of templates in Venngage for other content formats to be limited.
7. Visme — best for users who need a versatile tool with a focus on interactive designs
Visme is a strong Canva alternative. With Visme, you can create social media graphics, infographics, short video clips, and more. And there are thousands of professional-looking templates and assets for you to pick if you don't want to start from scratch.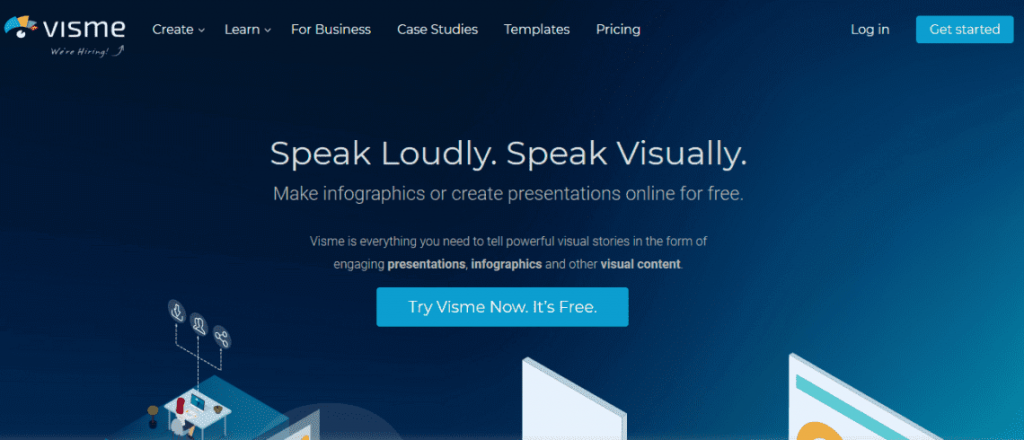 Visme gives you access to millions of free stock photos, thousands of icons, along with more than 50 data widgets and charts. You also get 250 MB of storage space to upload your images.
Visme vs. Canva: Visme's ability to create simple graphics is similar to programs like Canva. However, it really shines when it comes to collaboration features.
8. DesignBold — best for users looking for features similar to Canva but more affordable
DesignBold is among the popular alternatives to Canva for many reasons. Its free version has basic editing tools and comes with more than 10,000 layouts, along with the ability to share your designs with others for collaboration.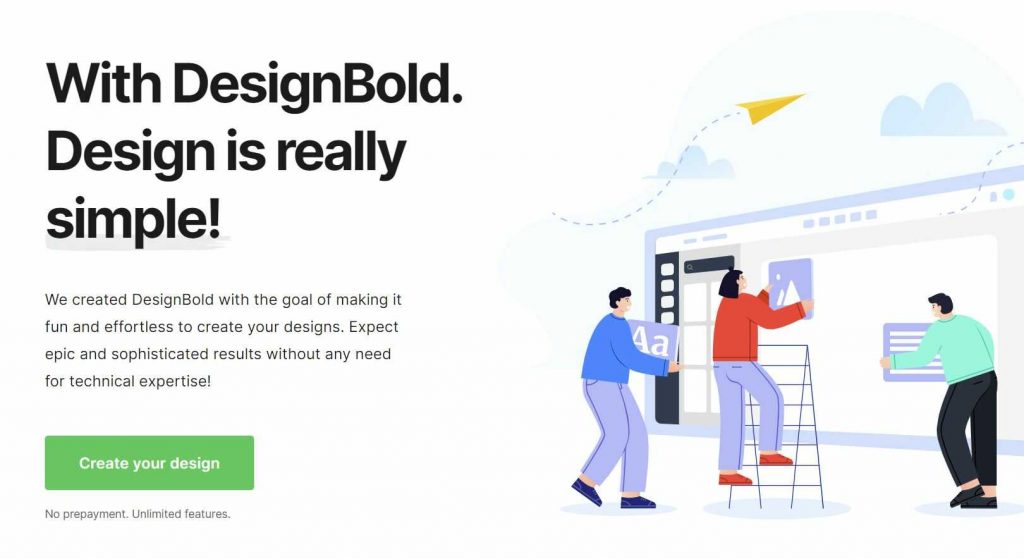 The limitation of the free plan is that you can download only up to 5 designs in a given month. Nevertheless, it's a great choice for the occasional presentation or graphic. And you can always upgrade to the premium plan that is more affordable than the paid Canva subscription.
DesignBold vs. Canva: DesignBold offers more design elements than Canva at a cheaper cost. For instance, you have access to 40 million free stock images, as compared to Canva's 1.5 million. In addition, DesignBold gives you 20 premium images free as part of the paid subscription, whereas Canva gives you none.
9. Desygner — best for users looking for a multipurpose tool with no need for collaboration
Desygner is a versatile graphic design tool. It is not just an image editing solution but a combination of three different tools, one each for logo creation, graphic design, and PDF editing.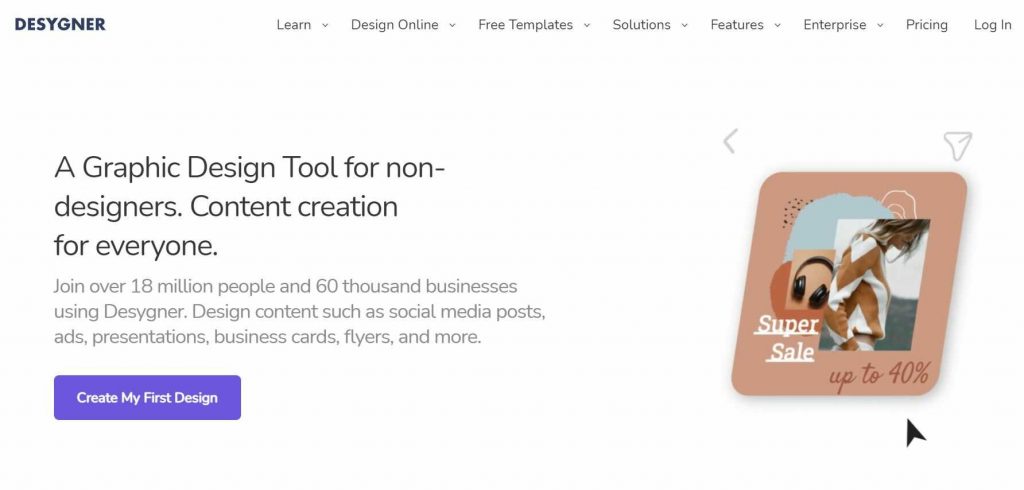 With respect to graphic design, Desygner provides you with multiple Facebook, Twitter, Etsy, Instagram, LinkedIn, Pinterest, and more types of templates to make engaging visual content. It supports many formats, including PSD and PPT. In contrast, PDFs require you to purchase a premium plan.
Desygner vs. Canva: Desygner is a great alternative to Canva with more features and templates. The only flip side is that it lacks team collaboration tools.
10. Pixelied — best for users seeking a wide range of design capabilities at an affordable price
One of the more advanced image editing tools on this list, Pixelied offers a rich feature set with simple premium plans that don't cost an arm and a leg. As such, it's a great pairing of quality and low pricing.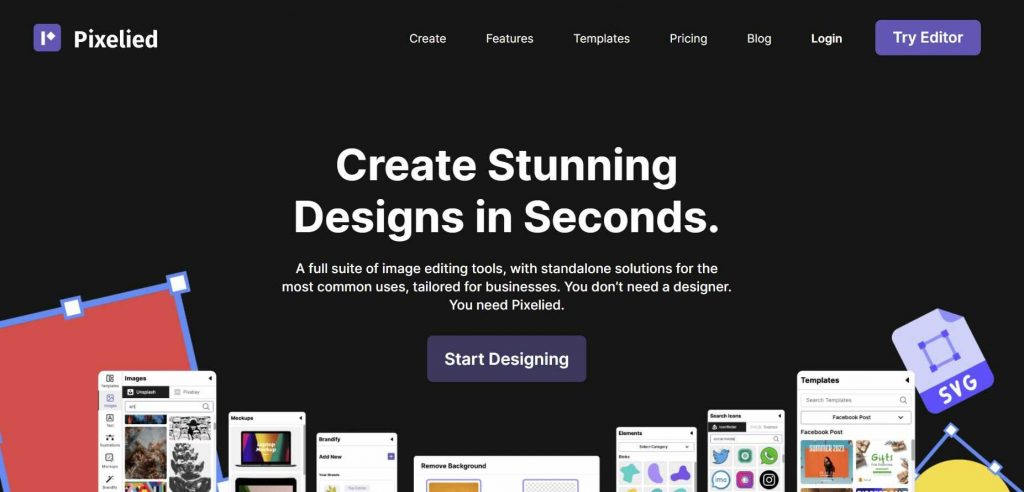 Pixelied has two great features that set it apart from not just Canva, but many other tools on our list. These include the ability to design product mockups for branding, and to switch between different workspaces, each having its own unique team members, assets, and designs.
Pixelied vs. Canva: Pixelied is a tool similar to Canva but has a bigger collection of ready-made templates, icons, and 3 million free stock photos, along with advanced photo-editing features such as background-image removal.
11. PicMonkey — best for users who need advanced photo editing capabilities
PicMonkey is one of the most affordable Canva alternatives. It's user-friendly and lets you edit images without any hassle. With PicMonkey, you can make business cards, event invites, collages, banner ads, and more.
PicMonkey has robust image editing features, allowing you to perform advanced editing with several filters and effects. With PicMonkey, you get a 7-day free trial, following which you'll be asked to pay for a premium subscription.
PicMonkey vs. Canva: PicMonkey's original value proposition was photo editing and quality, and that's the area where it has the edge over Canva. However, if your goal is to design images for social media and the web, it's a good idea to consider other websites like Canva on our list.
Wrapping Up
Needless to say, professionals who are serious about brand-building want to invest in visual content. But since they don't have the time to learn complex software like Adobe Photoshop, they have turned to a well-known option we know as Canva.
Creating visual content is mandatory. But using only Canva for this purpose is not. Luckily, you have plenty of popular and little-known programs like Canva to pick from. And the above list will help you discover the best of the pack with respect to your unique requirements. Happy hunting!