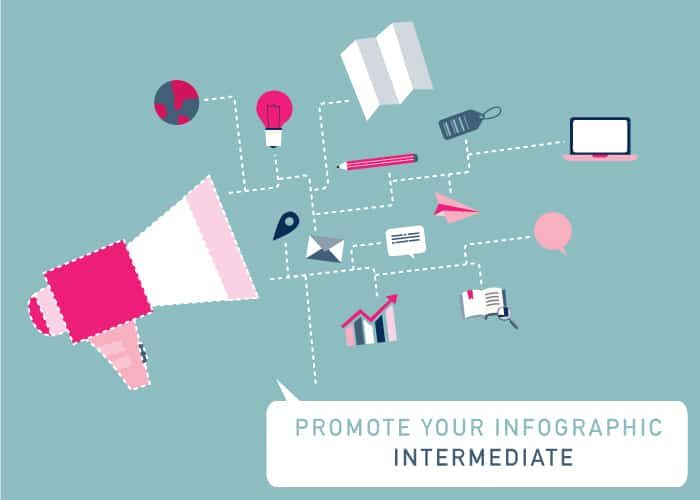 Marketing ideas differ greatly on the content and the purpose of your infographic. Here are some tips to make sure it reaches a wide audience.
Preparation steps
Make sure that your logo is posted at the bottom of the infographic together with a link to your website and other contact information.
Prepare 1 sentence and/or 1 paragraph long description of your infographic (1 sentence would be enough for directories, while bloggers would love to have a longer description for sharing)
Include alt text for your infographic. The graphic designers out there are probably thinking, "Everyone loves infographics! Wouldn't writing an alternative text version defeat the purpose?" Well, I've got news for you: not everyone loves infographics. Not because they aren't great, but because this type of visual isn't accessible for everyone. Blind or color blind Internet users can't read infographics, and translation software doesn't work on text within visuals, so people who don't know the language you've written your infographic in won't be able to access it either… unless you include an alt text version alongside your visual. Including text can also boost your web page in the SEO rankings, as long as you're using keywords related to the content of your infographic (and you should be).
1. Do the bare essentials and cover your bases
Put it in your blog
Share cropped image and the URL via Facebook, Twitter and Google+
Do not forget to pin it on your Pinterest board
Include it in your newsletter
2. Encourage visitors to share it
One incredibly easy way for readers to share your infographic is by clicking a share button to post the image on one of their social media pages (people love when they can do things in just one click). With that in mind, make sure that you have buttons for all the major social media sites on your page—Facebook, Twitter, Pinterest, Instagram, and Google+, as well as any niche sites that fit your topic. Make sure that they're located somewhere on the page that your visitors will quickly see them.
If visitors see your infographic on your site and think it's cool, they may want to share it on their own site—but they're not going to do this if you don't make it easy for them. Make it as easy as possible for your readers to share your infographic by sharing a code to embed it (it is very easy to get it from the Piktochart app).  Consider putting the code directly underneath your infographic with the caption "Share This Infographic on Your Site".
[Tweet "Your readers are not going to do share your #infographic if you don't make it easy for them"]
3.  Share it on infographic directories
We'll be talking about specific infographic directories in greater detail in a later post, but know for now that posting your infographic to a number of different directories is a great way to boost views.
4. PR effort
We learnt from some PR experts that press releases can work really well when accompanied with a genuine eye-grabbing infographic with novel content that has not been seen before. As always, the rule of the thumb is, the infographic does not make the information useful. An infographic accentuates the information that you have. It can be great for you to try out PR services from Newswire etc. We have tried it, but please do this selectively! If you bombard the submission directories more than once a month, its effectiveness gets reduced.
[Tweet "Infographic does not make the information useful – it accentuates your points"]
Identify top industry blogs and sites that are relevant to your infographic. A lot of bloggers love including relevant infographics with their posts because visuals draw viewers (who hopefully go on to read the blog). Try using Google Blog Search to find blogs that cover topics related to your infographic, then contact blog editors to see if they want to share your infographic. Offer to embed it on their blog if they're interested—they're more likely to be interested if they have less work to do!
Reaching out to this community will benefit you in many ways than just gaining links. Keep a directory (I usually do this on Google Docs) on the people you have contacted by industry and ensure that you remain in conversation with them long after you have created the infographic. If the infographic consists of two different opinions, you could perhaps get a representative from both sides to evaluate the content and join the conversation. Be creative about it!
5. More sharing
Go all out and share your infographic via Slideshare, Docstoc, Scribd, StumbleUpon. You can also try Reddit, Digg if your content is relevant to these websites.
6. Videos
Do you want to expand your infographic's readership even farther beyond your social networks? Consider making a video version of it and posting it on Youtube. Animating your infographic to focus on different data points is a great way to attract more viewers and really emphasize your data. And if you're not experienced with animation software, you can also break your infographic down into individual slides, put some music or narration over it, and voila—a video infographic is born!
Create a video screencast of how the infographic was constructed or have a voice over the infographic explaining various parts in more details. You can also interview different people on their perspectives on the topic that was talked about on the infographic. Afterall, an infographic is meant to generate and spark conversations.
At the end of the day, infographics are another medium to enable more conversations. It does not mean however that once created, an infographic is viral by nature. By following all of the steps, you will be able to create something which is not only powerful, but creates more ROI for your company as compared to traditional advertising.
We hope these tips have been helpful, and if you have more to add to the list, please tweet us @piktochart and we will be happy to include your thoughts on this page.
[Tweet "6 Marketing Ideas to get eyeballs for your #Infographic"]
More tips
Learn how to set Facebook ads in "Step-by-Step Guide: Use Facebook Sponsored Stories to Promote Your Infographic".
This article is part of Piktochart resources for everyone who wants to create infographics.
Kind thanks to Tom Fanelli who allowed us to use parts of his article.